Hello steemains, nice to be part of this week's lecture by professor @imagen on NFT markets. Below is my homework task.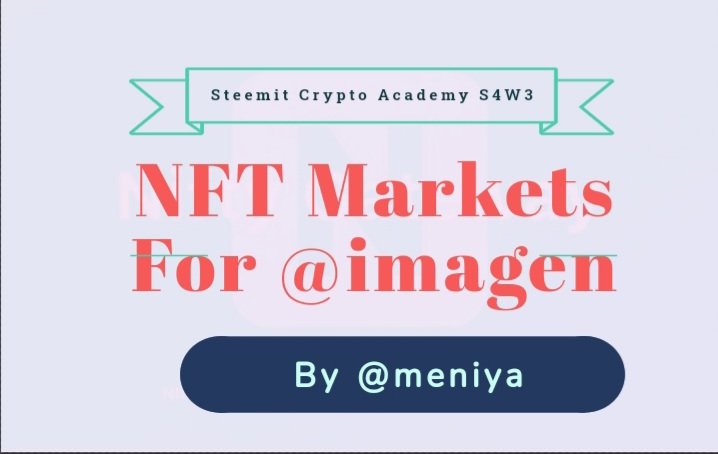 ---
---
QUESTION 1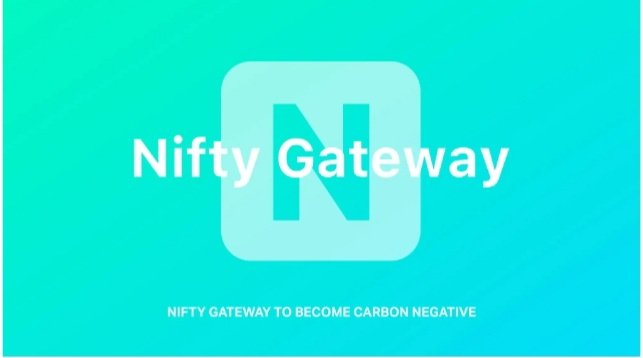 Source
Nifty gateway is a centralized digital art exchange platform where NFT collectibles are auctioned, bought and sold by NFT lovers. The Nifty gateway platform is known for its standard, every item auctioned on the platform is a combined effort of the Nifty gateway ateway team with the owners of the collection. The platform work together with top artists and celebrity brands to create high quality Nifties like games, music, pictures, artwork etc with limited edition collections that are only found on their platform. The items are first presented to the team, who goes through it, edit it before it is auctioned in the market. Nifty gateway teams ensures the high standard of collectibles being placed for auction on the platform by scrutinizing the type of content sent by the artists to the team and ensures only the best items are being put up for auction.
Nifty gateway is one of the high ranked NFT marketplace, it was founded by Duncan and Griffin Cock Foster in 2018, but has now been acquired by the Winklevoss twins; Cameron and Tyler. Nifty gateway platform is built on Ethereum blockchain and backed with a cryoto exchange platform known as Gemini LLC. Nifties refers to NFTs published on the platform. One can purchase these Nifties in two ways and can be purchase with a credit card or with a Metamask wallet. Below are the two ways to purchase niifties;
Drop: is a direct means of purchasing Nifties directly from the artist, it might be open, limited or through auction sales. Every three weeks a drop of new Nifties occurs on the platform, which will be available at a limited specific time .

Purchase from marketplace : After the drop, the nifties can be purchased in the Nifty gateway marketplace. Nifties can be purchased from the price list available, or the buyer makes an offer to the owner.
---
Pros of Nifty gateway
•The NFT platform is mainly exclusive to artists and celebrities like Grimes, Beeple Steve Aoki, deadmau5, and Kenny Scharf.
•NFTs can be purchased on this platform with the use of a credit card.
•The marketplace is to understand and operate even for beginners in crypto market.
---
Cons
•One needs to be a celebrity before been able to publish an artwork on the platform.
•Nifty gateway is a custodial NFT marketplace, which means NFTs to be auctioned are stored on the platform and not in the creators wallet.
•It is prone to hackers, because purchases on the platform is done with a credit card and hackers are liable to gain access on the platform, buy a nifty and still transfer it to themselves.
The aim of Nifty gateway is to ensure it auctions new Nifties once in every three weeks, this is known as a drop.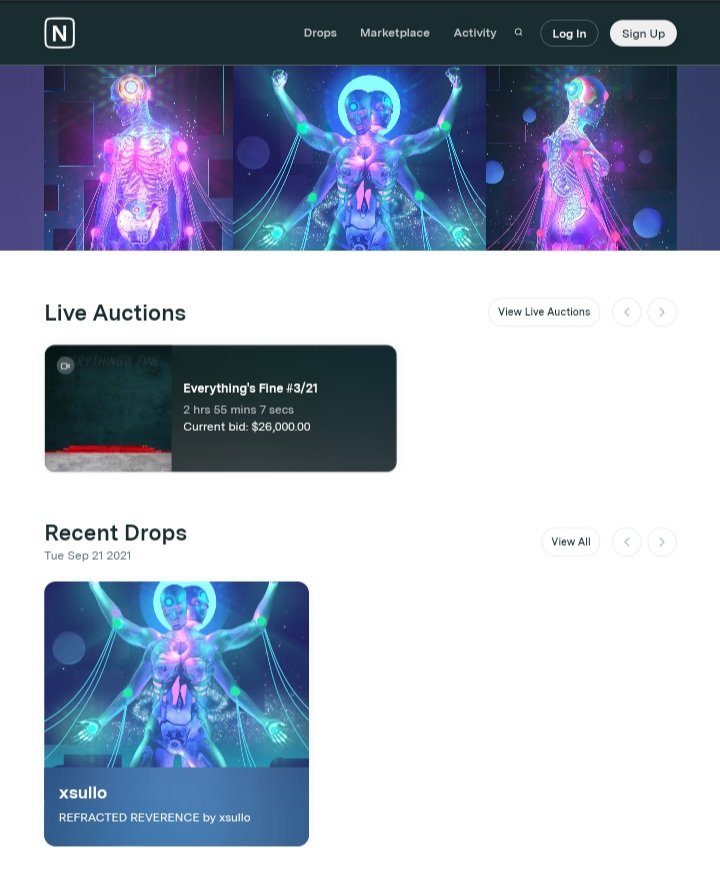 Source
The process of creating NFTs and selling it on nifty gateway is not that simple, first the artist needs to apply to nifty gateway platform, answer some questionare and pass an interview with the team. An NFT to be sold here must be of the best value, so it sells out quickly. Artists whose nifities are sold out and bought gets rewarded with an incentive, the artists gets to choose what the reward percentage should be like, it could be on a 5% 0r 50% basis percentage on each secondary sales. Also, the Nifty gateway platform gets 5% + 30cents revenue on every secondary sales, which serves as processing and maintenance fee to run the platform.
---
---
QUESTION 2
ERC-1155 tokens are one of the native tokens of Ethereum blockchain. ERC-1155 token was built on the already existing standards of ERC-20 and ERC-721 tokens, which are all used to facilitate deployment of contracts on the Ethereum network. The ERC-1155 token is a multiple standard token, with the ability to create and store assets under its control, send multiple tokens in one transaction, they can act and work as both the ERC-20 or ERC-721 token at the same time with same address.
The ERC-1155 token got its name from the Ethereum Improvement Proposal(EIP), known as EIP-1155 and ERC simply means; Ethereum Request for comment. The ERC-1155 was developed by a team of Enjin game company, they are Witek Radomski, Eric Binet, Philippe Castonguay, James Therien, Andrew Cooke, and Ronan Sandford.
Although, ERC-20, ERC-721, ERC-1155
token standards were all built on the Ethereum network as a means of transferring data and necessary informations to users and developers on the blockchain, and enable tokens built on them with their standards to easily interact with each, they still differ in some aspects.
Lets look at their differences now.
The ERC-20 token was the first token standard on Ethereum blockchain, which is used for creating Fungible tokens(FT). The introduction of Non-fungible tokens into crypto space brought about the development of ERC-721 token, used for minting NFTs on Ethereum network. Although, the ERC-20 and ERC-721 token standards were not compatible, and had limitations in some areas, and hence the development of the ERC-1155 standard was brought into action on Ethereum blockchain to help resolve their setbacks in an improved manner.
The ERC-1155 is a hybrid and improved token standard of the already existing ERC-20 and ERC-721 tokens. standards. ERC-1155 token is able to carryout multiple functions, and tokens built on this standard can act as if they were built with ERC-20 or ERC-721 standard, as compared to ERC-721 which is able to create a single token in one single contract and ERC-20 tokens which can interchange data and representit as a single asset. ERC-1155 tokens are used in creating Fungible Token, Non-fungible tokens and Semi-fungible tokens all in a single contract with the USP of ERC-1155.
With ERC-1155 each token Identity can be represented as a new token type that can be configured and in turn greatly reduces the number of data storedon it, which creates more space on the blockchain. This has been able to resolve the poor storage space with ERC-721 protocol.
ERC-1155 token standards allows the transfer of multiple NFTs in a single transaction, which leads to easy decongestion of the network and greatly reduces transactions gas fee.
As compared to ERC-721 protocol which is able to transfer only a single transaction per time, which is expensive and transactions are slow, causing accumulation of data on the blockchain.
ERC-1155 token has a Secure Token Transfer function which helps to verify, if the transaction has been successfully completed or not, if it has not been completed, this feature is able to help reverse the token transaction back to the issuer of the token. As humans, we are infallible and mistakes are bound to occur, sometimes due to sending a token to a wrong receiver's address. Which is to say, the possibility of loosing tokens with ERC-1155 is very slim, when compared to other ERC like ERC-20 standard, that tokens are lost if mistakenly transfered to a wrong receiver's address. The tokens get trapped in the smart contracts forever.
The ERC-1155 token protocol is still young and it's adoption into crypto space is relatively still poor as compared to ERC-20 and ERC-721 standards, this is because it's still in infant stage and most tokens are still running on the already existing ERC-20 and ERC-721 standards. Although, due to the unquie features of ERC-1155, one can say it has a bright future and many projects will eventually integrate ERC-1155 protocol soonest.
---
---
QUESTION 3
•First, login to EtherScan website to get to the main page. Now, Click on the three dash icon at the top-right corner of the page.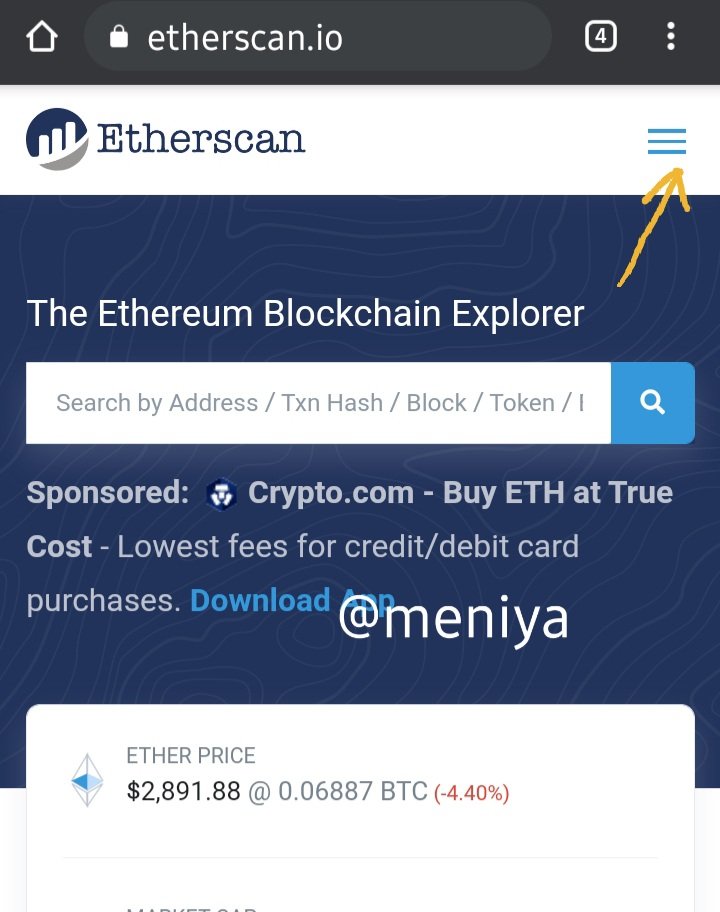 •Now fill in your username and password. Fill the reCAPTCHA to proof you are not a robot and click on Login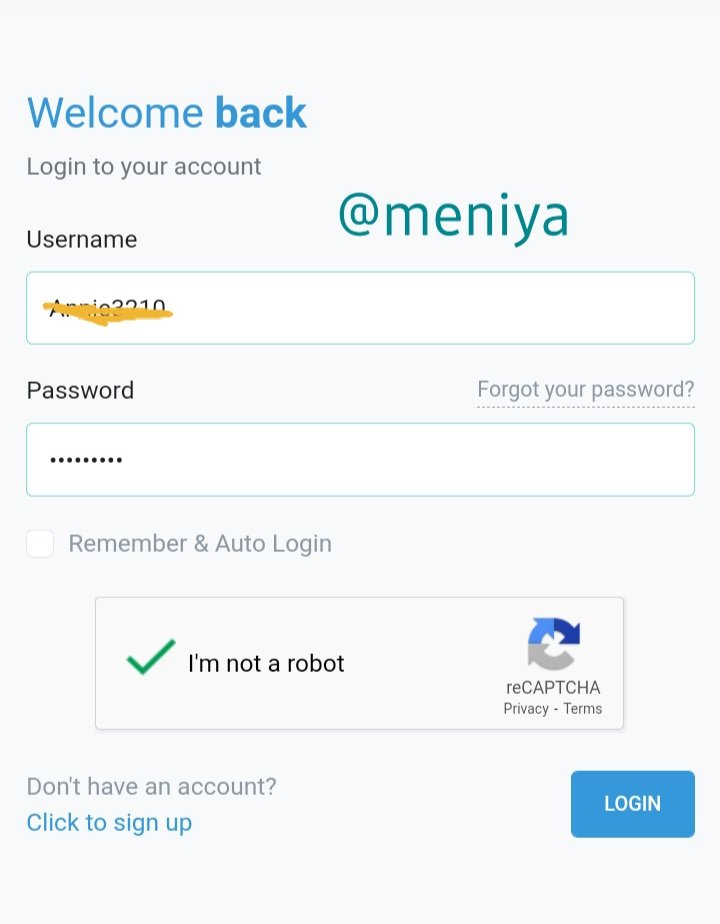 •After successfully logging in, to Indicate the first 5 tokens by volume of transactions in the last 24 hours, on the menu click on Tokens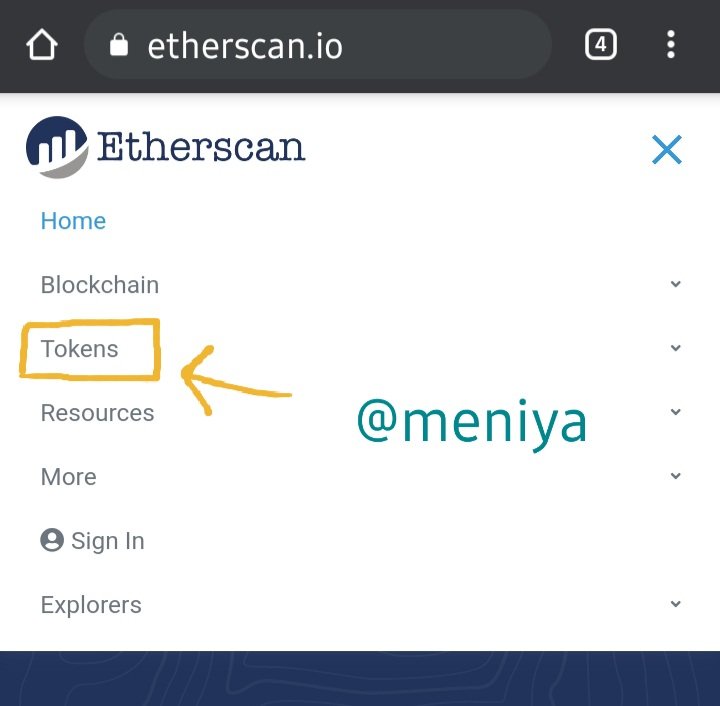 •When the Tokens page comes up, click on the ERC-1155 Top Tokens button.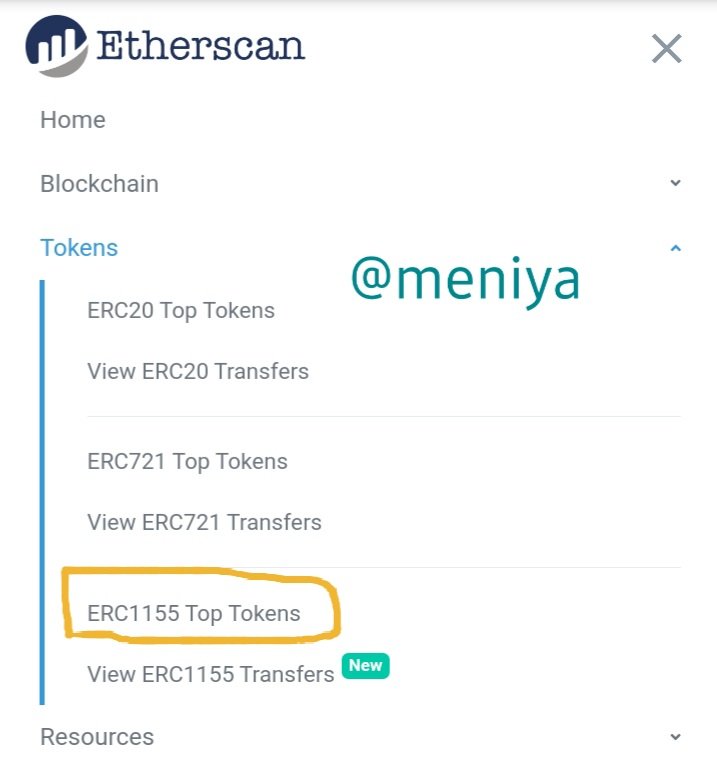 •It shows you a page where Informations about the top ERC-1155 tokens generated on the webpage.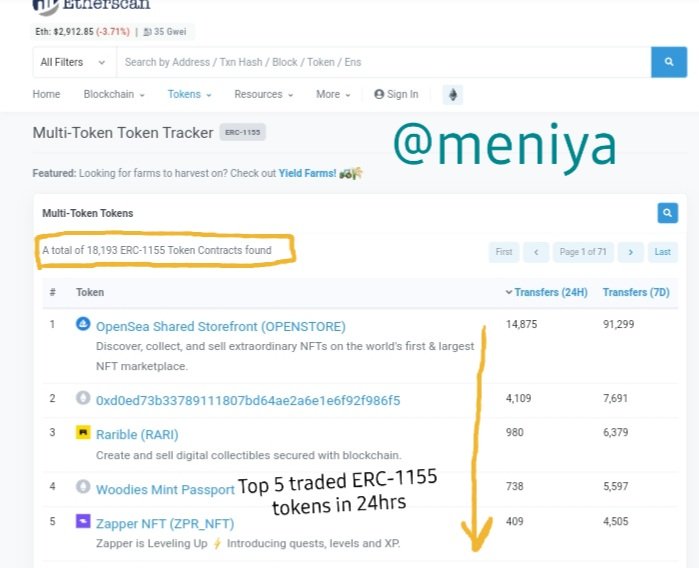 As we can see from the screenshot above, as at the time of creating this post, there are 18,193 ERC-1155 tokens contracts found and the top 5 traded ERC-1155 tokens include:
1. OpenSea Shared Storefront (OPENSTORE) - 24hr trading volume of 14,875.
2.0xd0ed73b33789111807bd64ae2a6e1e6f92f986f5 - 24hr trading volume of 4,109.
3. Rarible (RARI) - 24hr trading volume of 980.
4. Woodies Mint Passport - 24hr trading volume of 738.
5. Zapper NFT (ZPR_NFT) - 24hr trading volume of 409.
---
Indicating the Hash of the last transaction, identification of the token and its smart contract.
•To do this, still on the Token page, move down and click on the ERC-1155 Transfer button.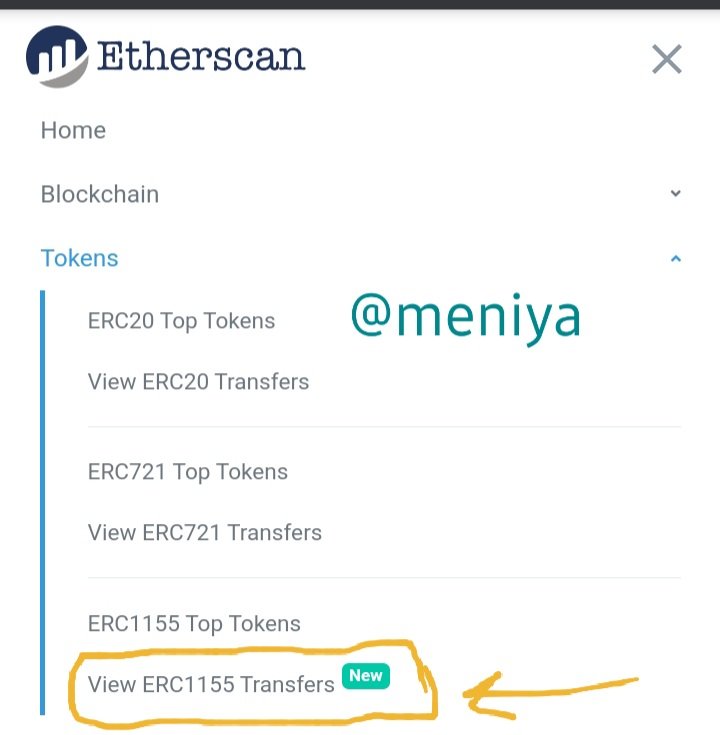 ---
•The Information of the top ERC-1155 tokens transactions generated on the webpage will come up, then you click on the transaction(txn) hash of the last transaction.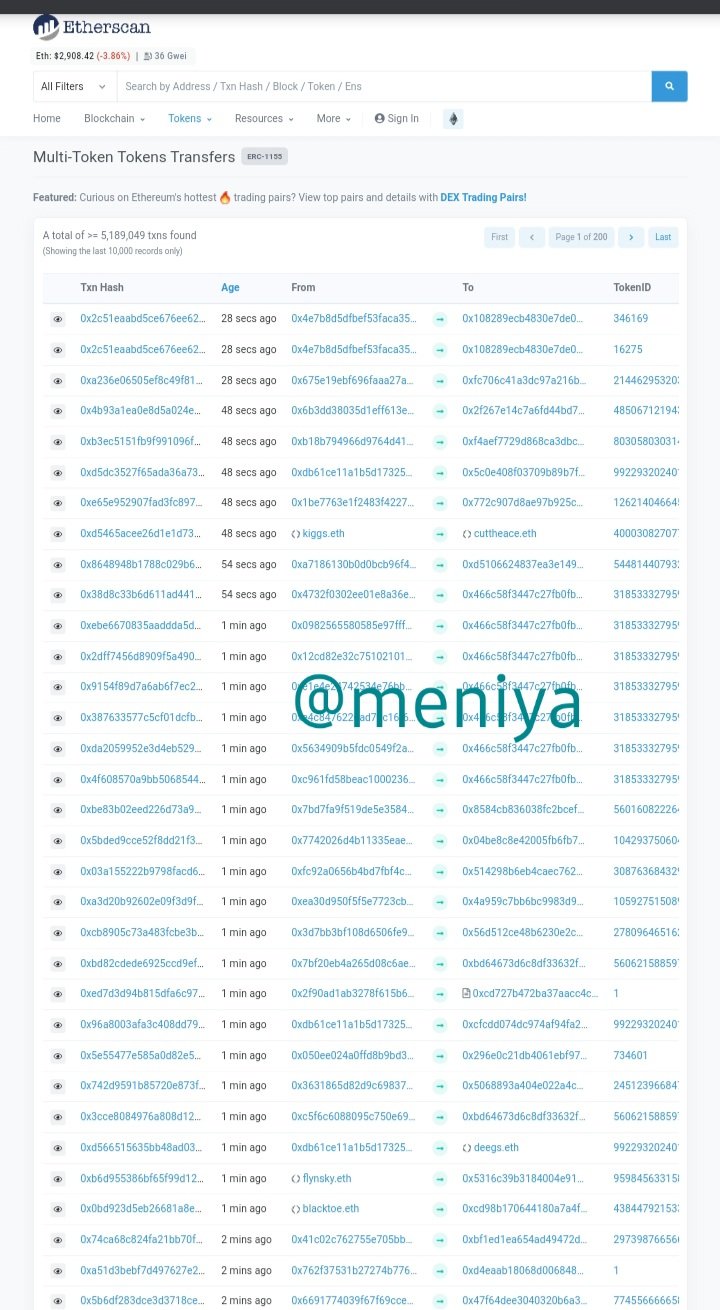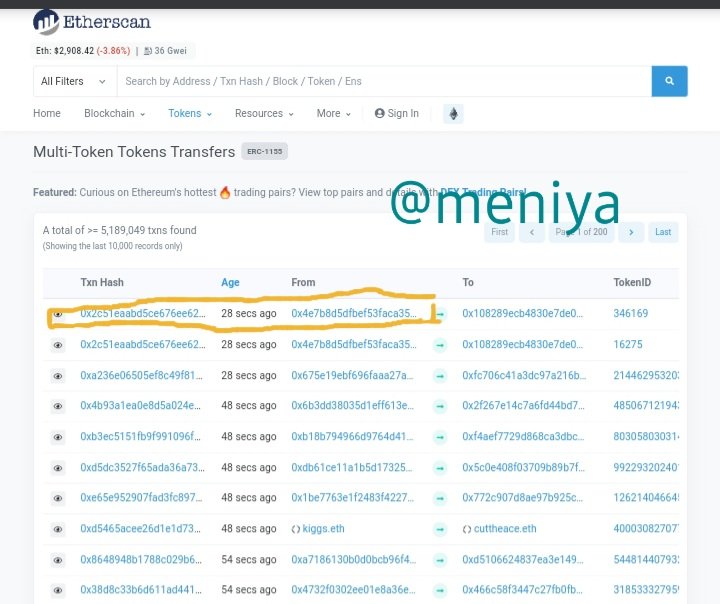 From the screenshot above, the last transaction harsh was 28 seconds ago, with Hash 0x2c51eaabd5ce676ee622b0942df149360ccdadb791e5a5db3af1798c888bb5bb
---
•I clicked on the last transaction Hash to get more information about the transaction generated. From the screenshot below we can also see the smart contract address for this transaction.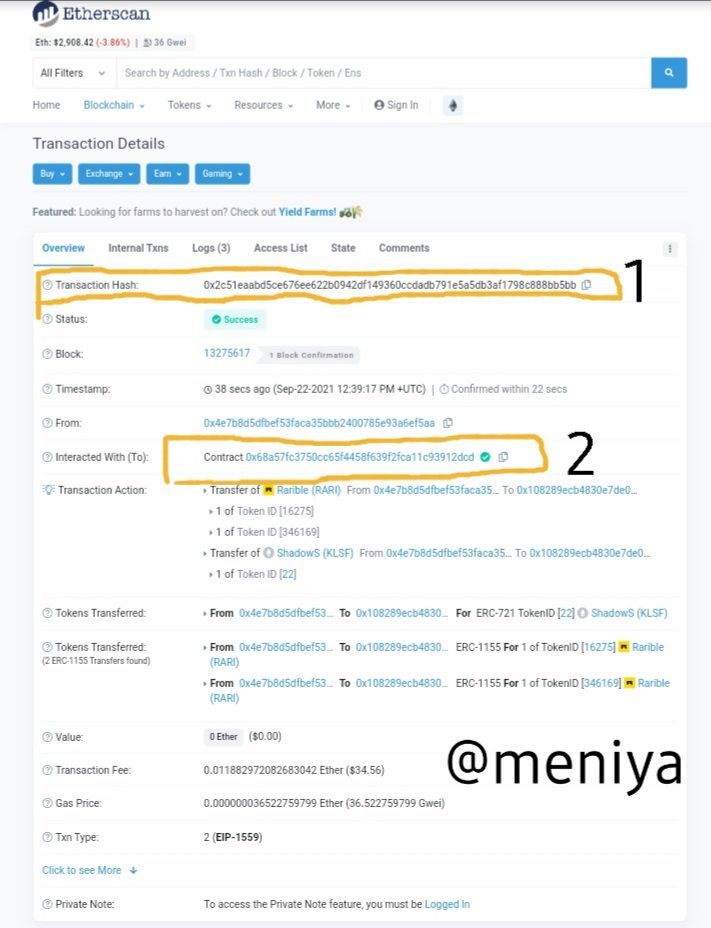 All screenshots were taken from Etherscan Source
---
---
QUESTION 4
•In exploring the Enjin wallet interface, first I downloaded the Enjin wallet from my playstore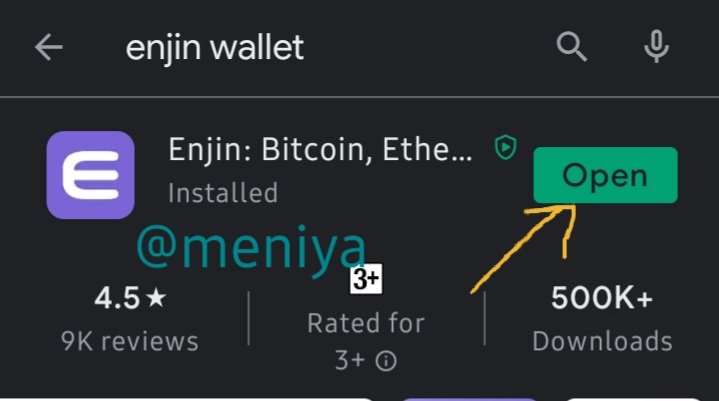 ---
•After downloading it, I opened and it took me to main page of Enjin wallet, I click on open wallet. After successfully opening the wallet, I went to the the Enjin wallet interface. Now let's go through it.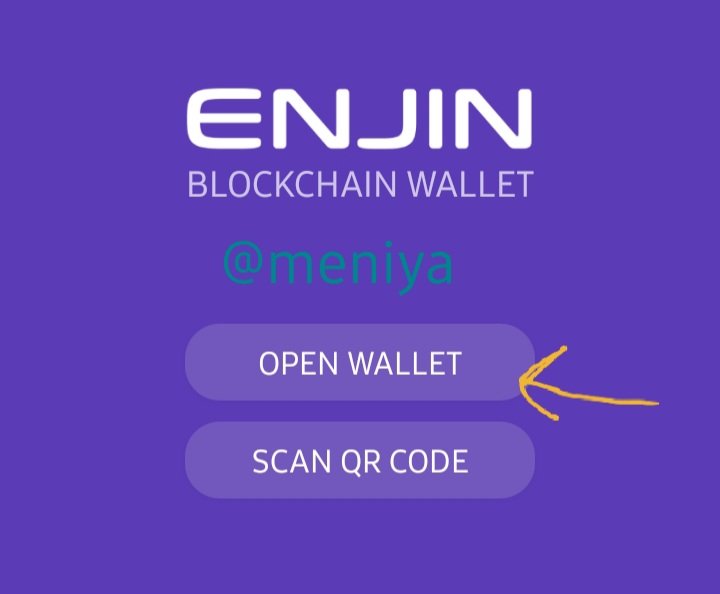 ---
•At the top of the Enjin wallet interface, there are four icons at the top row.
The first icon with three dash at the top left shows the various features of the wallet; the Wallet, Assets, Scan Qr, Exchange, MarketPlace, DApp Browser, Linked Projects, Contact Support, and Settings.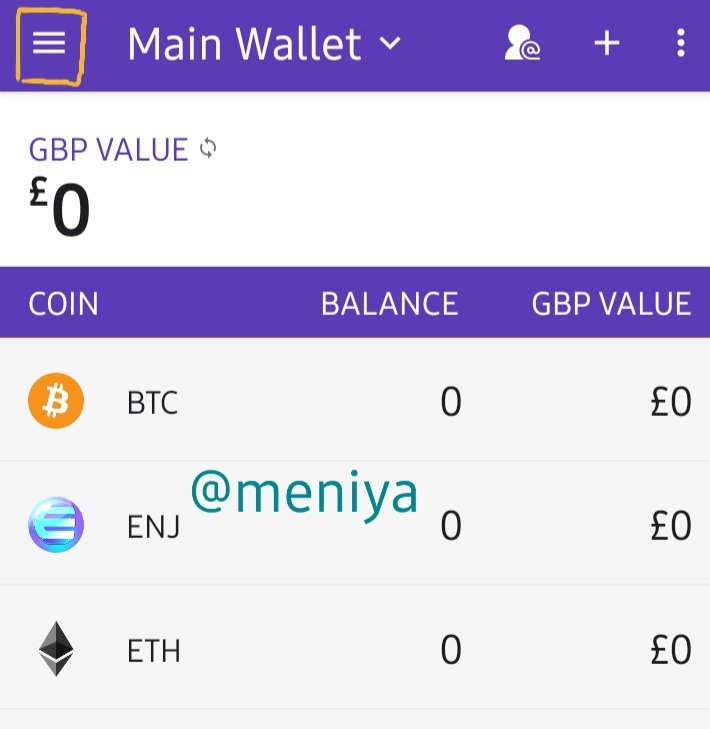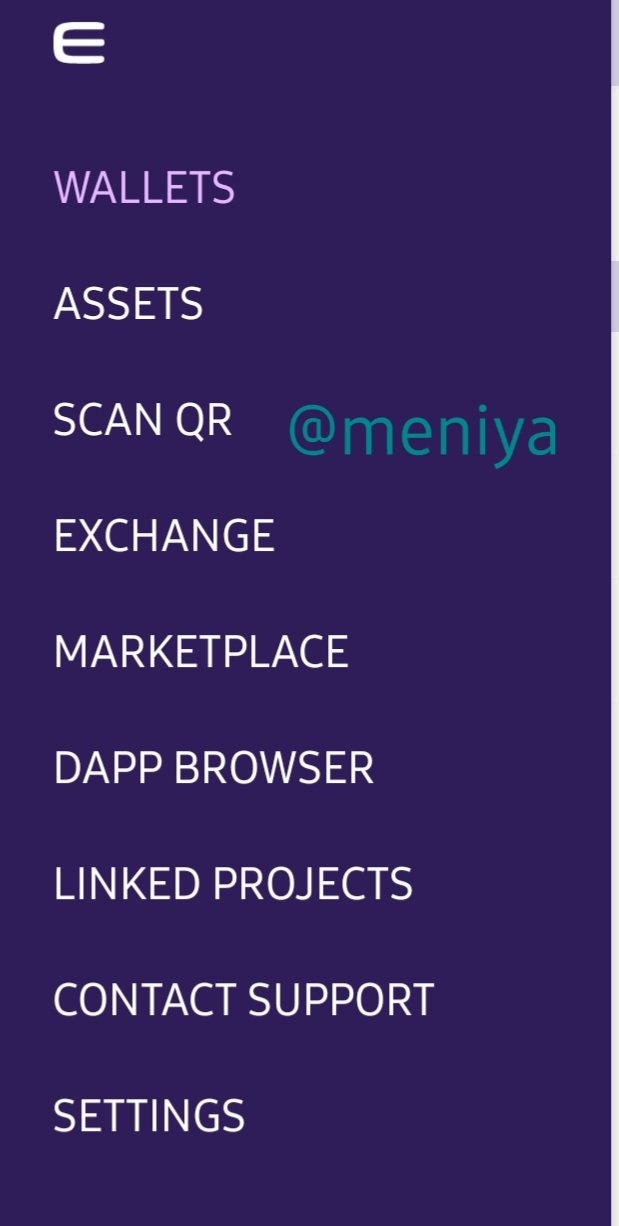 ---
•The second icon on the top row is Main Wallet, click on it, it shows you the GBP value on £, and amount of coins you have in your wallet.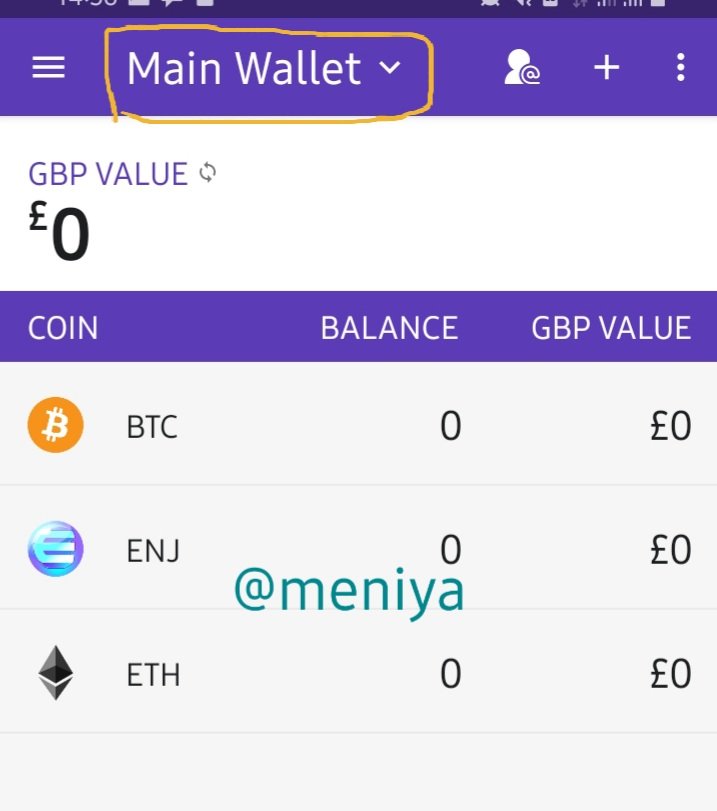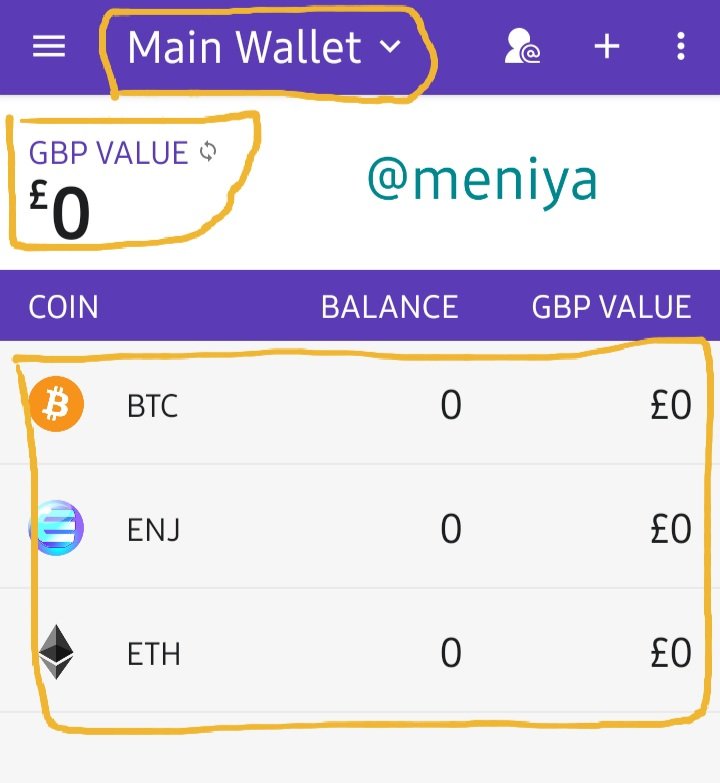 ---
•The third icon at the top row with a contact symbol, is used to add and save contact addresses. click on the icon to add a new address, after fill all the details click on Add contact below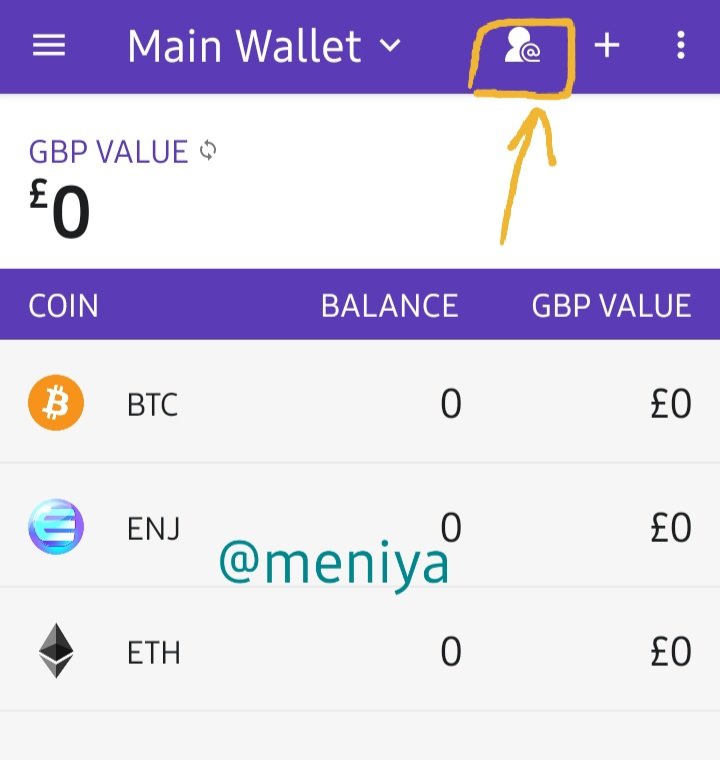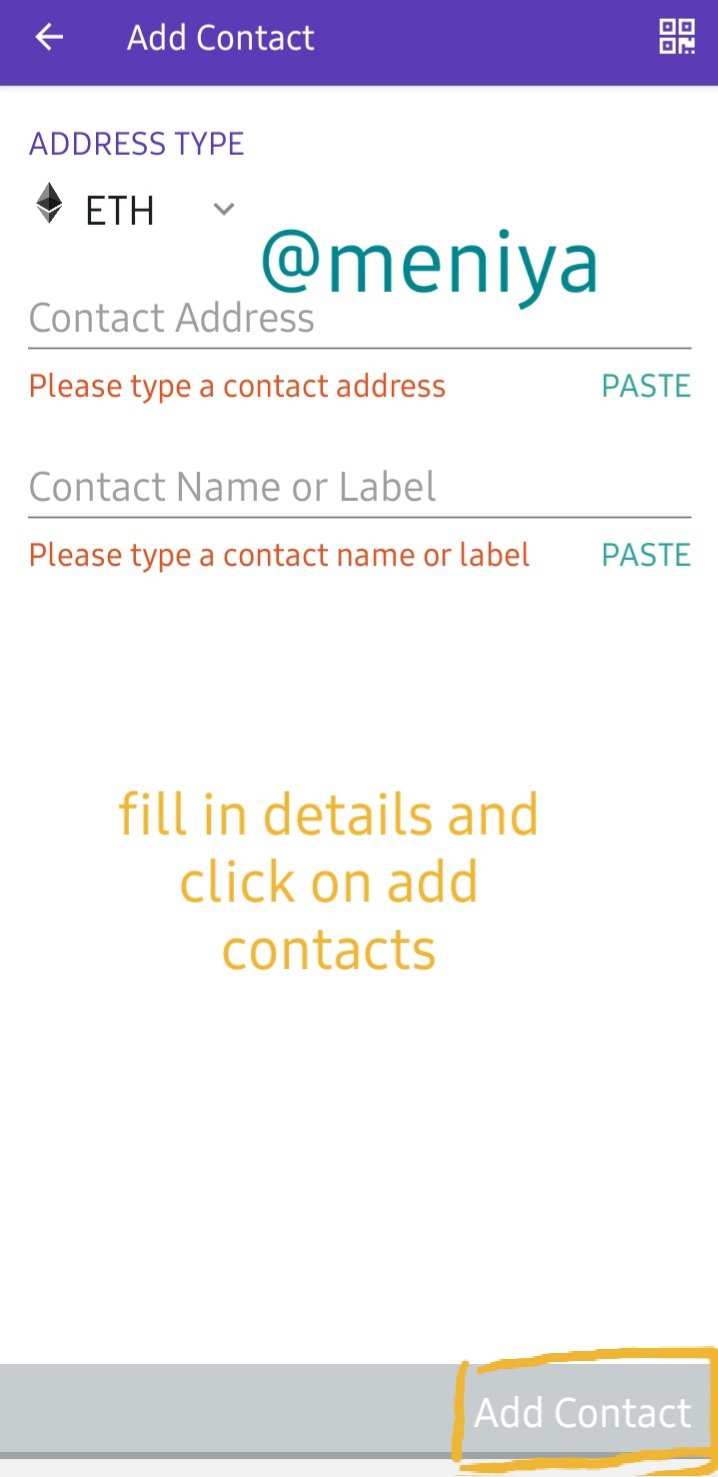 ---
•The fourth icon with add symbol at the top row, is used to add or remove token and coins displayed on the main page. Here, I added Dodgecoin to my wallet, click on update coin list and the Dodgecoin is reflected on my main wallet now.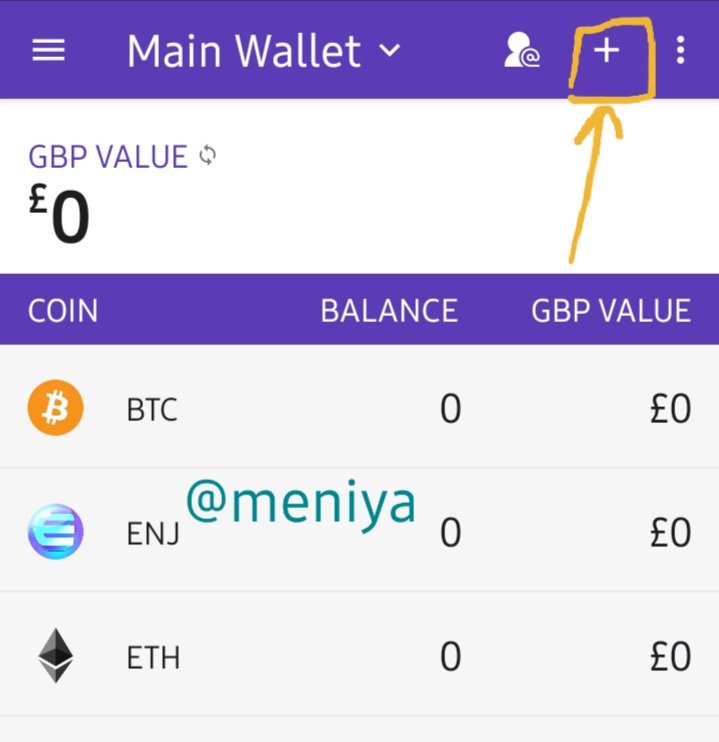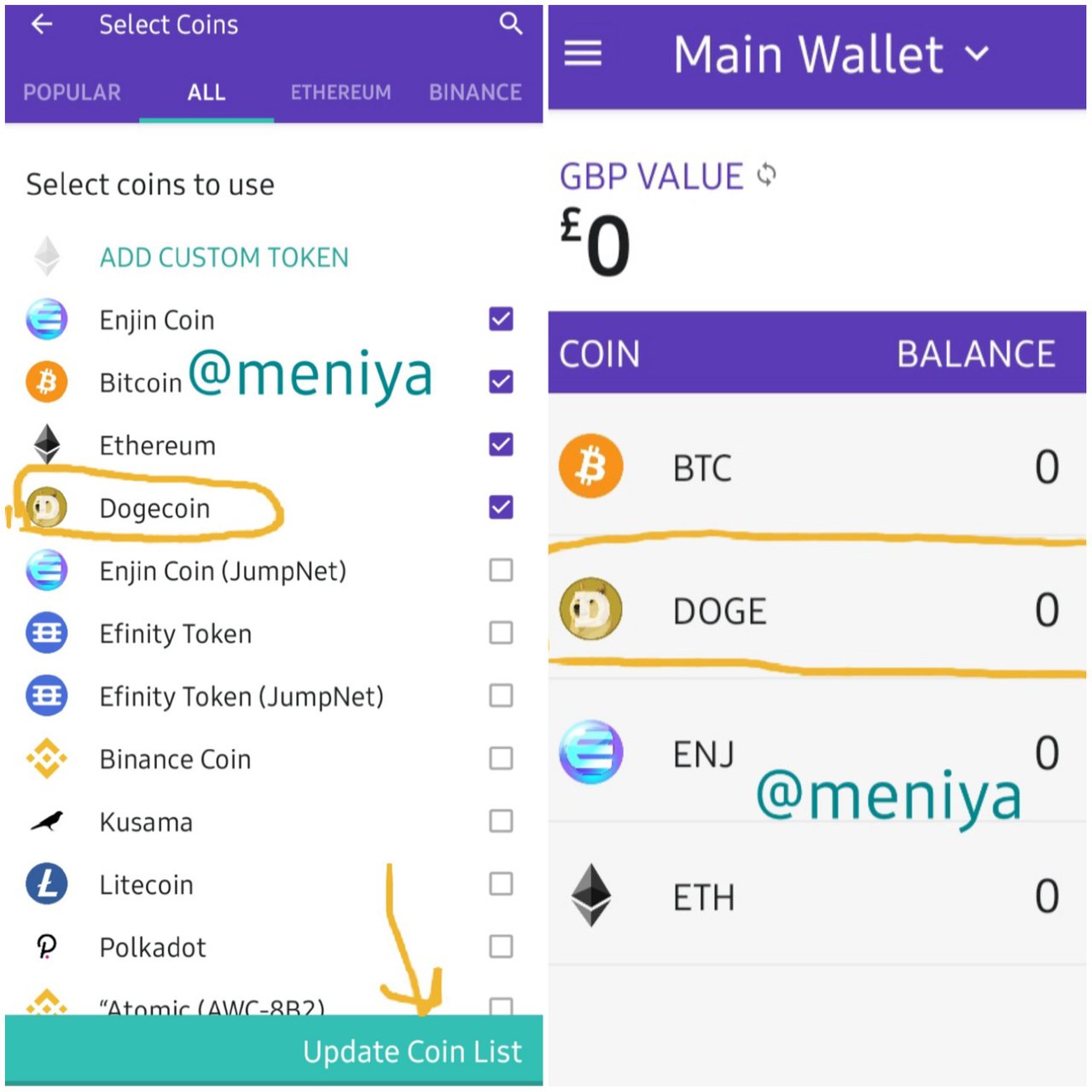 ---
•The fifth and last function, is used to carryout further activities like; Backup Wallet, Rename Wallet, Edit Coin List, Auto add tokens, Manage Wallets and Rate Enjin Wallet
All screenshots for this question was taken from my Enjin wallet mobile App
---
Enter the Marketplace
For this task i visited the Enjin marketplace website.
•At the main webpage of Enjin marketplace, you can see the total number of items up for sale(as at the time of writing of this
post 17,486 items are available for sale), and we can see the List of items for sale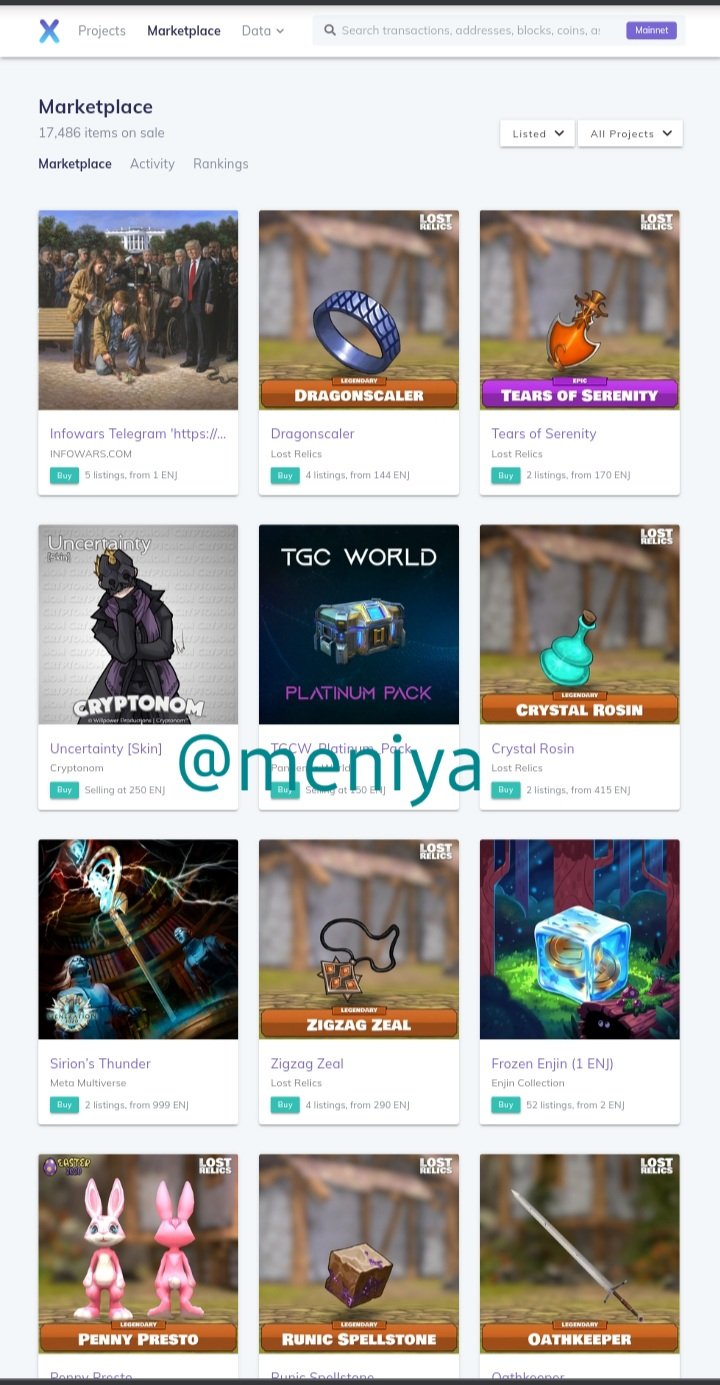 Source
---
From the main page Enjin marketplace,
the top three items on the list are: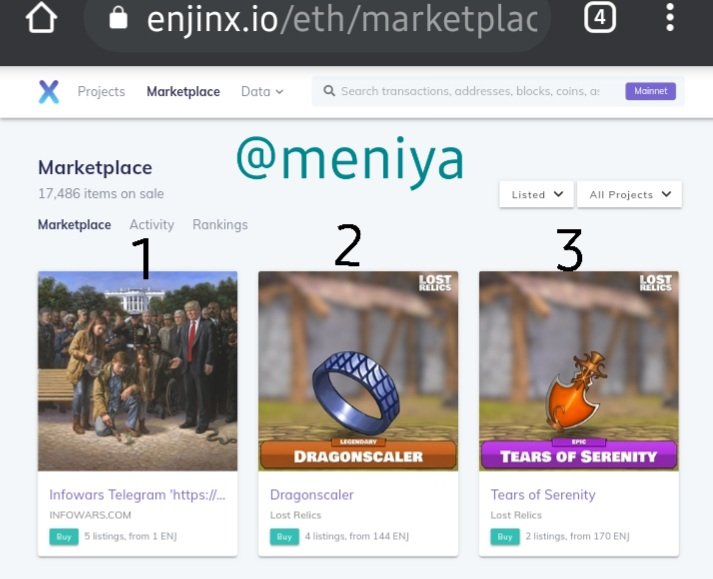 Source
---
1. Infowars Telegram: with 5 listings from 1 ENJ, Total supply of 9,996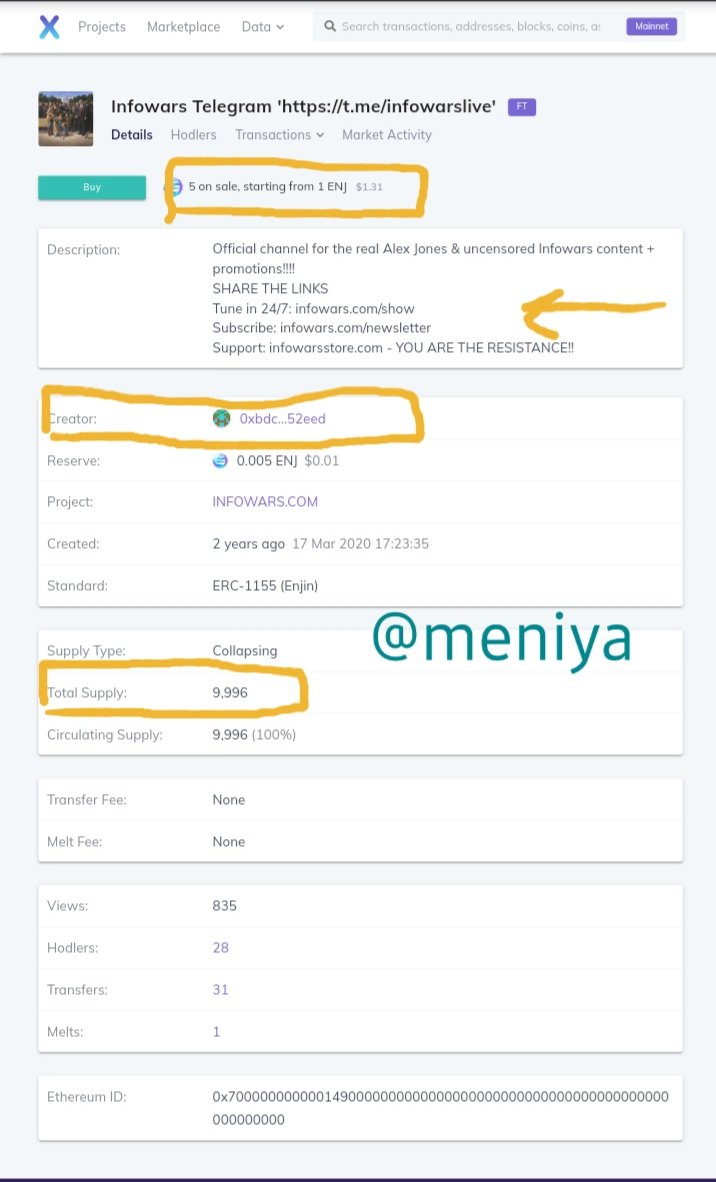 Source
---
2. Dragonscaler: with 4 listings from 144 ENJ and Total supply of 494.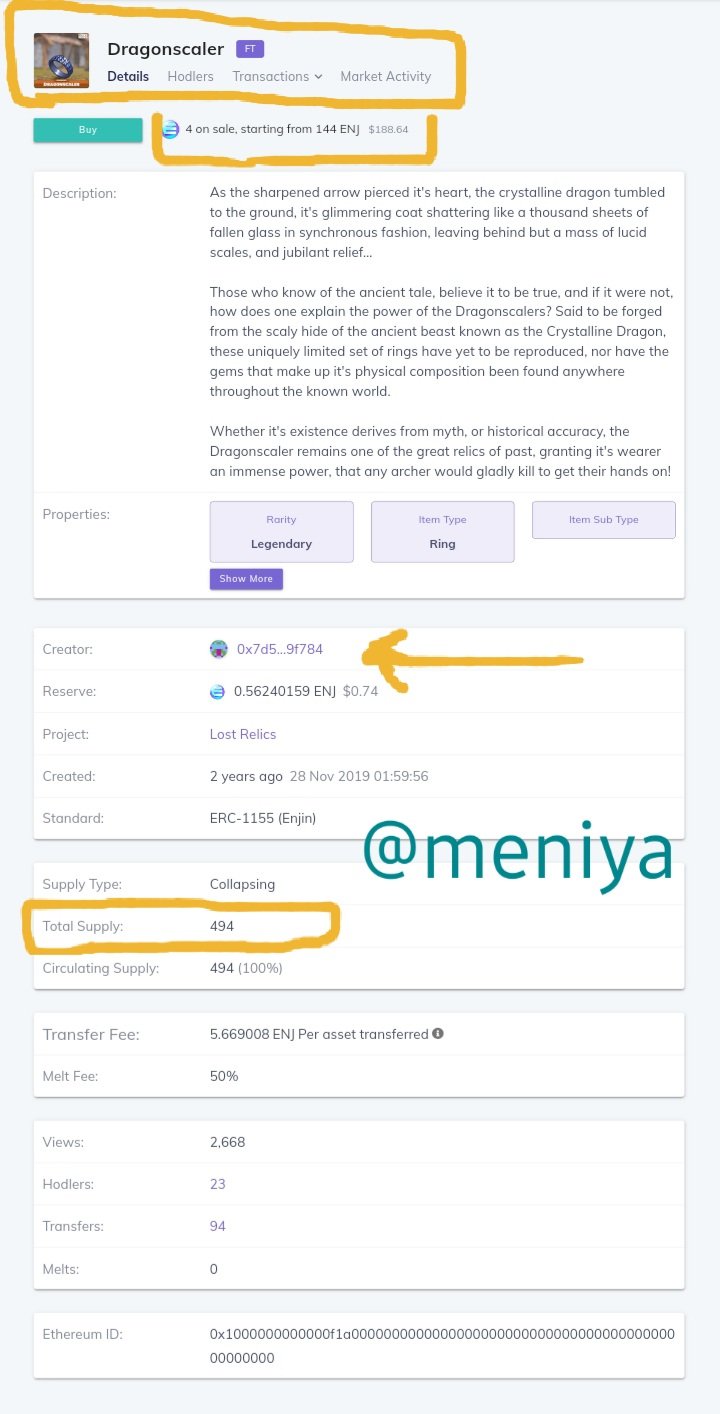 Source
---
3. Tears of serenity : with 2 listings from 170 ENJ and a Total Supply of 968
---
---
Question 5
NFTs are non-fungible tokens which are unique art items created by artists, that are bought and sold digitally in a exchange platform built on blockchain technology. The introduction of NFTs into the blockchain technology on the 3rd of May 2014 was a great innovation to crypto space. The NFT markets are still in its baby stage and quite new to many investors.
Personally, I see NFT markets with great prospects in th future, following the level of acceptance it has in blockchain technology, and number of success it has recorded with the period of existence. As at the end of 2020, the NFTs market capitalization was around US$338 million and in this year 2021, NFT market has recorded huge success so far and still looks like this years turnover will be huge too. This shows a significant and positive sign of high demand and more trading in NFT markets. One of the most expensive artwork sold in NFT markets was worth $69 million and was created by Beeple.
According to Tim Draper, "The real potential of NFTs hasn't been unveiled just yet, but it will be"
"We already have the technology, now the only thing that can stop us is our imagination,"
-Tim Draper
REFERENCE
Even, Tim Draper a venture capitalist and blockchain expert, and many other investors see the future potential of NFT markets. NFT Markets is gradually becoming a thing in the world today and is well appreciated in various aspects of life, it is believed that it would create a more efficient platform for conducting business, considering the fact is built on blockchain technology and transactions occurs quickly and less stressful.
The sport industry is not left out, as it one aspect of life that has integrated the use of blockchain technology and now creates NFTs of celebrity footballers, Basketballers, etc which are auctioned and sold in NFT markets. This year, a unique Christiano Ronaldo NFT was sold at $290,000 has now become the world's most expensive and priced soccer card. This unique NFT was traded on Sorare NFT marketplace, and the soccer card can be used to compete in crypto tournament games in NFTmarkets.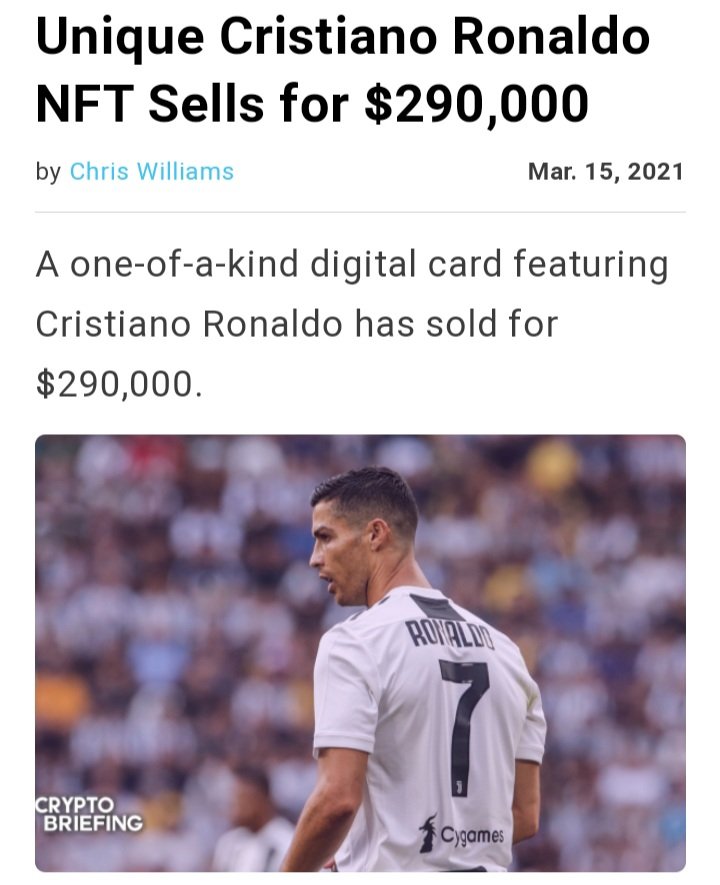 Source
The music industry is one sector that constantly keep the NFT Markets busy, as lots of celebrity musicians, Dj's and song writers have adopted NFT blockchain technology. This another reason why NFT markets will definitely stay for long and grow well. One of the latest Music NFT artist, Aphex Twin an electronic musician sold a tokenized piece of his music, it was worth $130,000 equivalentto 72ETH.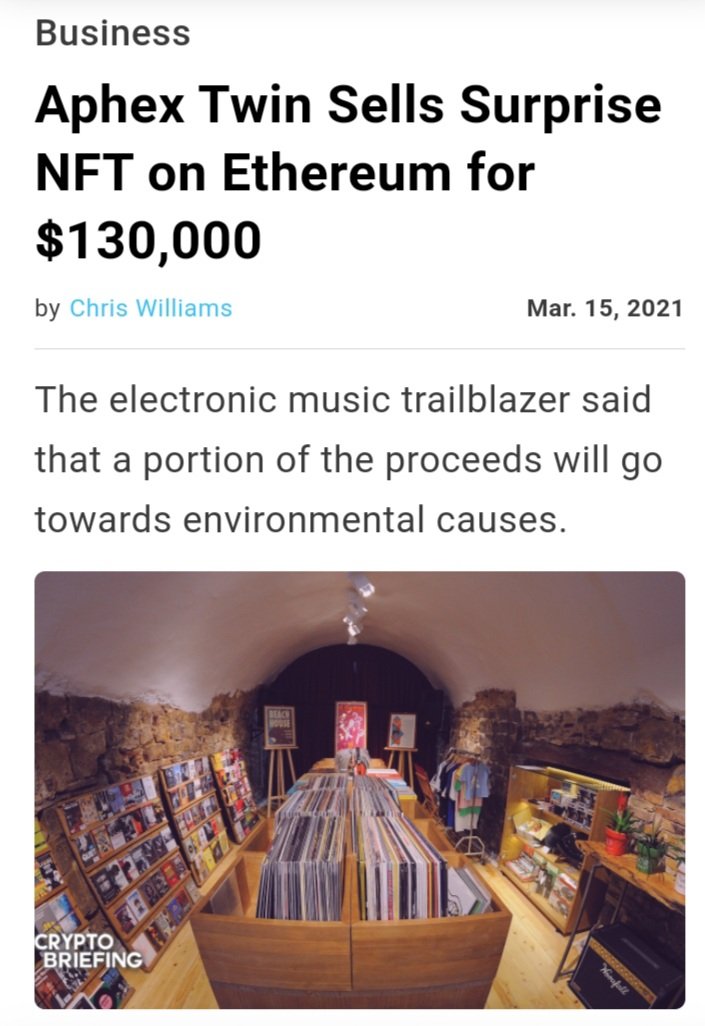 Source
Although, the NFT Markets are over-hyped and still has some upgrading to be done by making the market more secured and free from hackers, because these NFTs are stored on the blockchain technology that supports it. Even with it setbacks, i still have many reasons to believe that the NFT Markets has a lot of untapped potential and trading NFT seems like the next big aspect in investing and business economy. I see turnovers of NFT clocking billions in a short period of time.
Thank you for reading through
Cc: @imagen