Hello steemains
Nice to be part of another interesting class this week by prof @awesononso. Thanks for introducing us to some backbone of cryptocurrency world and their inputs in making cryptocurrency a success today.
---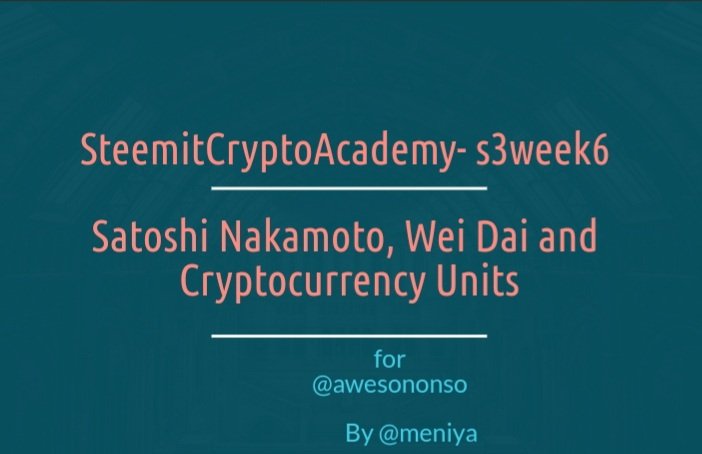 ---
---
1.WHO IS SATOSHI NAKAMOTO?
The true identity of Satoshi Nakamoto is still unknown, as nobody can categorically say if Satoshi Nakamoto is a person or group of persons and it's real gender is also not known. Satoshi Nakamoto is claimed to be a male Japanese citizen, but the identity of Satoshi as a Japanese is not accepted by the Japanese community, considering the fact that he was fluent in the use of English and that the Bitcoin whitepaper does not have any trace of the Japanese language on it.
Satoshi is known as a pseudonym, who invented the first blockchain database-Bitcoin, and is the author of Bitcoin whitepaper, and also proposed a decentralized approach to transactions in a blockchain which lead to an increase in the creation of blockchains.
In 2008 Satoshi published the whitepaper entitled; Bitcoin: a peer-to-peer electronic cash system, and later released the Bitcoin software and put into circulation the first cryptocurrency(Bitcoin) known to mankind. Satoshi was still active in the development of bitcoin, up until December 2010, when he cut off connection with the world and has remained elusive till date.
---
---
2.WRITE ABOUT TWO STATEMENTS / IDENTITY THEORIES OF SATOSHI NAKAMOTO.
Even with the numerous efforts to reveal the true identity of S.Nakamoto, yet there is still no concrete fact to it and in recent time many persons have been proposed to be Satoshi. Some of these persons are claimed to be Satoshi based on their merits, invlovement to cryptocurrency, academic relation with the theory of Satoshi and even with coincidence of same name. However, some of the persons who are pseudonym to Satoshi where later termed as fraud. In the course of my research, below are two possible personalities who meets the profile of the great Satoshi Nakamoto.
▪︎NICK SZABO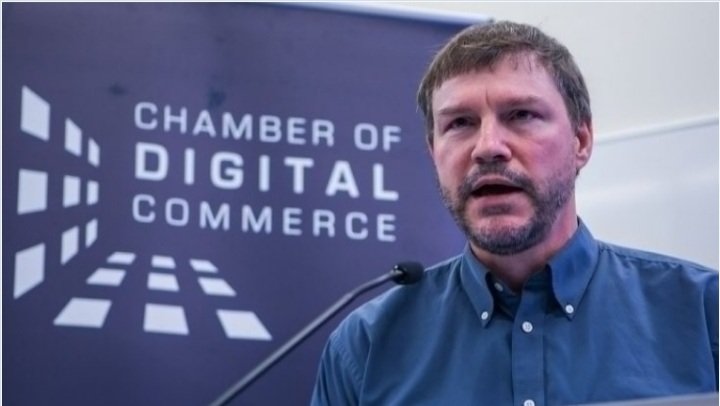 Source
Nicholas Szabo popularly known as Nick Szabo is a Computer engineer, Cryptographer passionate about Bitcoin and legal scholar. He's an American nationality, with no information regarding his real age, specific place of his birth, marital status, or descent; which has a lot of similarities like Satoshi Nakamoto's attitude.
In 2005, Nick Szabo brought "Bit Gold cryptocurrency to limelight in the world. He conceptualized on the idea of creating a decentralized digital currency which he called Bit Gold, as a precursor of bitcoin, aimed at eliminating third-party involvement in financial transactions and supporting the use of these digital coins, as they were unforgeable. This is a major aspect that brought about the claims that Nick Szabo was Satoshi Nakamoto. As Satoshi was the first to create a decentralized digital coin(Bitcoin) to reduce the dependence and trust on third parties interference in financial transactions.
Also, Dominic Frisby an author made a case that Nick Szabo writing was similar to the known writing style of Satoshi Nakamoto, by comparing the writing of Szabo forum post with the writing style in Satoshi's book, Bitcoin: The Future of Money?. To further prove his point Frisby sought the aid of a stylometric consultant who came to a conclusion that Nick Szabo's writing style was similar to known writing style of Satoshi. In addition, Frisby found out that Szabo once worked for DigiCash, an organization with the aim of bringing his cryptography idea into digital payments. This was another strong fact that made Frisby strongly believed that Nick Szabo is Satoshi Nakamoto.
---
▪︎DORIAN NAKAMOTO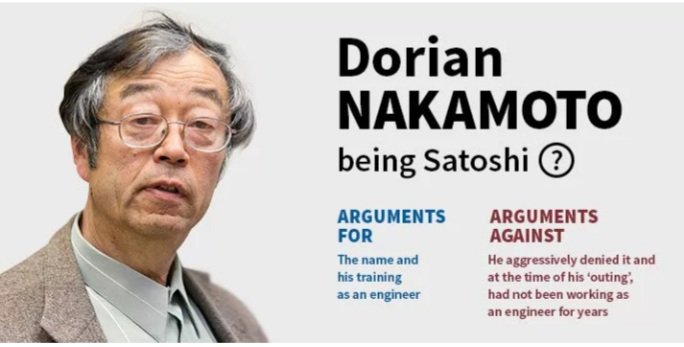 Source
The claim of Dorian Nakamoto as Satoshi Nakamoto first began in a publication in March 2014 in Newsweek magazine identifying Dorian Nakamoto as the creator of Bitcoin. This publication by Leah McGrath Goodman(the reporter) of the article caused an uproar in the crypto world and in wider tech community, as it was the most high-profile attempt and first time a conventional publication was made about the identity of bitcoin's creator.
From the article published in March 2014, the reporter was able to pinpoint some similarities in Dorian Nakamoto and Satoshi Nakamoto that made him includes that both persons are the same, some of his thoughts include;
•McGrath reported that both(Satoshi Nakamoto and Dorian Nakamoto) supposedly has libertarian leanings and have a Japanese connection. Dorian Nakamoto is a physicist from California Polytechnic, an Engineer and has worked on a classified defense projects, and is termed a Japanese-American. Also Satoshi Nakamoto professional history states that he was a former U.S military personnel that has also worked on classified projects. This led McGrath to conclude that Dorian is S.Nakamoto.
•Another fact that made McGrath to say Dorian was S.Nakamoto, was that he reported that the birth name of Dorian is "Satoshi Nakamoto".
•An intriguing fact that further appreciated the hunch of many people, was an interview McGrath had with Dorian. When, Dorian Nakamoto stated that he was no longer involved with bitcoin and he had left everything about it to other people.
Dorian later debunked the statement he made earlier and claimed it was a misunderstanding of the question. Despite the fuss Dorian Nakamoto has continued to deny any involment with the cryptocurrency-bitcoin.
---
---
3.WHO IS WEI DAI?
Wei Dai is a graduate of computer engineering of Washington University, a cryptographer, a mathematician of Chinese origin and a member of Cypherpunk community. Wei Dai is also related to being Satoshi Nakamoto, as he is a smart cryptographer and has an intensely private life, as little or nothing is known about his life and he is being referenced in the citations section at the end of the Bitcoin white paper.
Wei Dai is one of the eminent name in cryptocurrency world, that has contributed greatly to cryptography and cryptocurrency world. Some of his key contributions are;
•Wei Dai first worked at TerraSciences an Acton, Massachusetts company, where he worked as a programmer, to create solutions to insecurity problems and provide secure communication of control stations in the oil and gas industry.
•Wei Dai was a member of the Cryptography Research Group Company Microsoft, located in Washington, he was involved in the study, design and implementation of encrypted systems for specialized applications. This work by Dai has proven to be a crucial step for the implementation of the highly efficient encrypted algorithm to be used by various companies as a software tool.
•Also, Wei Dai proposed the creation of "b-Money" a digital currency published in November, 1998 on the cypherpunk mailing list. Dai stated two ways to carryout his proposal;
The first way, was the effective use of Proof of Work (PoW) consensus algorithms. B-Money would be created from mining with the use of of the HashCash. This theory was impractical due to lack of synchrony.

The second way to his proposal was the through the use of subsets of servers which maintains transactions. The validation of transactions were based on stake placed in the transaction process that would serve as a balance and in turn also serve as a collateral, and in an event of fraudulent actions in a blockchain protocol. The collateral will serve as a compensation to any damage in an event of fraud. This proposal by Dai is similar to the Proof of Participation (PoS) scheme, which is very similar to what we now know as Proof of Stake (PoS).
B-Money is although considered the first cryptocurrency created, but it was never implemented but it's theoretical bases served as a template to the creation of Bitcoin and other cryptocurrencies . "B-Money" was the proposal of a virtual digital currency in a decentralized system which is highly private and allows anonymity through self-executing contracts within a third-party interference.
•Amongst other contributions of Wei Dai is the development of Crypto ++ a cryptographic library, written in C ++ language widely utilized for academic study, for student projects, business projects, consisting of algorithms and bases for cryptography systems. Some projects that harnasses the Crypto ++ are;** Lastpass, Steam, Tripwire, Microsoft Office groove etc.**
•Development of VMAC- Message Authentication system is another contribution of Wei Dai. VMAC is a message authentication code (MAC) algorithm that utilizes universal hashing and is encryption based. VMAC was designed to support a high performance of formal analysis. This algorithm was designed specially to run on a 64-bit systems and which makes the verification process of data extremely fast.
---
---
4.WHAT IS THE CURRENT VALUE OF BITCOIN ON THE DAY YOU PERFORM THIS TASK? CALCULATE THE VALUE IN USD OF A SATOSHI OF THE CURRENT VALUE. (SHOW WORK COMPLETE AND UP TO 3 SQUARE FEET).
As at the time and day of performing this task, the price of Bitcoin is $38,334.66. According to Coinmarketcap.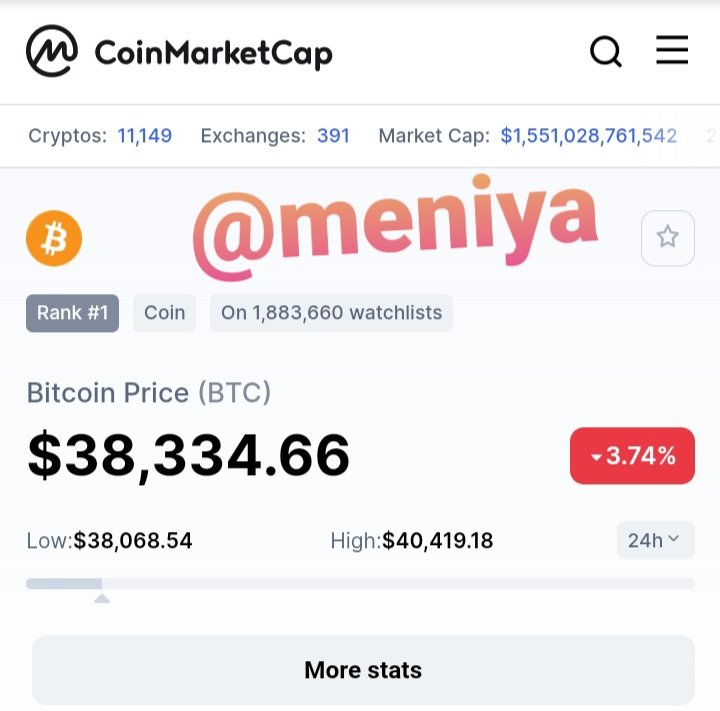 Source
▪︎To calculate the value of USD Satoshi of the current value:
First, we must understand that 1Satoshi = 0.00000001 BTC
• From the current value,1 BTC = $38,334.66
Using the formula:
1 Satoshi = 0.0000001 × 38,334.66
1 Satoshi = $ 0.003833466
Therefore, 1 Satoshi = $ 0.0003833(result up to three square feet).
At the time of performing this task, the value of the Satoshi in USD is $0.0003833.
---
---
5.WHAT IS THE CURRENT VALUE OF ETHER ON THE DAY YOU PERFORM THIS TASK? CALCULATE THE USD VALUE OF A GWEI OF THE CURRENT VALUE. (SHOW WORK COMPLETE AND UP TO 3 SQUARE FEET).
The current value of Ether at the time of performing this task is $2,248.43 according to Coinmarketcap.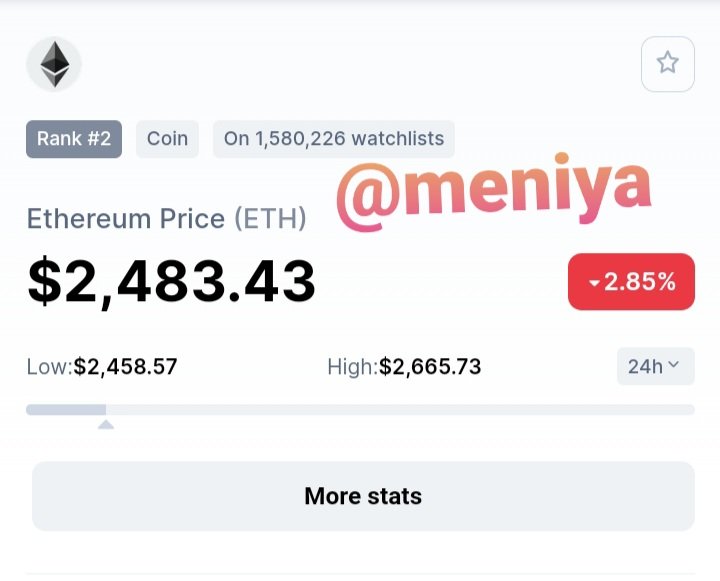 Source
To calculate the value of USD Gwei of the current value of Ether.
First you must understand that; 1 Gwei = 0.000000001 Ether.
From the current value, 1 Ether = $2,248.43
So 1 Gwei = 0.000000001 × 2,248.43
1 Gwei = 0.0000224843
1 Gwei = $ 0.00000225(result up to three square feet).
At the time of performing this task, the value of the Gwei in USD is $ 0.00000225.
---
---
6.TRANSFER 0.001 STEEM TO AN ACCOUNT. THEN SEND 0.0001 STEEM. SHOW WHAT HAPPENS AND EXPLAIN WHY?
•TRANSFER 0.001 STEEM
•I'll be transferring 0.001 steem to my friend(@armstrongdiho), but first I'll have to access my steemit wallet on the browser.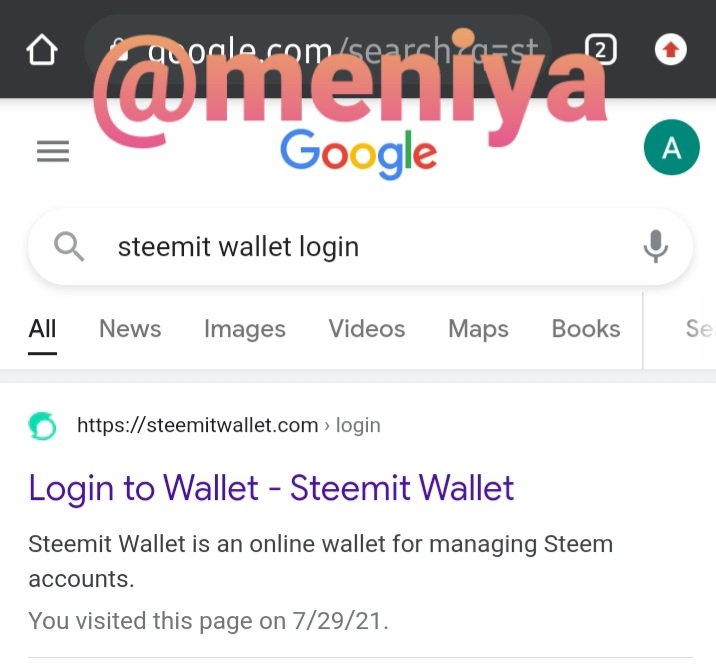 •I fill in my active password and my username, then i click on login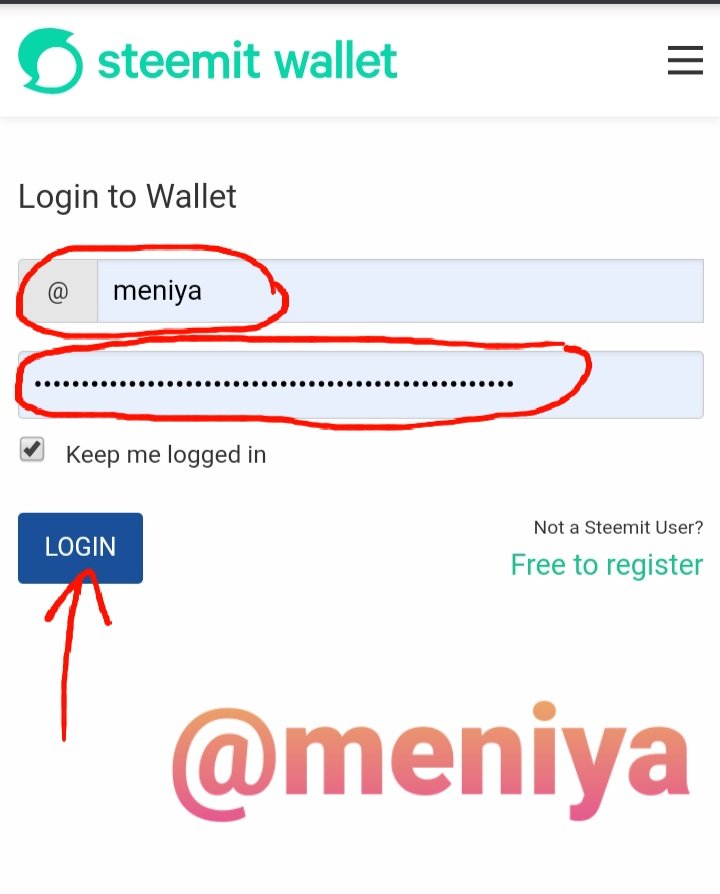 •It takes me to my wallet, now I click on STEEM, then click on transfer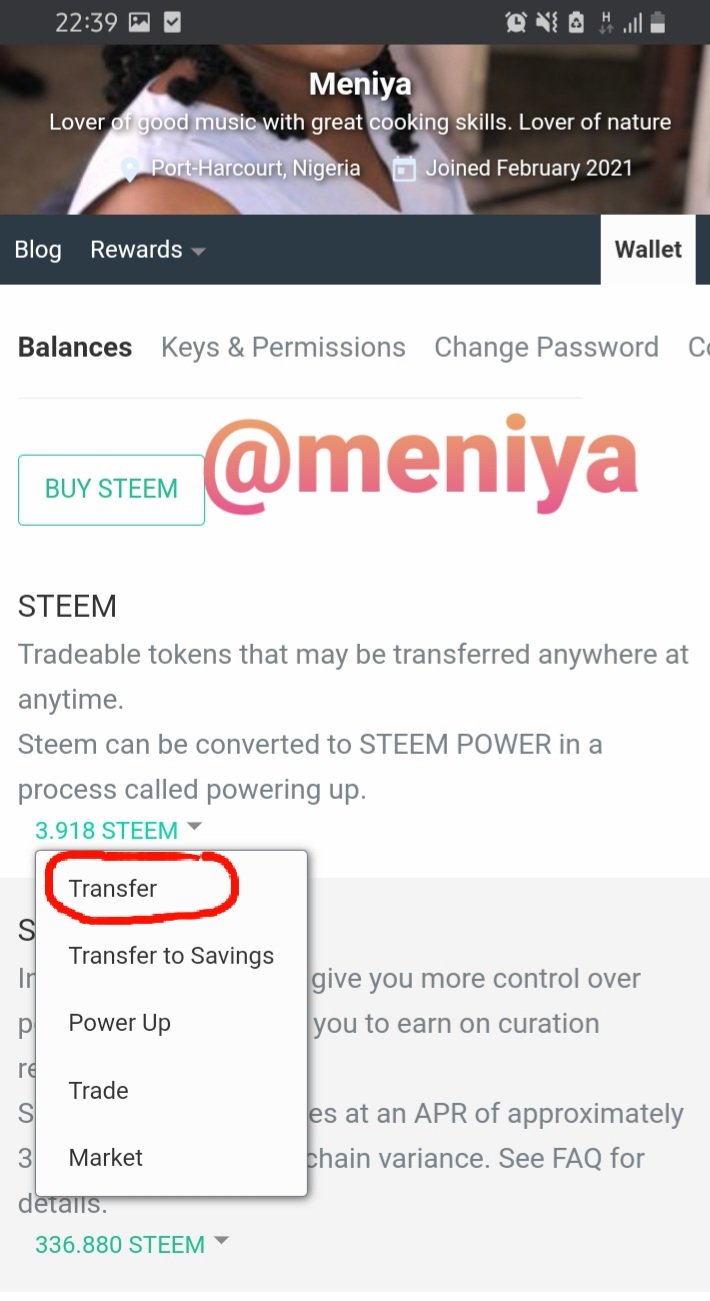 •I fill in the details of my friend and Memo for transfer, then click on next to confirm the transfer. And click 'OK.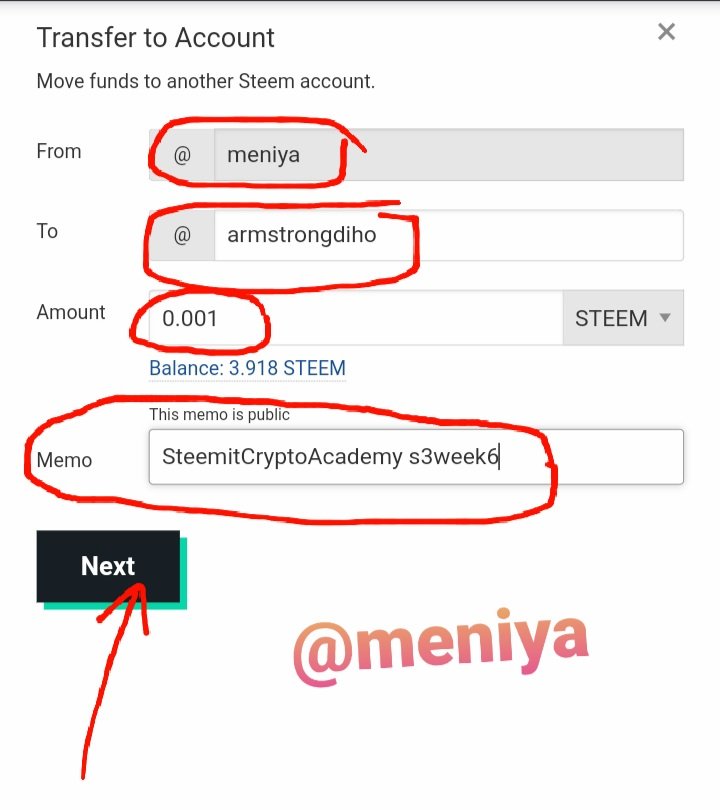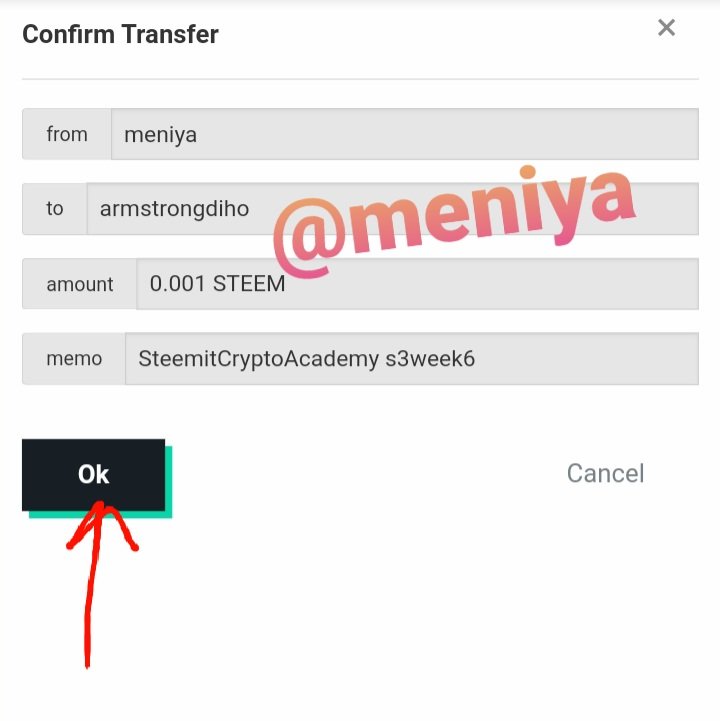 •The result of my transfer in my history.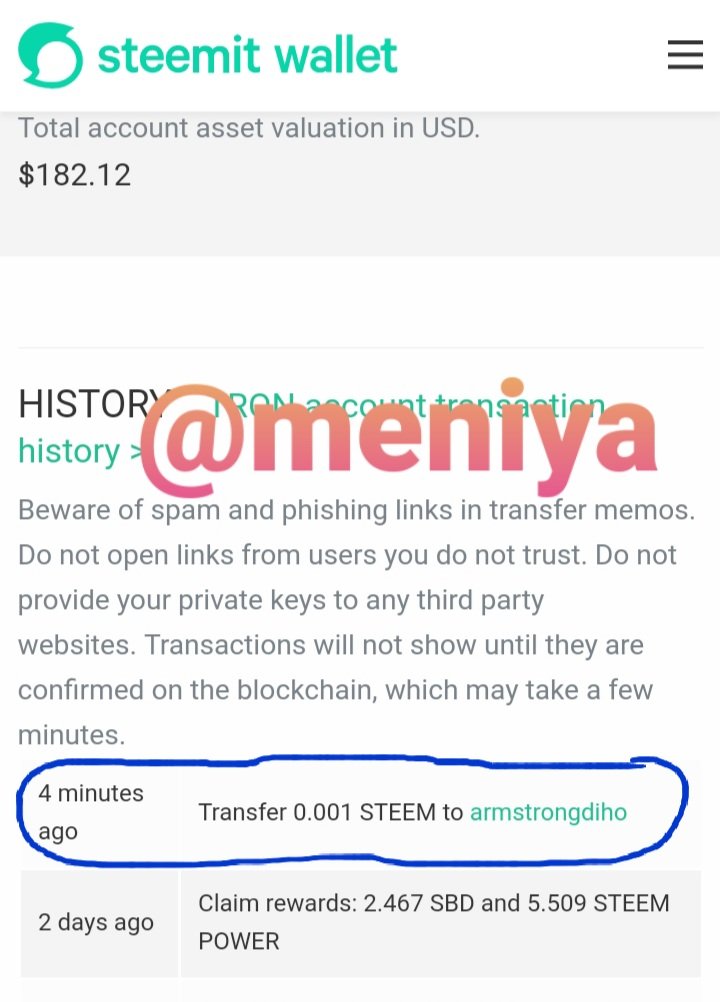 ---
▪︎TRANSFER 0.0001 STEEM
•You follow the steps above, then fill in the details for the transfer, such as my username and address to transfer the 0.0001 Steem.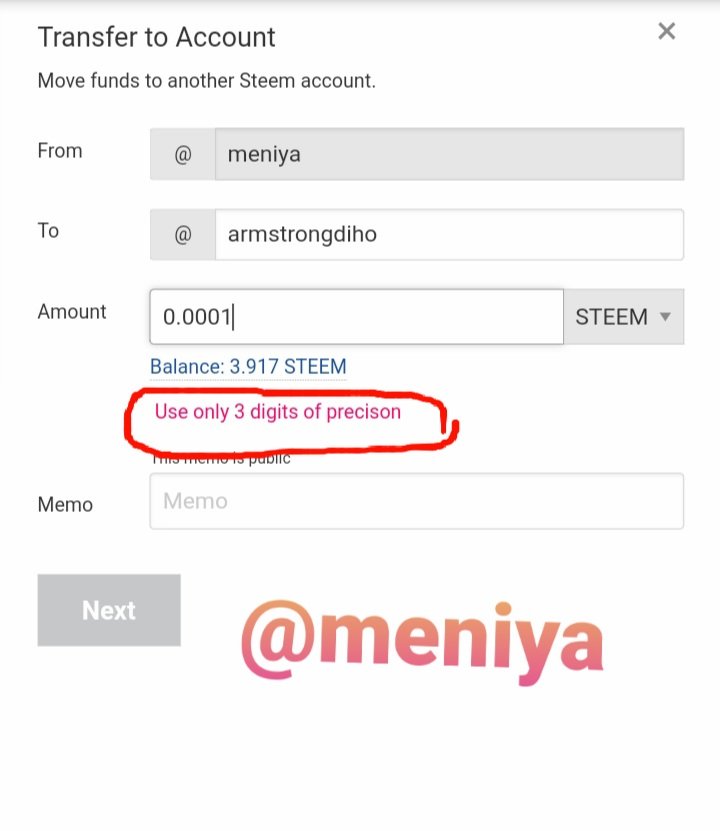 •From the screenshot above, we can see that the transfer couldn't proceed because Steemit network only allows me to make transfers up to 3 decimal digits. Which is to say, the lowest transferable value or that can be viewed on Steemit Blockchain is 0.001, as this can been in SBD, Steem and Steem power balance, they all have a maximum of 3 decimal places as seen below.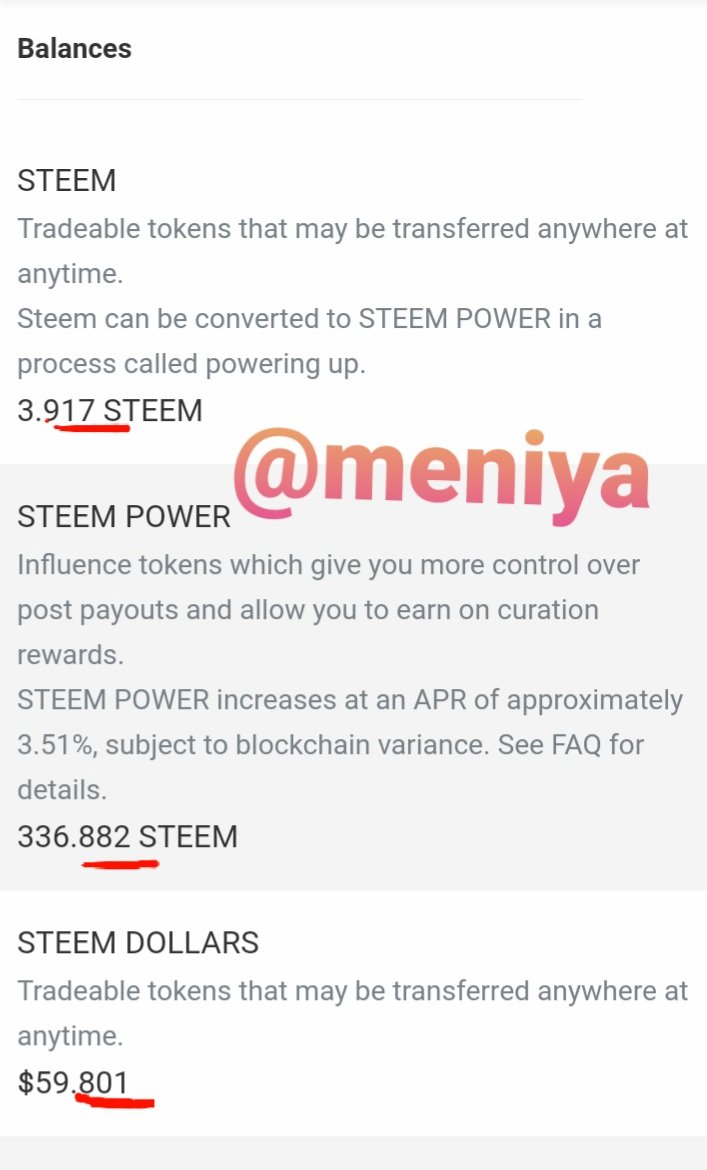 ---
---
CONCLUSION
In the course of this week's lecture and homework, I have being able to identify some prominent names and their great impact in crypto world and the world at large and without these persons, cryptocurrency may not have been a success story today. Satoshi Nakamoto, is known as the founder of the first cryptocurrency-Bitcoin which has pervaded way for the creation of other cryptocurrencies. Although his real identity is still a mystery to the world. Wei Dai is also a great impact to crypto world and other aspects of life.
Cryptocurrency is divisible and easier measured with smaller units, and are been measured digitally. Some small units include; Mega wei(Mwei), Giga wei(Gwei), Satoshi(SAT), Millisatoshi(mSAT).
---
---
Thank you professor @awesononso for an interesting amd informative class this week. Warm regards.