WHAT DO YOU UNDERSTAND BY TOKEN AND GIVE AN EXAMPLE OF AT LEAST 5 TOKENS AND IDENTIFY THE BLOCKCHAIN IT IS BUILT ON.( GIVE AT LEAST 3 DIFFERENT BLOCKCHAIN)
I can say that tokens are digital assets that run on blockchain existing already. Tokens do not have their own blockchain. You can only see them created in a blockchain that is already in existence. Tokens are generated for the creation of a new cryptocurrency and they could acquire the prices of the cryptocurrency, which means they could be used for investment purposes.
If there is a new project being launched, tokens could represent an investors stake for a certain purpose within the community ecosystem.
AT LEAST 5 TOKENS WITH THEIR DIFFERENT BLOCKCHAIN
| TOKENS | BLOCKCHAIN |
| --- | --- |
| Aave | ETHEREUM |
| Uniswap | ETHEREUM |
| FTXtoken | Binance |
| WINKLink | Tron |
| Everipedia | EOS |
| Klever | Tron |
| BitTorrent | Tron |
| Tether | Ethereum |
WHAT IS THE DIFFERENCE BETWEEN A TOKEN AND A COIN?
| TOKENS | COINS |
| --- | --- |
| Tokens are easier to create | Coins are difficult to create and can be created through mining and the people who do the mining must acquire the needed skills and be highly trained. |
| Tokens do not have their own blockchain, they are created on an existing blockchain | Coins are native to their blockchain which means a particular coin is meant for a particular blockchain. |
| You cannot use tokens to buy coins | But you can use coins to buy tokens. |
| Tokens can represent any type of asset on a platform | Coins cannot but can serve as money. |
EXPLAIN THE DIFFERENT CATEGORIES OF TOKEN LISTED BELOW AND EXPLAIN ITS FEATURES: UTILITY TOKENS; SECURITY TOKENS; EQUITY TOKENS; NON - FUNGIBLE TOKEN (NFT)
UTILITY TOKENS
They are tokens created to give access to specific services or products in the future. To the holders, it gives them the right to use a certain company's products or services in the future. Holders do not buy it with the anticipation of making profit on it.
SECURITY TOKENS
This is a kind of token that represents a stake on an asset. They are investment assets. It could be provided in form of bonds, stocks, etc from a company. The holders expect to receive profits from the projects from the company at the end of the day but it does not give them any ownership in the underlying company.
EQUITY TOKENS
This is a kind of token that gives one ownership over an asset. Equity tokens are used to represent the value of a stock or shares in a company. A holder is entitled to receive a part of the company's profits and it gives the holder ownership stake in the company.
NON FUNGIBLE TOKEN (NFT)
This is a special kind of token that is used to represent a range of virtual collectibles like music, arts, photos, videos, gaming and any digital files you wish. The token certifies any digital asset that it is representing to be unique. The asset has its own distinctive feature. There is only one official owner and it is not interchangeable. The token can be bought and sold. The token could be used to store value and its decentralized.
MAKE YOUR OWN RESEARCH AND WRITE EXTENSIVELY ON ANY TOKEN YOU LISTED IN QUESTION ONE. (MUST INCLUDE FEATURES OF THE TOKEN, THE AIM OF THE PROJECT, USES CASES.
I want to talk about the Aave token. Aave is a decentralized finance protocol based on Ethereum blockchain that allows people to borrow and lend cryptocurrencies. To achieve this, special kind of liquidity pools are created where lenders deposit their digital assets and earn interest. Borrowers on their part come to this liquidity pool to access a loan and they use their crypto as collateral.
Aave was initially known as ETHLend when it was launched in November 2017, but then it was rebranded to Aave in September 2018. The token was founded by Stani Kulechov. The founder's main target market are people who are already engaged in the crypto community.
FUNDAMENTAL ANALYSIS OF AAVE TOKEN ON COINMARKETCAP
Aave is ranked #28 on coinmarketcap. Aave price at the time of this research was $404.98 with a 24 hour trading volume of $398,892,681; a live market cap of $5,249,090,757; a circulating supply of 12,961,014.01 AAVE; maximum supply of 16,000,000 AAVE; and total supply of 16,000,000 AAVE.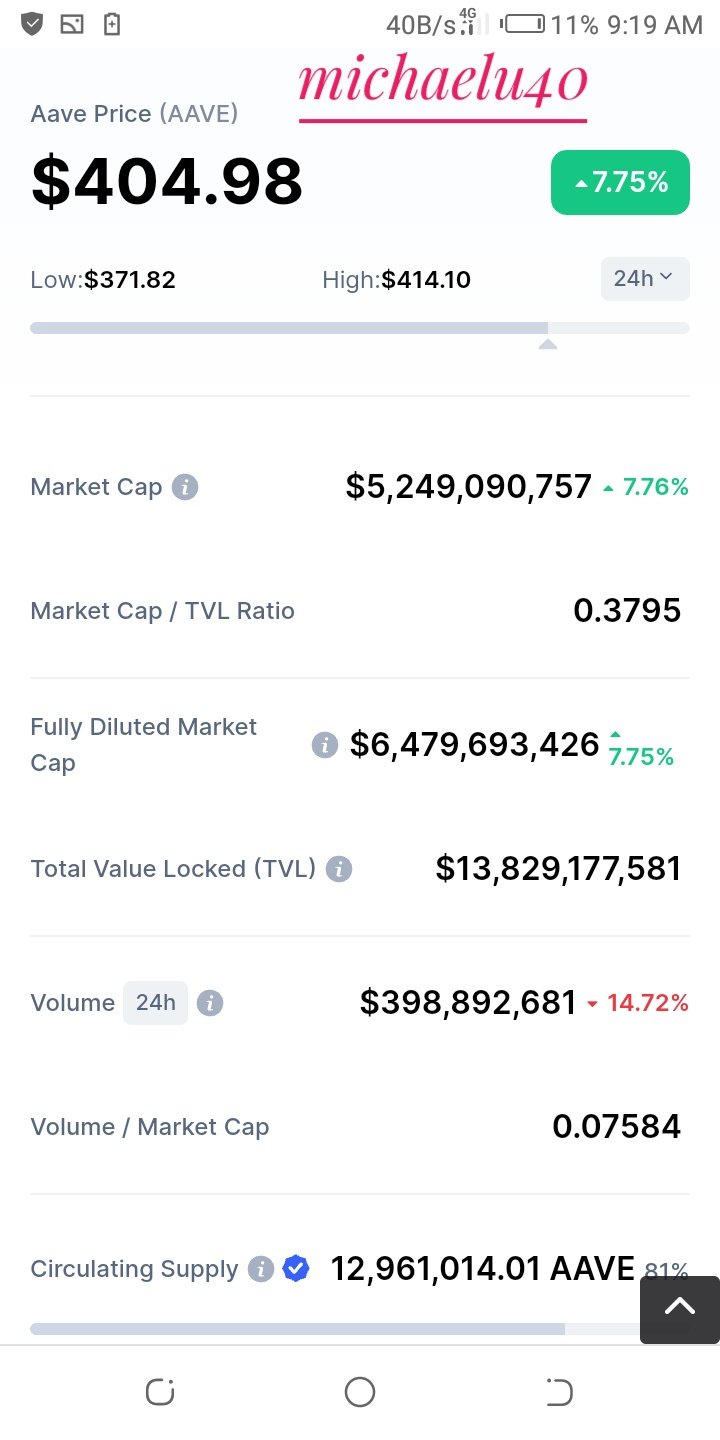 source
AAVE can be traded on top exchange like Hotcoin Global, Binance, Tokocrypto, Okex.
FEATURES OF THE AAVE
It is built on the Ethereum blockchain. It is a decentralized platform. The project grants people access to lend and borrow in 20 cryptocurrencies. The implication is that users have a greater amount of choice. People who borrow through Aave have the opportunity of alternating between fixed and variable interest rates.
AIM OF THE PROJECT
There are a lot of reasons why the project was created.
It was created to offer a wider range of services beyond Ether lending.
It was created to create liquidity where people can invest their money in pools and earn interest, and people are granted loans from the pool liquidity.
It affords users the opportunity to actually make a choice of which cryptocurrency to invest in or borrow from than to be restricted and frustrated at the lack of lending applications on Ethereum.
CONCLUSION
The lecture was indeed a wonderful one as I have come to fully understand the difference between tokens and coins.
I am grateful to Professor @reminiscence01