WHO IS SATOSHI NAKAMOTO?
The name Satoshi Nakamoto is the name of the person that is considered to be the founder or inventor of the first successful cryptocurrency known as Bitcoin. The first Bitcoin block chain came into existence in January 2009 when the first transaction was conducted by Satoshi Nakamoto. That transaction gave rise to the Bitcoin Genesis block.
Satoshi Nakamoto is considered to be the anonymous bitcoin founder. Anonymous in the sense that it has not been confirmed who exactly that name belongs to. His identity is still considered unknown, what we can only see are speculations of him as proposed by some people which the supposed individuals have also denied.

Satoshi Nakamoto's aim of inventing the bitcoin was to create am alternative payment that will work in decentralized system for the payment of goods and services digitally. The Bitcoin is a digital currency which does not need a third party. The decentralized system gets rid of all abnormalities experienced in systems that use centralized system like the financial system.
WRITE ON TWO CLAIMS/ THEORIES OF SATOSHI NAKAMOTO IDENTITY
Because of peoples' curiosity to ascertain the real identity of Satoshi Nakamoto, many have come out with some speculations to link some individuals to that identity. Two of these individuals are:
1.Nick Szabo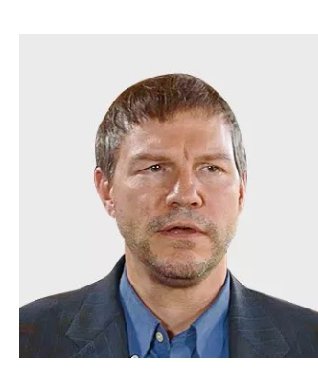 Image source
He is a legal scholar and also a computer engineer. He is thought to be a trailblazer in the concept of smart contracts. He has been highly involved in cryptocurrency since it was invented. Now in 2008, he came up with the idea of a decentralized currency he called Bitgold and this happened before bitcoin came into existence in 2009. And the bitcoin has similar concept.
At a time, an author named Dominic Frisby in his book entitled Bitcoin: The Future of Money made the assertion that Nick Szabo is Satoshi Nakamoto. So the question is, why did Frisby make that assertion? There were three reasons behind that.
Frisby engaged a stylometrics expert who after studying Szabo writing style came to the conclusion that Szabo's writing style was similar to the known writings from Satoshi.
That both Szabo and Satoshi made reference to an economist called Carl Menger.
Also, Frisby learned that Szabo sometime ago worked for DigiCash, which was an attempt to bring cryptography to digital payments.
However, Szabo has firmly denied this claims both in the New York times story and in a tweet too.
2.Dorian Nakamoto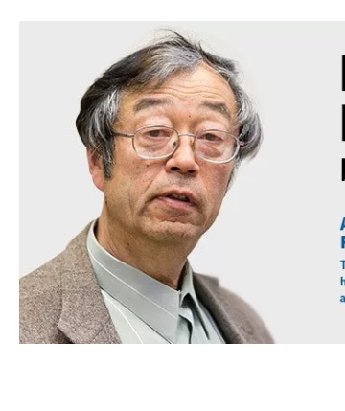 Image source
He is a Japanese - American. He went to California Polytechnic and graduated in Physics. In 2014, an article in Newsweek claimed that Dorian Nakamoto is bitcoin creator. Now, why did the author come up with that speculation? The author claimed that there were some similarities between Satoshi and Dorian which are:
That both of them held Libertarian leanings.
That both have a Japanese connection.
The author also said that at an occasion Dorian said he has nothing to do with bitcoin again.
However, Dorian Nakamoto at a later time denied making such a statement and that maybe he misunderstood the question. And he affirmed that he has nothing to do with that issue at hand.
WHO IS WEI DAI?
Wei Dai is a Chinese man. He is a computer engineer who graduated from the university of Washington. He is famous for his contributions to cryptography and cryptocurrencies. Wei Dai created b-money system and crypto++ cryptography library. Wei Dai invented the b-money system to be an anonymous distributed electronic cash system. Of course, this contains some features seen in cryptocurrences today as well as many of its services.
It is important to note that the Wei, which is the smallest subunit of Ether is named after him.
WHAT IS THE CURRENT VALUE OF BITCOIN ON THE DAY YOU ARE PERFORMING THIS TASK? CALCULATE THE USD VALUE OF ONE SATOSHI OF THE CURRENT VALUE.
From coinmarketcap as at when I did this work, the current value of bitcoin is what you see below

To calculate the USD value of one Satoshi of the current price of bitcoin is
1 Sato shi = 1/100000000* 1BTC
1 BTC = $38,574.90
1 Satoshi = 1/100000000* 38,574.90
1 Satoshi = $0.0003857490
=$0.000386 ( to 3 S.F )
WHAT IS THE CURRENT VALUE OF ETHER ON THE DAY YOU PERFORMING THIS TASK? CALCULATE THE USD VALUE OF ONE GWEI OF THE CURRENT VALUE
From the coinmarketcap the current value of Ether is what you see below

To calculate the USD value of one Gwei of the current value is seen below
1 Gwei = 1/1000000000* 1 Ether
1 Ether = $2,639.22
1 Gwei = 1/1000000000*2,639.22
1 Gwei = $0.00000263922
= $0.00000264 ( to 3 s.f.)
TRANSFER0.001 STEEM TO AN ACCOUNT. THEN SEND 0.0001 STEEM. SHOW WHAT HAPPENS AND STATE WHY?
The first screenshot below shows my account name, the account I am transferring to, and the amount of steem I am transferring which is 0.001 steem. After imputing the values, then I click on Next.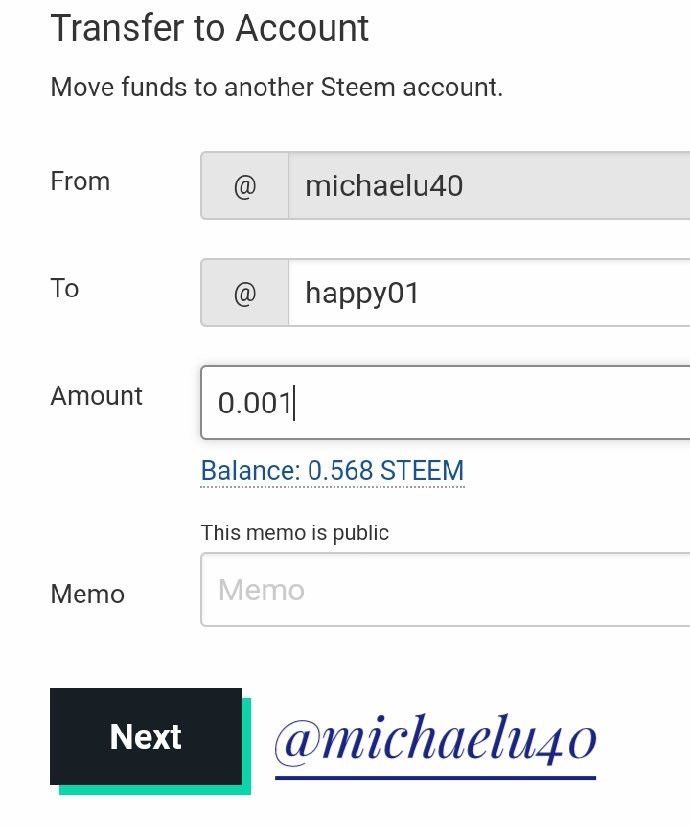 The second screenshot shows when it is requesting me to confirm my transaction, once I click OK, the transfer goes showing that the transaction was successful sending 0.001 steem to the account.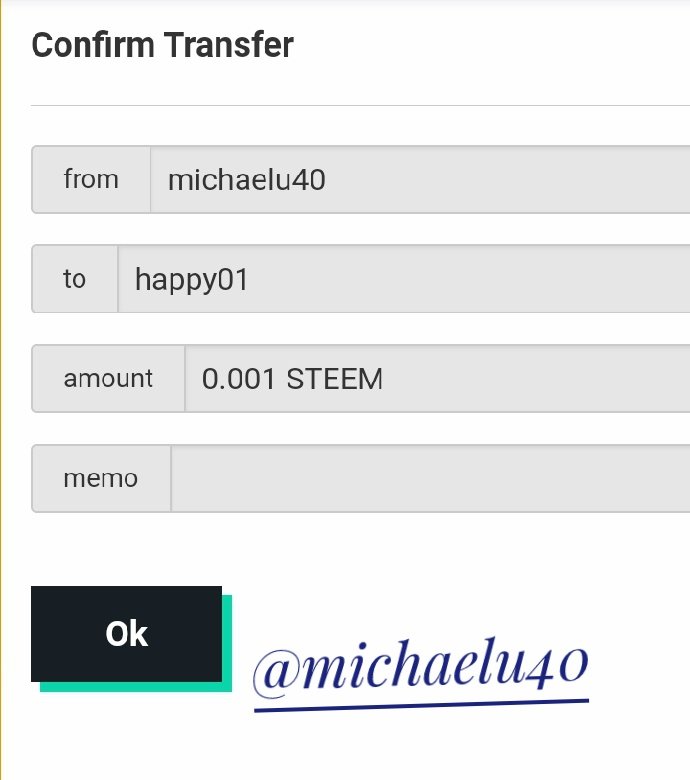 Now when I keyed in 0.0001 steem to transfer, you will see a message in red that reads use only 3 digits of precision.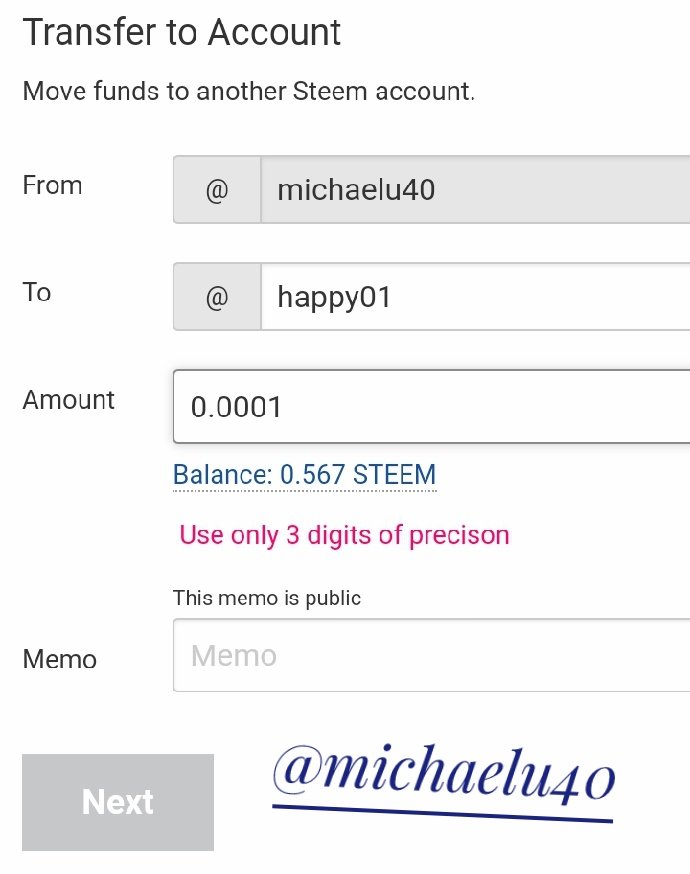 The implication is that such digit cannot be found in the steem blockchain. So it requests me to use three digits correct to 3 decimal places which value can be measured on the blockchain. Another implication is that the minimum value of steem that can be transferred on steem blockchain is 0.001 steem.
I am grateful to Professor @awesononso.