This is the Task 1 of the Crypto Academy Beginners course I am thrilled to take part in this task by
@sapwood
This is where the fun is and with this lesson, we are learning more about the Tron Ecosystem Let's get into it.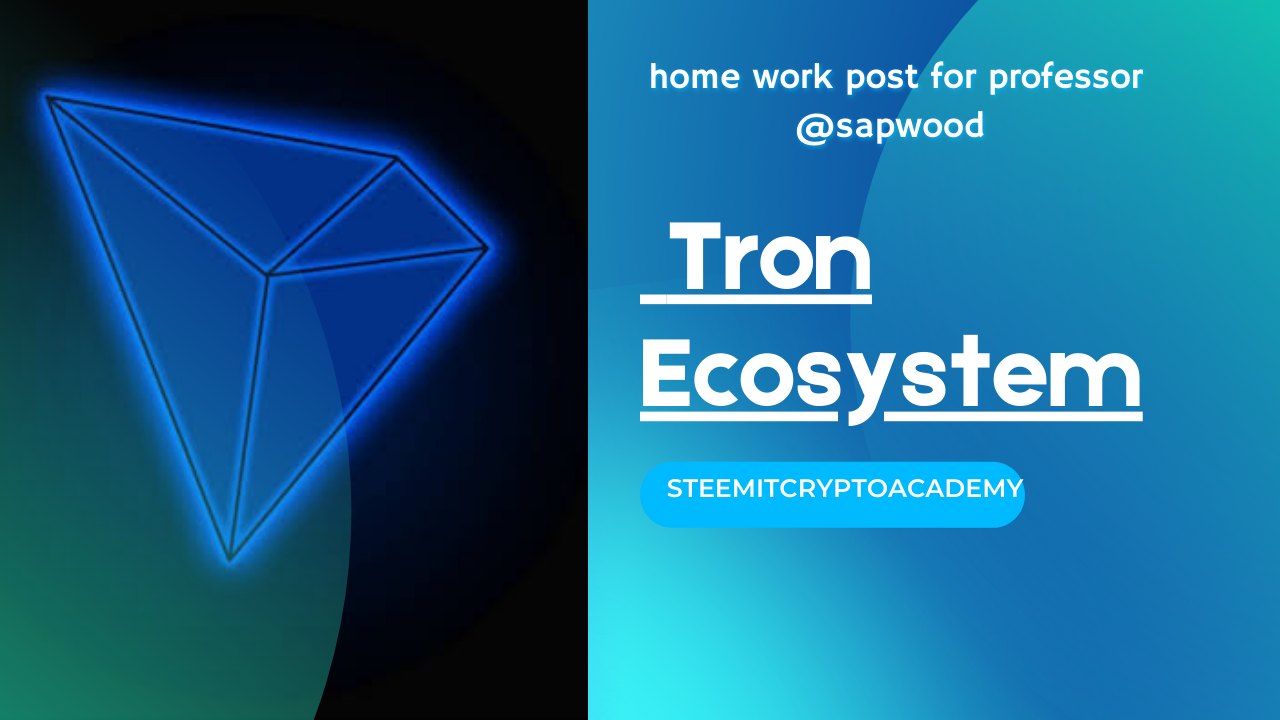 What are the different dApps in the Tron Ecosystem are you familiar with? What are the uses of DeFi applications like just swap, justlend and sun.io? How can you optimize mining rewards by staking TRX and other TRC20 tokens in sun.io? Examples?
Introduction
Tron is a blockchain founded in 2017 by Justin Sun who's also the founder of apps like BitTorrent. This decentralized platform or blockchain has a native coin of its own called Tronix or TRX. Like other blockchains, the Tron ecosystem has dApps running on it. In this assignment, we'll be going through some dApps on the Tron ecosystem.
What are the different dApps in the Tron Ecosystem are you familiar with?
As mentioned in the introduction Tron blockchain has dApps running on its system. Here's the screenshot of some top-ranked dApps on the Tron network.
JustSwap
JustLend
Luminous
WINK
SWAP
TRON GENERATOR
TRONCASE REBORN
However, I'll be talking about the top 3 dApps in this homework task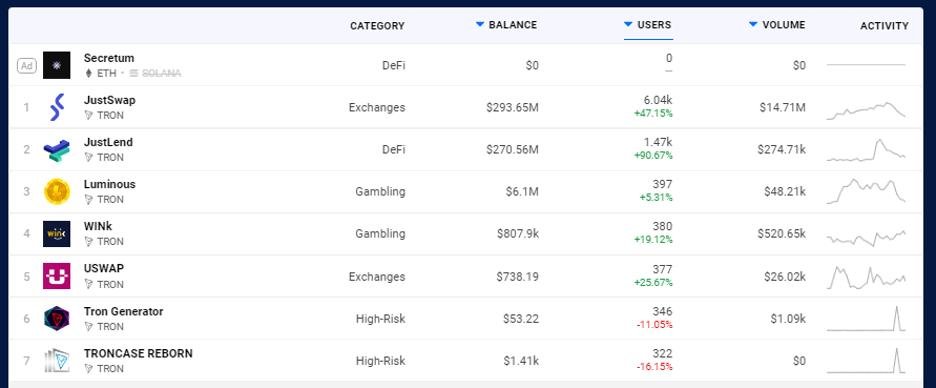 What are the different dApps in the Tron Ecosystem are you familiar with?
JustSwap
Justswap is one of the popular most dApp running on the Tron ecosystem. It is an exchange and more specifically DEX i.e. decentralized exchange launched last year in 2020 which is connected to the Tron system through Tronlink wallet. This dApp supports the conversion of all TRC20 based tokens involving a transaction fee which is taken by liquidity generators which are 0.3%. The users can generate liquidity by clicking on the pool option of this platform.
Here are some key statistics of this app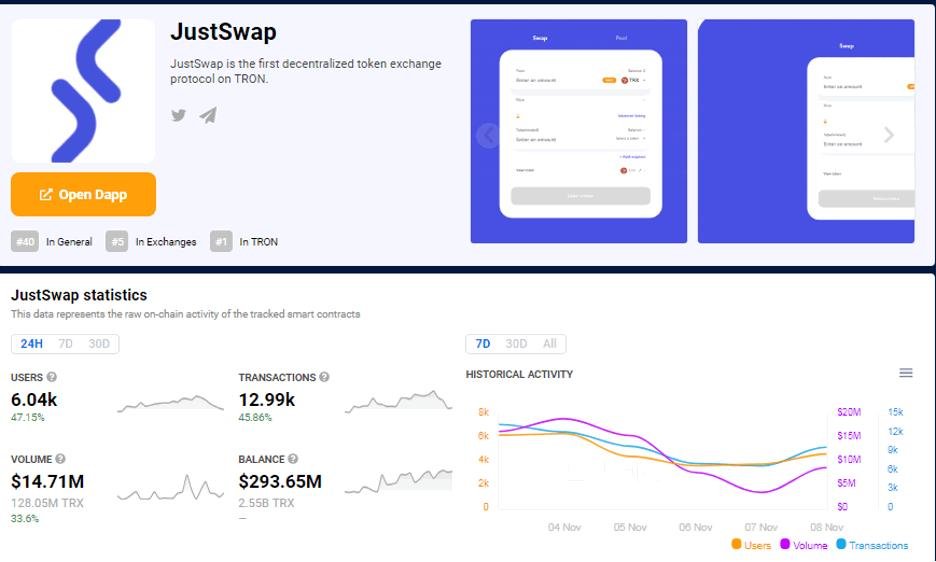 JustSwap statistics
USERS 6.04k

TRANSACTIONS 12.99k

VOLUME $14.71M

BALANCE $293.65M
JustLend
It is said to be the first borrowing and lending platform that Tron Ecosystem provides. Here users can earn interest through depositing their assets even in less quantity also can yield loans. The platform was launched in December 2020 and is called the "Tron Powered lending platform." Here either you can be a borrower or lender. This dApp accepts some assets and also offers smart contracts for certain coins. Here's the list of coins that are accepted by the platform.
TRX
USDT
USDJ
SUN
WIN
BTC
JST
WBTT
Here's the list of those tokens for which the platform offers smart contracts:
RX
BTC
SUN
JST
WIN
WBTT
USDT
USDJ
The platforms develop fund pools and the interest rates of these pools are found by the supply and demand algorithm of Tron assets. Being decentralized removes third party here lender and borrower interact directly.
Here are the key stats of this dApp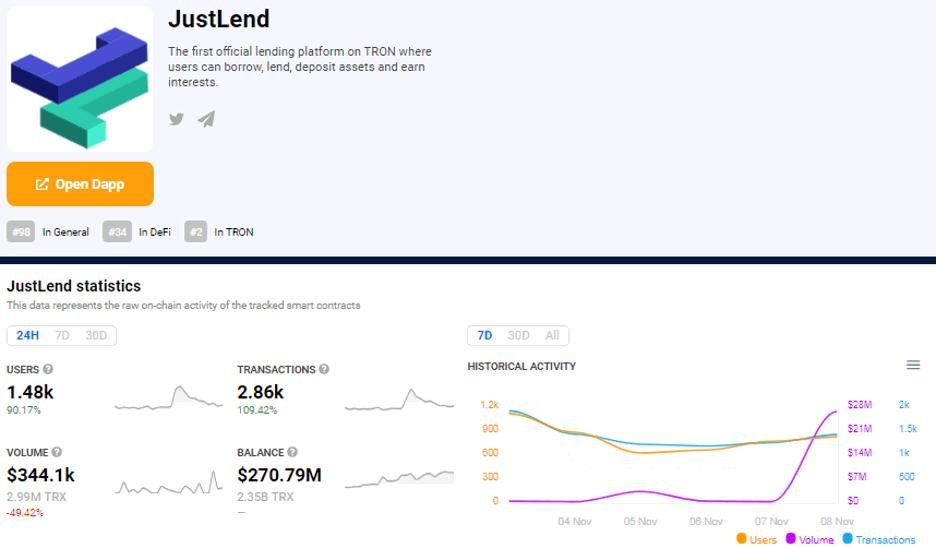 JustLend statistics
USERS 1.48k

TRANSACTIONS 2.86k

VOLUME $344.1k

BALANCE $270.79M
Luminous
Luminous is the last dApp I'll be talking about. It is a dapp concerned with the gaming world. This lets users play games using crypto-assets and provides you chances to earn more of these assets or tokens. Megabit and Lucky dice are two names of games being played on Luminous. The Megabit involves guessing the price of bitcoin and upon correct or close guess user gets the reward. The second game Lucky Dice involves rotation of dice and earning rewards. Also here users can get profits by sharing or promoting the codes on their social platform. Here are some key stats of this app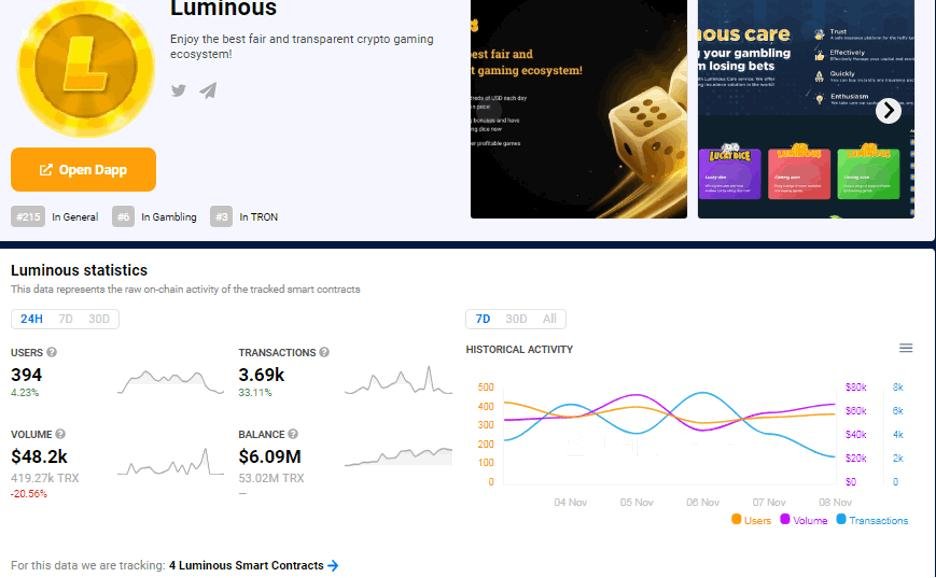 Luminous statistics
USERS 394

TRANSACTIONS 3.69k

VOLUME $48.2k

BALANCE $6.09M

What are the uses of Defi applications like just swap, just lend, and sun.io?
Uses of Sun.io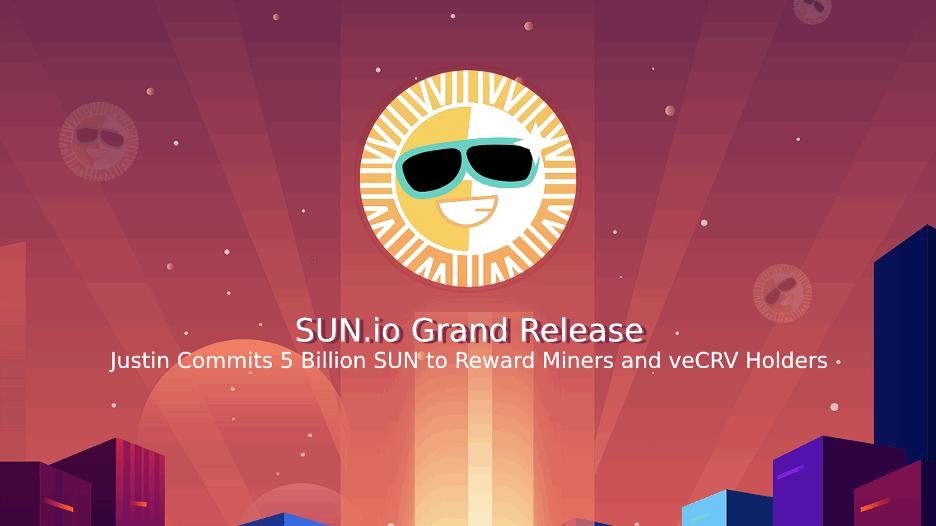 Source
It is the first-ever Tron integrated Defi providing an opportunity for stable coin swapping on the Tron ecosystem.

The sun.io Defi application assists the user with features like stake-mining.

Sun.io allows users to take governance on the Tron platform i.e. it provides self-governance opportunity of Tron ecosystem.

Smart contract is used to perform every activity on this platform.
Uses of JustSwap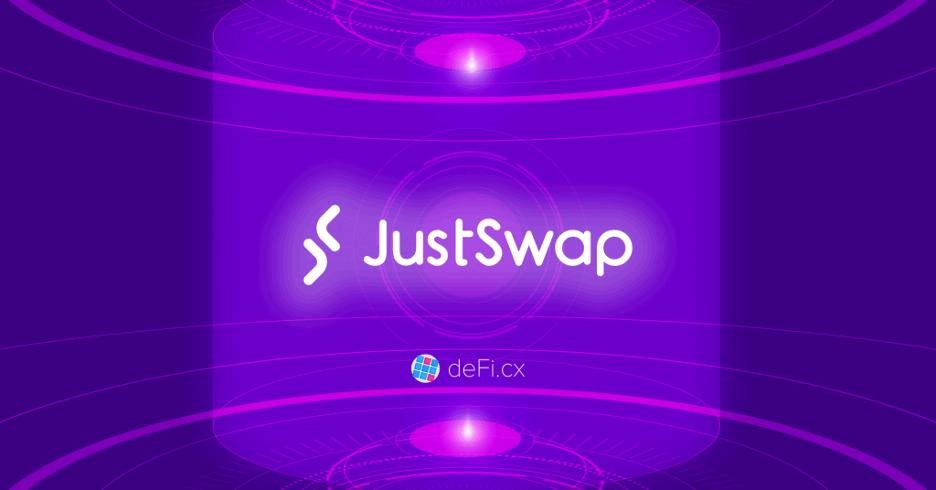 Source
Being an exchange, the justswap is mainly used for the conversion of TRC20 based tokens.

The liquidity providers can yield themselves profits from the transaction fee.

Here along with the conversion of assets TRC-20 based users can also participate in creating liquidity by clicking on the pool option.

Users here get quick transactions of their assets i.e. they don't wait for marching orders.

Users of Justswap are facilitated with massive liquidity generated by liquidity generators.
Uses of JustLend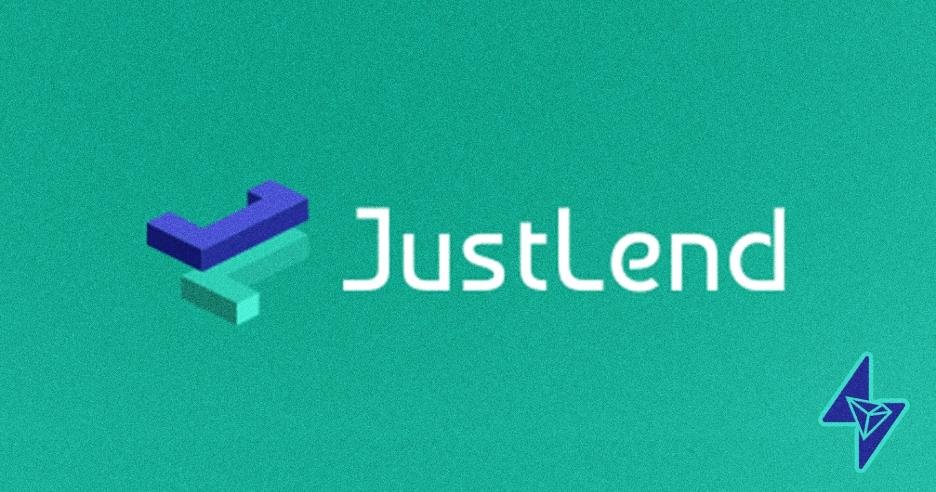 Source
This platform is used for borrowing, lending, depositing your crypto assets.

Users can opt for this Defi to earn interests even with little investment.

You can loan on this platform by using TRX, USDT, and USDJ, etc as collateral.

How can you optimize mining rewards by staking TRX and other TRC20 tokens in sun.io? Examples?
We need to know first that there's a reward for staking on Sun.Io platforms such as TRX or TRC-20 coins. There is more than one possible way to optimize the staking reward however I'll be giving example one way.
You can optimize mining reward by staking TRC and other TRC tokens in sun.io by following the steps down below:
Firstly I'll be going to the sun.io webpage here in the picture down below you can see an option to connect your wallet I'll be clicking on it.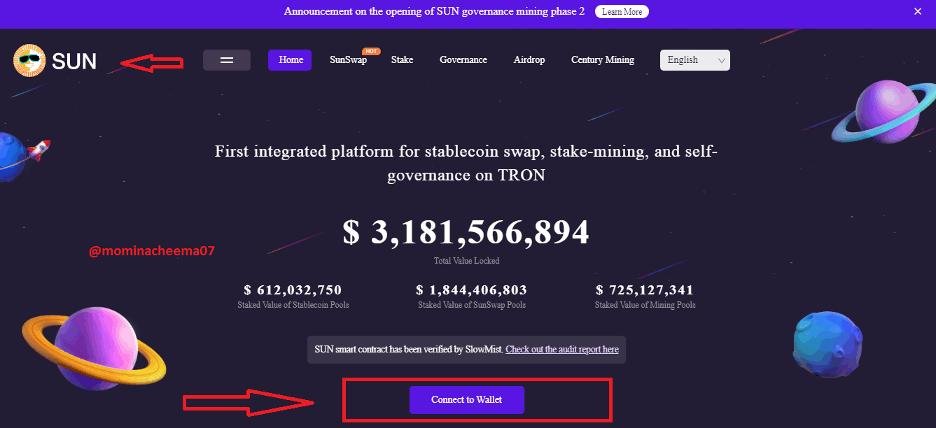 After which here's a pop-up asking for connecting it to my Tronlink wallet.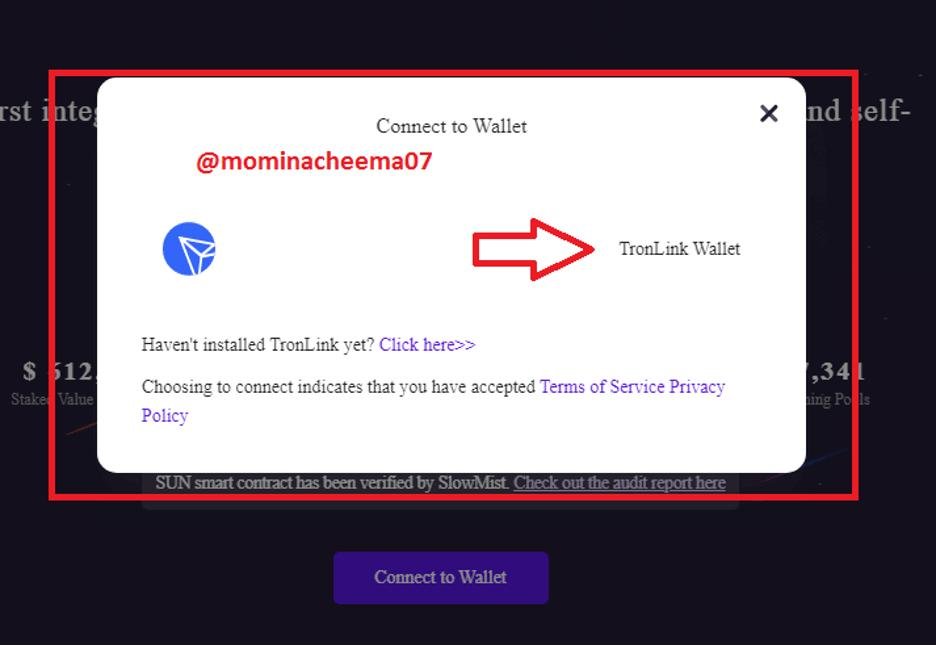 Now after connecting I'll be clicking on the stake option is given at the top of the page can be seen marked in the picture down below.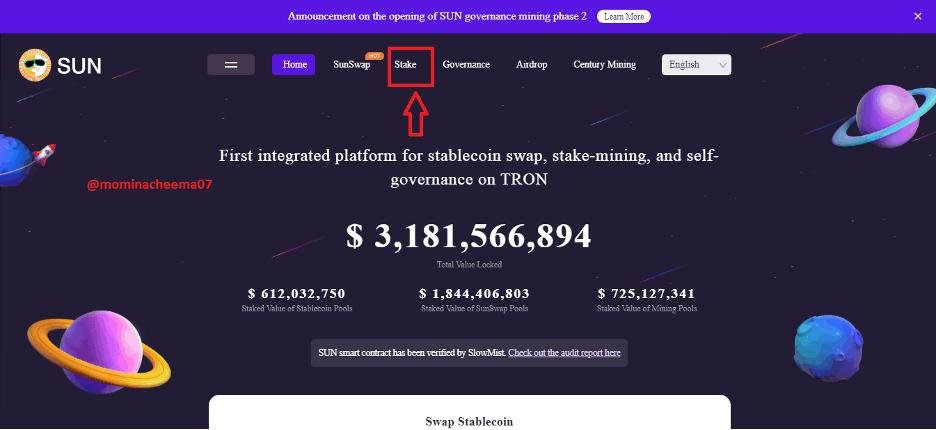 Previous click navigated me to the following page where I can optimize my staking reward.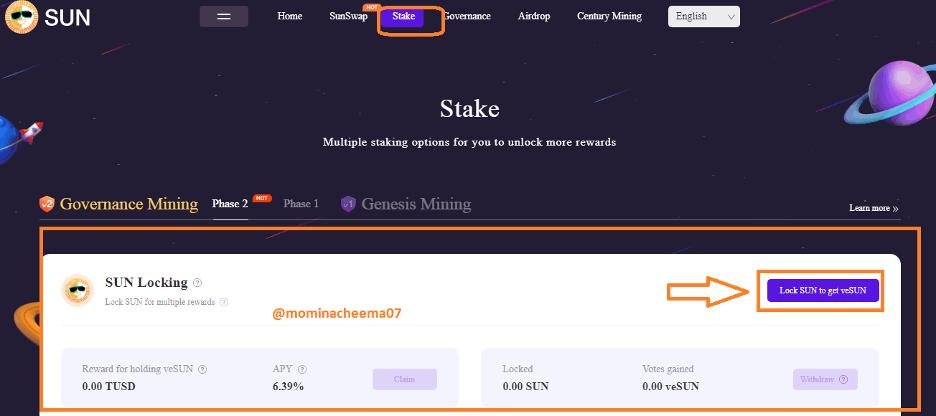 Conclusion
The Tron is already a popular blockchain and is still growing every day. As said it mainly hosts entertainment applications on its surface mostly concerned with gaming or media-related things. However, since we are the people of the crypto world and our grounds of observation are limited to benefits we get related to crypto-assets. The blockchain uses peer-to-peer technology providing a decentralized atmosphere with cryptocurrency.