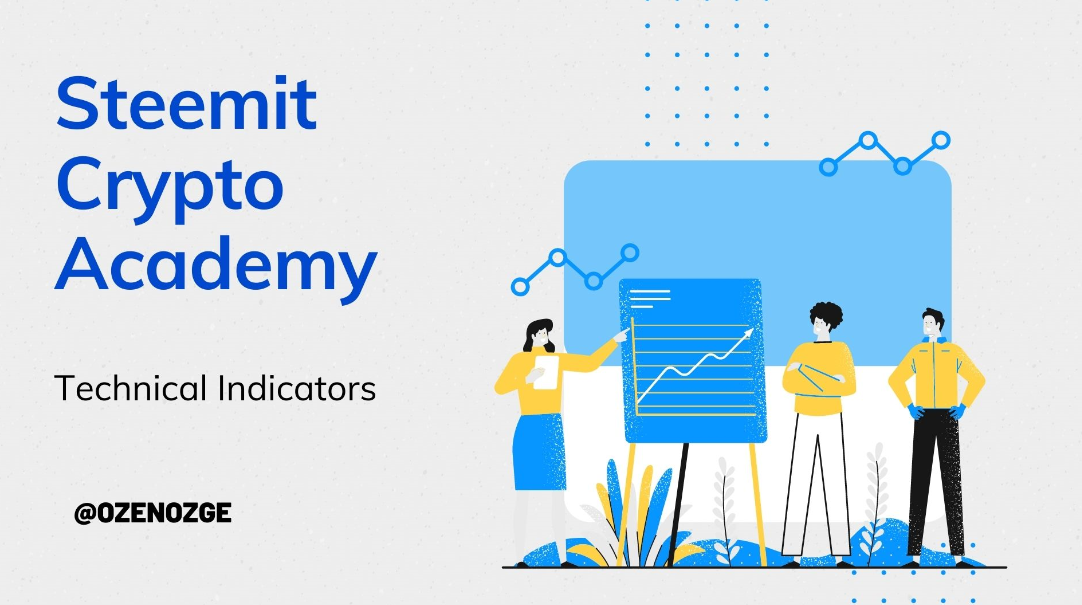 Made with Canva
1.a) In your own words, explain Technical indicators and why it is a good technical analysis tool.
Cryptocurrency exchanges are highly volatile structures. If the invested token/coin is not chosen well, it is possible to lose your entire investment. So, what should be considered in order not to incur losses or maximize profits while making these investments? If you are not a prophet, fundamental and technical analysis will allow you to profit from these exchanges. For fundamental analysis, it is necessary to have information about determining the value of the invested commodity.
In technical analysis, it is making predictions for the future by looking at the movements of a commodity in the past. So that's where the math comes into play.When it comes to technical analysis, it is impossible not to mention indicators.
Indicators are the expression of past price movements with mathematical formulas and placing them on the graphs. Thus, they help us to make predictions about the direction of a price or a trend. There are many different indicators used today. While developing these indicators, some use different time periods. But the ultimate goal of all is to confirm the direction of a trend or price.
Nowadays, many free applications such as Tradingview automatically add these indicators to our charts and we only have to interpret these indicators. However, my personal opinion is that no matter which indicator is used, it is necessary to know roughly what time intervals this indicator uses and what mathematical operations are performed.
In addition, it should be noted that although indicators are guiding for us, an indicator alone can be misleading. For this reason, when using indicators in technical analysis, we should not act according to a single indicator. It is possible to obtain good results by using more than one indicator and verifying each other.
How can we evaluate our investments using indicators? In other words, how will the use of indicators benefit us?
In fact, indicators have many functions. In this assignment, I will tell you about three important functions.
✓Prediction
✓Confirmation
✓Alert
Prediction
Investors can predict price movements for the future by looking at the indicators.
Confirmation
Indicators work best as a confirmation tool. Its reliability can be confirmed by testing other technical analysis tools with the indicator.
Alert
Indicators give an alarm to investors to enter a position or withdraw from an investment.

1.b) Are technical indicators good for cryptocurrency analysis? Explain your answer.
As I mentioned in the previous question, indicators are necessary for technical analysis and it is necessary to use these indicators for a good investment. But I must state again that it is quite possible for us to be wrong to trade on a single indicator. After getting confirmation from a few indicators, we can perform our transaction. This applies to both the exchange and the crypto exchange.
First, we can understand the state of the market if we have used the indicators correctly. By using indicators, the investor can make trading decisions according to the market situation.
Most indicators provide traders with early trading signals. This helps to reduce stop-loss size, thus increasing the winning ratio of a trade position. Similarly, technical indicators provide areas of support and resistance which are stop-loss target areas and take profit areas.
We can also get signals by looking at the indicators. In other words, if the trend of a chart is changing up and down, it is necessary to confirm it with the indicator. If the indicators confirm this trend, we can perceive it as an early signal.

1.c) Illustrate how to add indicators on the chart and also how to configure them. (Screenshot needed).
In this section, I used tradingview. All screenshots are taken from www.tradingview.com. First of all, we open the graph of the cryptocurrency that I intend to analyze. I wanted to work with ETH today, so in this question, indicators are added to ETH graph.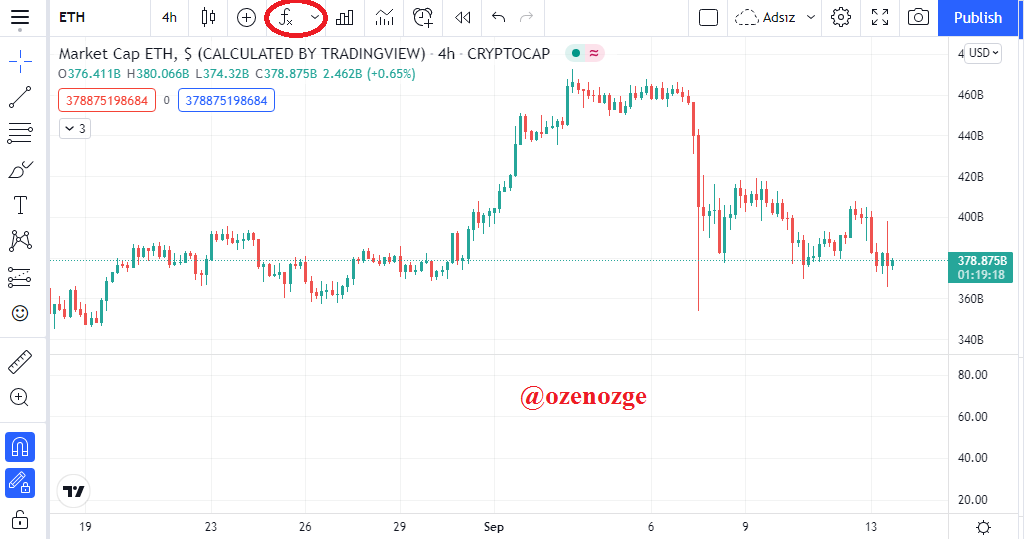 Simple ETH Graph on Tradingview.com
When we open the ETH graph, a graph like the one below will appear. We can add the indicators by clicking the f(x) that I have circled in the upper part.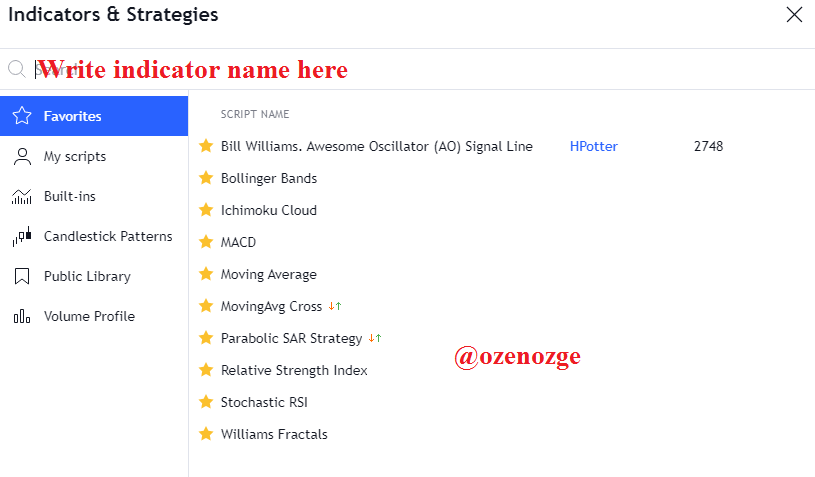 Adding indicators on Tradingview.com
You can reach them by typing the name of the indicator you want in the search button and just click it. You can also easily access your favorite indicators by adding stars to your favorites. I have attached the Moving Average, RSI and Bill Williams, Awesome Oscillator to this chart.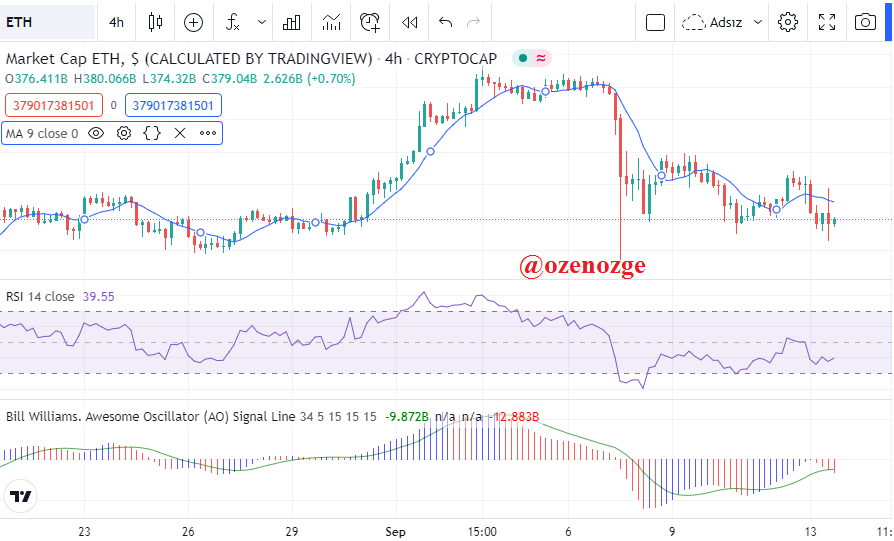 Applying indicators on Tradingview.com
To configure an indicator, it can be done by right-clicking on the selected indicator and selecting settings from there. From here, properties such as the color and sensitivity of the indicator can be changed.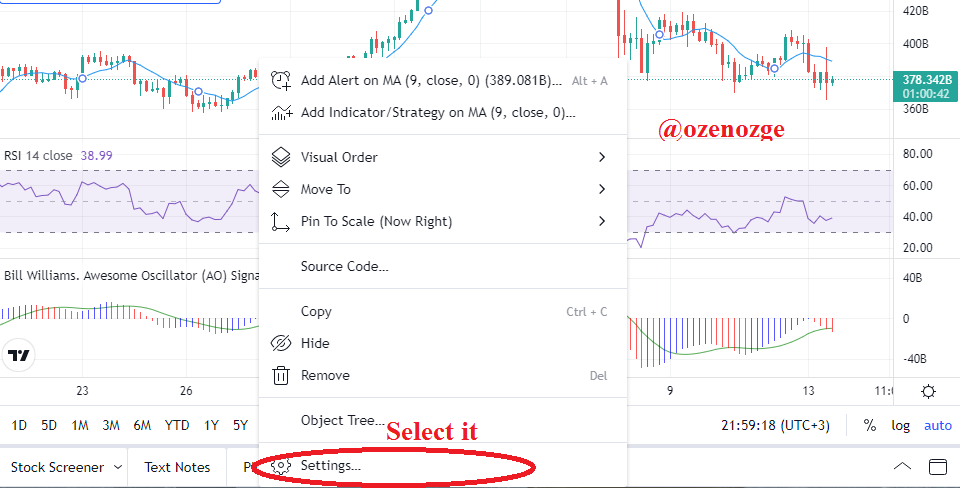 Choosing Configuring of An Indicator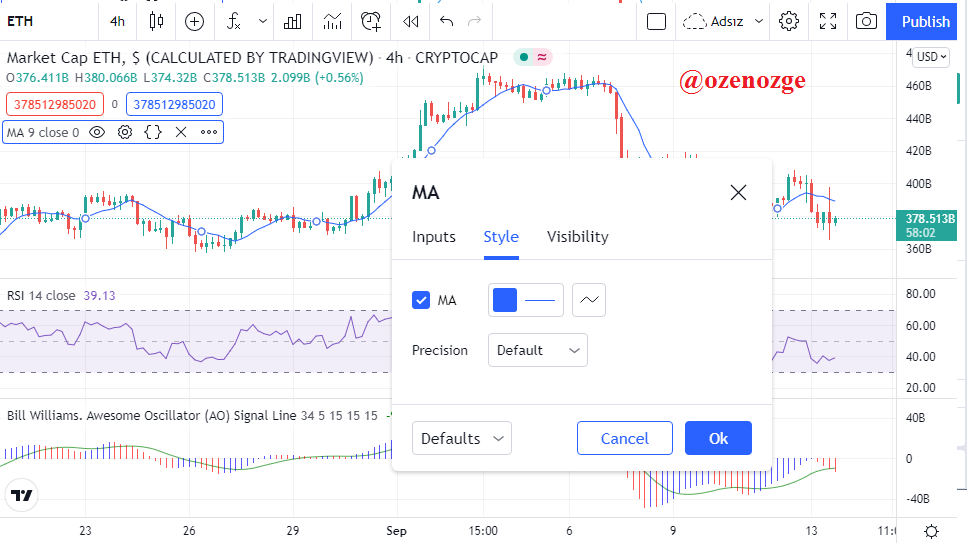 Configuring An Indicator
---

2-a) Explain the different categories of Technical indicators and give an example of each category. Also, show the indicators used as an example on your chart. (Screenshot needed).
Technical indicators are also divided into three. These three different types of indicators are briefly mentioned below.
In this section, I used tradingview. All screenshots are taken from www.tradingview.com.
Trend Based Indicators
Trend is very important for trading in the stock market. We can understand whether the price has an upward or downward trend by looking at the trend. Trend-based indicators help us understand the direction of a trend. In addition, whether a trend is strong or not can be understood with these indicators.
Indicators such as Moving Averages (Simple/Exponential), Average Directional Index (ADX), Ichimoku Kinko Hyo are in the Trend Based class.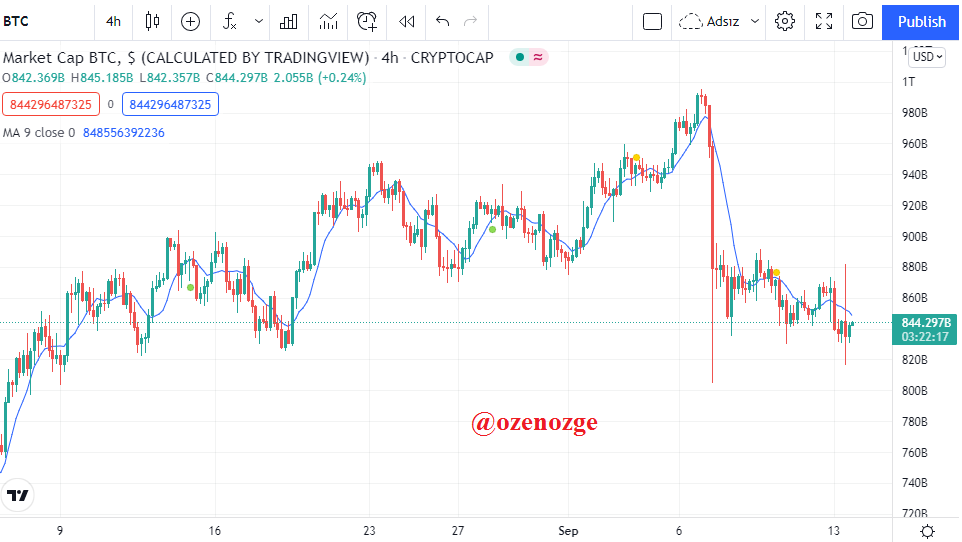 Moving Average (MA) Indicator: BTC Graph
Here, as an example, I opened a BTC graph and added the Moving Average (MA) indicator. As can be seen in the graph, the direction of the trend and the MA indicator are in the same direction.
Volatility Based Indicators
The activity in the markets is not always the same. Sometimes the price of a commodity goes up and sometimes it goes down. Indicators that we can trade using these fluctuations are called Volatility Based Indicators. Decisions such as selling when the price is too high and buying when it is too low can be made with the help of these indicators.
Examples of these indicators are Bollinger Bands, Average True Range (ATR).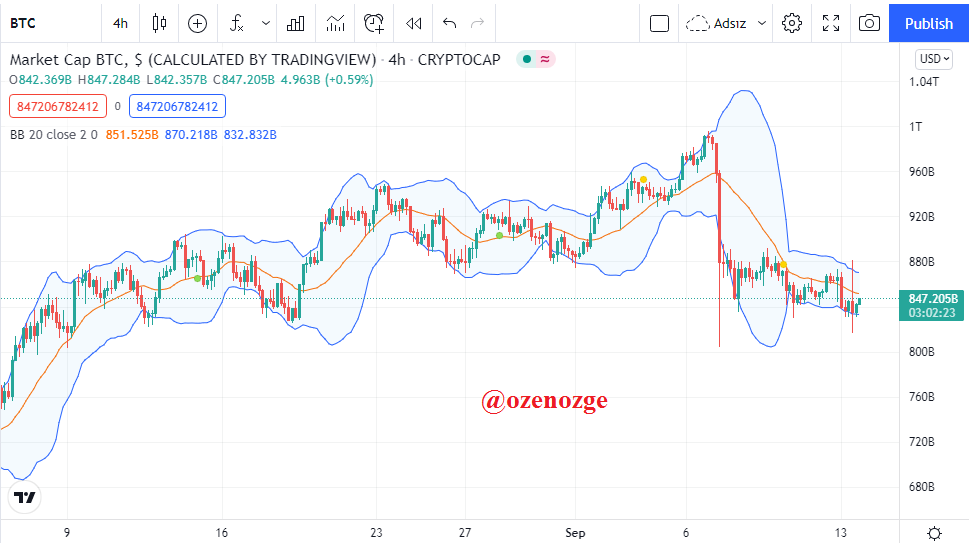 Bollinger Band: BTC Graph
Again, as in the previous example, I chose the BTC chart and added the Bollinger Band indicator to this chart.
Momentum-Based Indicators
These Momentum-Based indicators are also called oscillators. These indicators oscillate between a certain limit. It is determined by these indicators that a commodity is overbought or oversold in the market. Overbought indicates that the price is unreasonably high, and oversold indicates that the price is unreasonably low. Investors can make a profit by selling in the overbought zone, or, on the contrary, they can buy the commodity in the oversold zone and expect it to increase in value in the future.
Examples of such indicators are Relative Strength Index (RSI), Moving Average Convergence Divergence (MACD), Stochastic.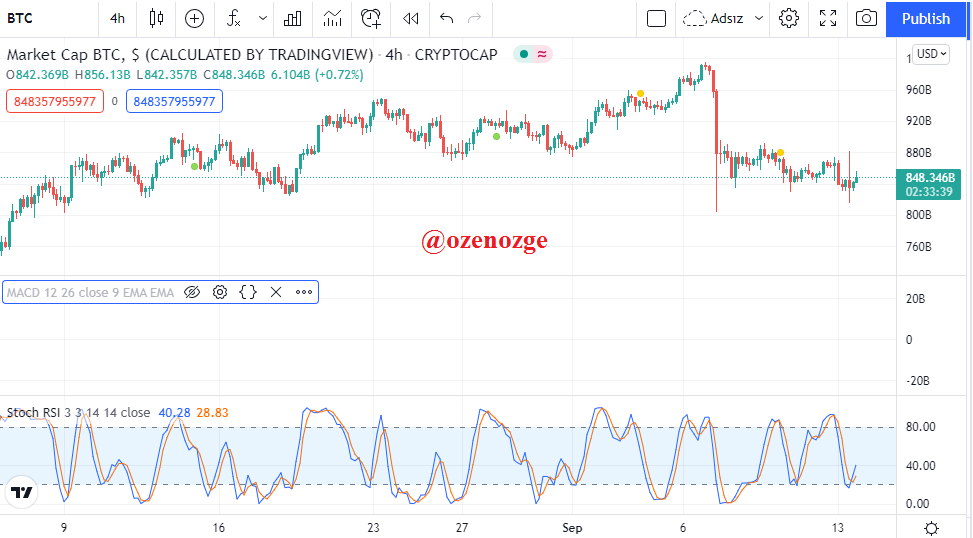 Stochastic RSI: BTC Graph
Here, too, the Stochastic RSI has been added to the BTC graph

2.b) Briefly explain the reason why indicators are not advisable to be used as a standalone tool for technical analysis.
Indicators may not always show correct results and it is possible to give false signals sometimes. They may also lag behind the market price. For this reason, an investor should not trade by looking at a single indicator. It should also receive confirmation from other indicators and make its decision accordingly.

2.c) Explain how an investor can increase the success rate of a technical indicator signal.
First of all, the investor should understand an indicator well and know under which conditions that indicator should be preferred. Apart from this, an indicator needs to know in which time intervals it will give the most effective result. For example, if an indicator gives the best result on a 4-hour chart, the investor should not use this indicator daily and decide accordingly.
Finally, configuring the indicator correctly will increase the trading efficiency.

CC:@reminiscence01