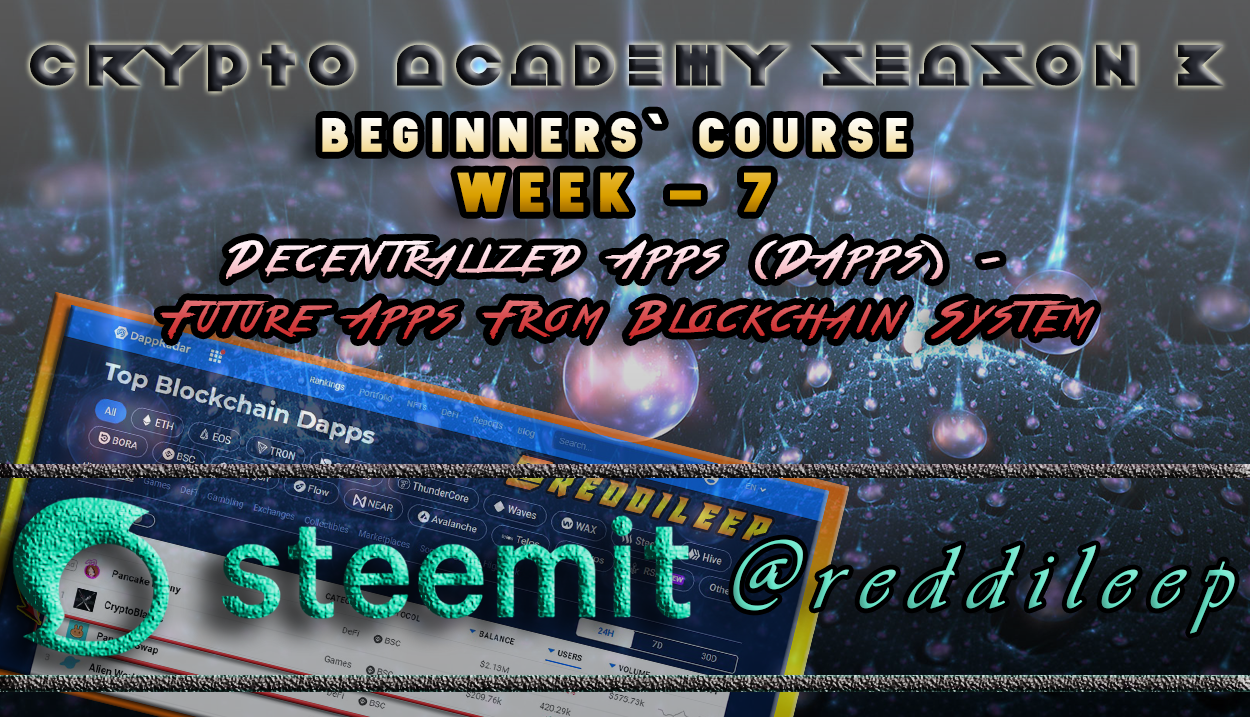 HOMEWORK WEEK 7
Entire Question
1). Will DApps be able to replace centralized applications in other fields in the future?

2). Is there a possibility for DApps to steal user data?

3). Explain the ways in which a DApp promotes its application to the public?

4). Choose a DApp and do a detailed analysis that proves that the DApp is a good one to use. (Provide proof with screenshot).

5). If you were a DApps developer, what kind of app would you like to create? Explain all the details of the DApp plan that you will make.

6). Conclusion.
---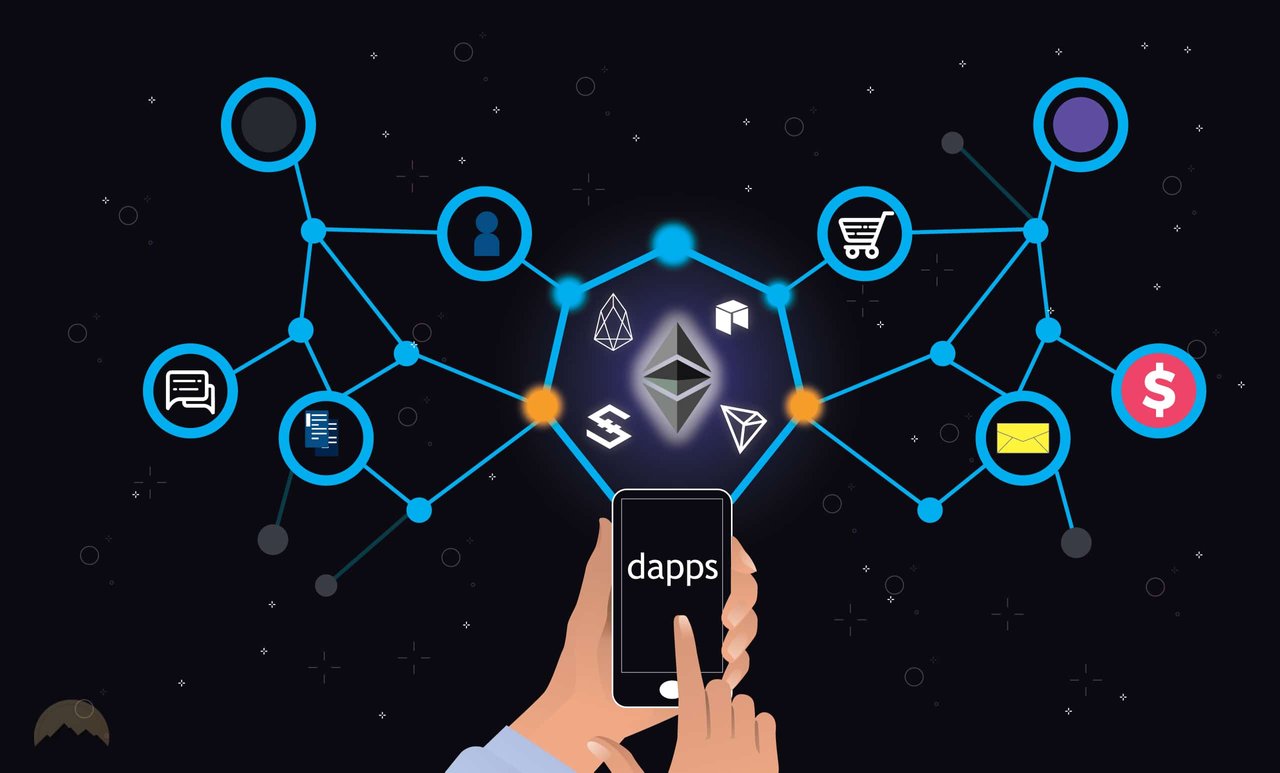 Yes, it is possible.
At present decentralized systems are very much popular in the cryptocurrency field. If we consider the world best cryptocurrency Bitcoin. It is the most valuable currency in the world. So, it is also working according to a decentralized system. Likewise, DApps would be able to replace centralized systems in other fields and below I've defined some important reasons to prove it.
---
The Reliability of the data
In a Decentralized system, we don't need to worry about the reliability of our data. Because no one can access our data without our permission. Therefore, we can avoid being caught by a hacker. This is because the data is not saved on a single server and is shared between all users of the app.
Ability to use as they wish without Monopoly
We already know that there is no single owner of DApps. Therefore, we don't need to pay extra fees to use those Dapps and we have complete control over our data as we wish. As an example, If we have a centralized application called "A", we have to work according to the rules given by the owner of the "A" application. But in a decentralized application, But a decentralized app does not have such a proper owner so it is possible to use that app freely
---

It is not possible unless the user loses his access data by mistake. In DApps, all the data has been stored in the blockchain system. Furthermore, all the transactions are recorded in a ledger of the blockchain and it is not a human process. This is generally known as the smart contracts method and even the creator of the DApp can't steal user's data.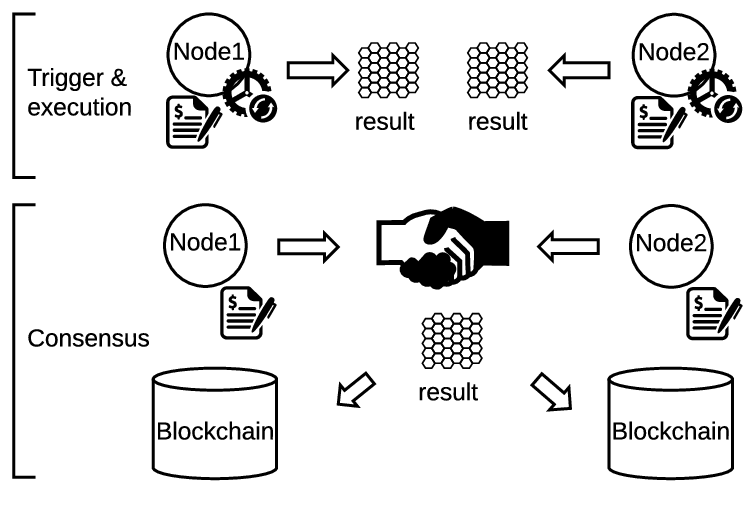 Image Source
---

THROUGH SOCIAL MEDIA PLATFORMS
At present, Social media is the best way to promote anything worldwide. So, Dapps also promotes its application through social media. DappRadar Twitter page is a good example of this type of promotion. And also, they use other social media platforms such as Telegram and Facebook.
Below I've included a screenshot of DappRadar Twitter page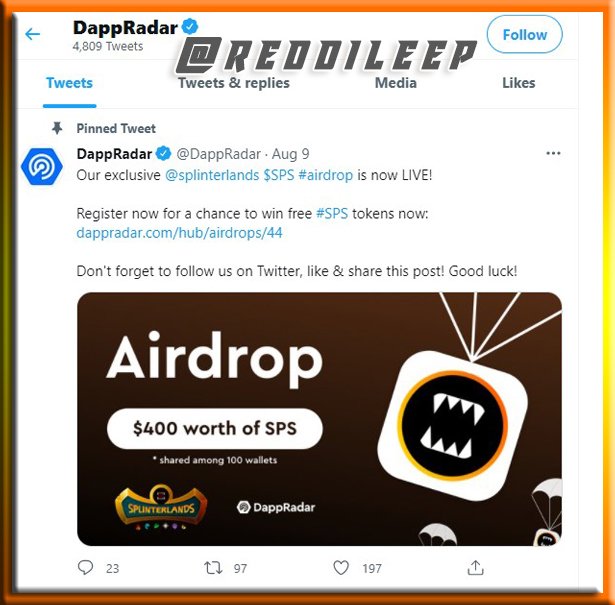 THROUGH MAIN DAPP WEBSITE
This is the main Dapps promoting website and here we can select any DApps according to different categories like Game, Finance, Social, Exchange and so on.. . And also, here we have the ability to tracks DApps according to performance and reviews of the DApp.
Below I've included a screenshot of https://www.dapp.com/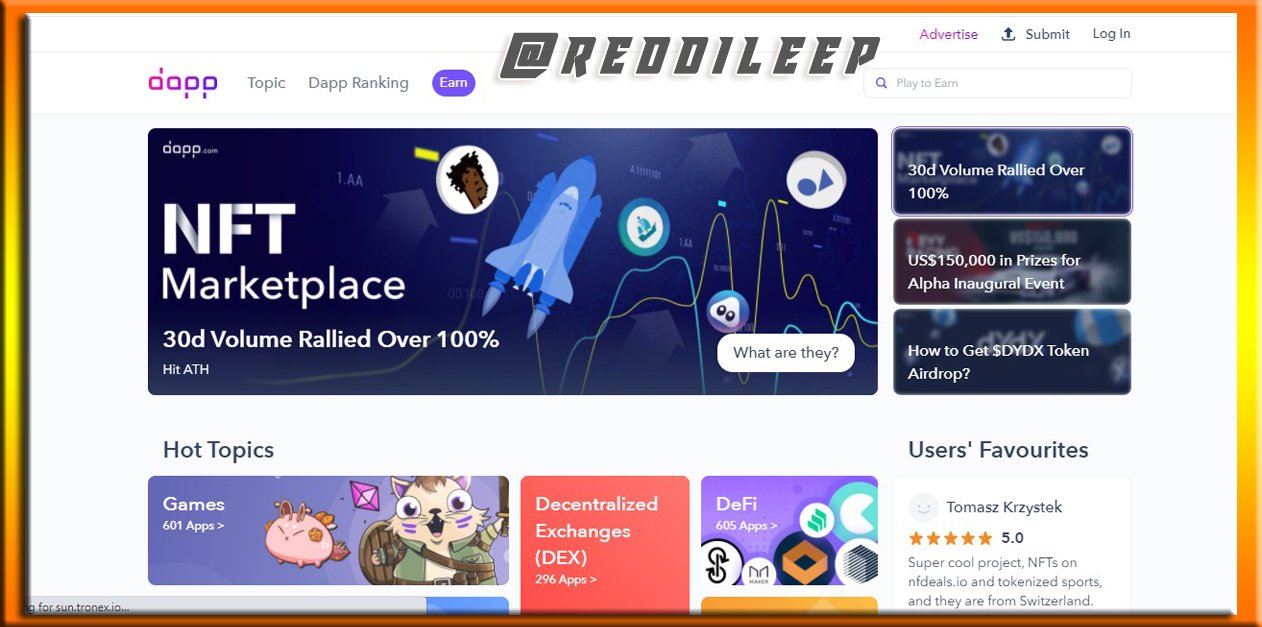 ---

Here I've selected https://dappradar.com to find my DApp and I will do my analysis regarding PancakeSwap which is the 2nd Ranked DApp in https://dappradar.com/rankings.
PancakeSwap is a very popular exchange which we use to swap any cryptocurrency and it is working on Binance Smart Chain.
First of all, we should get access to the https://pancakeswap.finance/ site. Below I've attached a screenshot of the main page of Pancakeswap DApp.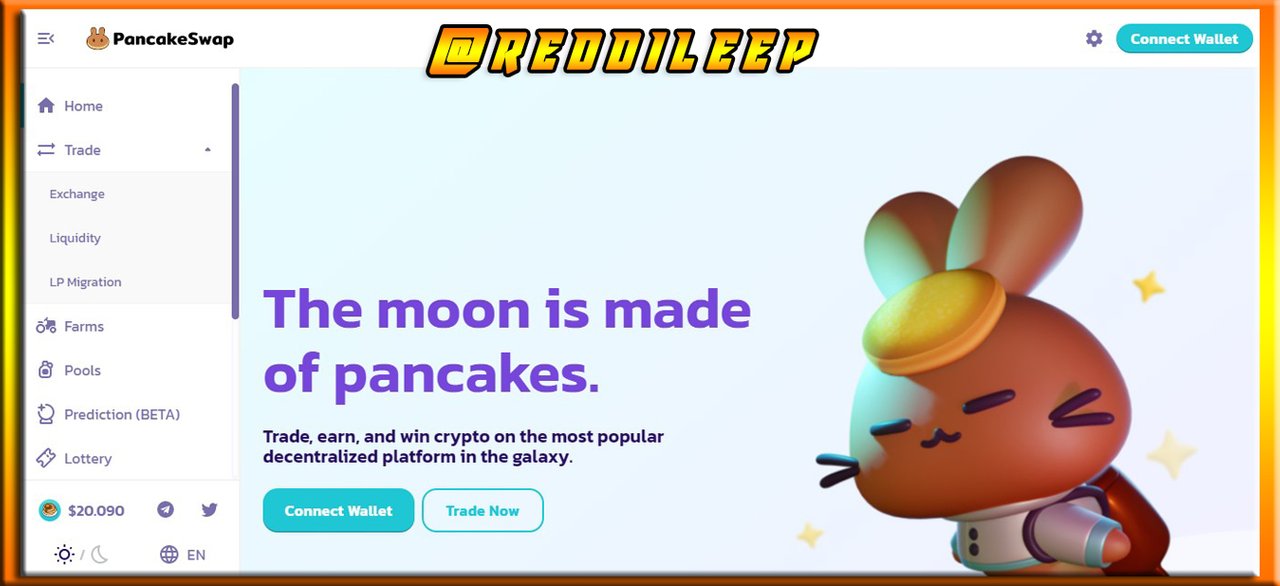 Then we can connect our any Wallet to exchange any cryptocurrencies or stake and farm some special cryptocurrencies like CAKE-BNB, BUSD-BNB, TRX-BUSD and etc..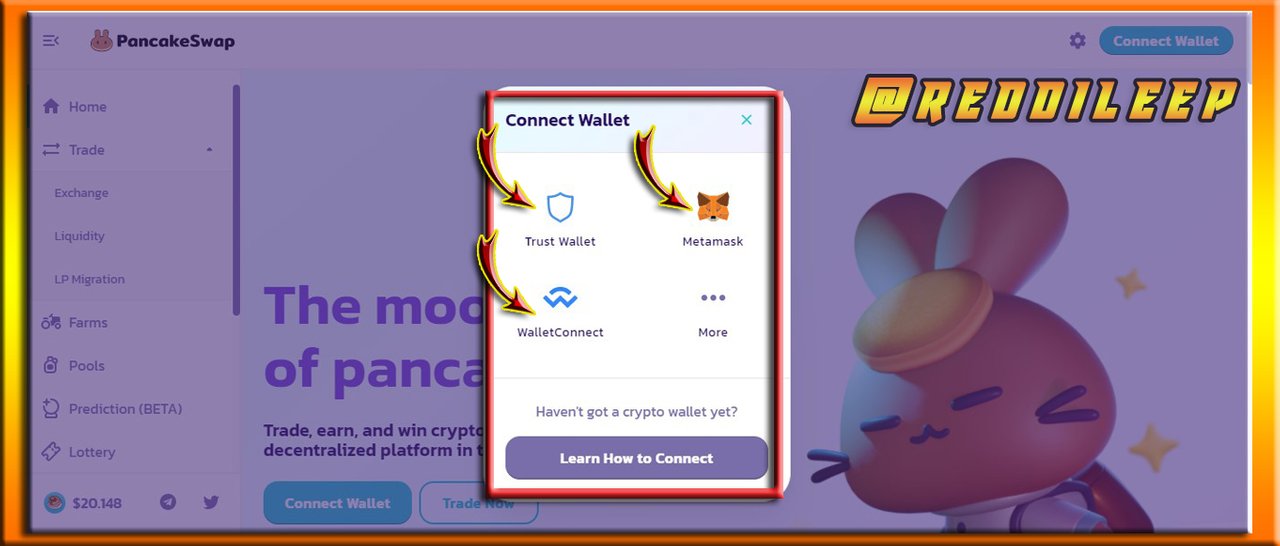 After that, we can swap any coin according to our requirement. Below I've attached a screenshot of Pancakeswap swap window.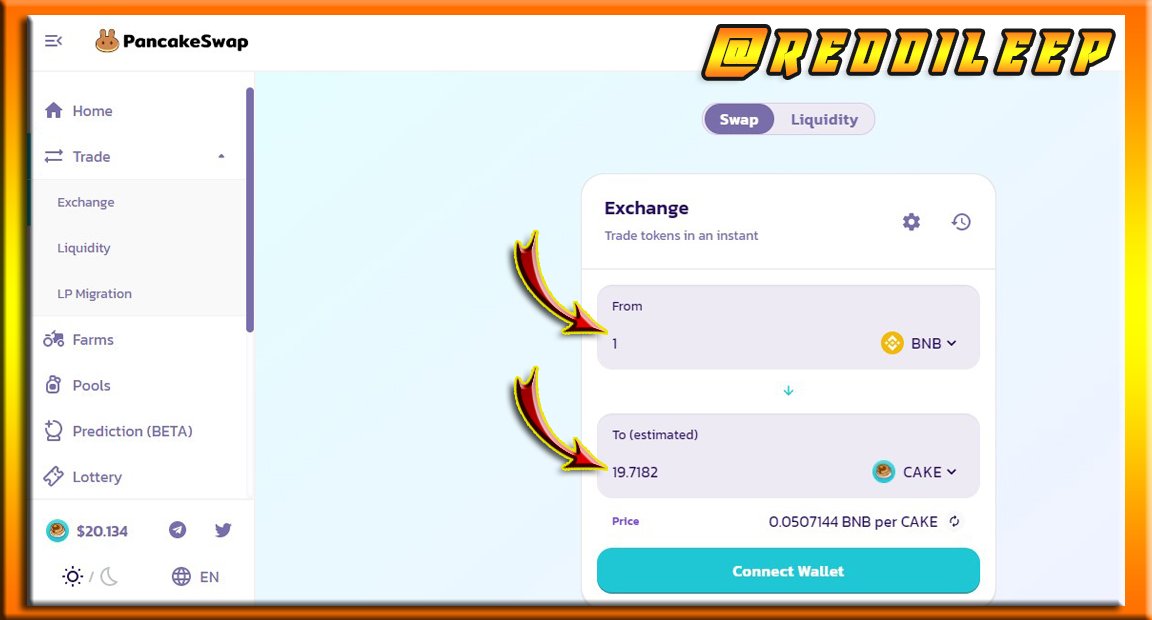 HOW IT BE A GOOD APP TO USE ?
It is the 2nd Ranked DApp in https://dappradar.com/rankings page. So, this website analyzes all the data of every DApps including transactions.
Below I've attached a screenshot of this DApp in https://dappradar.com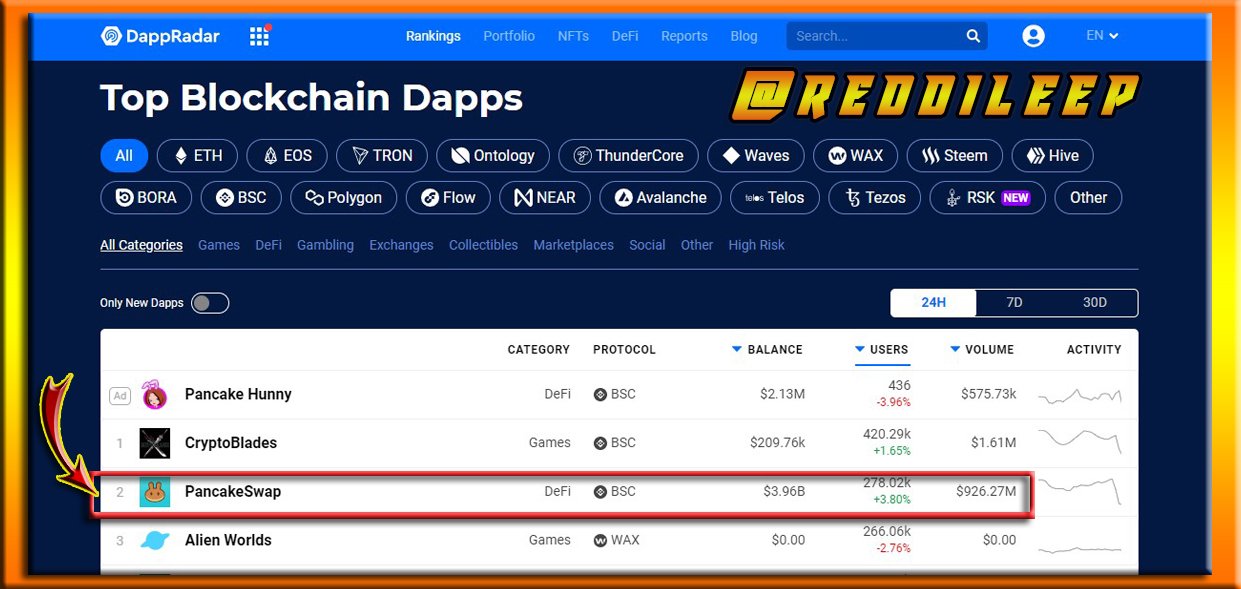 According to Coinmarketcap, there is a good value for the Pancakeswap exchange token. When we compared it to the beginning of this token, its value has increased very well. Below we can see a screenshot of Pancakeswap current value.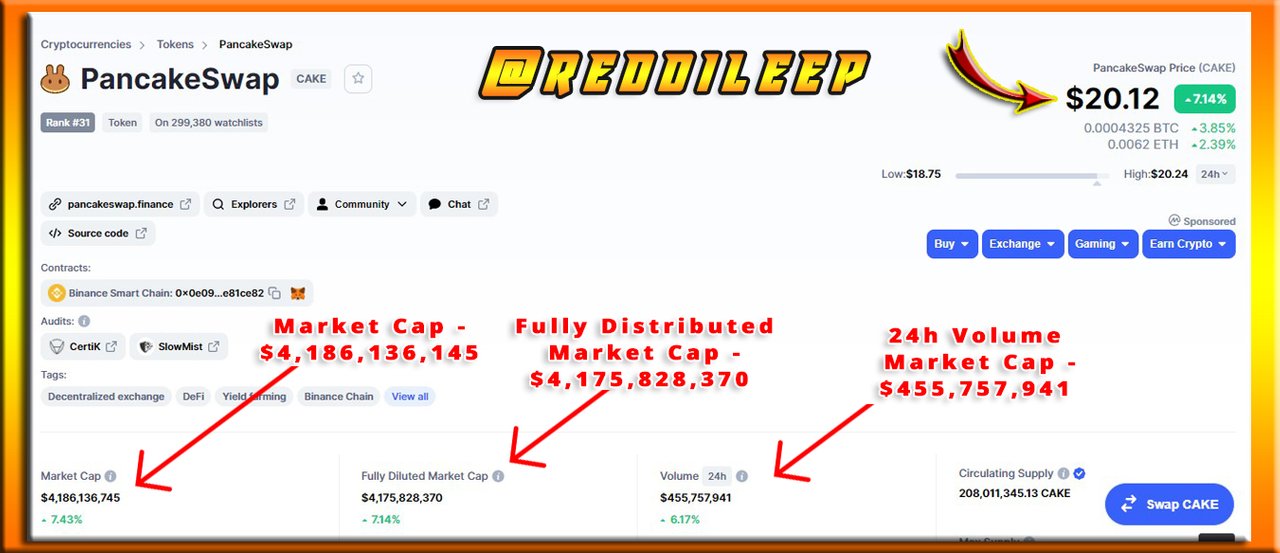 ---

If I am a DApp developer, I would like to create a Decentralized Gaming application in which we can mine cryptocurrency tokens by playing games. So, users need to buy this game token at a certain rate and hold it in this app to play this game. Then he can mine this token by playing this game. So, every miner is contributing to keep the blockchain network connected to each other.
Furthermore, every game player can exchange this token from the inbuilt exchange in this DApp. And also, he can exchange his game token into any Fiat currencies through this app using the Peer to Peer system. Below I have included my project information in detail.
Below I've attached an image that I've created through MS - Powerpoint Program.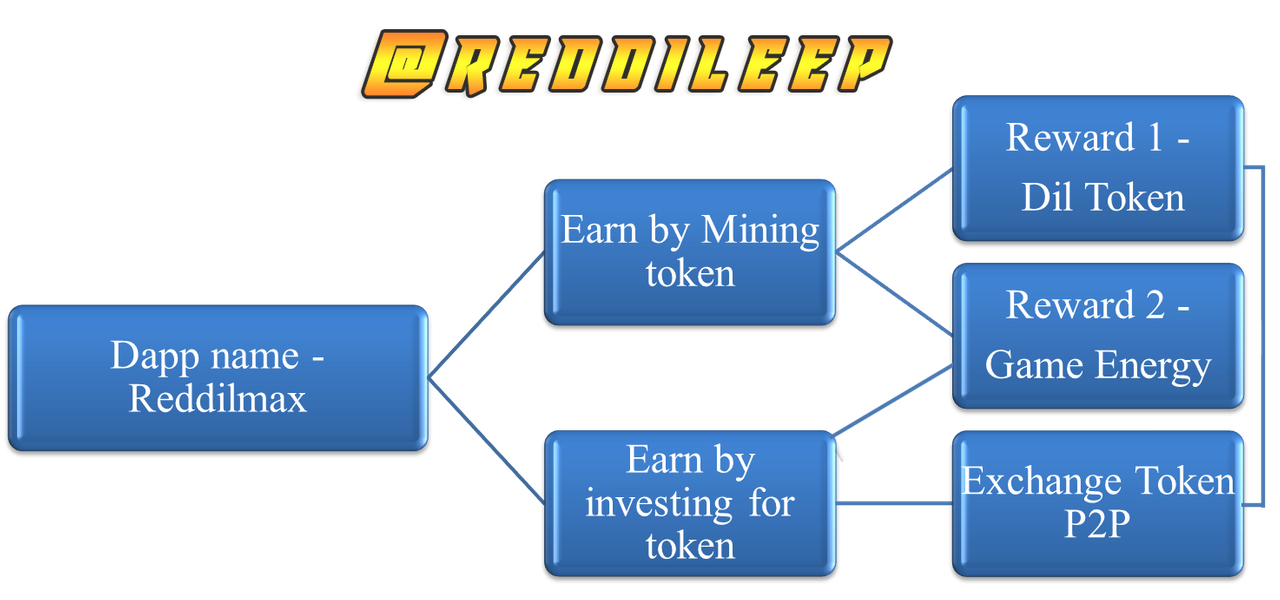 How to do this Project -
Design the app according to the open source and decentralized system.

Estimate the budget for the whole project including initial investment and promotions.

Do a big campaign with free tokens as an Airdrop. So, as an introduction, users can mine tokens for free.

List this DApp on every DApps related website including https://DApp.com and https://dappradar.com/
---

Although DApps are very popular nowadays, it seems that people are not as inclined as other apps. So, according to my mind, it can be changed and more and more users will be inclined to the DApp world. However, as everyone can join with DApps development, Many good apps, as well as fake apps, are emerging in the crypto world. So, we should do a better analysis before joining with a DApp and if we are able to filter the best apps, we can get higher profits.
This is all about my homework and I really appreciate Professor @wahyunahrul for your valuable lesson and your dedication to creating a very essential lesson for us.

Thank you..