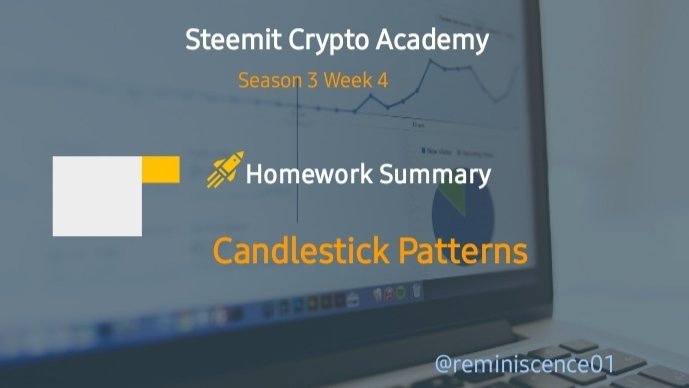 ---
Hello Steemians, the 4th week of Steemit Crypto Academy season 3 has come to an end. This ran from 00:00 UTC on July 18th to 11:59 pm UTC on 24th July. Thanks to my partner professor @wahyunahrul for his assistance in making this week's lesson a success.
Similarly, I want to thank all the participants of this lesson for their effort and time enthusiasm to improve their knowledge in understanding the basic knowledge of technical analysis. I believe by the end of this season, we will be able to achieve our goals of understanding how to read the candlestick properly.

In our last lesson, we got introduced to Japanese candlestick chart and its anatomy. Our lessons are focused on Japanese candlestick chart because it is the most widely used chart for technical analysis and it is very simple to read and understand than other charts.
This week, we covered Candlestick Patterns and the psychology behind its formation. Candlestick patterns are very important technical analysis tools that enable traders to understand the market bias and also predict the future trend.
This lesson is a practical class where the participants are encouraged to interact with their own charts to identify these patterns and also understand the market behavior after these patterns are formed.
We cover the most common candlestick patterns which include:
The engulfing pattern.
The Doji pattern.
The hammer pattern.
The morning and evening star.
At the end of the lesson, the participants were presented with a homework task to test their understanding of the lesson. The questions include:
Question 1
In this section, the participants were required to explain the psychology behind the formation of the candlestick patterns discussed in the lesson.
Question 2
In this section, the participants were required to identify these candlestick patterns on their chart and also explain how the market reacted after these patterns were formed. This question is practical and the participant was instructed to explore their own chart and find these patterns.
Question 3
In this section, the participants were instructed to open a trade on a demo account using any of the candlestick patterns discussed in the lesson.

Observations from Homework Tasks

1. Compliance with topic
A good number of students complied and adhere to the homework guidelines. Whereas, most students failed to adhere to the homework guidelines. The lesson is a practical lesson and students were instructed to use their own chart for this exercise. Meanwhile, some students went ahead to copy charts from the Internet for the homework task. Also, the homework guidelines required students to use cryptocurrency charts, but some participants didn't adhere to this and presented forex charts and commodity charts.
2. Use of Images
A lot of participants presented images with watermark and copyright reserved images. This is not accepted in Steemit Crypto Academy. We encourage students to use copyright-free images in their work. Also, some students were creative by designing their own images for the homework which I strongly recommend.
3. Presentation
Presentation is one of the marking schemes used to grade students' performance. The majority of students have poor presentations and find it difficult to use markdown styles properly. The structure of the answers must be put into consideration with clear images and screenshots. It was very difficult to understand most screenshots from users due to poor markups oversized charts.
4. Plagiarism / Inavild Entries
Plagiarism is a great crime in Steemit Crypto Academy and won't be tolerated. In the lesson, we caught one plagiarist who got his idea from investopedia.com without acknowledging the source. This user has been added to the gray/blacklist of the academy.
Similarly, for the invalid entries, we received an entry from a user who was blacklisted and has been banned from participating in the homework tasks. Also, we got a late submission from a user who submitted after the deadline for submission. We are all encouraged to adhere to the academy guidelines.

Task Distribution and Grade Statistics

Task Distribution
At the end of the week, we had 55 total entries. This can be distributed as follows:
55 Total entries.
52 Valid entries.
2 Invalid Entries.
1 Plagiarised content.
This can be represented in the bar chart below.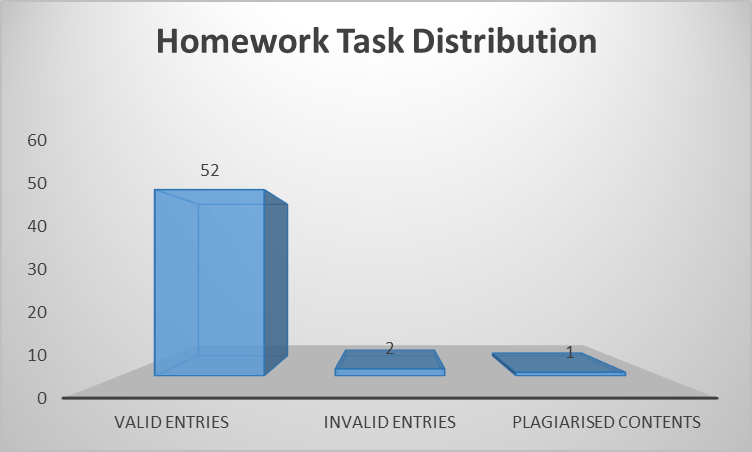 --
Grade Statistics
Reference
Plagiarized content refer to users who copied someone else's idea without referencing the origin source.
Below average refer to grades below 5.
Average refers to grades within 5 and 5.9
Good refers to grades within 6 and 8.9
Excellent refer to grades within 9 and 10.
Invalid is for posts from users who are not eligible to perform the task. Also, late entries are for participants who submitted before the scheduled time which is 11:59 pm UTC, on Saturday, July 24th, 2021.
---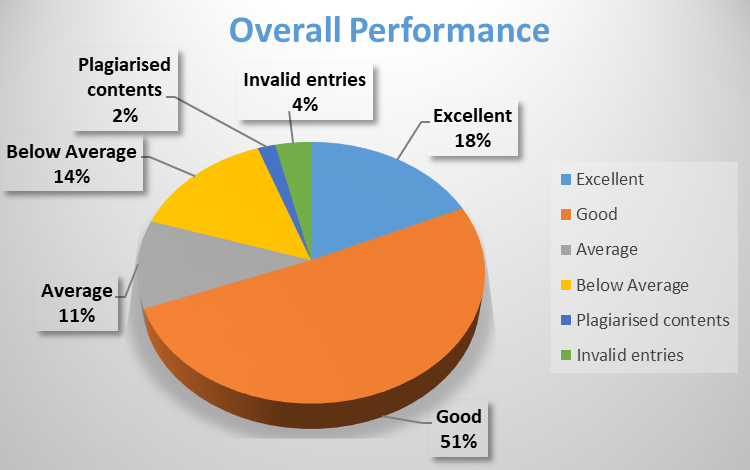 From the chart above, 51% of the participants scored between 6-8.9. Similarly, 18% of the participants scored above 9 making it a combined 69% who score above 6.
The average score of the participants is 6.83. The scattered plot is shown below.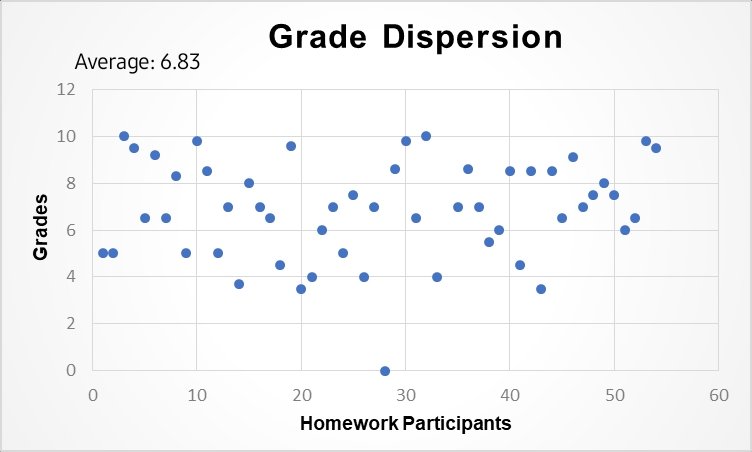 ---
Below are the students who produced an outstanding performance in their homework task.

Conclusion
My sincere thanks to everyone who participated in this lesson. The knowledge we have acquired in this lesson will play a crucial role in our technical analysis. I encourage everyone to keep working hard and make their own research outside the lesson for a better understanding of the lesson.
Thank you once again for being part of this lesson.
Best regards,
@reminiscence01