Hello Everyone!
This is Sami Zuberi , hope you all are well. I am exceptionally hope set aside a few minutes for perusing my homework post for @pelon53 and valued it. Here i am going to impart my views on "Solana Blockchain". So how about we begin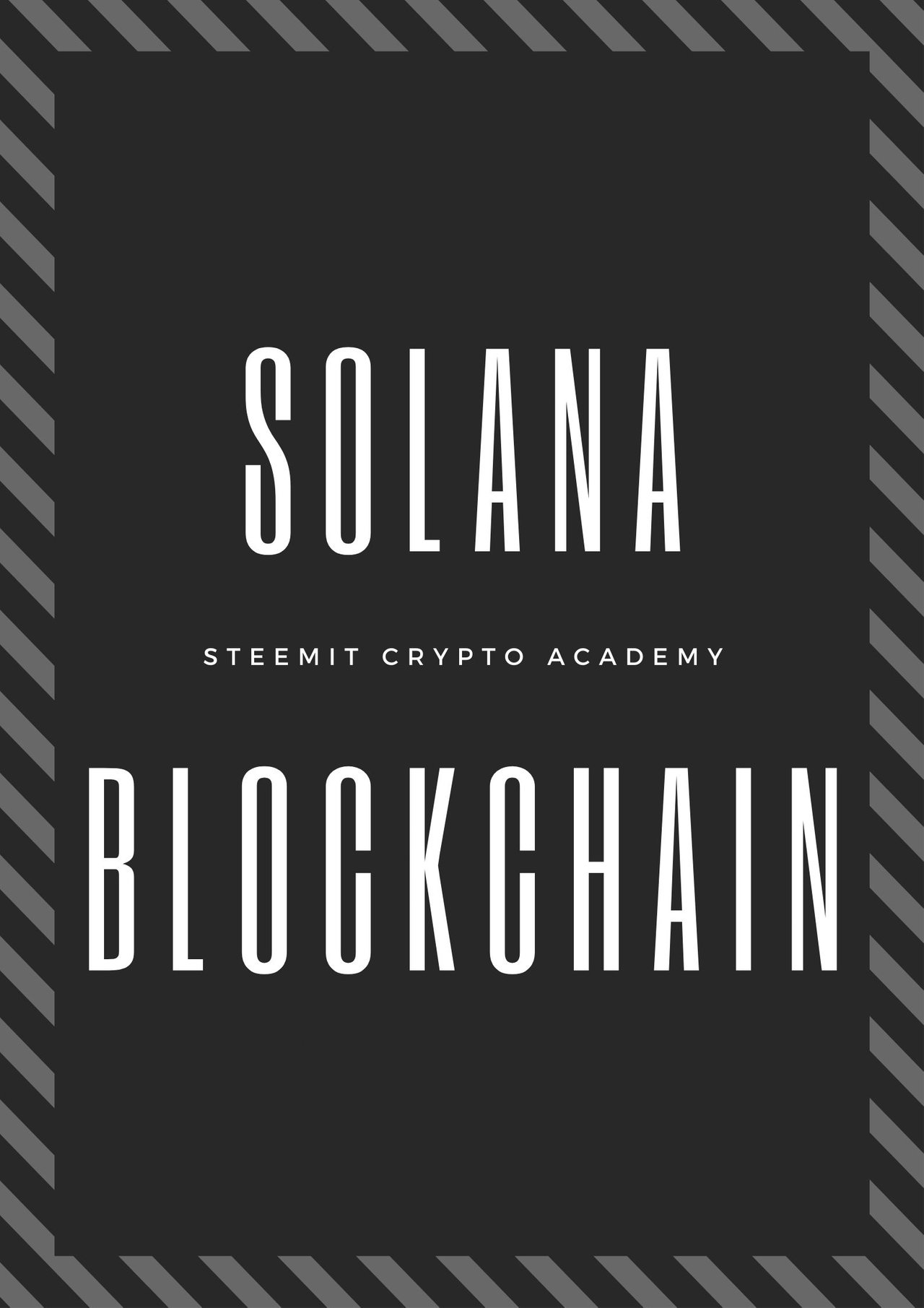 Made this above poster on Canva

Question 1.
Explain in detail the PoH of Solana.

POH (Proof of History) allows the blockchain to function quickly. While retaining decentralization and security. Solana is pioneering a concept called proof of history. Solana was formed in 2017 and received twenty million dollars through multi-coin financing. This is tackling things like scalability and security, and it's a pretty cool notion since it happens before consensus. You can compute the status of all nodes throughout the whole network using the proof of history ledger.
It is quite powerful to align the game theory incentives inside the network using the POH (Proof of History) idea. By eliminating the throughput, economic models and incentives become extremely fascinating. In essence, you may add the Solana hardware layer, which establishes a transaction fee marketplace based on hardware expenses. There are minimal transaction fees, such as $10 for millions of transactions, which can greatly enhance the user experience for DApps developed on top of Solana, as well as assist with the overall network's unit economics.
To hash incoming events and transactions, Proof of History implements a recursive verifiable delay function. Along the data structure, each event has its own hash and count. As a function of real time, this information tells us what events had to happen before the next, almost like a cryptographic timestamp, providing us with a verifiable order of events. As a function of time, each node receives a cryptographic clock that assists the network in agreeing on time and ordering of events without having to wait. Traditional blockchains, on the other hand, are frequently temporally throttled by various consensus processes. Solana maintains network security while achieving great throughput.

Question 2.
Explain at least 2 cases of use of Solana

Projects that uses Solana :
The following are some projects that utilize solana:
Metaplex (NFT Marketplace) :
Metaplex, a non-fungible token marketplace, has launched on the Solana Blockchain. Metaplex announced the release of a new marketplace with strategic cooperation from Solana and cryptocurrency exchange ftx, highlighting the continued usage of nft technology. The platform is intended to give critical infrastructure to the nft community, allowing producers, artists, and bands to quickly develop unique collectibles. According to the Metaplex Foundation, the new platform allows for everlasting royalties to be hard programmed into nfts, ensuring that creators are always compensated for secondary sales.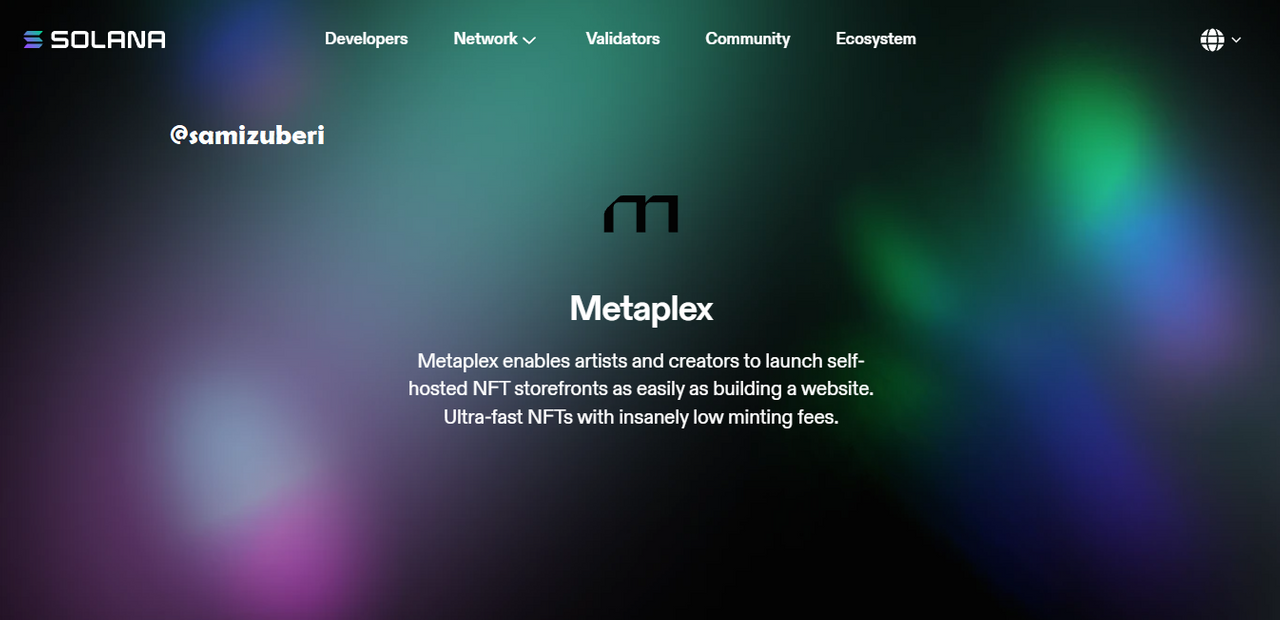 Source
The entire listing procedure will take place on chain as well; Metaplex will accomplish for nfts what Shopify did for commerce, but without the middleman. Metaplex also revealed intentions to establish a new Meta Token to administer the system, however no specifics on the new coin were given. The whole first nft platform to emerge on Solana is Metaplex. During the first half of 2021, the blockchain network grew fast, with hundreds of market-ready projects launching on the platform. According to current industry research, the nft market is expected to double in size as trade volume increases. According to analysts, the nft industry capitalization may reach 470 million dollars by then.
Serum :
Serum's sign is SRM$, and it has been used in connection with other Solana projects on numerous occasions. It acts as a linchpin and cornerstone in the ecosystem as a whole. Basically, their entire goal is to bring the speed and convenience of centralized exchanges to defy, so they have order books similar to coinbase or binance, and you can place limit orders on their decks, but unlike other dexas, they offer sub-second trading and settlement, as well as transaction fees that are less than a cent, so the majority of the defy in Solana flows through serum in some way shape or form. Serum was one of the first initiatives in the Solana ecosystem to launch.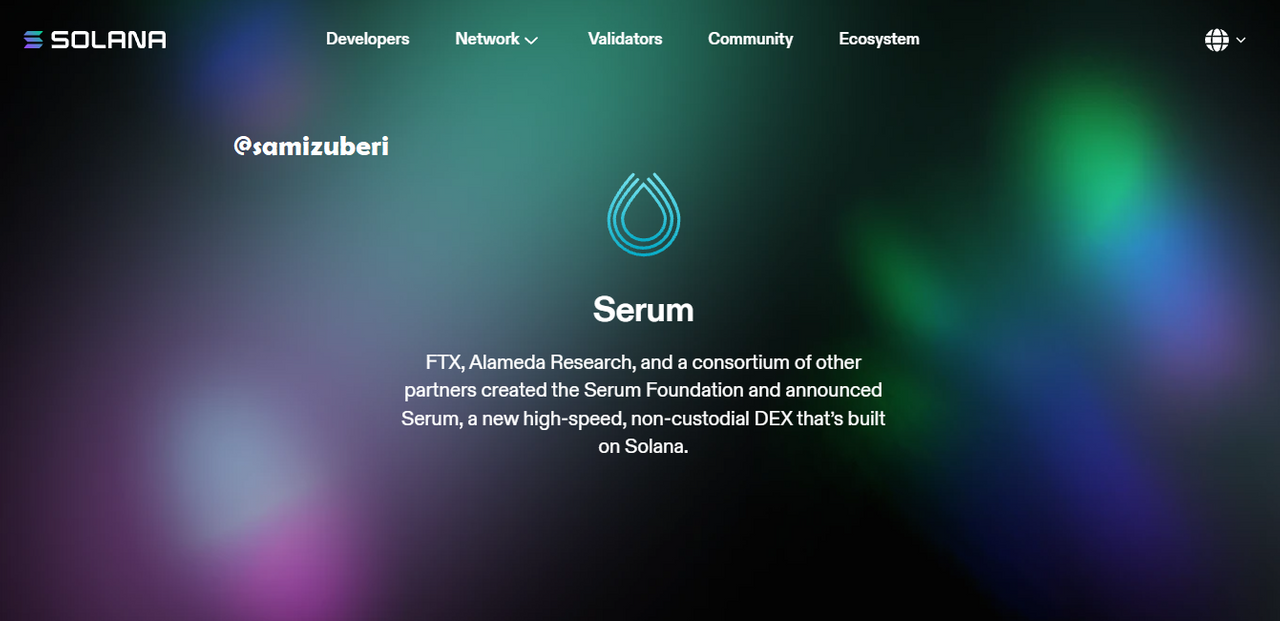 It began trading at about 1.70$ and is currently trading at around $8.70$. Given that some other smaller, less significant solana projects already have a comparable or greater market valuation as serum, I believe there is a lot more space to run. Serum is a decentralized exchange where anyone from anywhere in the globe may register for an account almost immediately. Serum is a decentralized open source project in which anybody may participate. The serum foundation is the basis for the project serum. Serum is incredibly simple to use, inexpensive, and quick. Solana, the world's fastest layer one blockchain technology, powers Serum.

Question 3.
Detail and explain the SOLA token.

Sola Token.
Sola is a decentralized virtual community for the future that rewards and enriches all affected concerned, including members, other developers, as well as the central group. Sola is indeed an integrated platform, that implies that perhaps the majority of all its codebase would be released as freeware, allowing anybody to examine, modify, and just use it. SOLA Token's goal is to give users well with trading activity of just a CEX, and even with all the flexibility of a DEX. Sola seems to be a large public communication network with such a significant monetary compensation for all people concerned to obey that program's regulations as well as collaborate on the development. The information created with reliability individuals for something like a worldwide public rather than simply just set of member.
To learn more about the sola token, I go to the CoinGecko website and type sola token into the search field.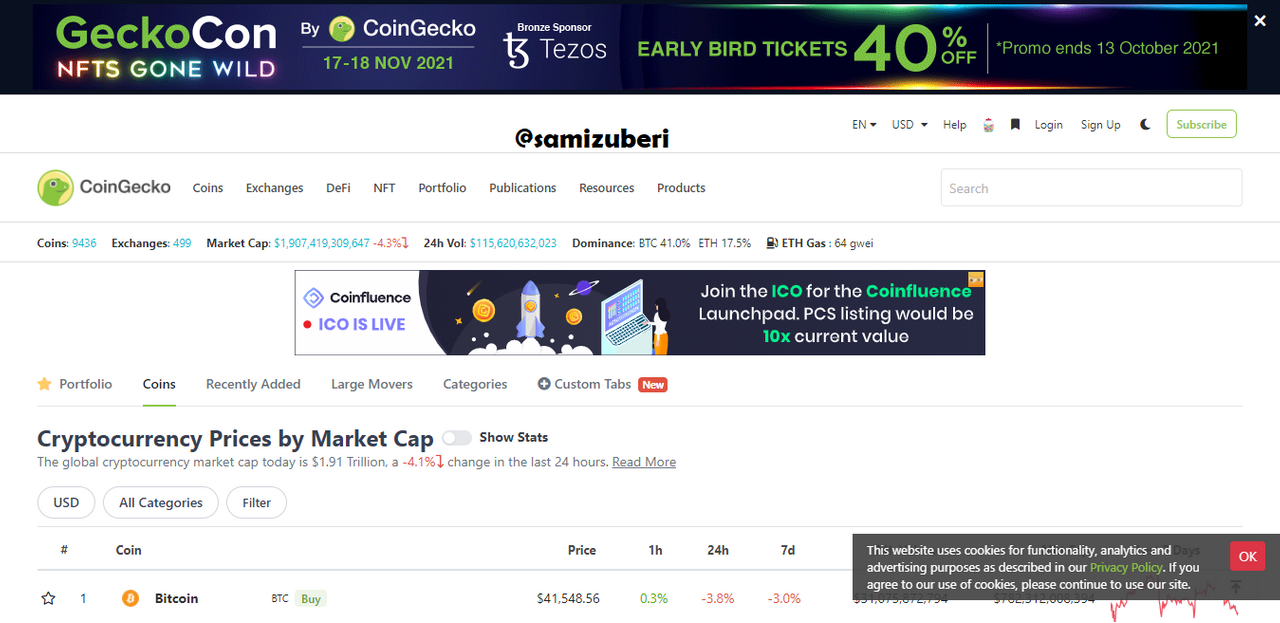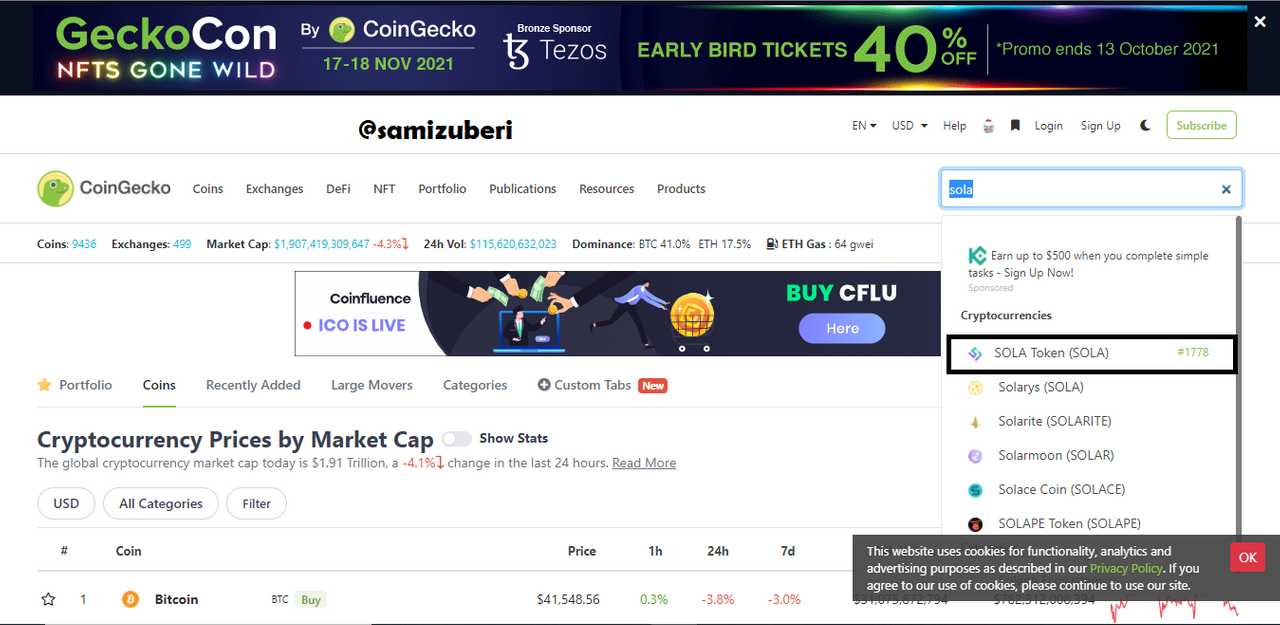 Sola Token has a price of 0.061665$. Sola has a market worth of 1,674,408 dollars and a 24-hour trading volume of 41,754 dollars. Sola token has a circulating supply of 27,153,077, as well as a total supply and maximum supply of 27,153,077. Sola token has a rank of #1779.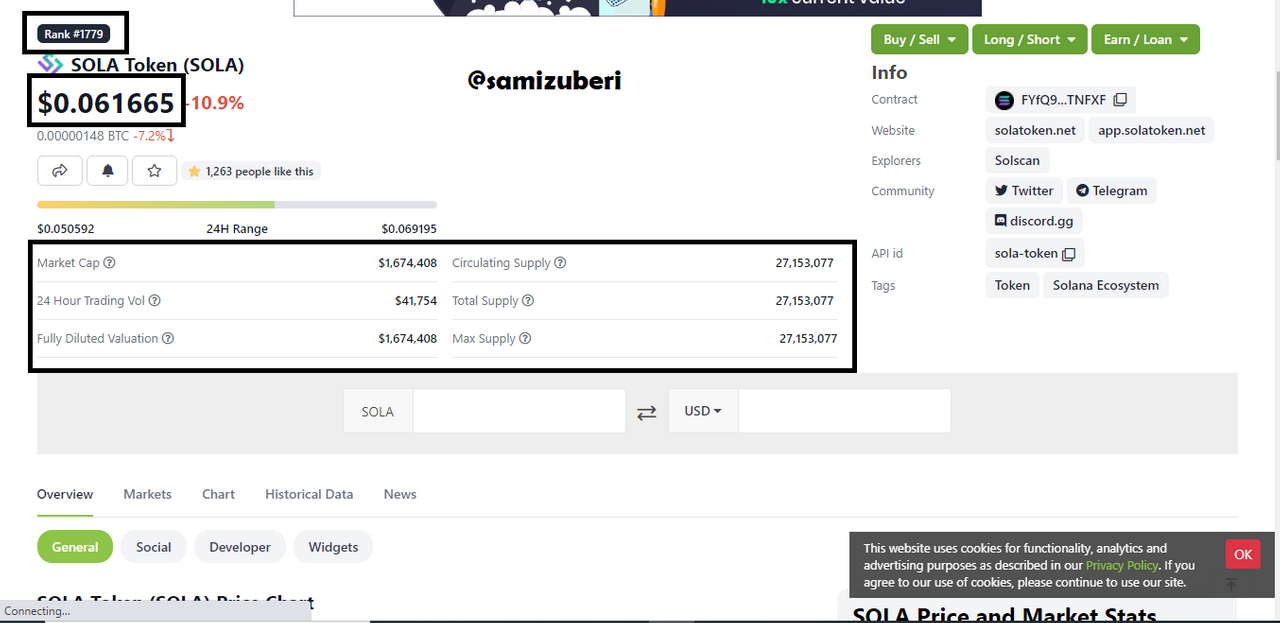 The Sola token system is a hybrid of a decentralized and centralized trading platform, with features from both. Sol tokens are used to settle network processing charges and blockchain based costs. The program with which you can wipe assets and offer volatility, and it can do anything a defi needs, similar to how uniswap could be doing everything.

Question 4.
When did Solana Blockchain see its operations interrupted? Why? Explain

According to a tweet, The Solana Blockchain network went down for around 17 hours on September 14, 2021, the solana blockchain failed causing certain operations to be interrupted. This comes only about just week since the sol token reached new highs. Around 7:00 a.m. ET, the issue started. Solana's production server cluster has encountered destabilization again. More than one branching interchange or we can say that a node were pushed down as a result of the action, which resulted in a split. The network might not be other single item that had issues various services that were connected to it would be likewise impacted. The system was blew past by a rush on several transactions operations about 400,000. These transactions caused a memory overload, leading validators to fail as well as the network to fall down. Whereas the Blockchain was only down for a brief time, the primary token of such a Network, SOL, faced the effects as in marketplace.

Question 5.
Check the last block generated in Solana and make an approximate calculation of How many blocks per second have been generated in Solana, taking into account from the initial block to the current one? Justify your answer and show screenshots

To answer this question, First I visited the website Solana Explorer Here I checked the last generated block which is 98,980,441.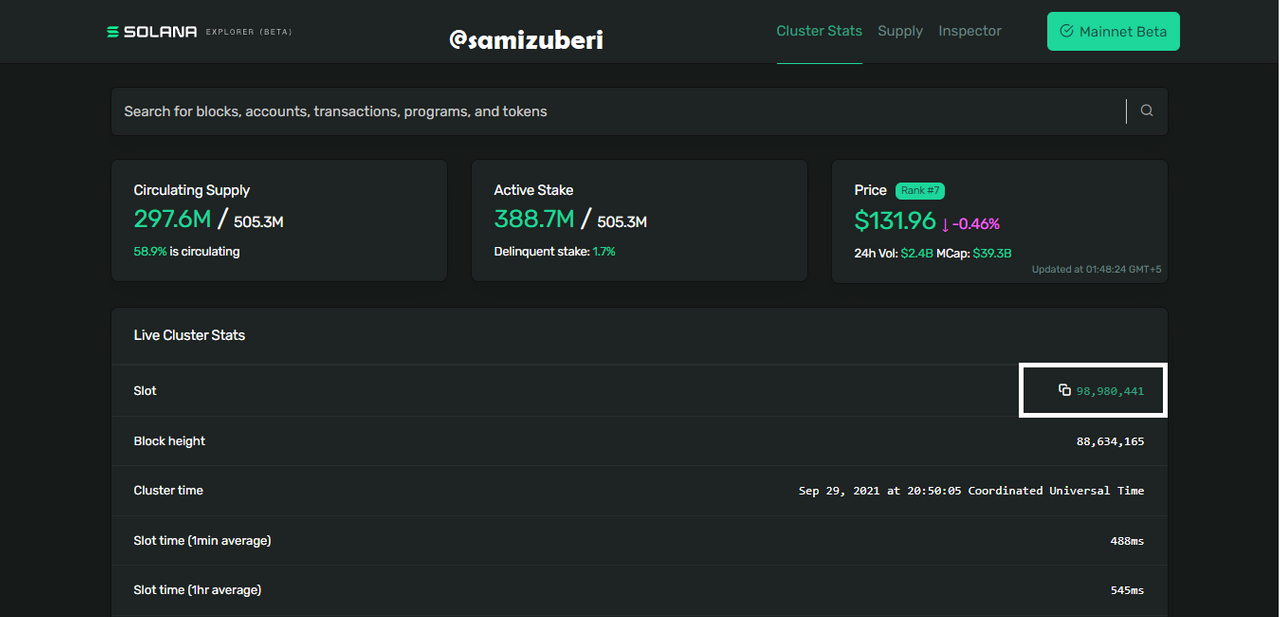 By clicking on such block, we can get additional information about it, as can be seen here in below screenshot. Like the processed transaction of this block are 1082 and in which 967 are successful transaction. Moreover the parent block hash of this is HiMZy3gGGPxkYeY8XdumLDTb1jUocrJE4C9HHZZGDspk and it's child slot is 98,980,442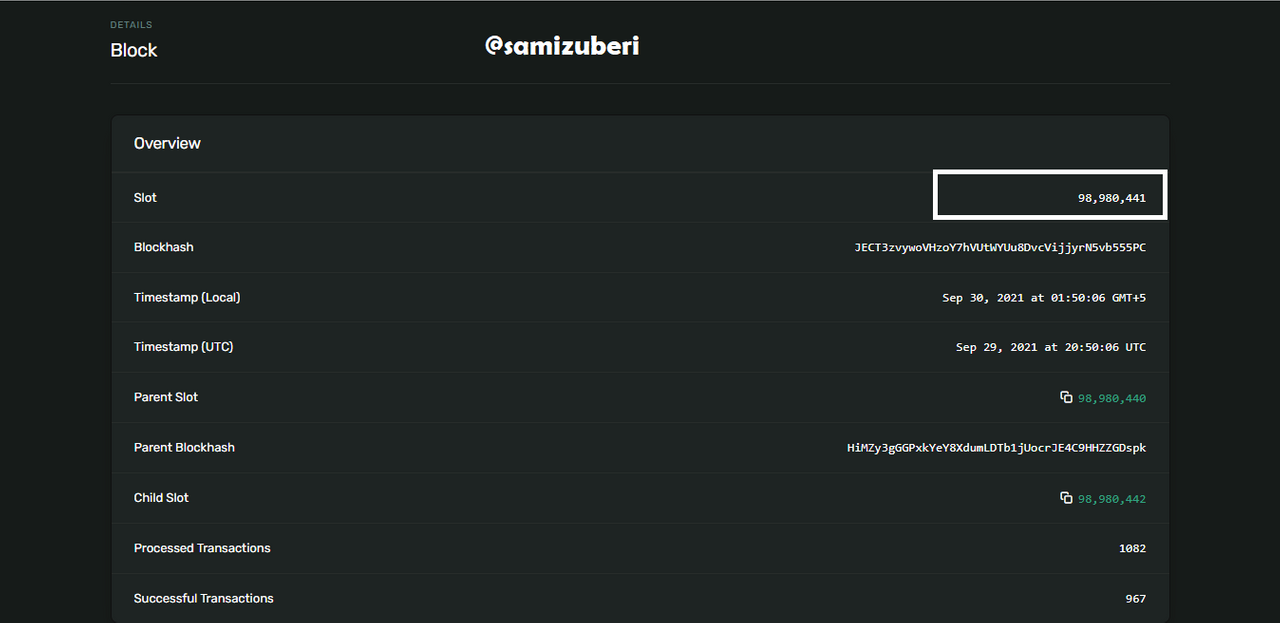 The platform has now been operational for almost 18 months to the Solana Blockchain. Every month, there are around 2,630,000 seconds. So the whole number of seconds are equal to 18 multiplied by the number of seconds in a month which is 2,63,000 so it becomes 47,340,000 total number of seconds.
To calculate the expected average block , We can computed as ;
By divide the value of total number of seconds by the value of last generated block so,
=> 47,340,000/ 98,980,441
=> 0.47827630915
We can say that one block takes around 0.5 seconds to make.
Conclusion
I conclude that professor gave us a very informative lecture which helps me to learn about Solana Blockchain, Solana has been founded in 2017 and secured a total of $20 million in multi-coin funding. This involves addressing issues like sustainability and trustworthiness, and it's a fascinating concept because it occurs before consensus. Also in this lecture, I learned about the projects that based on solana that i explained above. Even On September 14, 2021, the Solana Blockchain network fell offline for about 17 hours, affecting some activities to be disrupted. There is no denying that Solana has earned consumers' trust by demonstrating the number of projects that collaborate with it, which continues to grow every day, indicating that consumers are relying on this innovative proposition.

Special mentions to ;
@pelon53