Hello Everyone!
This is Sami Zuberi , hope you all are well. I am exceptionally hope set aside a few minutes for perusing my homework post for @pelon53 and valued it. Here i am going to impart my views on "Telos-Blockchain". So how about we begin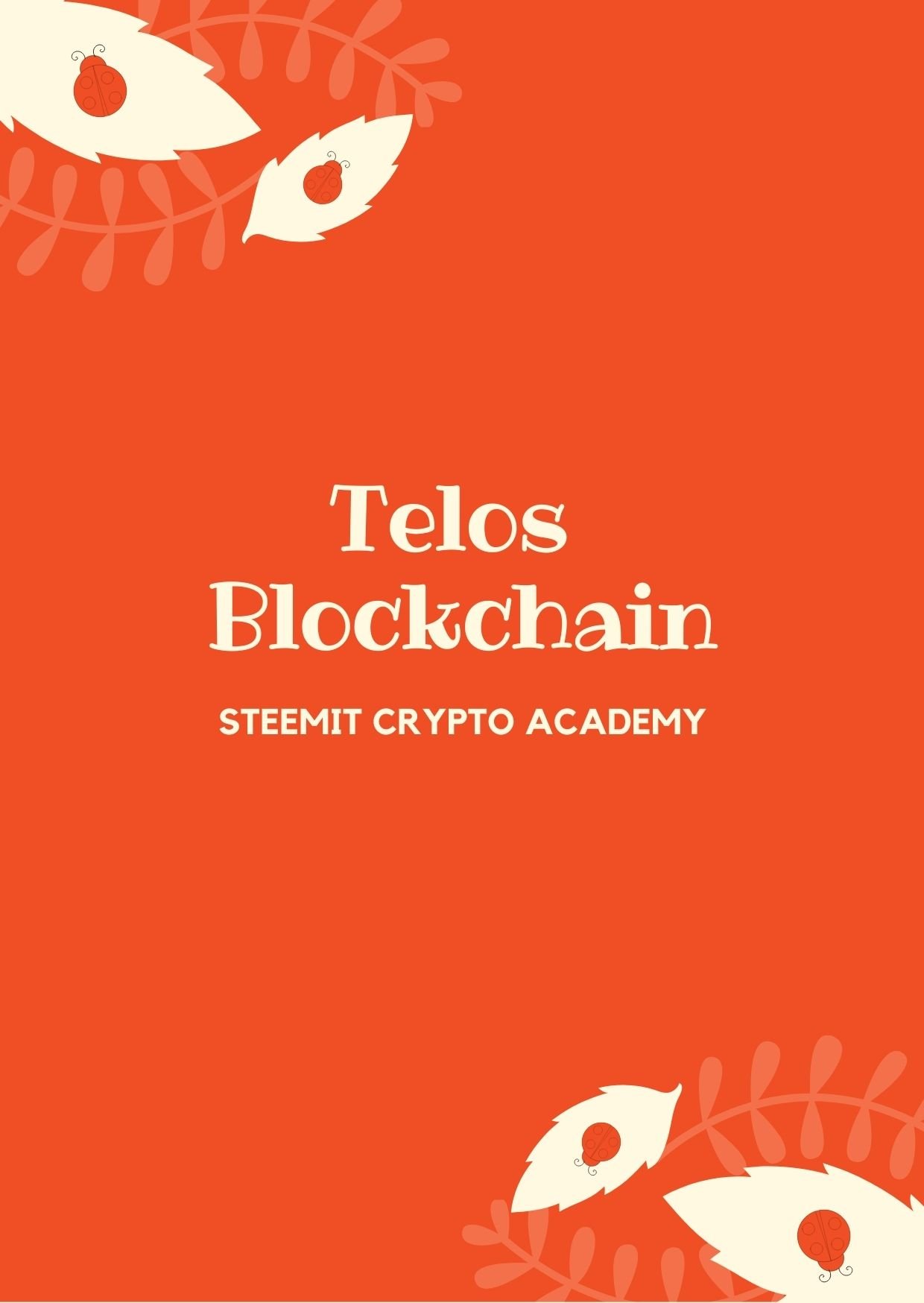 Made with canva
Telos Blockchain.
Telos blockchain is designed to help third-generation blockchains realize their full potential, but first and foremost, what is blockchain? It is a peer-to-peer network that maintains a decentralized shared ledger where transactions are kept. First, a user makes a transaction, and then a block with that transaction is generated and published in the network for the nodes to verify. Finally, a block is added to the chain completing the transaction.
Telos is capable of producing 5,000 of these transactions in less than a second. In 2009, blockchain became relevant. The EOSIO protocol, upon which Telos was based, was the actual breakthrough in 2018. Telos is a third-generation blockchain with a consensus process based on delegated proof of stake. It's a network that's built to be fast, scalable, and secure, which makes it ideal for Dap-Dev development and commercial applications.
Telos is a network system that allows young minds and communities to collaborate in the creation of a global ecosystem. A company may utilize the Telos blockchain network to increase efficiency and decrease operating expenses, as well as greater visibility, traceability, and sustainability of their data and information. It also enables new business models that will provide additional options. Telos blockchain provides a user-friendly platform for achieving all of these objectives at a lower cost and with more benefits than any other blockchain. Telos is the only blockchain that is both fast and safe, scalable and decentralized, and extremely cost-effective, allowing it to provide the finest solutions for your company.
According to coinmarketcap, the current market price of TLOS token is $0.7879, with a market cap of $212,834,010 and a ranking of #270, The volume of telos is 1,847,938. Because of the benefits it offers, there is reason to believe that this token will skyrocket in value in the future. Some platforms have purchased telos and predicted that the price of telos will rise.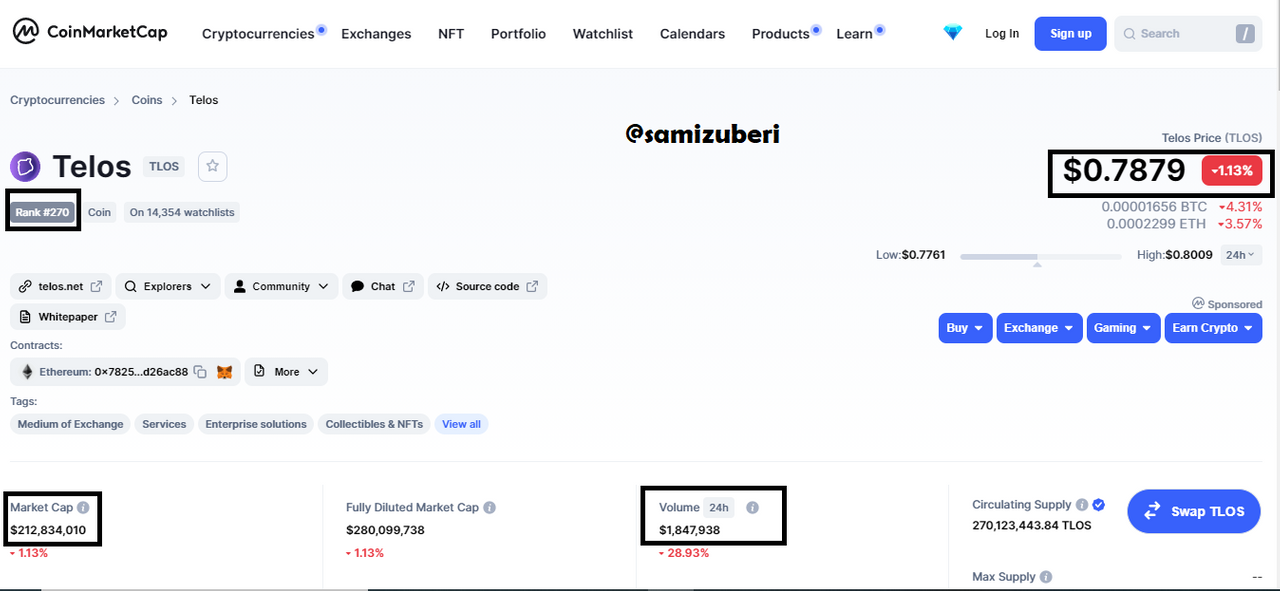 Source
I believe it is a highly platform with great potential, and one of its most notable aspects is its technique of minimizing commissions by using the same projects to cover user fees. I believe that in the future, the Telos Blockchain will be one of the greatest Blockchains in the world since it has lower transaction fees, is incredibly fast (processing around 5,000-10,000 transactions per second), and has excellent scalability, making it one of the finest Blockchains in the world.

Question 2.
Using the telos tracker block explorer, take a screenshot of the last irreversible block at the time of performing your task and detail the BP and the date.

As per the question requirement, I visited Telos Tracker Block Explorer and here I took a screenshot of last irreversible block which is 173586996 as you can see in below screenshot.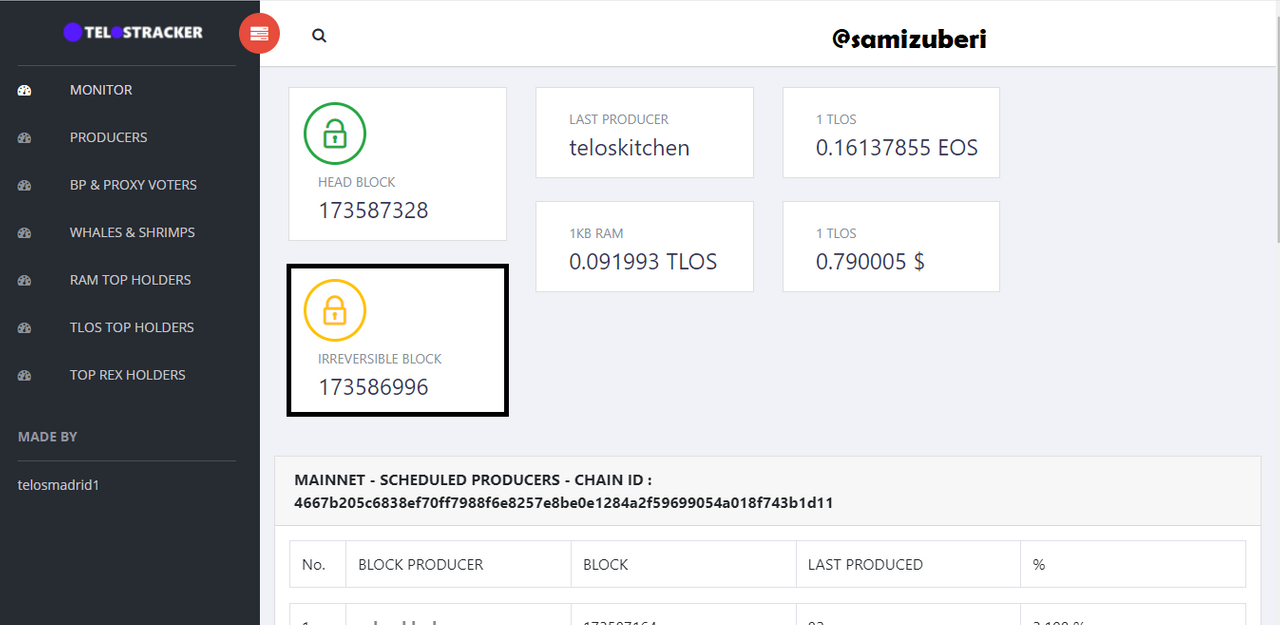 The block number is 173586996 and the BP is persiantelos and the date is 2021-09-15 and time is 11:21:29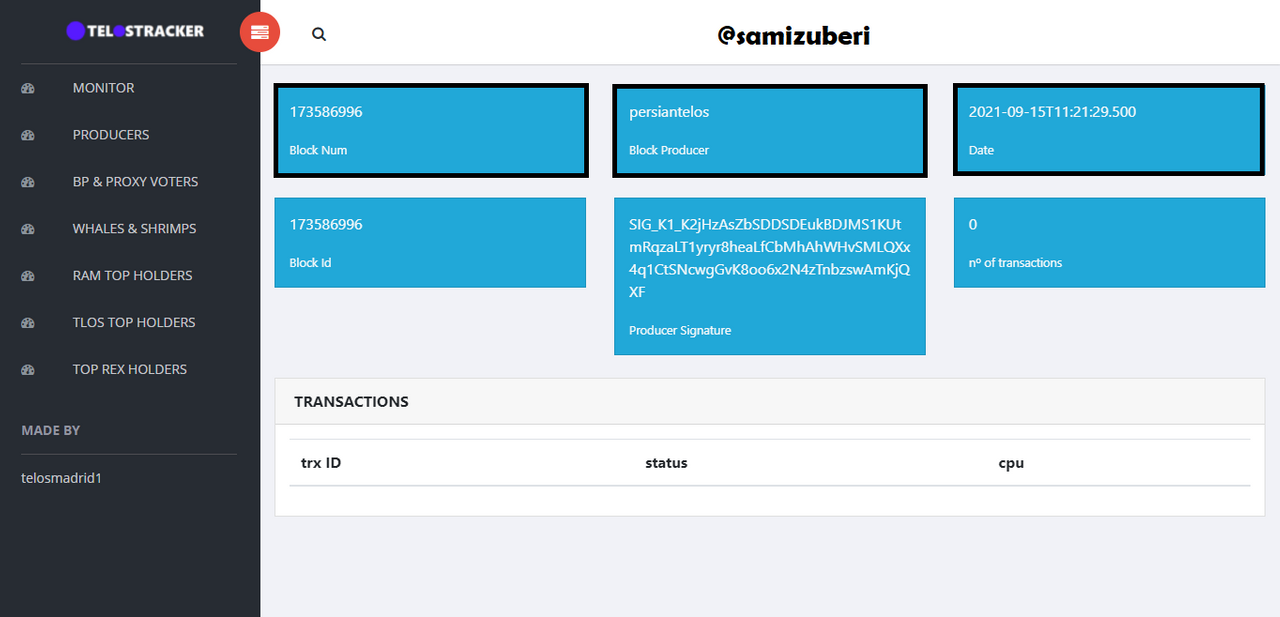 Question 3.
Check in the 3 block explorers, the blocks: 15,007,389 and 171,790,000, show the BP and the date of those blocks. Screenshots required.

Telos Blocks :
Inside the search field, I put block number. There seems to be no account for this block number, according to the display that appears.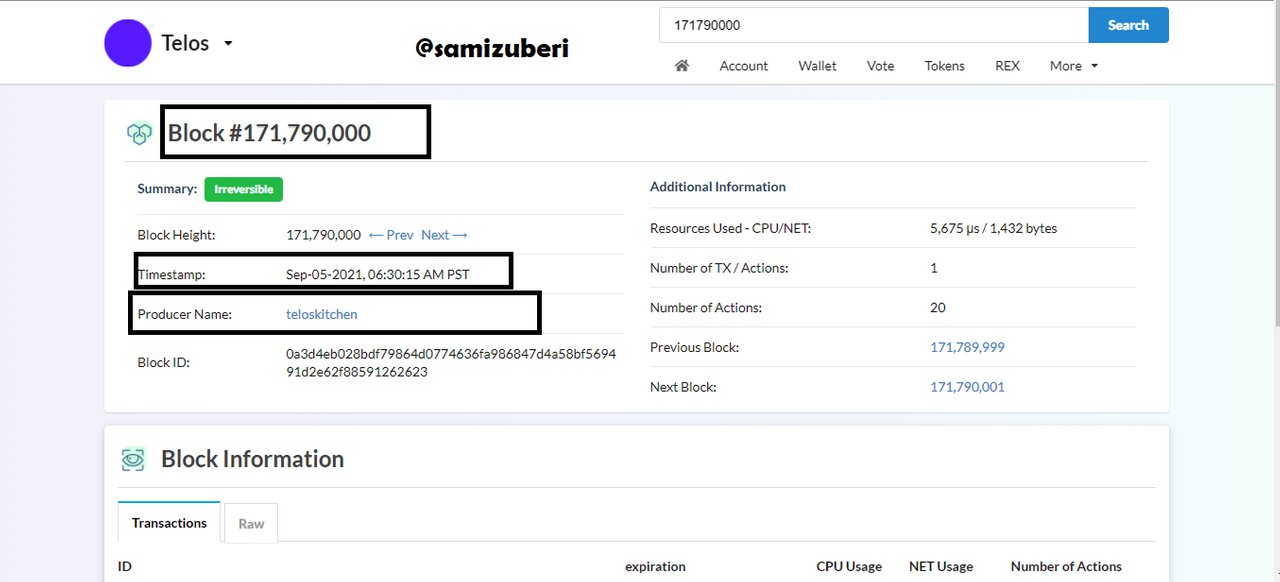 The block number is 171790000 and the BP is teloskitchen and the date is Sep-05-2021 and time is 06:30:15
Telos EOSX :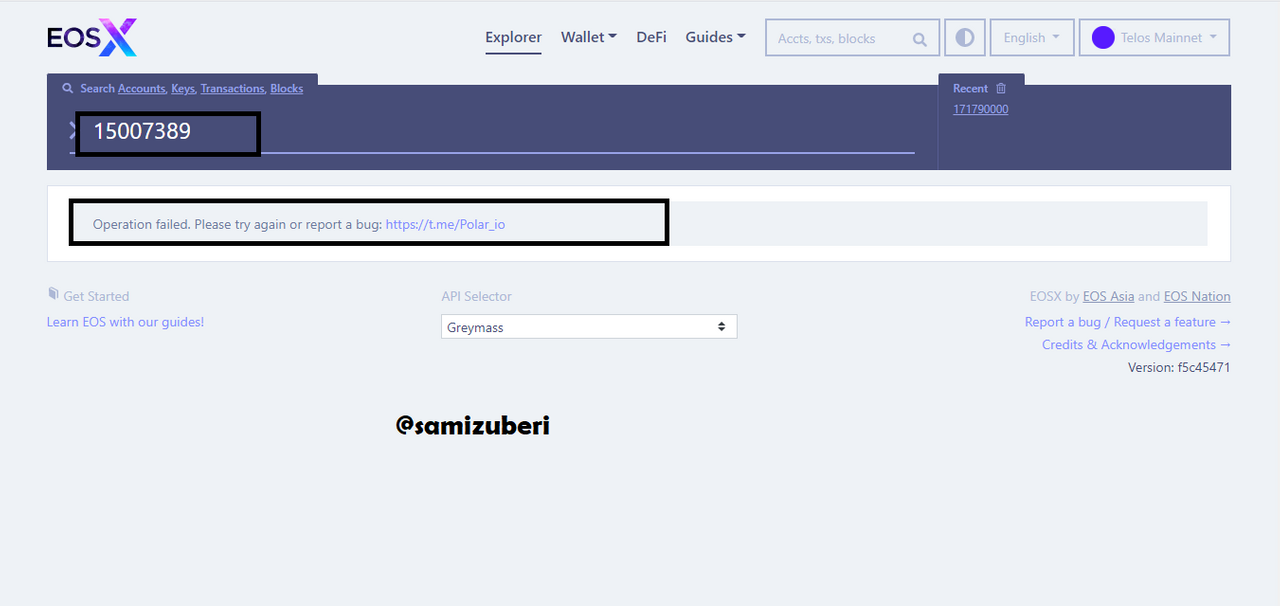 When I started searching for this block, I discovered that the platform had marked it as an error and that its function had been restricted.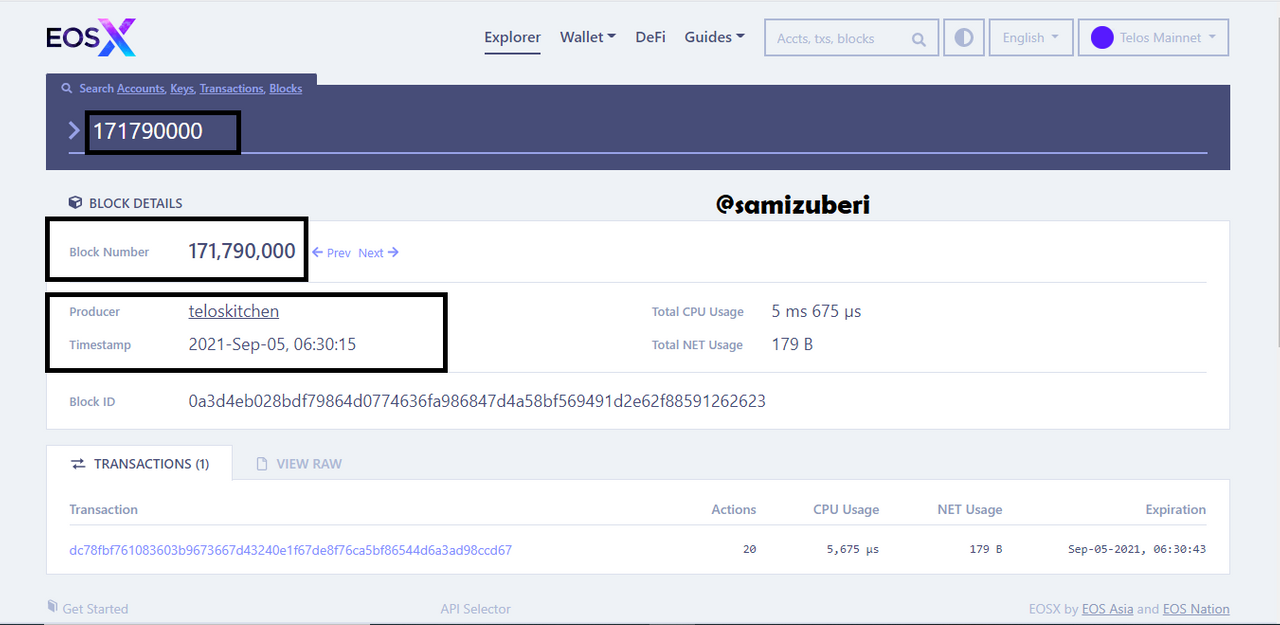 The block number is 171790000 and the BP is teloskitchen and the date is 2021-Sep-05 and time is 06:30:15
Telos Tracker :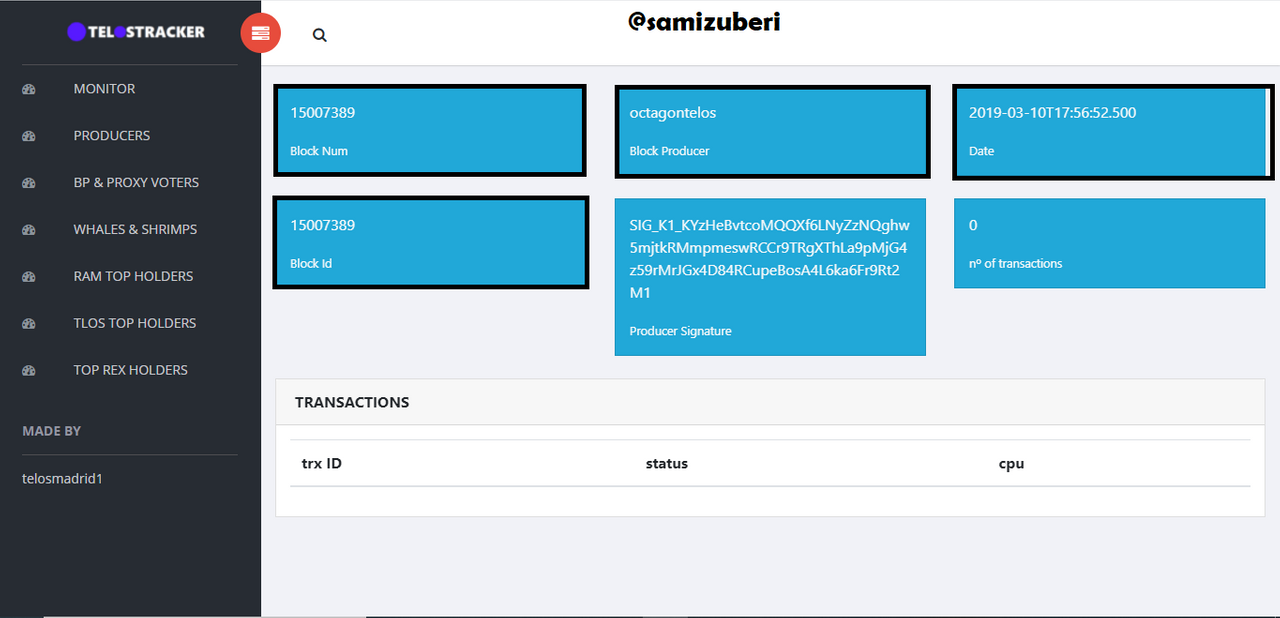 The block number is 15007389 and the BP is octagontelos and the date is 2019-03-10 and time is 17:56:52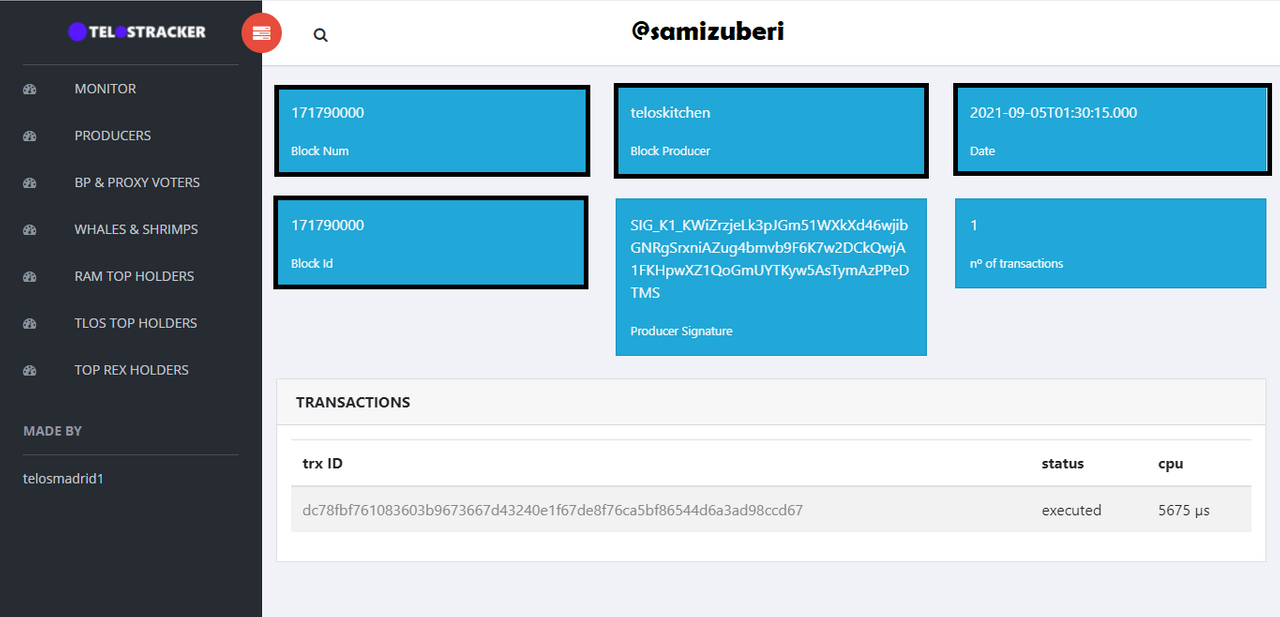 The block number is 171790000 and the BP is teloskitchen and the date is 2019-09-05 and time is 01:30:15

Question 4.
In the Telos swap demo platform, click here . Connect the wallet to Metamask. Then Transfer 20 Tlos to Fiat. And determine the gas you consumed. Then make the 100,000 Fiat to Soon transaction, and determine the gas consumed. Show the screenshots of the whole process that you ran. Was the gas consumption excessive in both cases? Explain?

Firstly, I downloaded the meta mask. Then I visited the Telos Demo Swap site.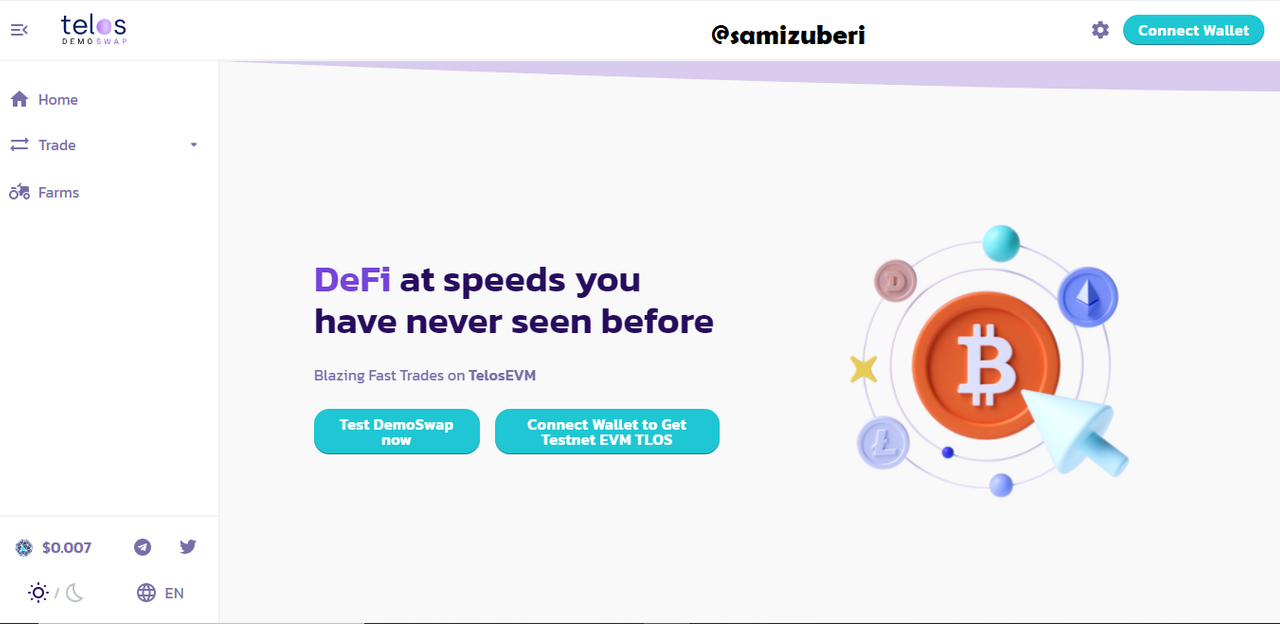 Then I connected the metamask by clicking on the "Connect Wallet" option in the upper right corner.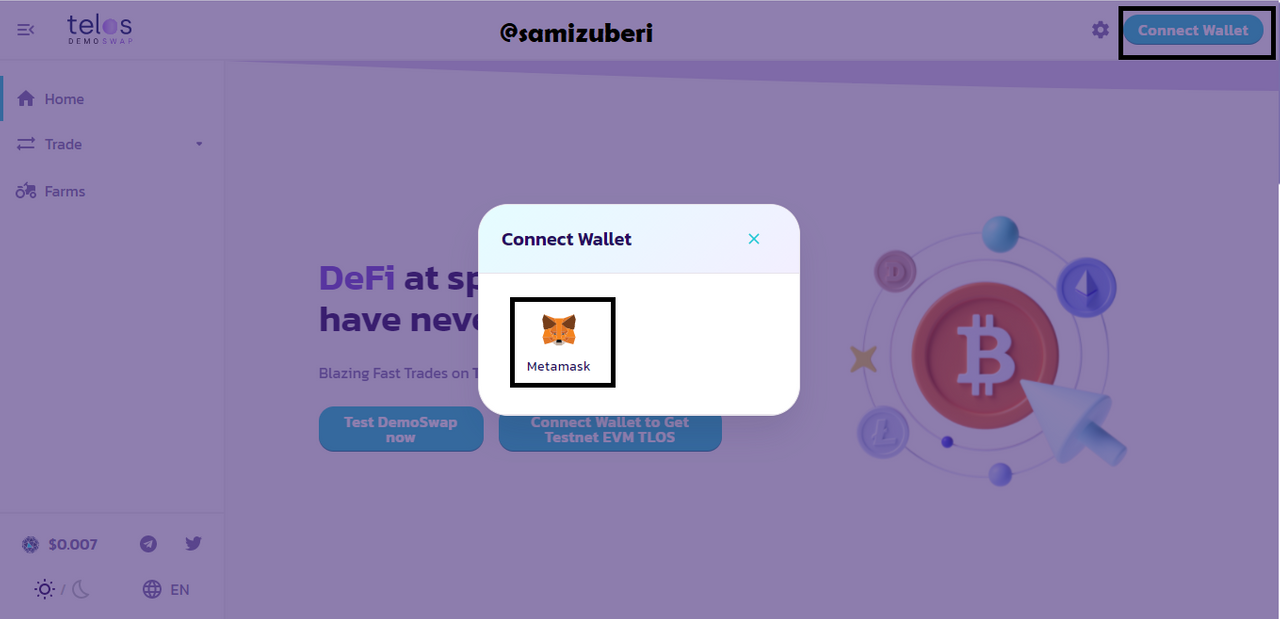 I gave the connection of a network that my metamask would successfully connect with after clicking on the metamask in the previous stage. Telos has my Metamask wallet embedded.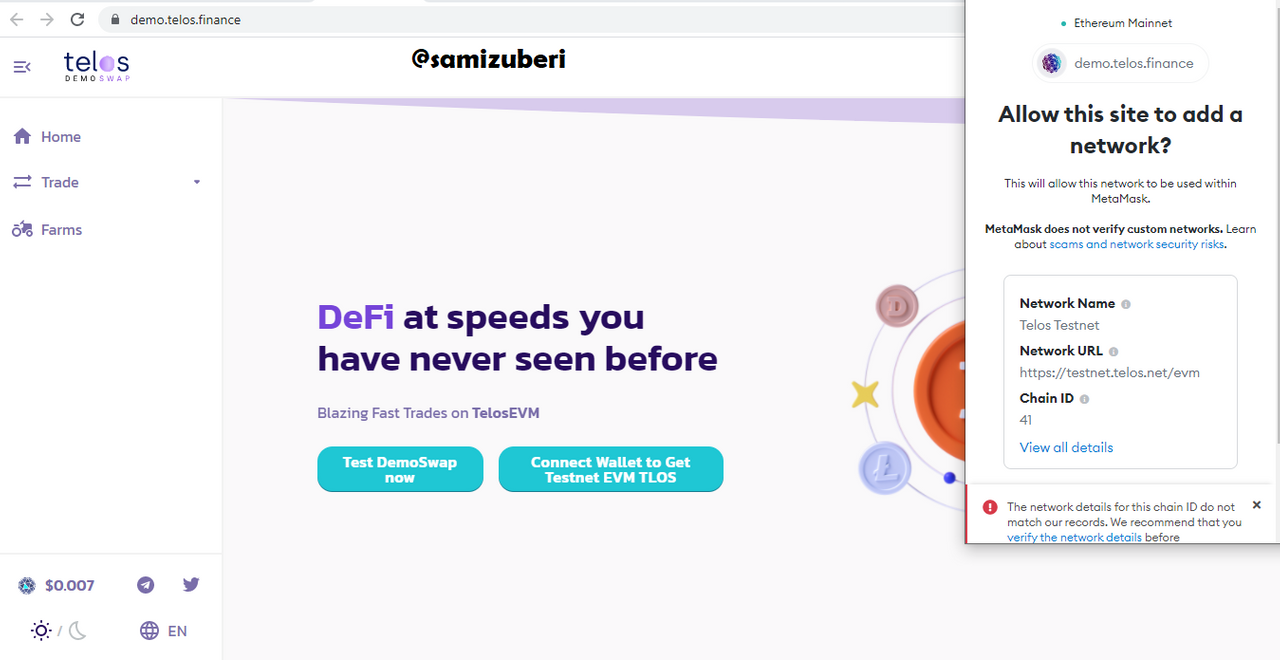 Because my metamask had successfully linked to Telos, I went ahead and clicked on the "Get Testnet EVM TLOS" option in this step.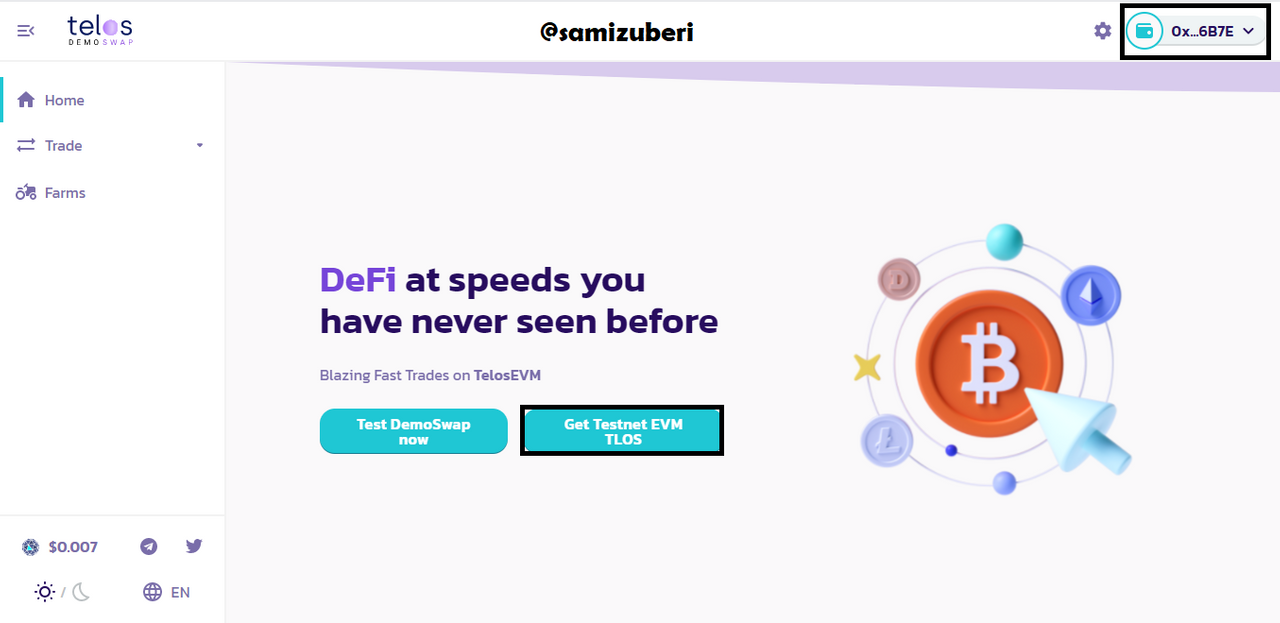 Testnet EVM TLOS was successful according to the notification I got. Then, I pressed the "Test DemoSwap now" button, and my "demoSwap" test got successfully launched.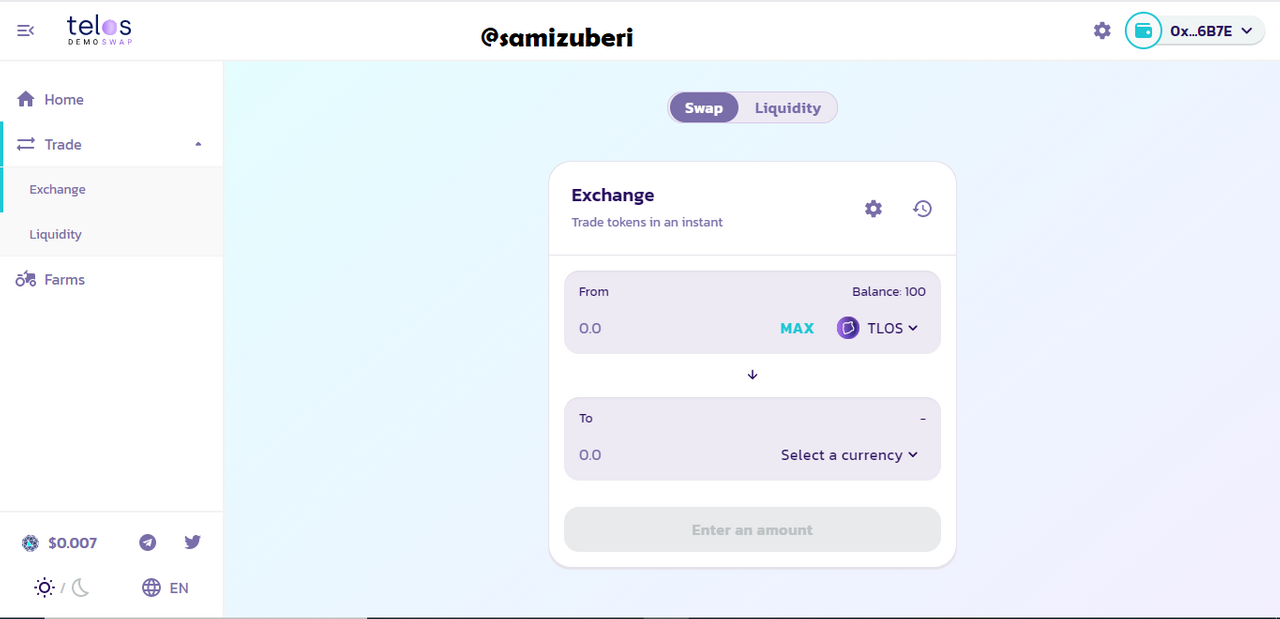 Now I'm going to convert 20 Tlos to Fiat, and then I'm going to pick Fiat from the token list.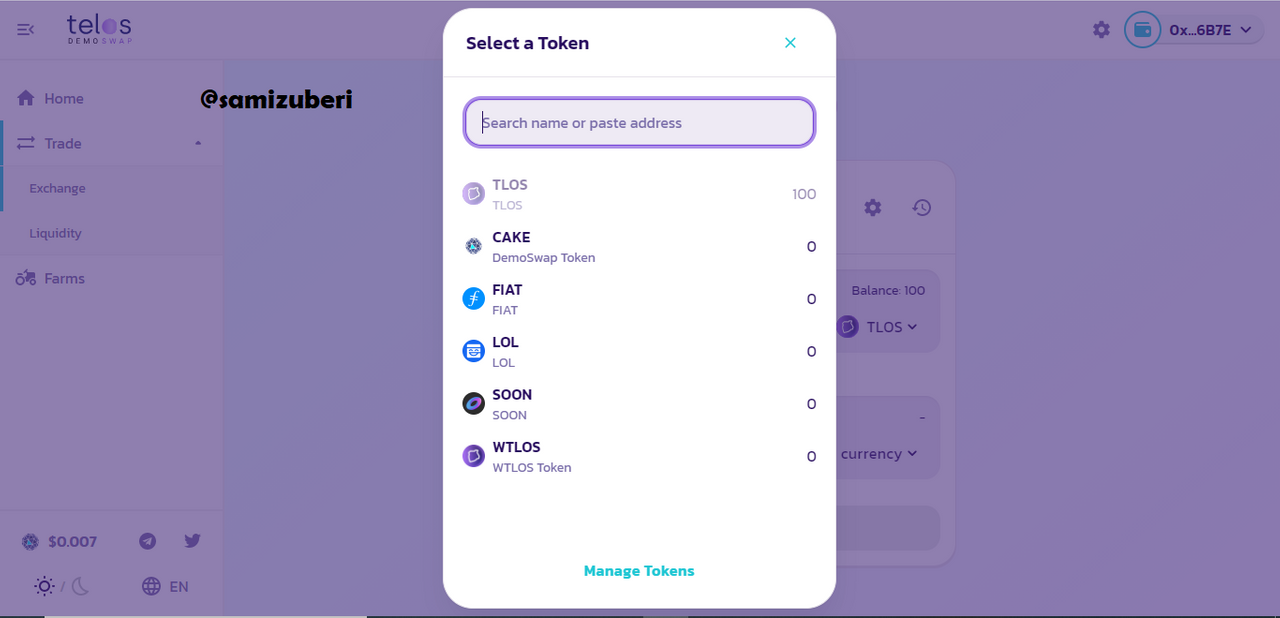 I'll transfer 20 Tlos to Fiat after I've chosen a Fiat. For the transfer to take place, I must click on the "Swap" tab.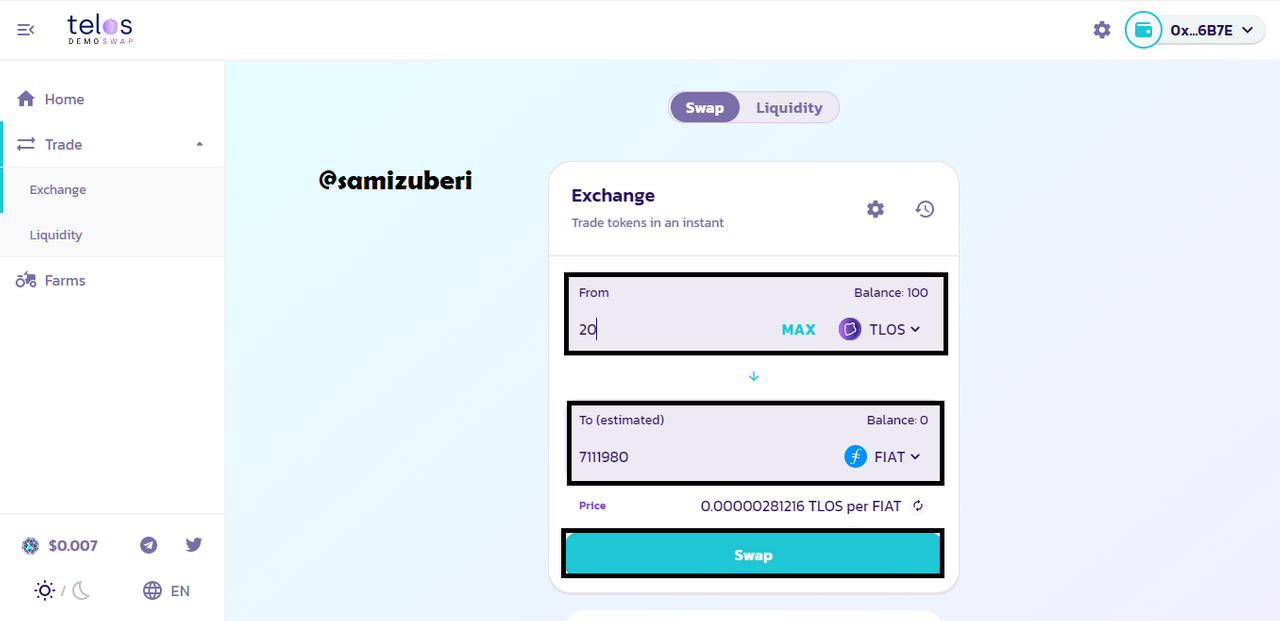 After that, you were given way to a new interface to confirm the Swap. I selected the Confirm Swap option.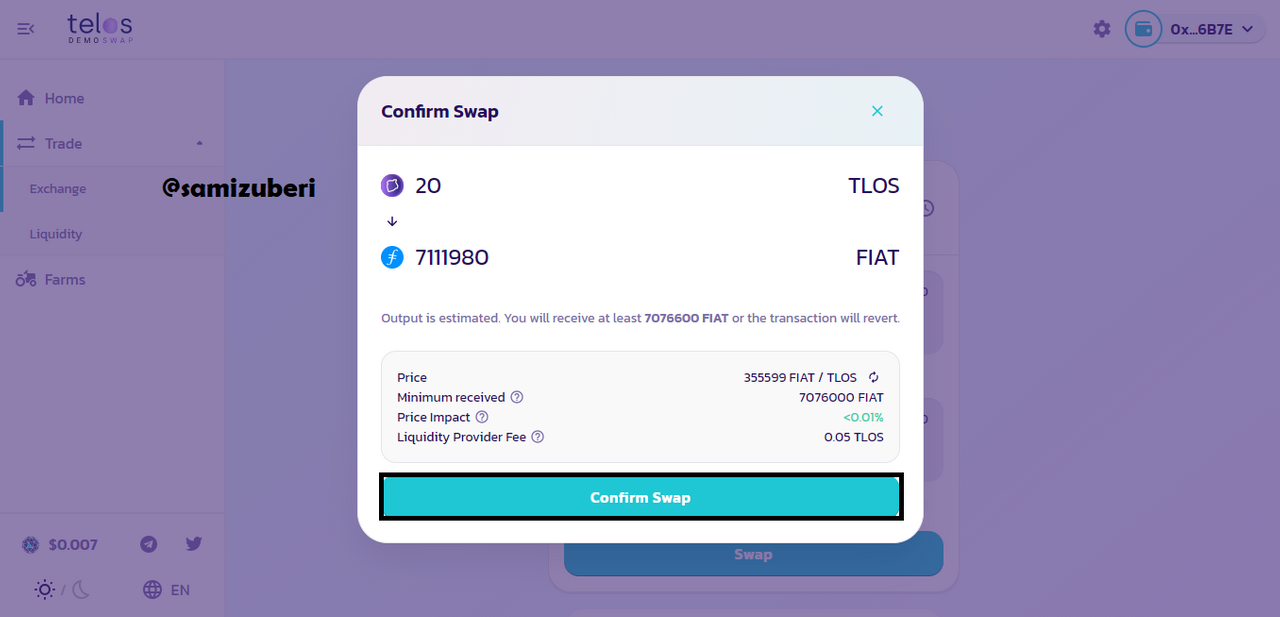 After completing the above steps, I completed my 20 Tlos to fiat exchange and received a successful transaction confirmation.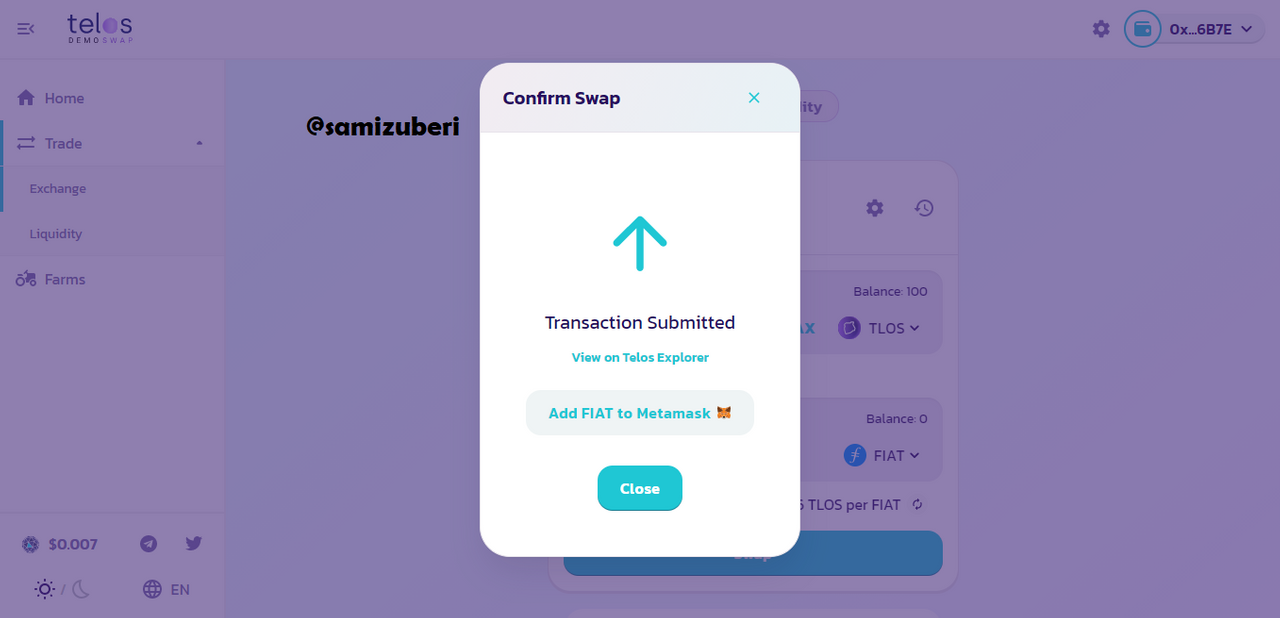 Now I'm going to perform a 100,000 Fiat to Soon trade and figure out how much gas consumed. To transfer from Fiat to Soon, I typed 100000 Fiat in the From field. In the To section, I chose Soon. After that, I went to the Enable FIAT tab.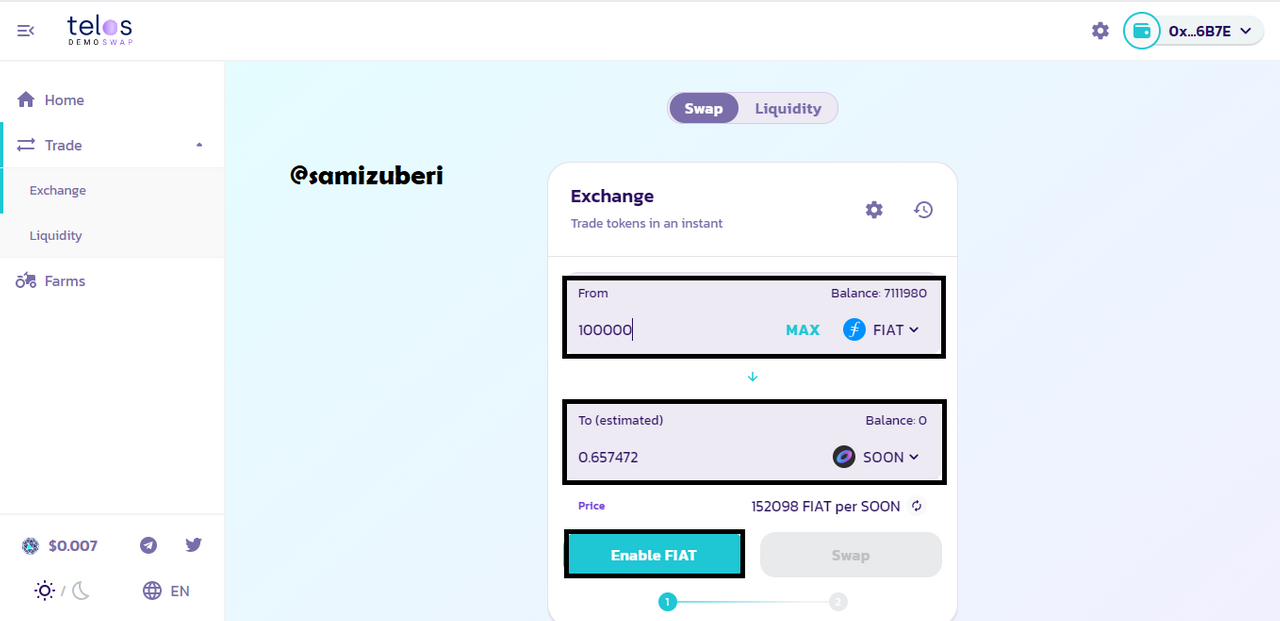 The following screen appeared after choosing the Enable FIAT tab. Metamask sent me a notification that I needed to confirm. The pricing fee of gas is $0.10296.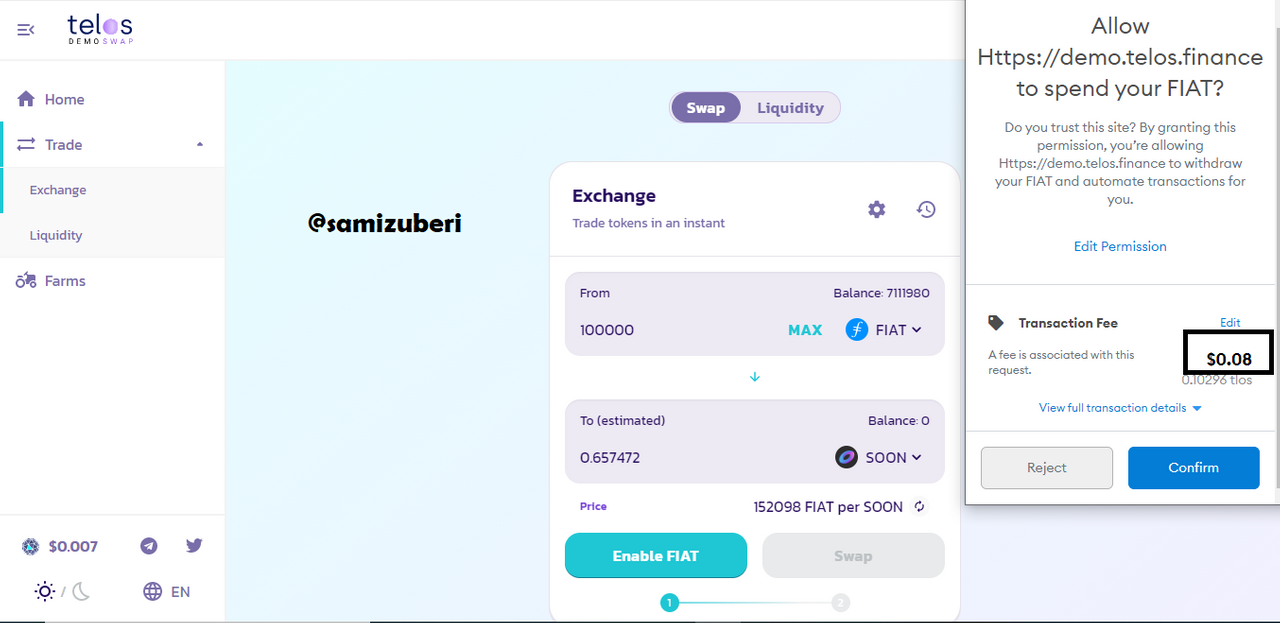 And that's when I converted from FIAT to SOON. Let's go on to Swap.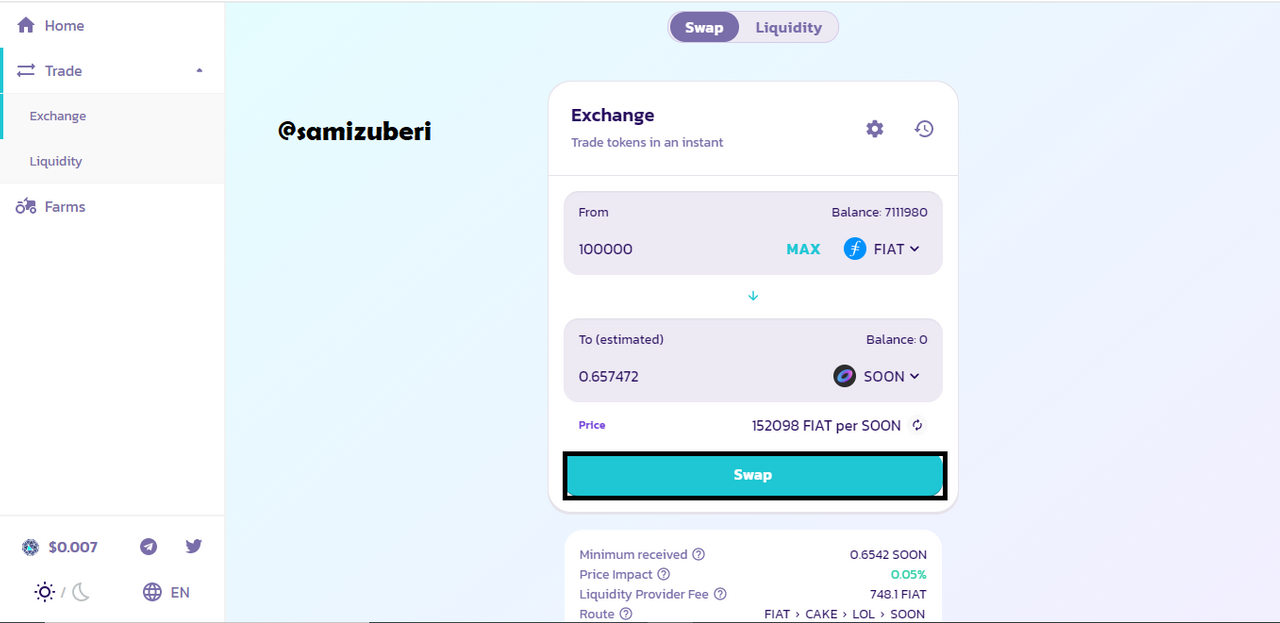 After selecting Swap, a new section appeared, there i need to click on a confirm swap button.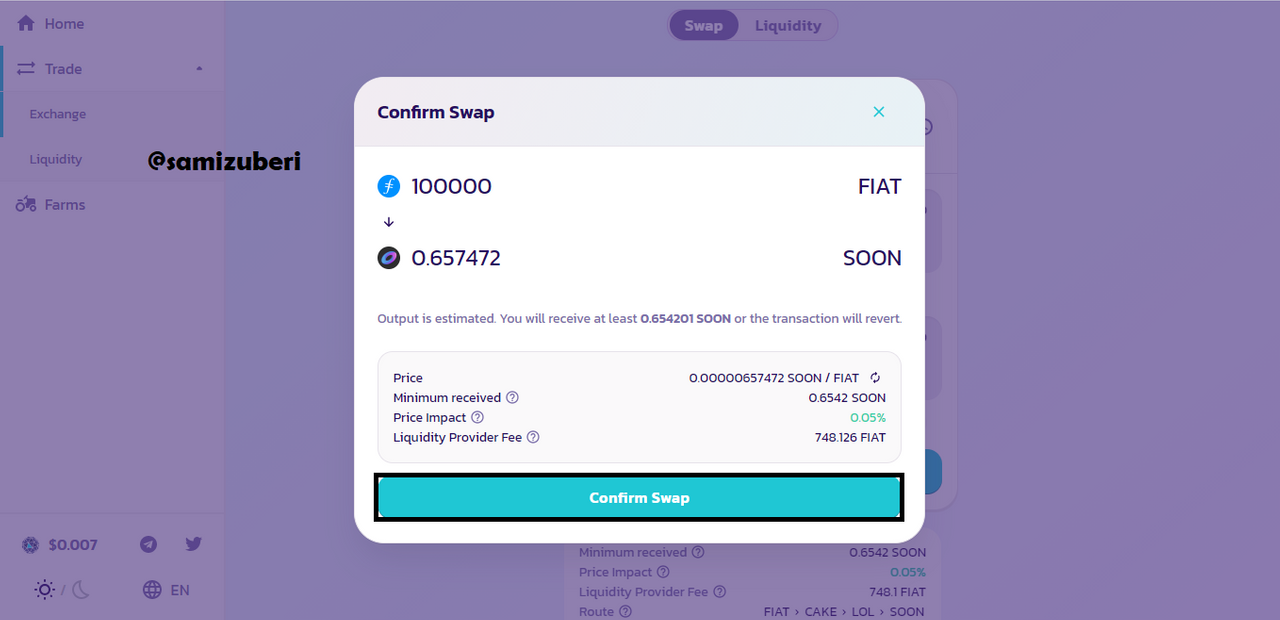 Metamask was prompted for permission by the system. 0.07711 was the gas charge.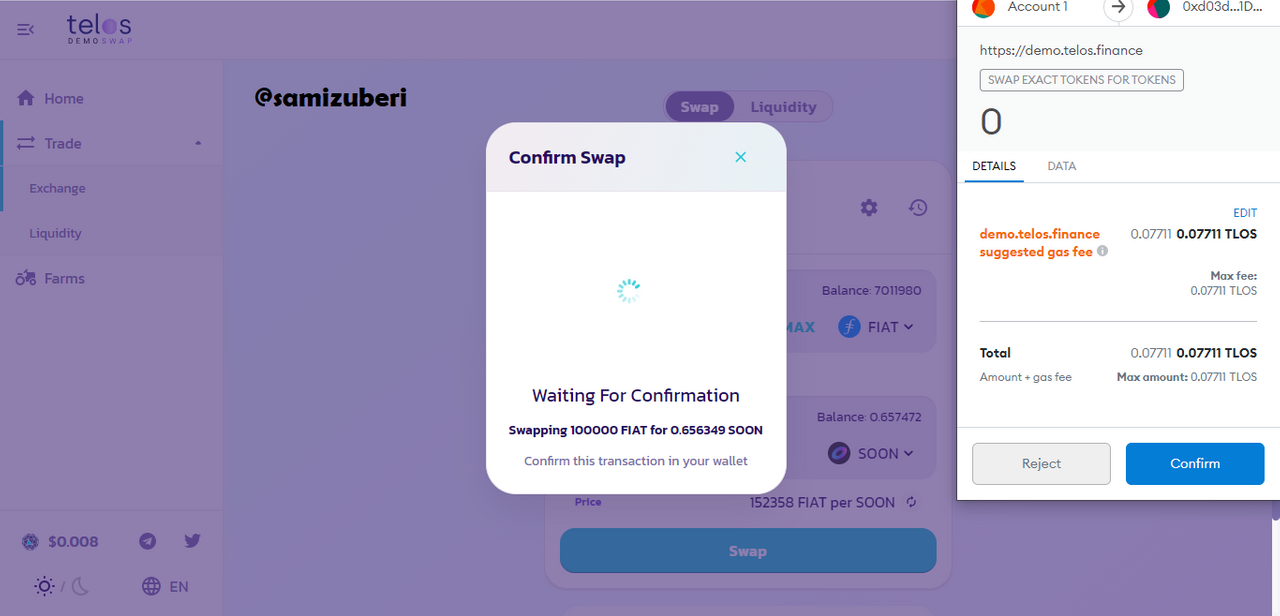 At last you got confirmation about your exchange.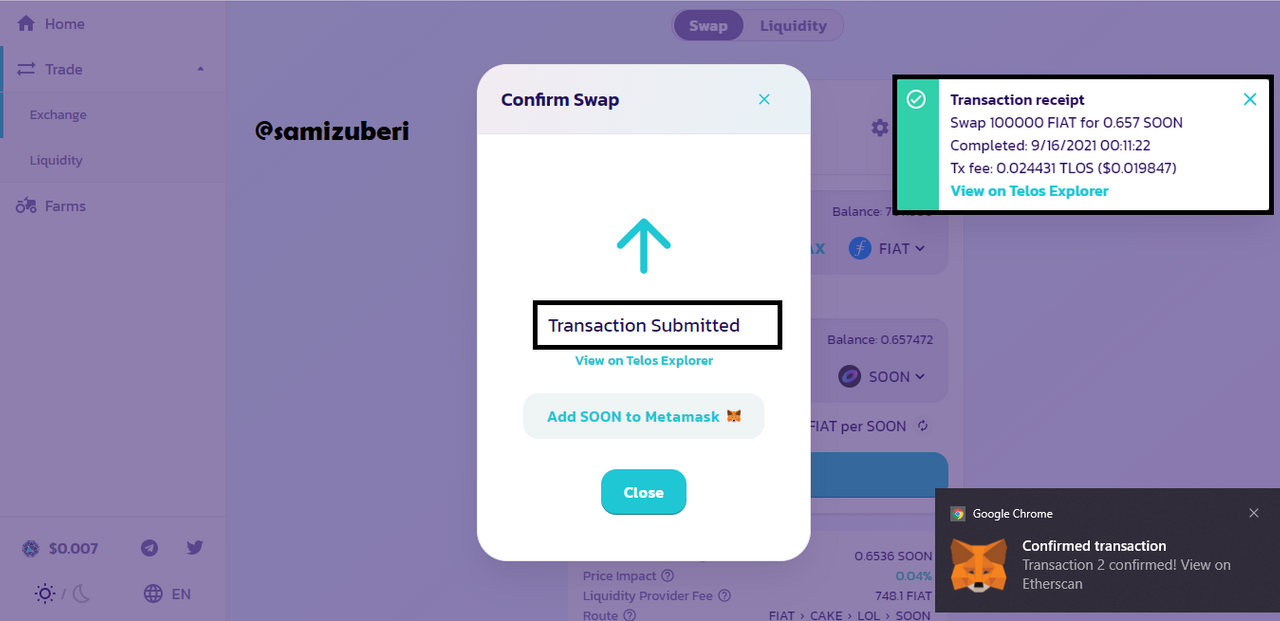 Special mentions to ;
@pelon53