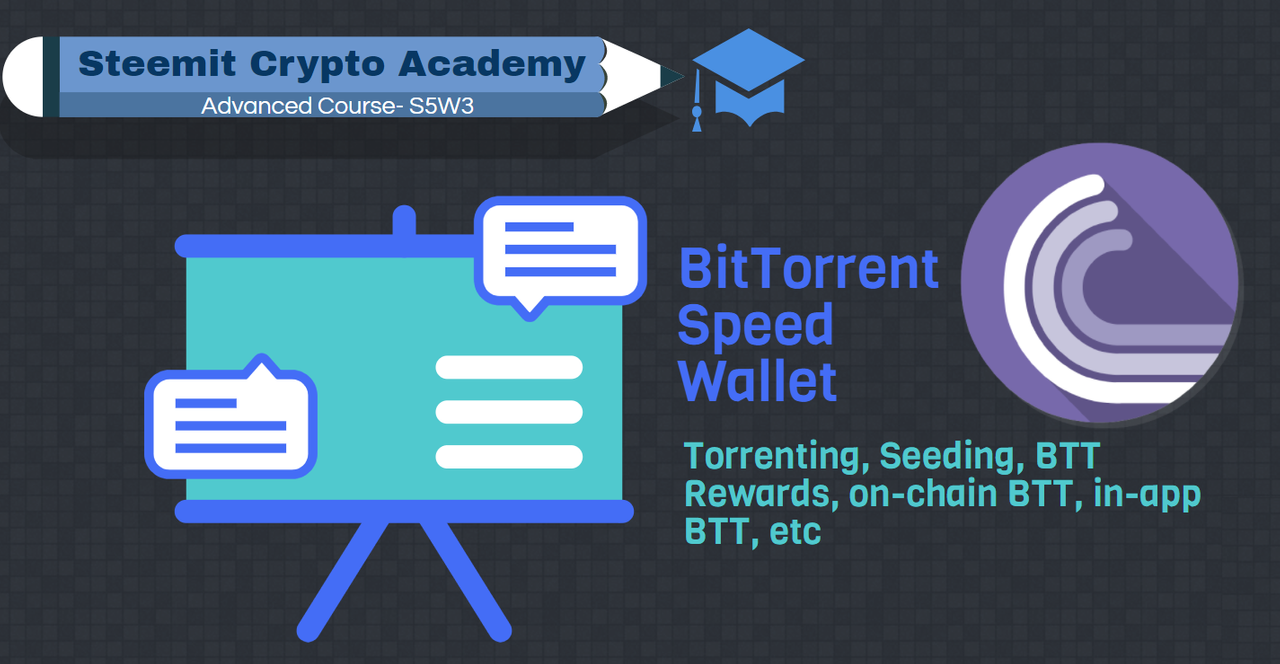 Background
The advent of Blockchain technology ushers an era where the nos of use-cases of peer-to-peer technology like Blockchain could be endless. An average internet user is quite familiar with the things like downloading a file from the internet.
When you download a file, in general, you interact with a single computer/server. Further, the download of the entire file happens from a single computer/device. In other words, you engage with a single computer/device/server.
Most of us are quite familiar with torrenting. Perhaps most of us have used torrenting as a way to download something from the internet in the easiest/cheapest way. But when we look back at the evolution of torrenting and since 2018 when it converged into the underlying technology called Blockchain(precisely attributed to Tron Blockchain, with the recent partnership in 2018), torrenting is now more than just downloading a file. And the popular brand of Torrent since then is tokenized economy of BitTorrent with a TRC10 token called BTT. The end-users can leverage by seeding torrents/bandwidth and, in exchange, earn BTT rewards.
How exactly torrenting works?
A torrent network is a distributed network where thousands of users/devices are connected to each other. The files are spread over thousands of networks as well. So the end-user downloading a file interacts with n number of computers/devices.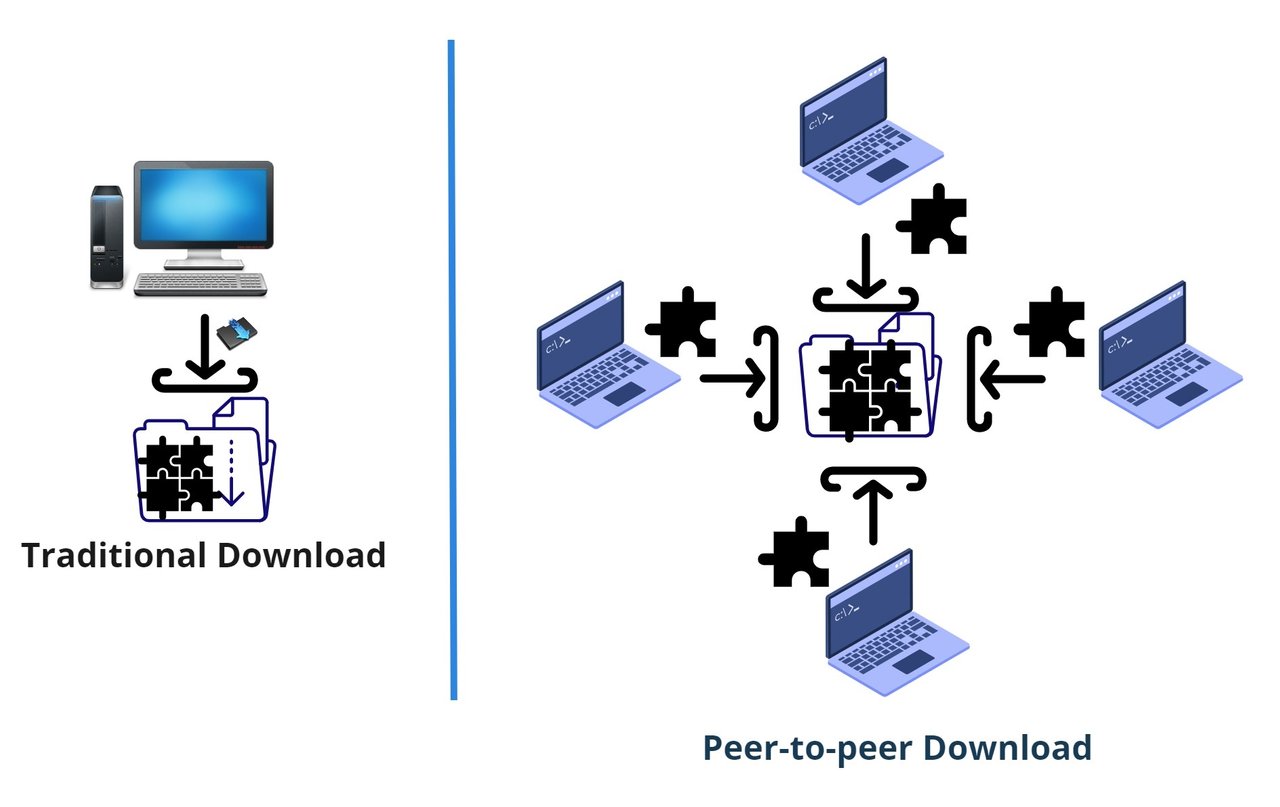 The torrent network searches all the bits and pieces required for the package over the entire network, assembles it, and makes it available as a complete package for the end-user.
The entire process of searching, tracking, transmitting, and assembling, managing the bits and pieces of a file required by the end-user is done by BitTorrent or uTorrent client.
The entire process can become seamless and smooth for the end-user if the peer-to-peer network is robust with a large number of participants/devices connected to it. Further, to benefit the assembly and management of the data and file-sharing system, BitTorrent has introduced a reward system; a user who choses to seed the Torrent and Bandwidth can earn certain rewards in BTT. The end-user who wants a faster download can pay BTT to enjoy that privilege.
Seeding is attributed to those devices where the complete file is available, and that user/device is helping others in the network to get that file downloaded either in part or full. Being a peer-to-peer network, the download fundamentally happens with the help of other connected nodes/devices. BitTorrent incentivizes the seeders of the network in BTT. The more the number of seeds, the faster is the download because it will be a "many-many" transmission of files. If only one single seed or very few seeds are available, then it will be a one-many kind of transmission. Therefore the download speed will get slower.

BitTorrent Speed Wallet
BitTorrent file-sharing system works on the underlying principle of the peer-to-peer file-sharing protocol. Therefore unlike relying on the bandwidth and torrent of a centralized server/system, it depends on the torrent and bandwidth of thousands of connected nodes/devices. The users who seed torrents and bandwidth earn BTT in exchange. The user who wants to speed up the download pays a certain BTT to enjoy a faster download.
BitTorrent speed wallet is a means where it encourages the token bidders for faster downloads. Even with BTT bidding for faster download BitTorrent is still free of cost for the common user.
If the user has enabled seeding for downloaded files, he stands to earn BTT rewards for helping others download that file. Therefore the longer you remain seeded in the network, the more BTT you make in the long run.
The user is always at liberty to enable/disable seeding, in line with the idea of decentralization.

How do I set up BitTorrent Speed Wallet- Step by step guide
Go to-- https://www.bittorrent.com/token/bittorrent-speed/. Click on FREE DOWNLOAD. It will automatically download the file, now open the file and install it.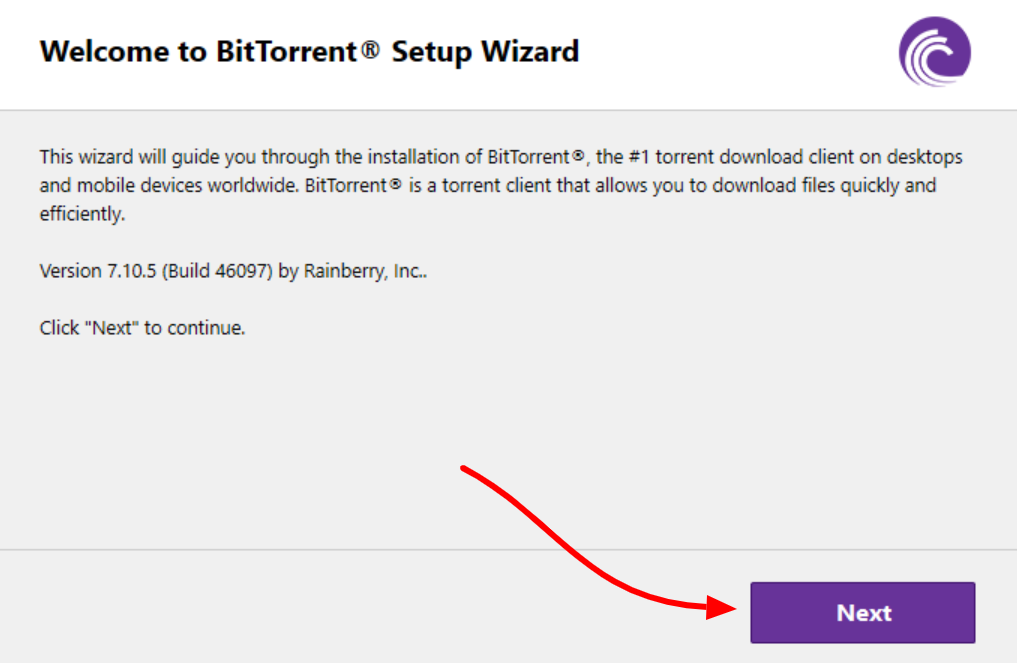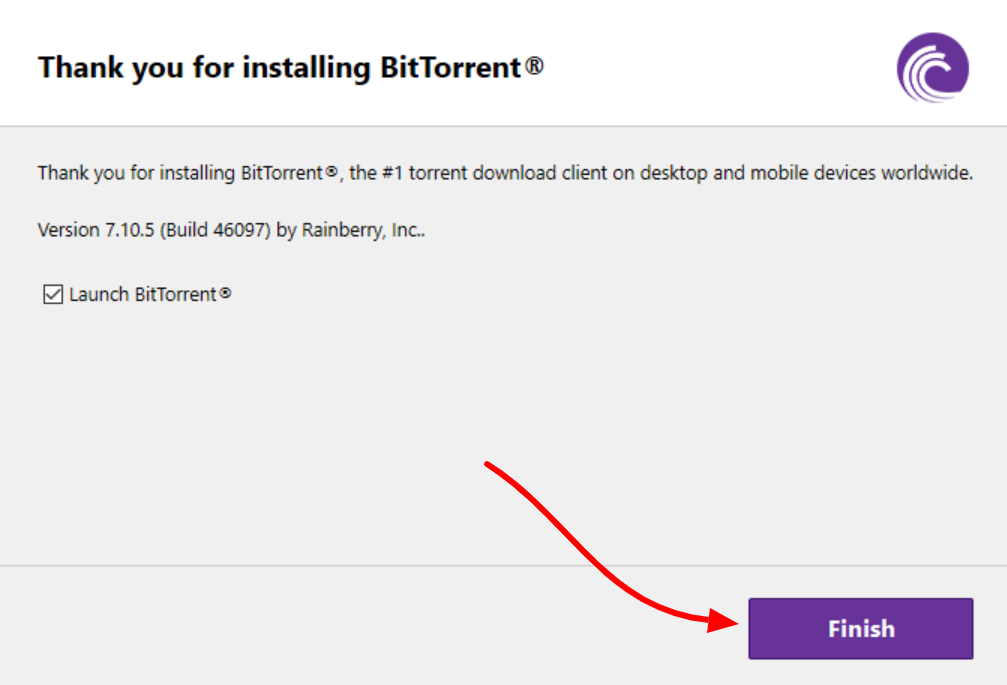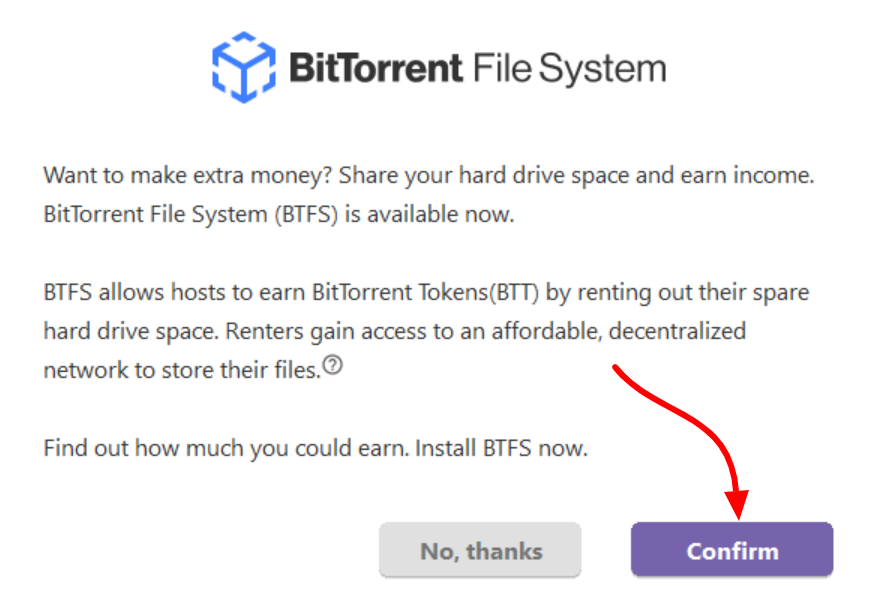 After having it installed, open BitTorrent, then click on Speed- Download Torrents Faster.
Click Next, then Click on Wallet.
If you are new to BitTorrent, the click on Create Wallet. If you already have a Bittorrent speed wallet, click on Import Wallet.
Set Password.
Click Continue.
Now, write down the 12 words phrase(mnemomic phrase) on a piece of paper, secure, and save it off-line. Pay attention to the correct order.
Now click on "I have saved it securely".
Confirm the recovery phrase- reproduce the words in the correct order.
Click Finish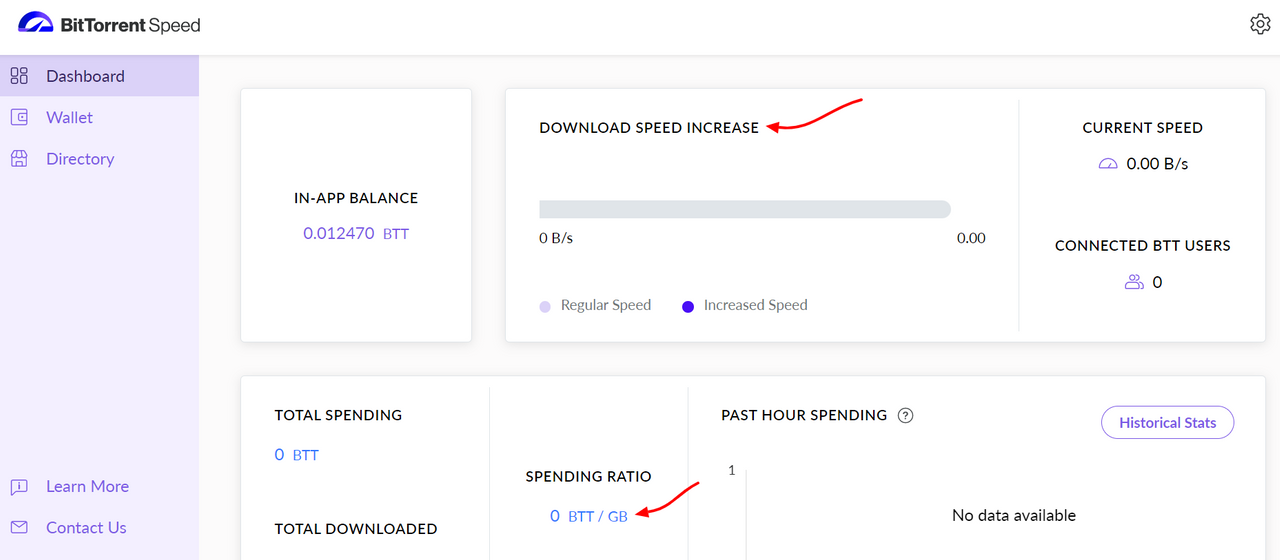 You are good to go now.
Similarly, you can also download and install BitTorrent Web.
Go to-- https://www.bittorrent.com/token/bittorrent-speed/. Click on FREE DOWNLOAD. It will automatically download the file, now open the file and install it.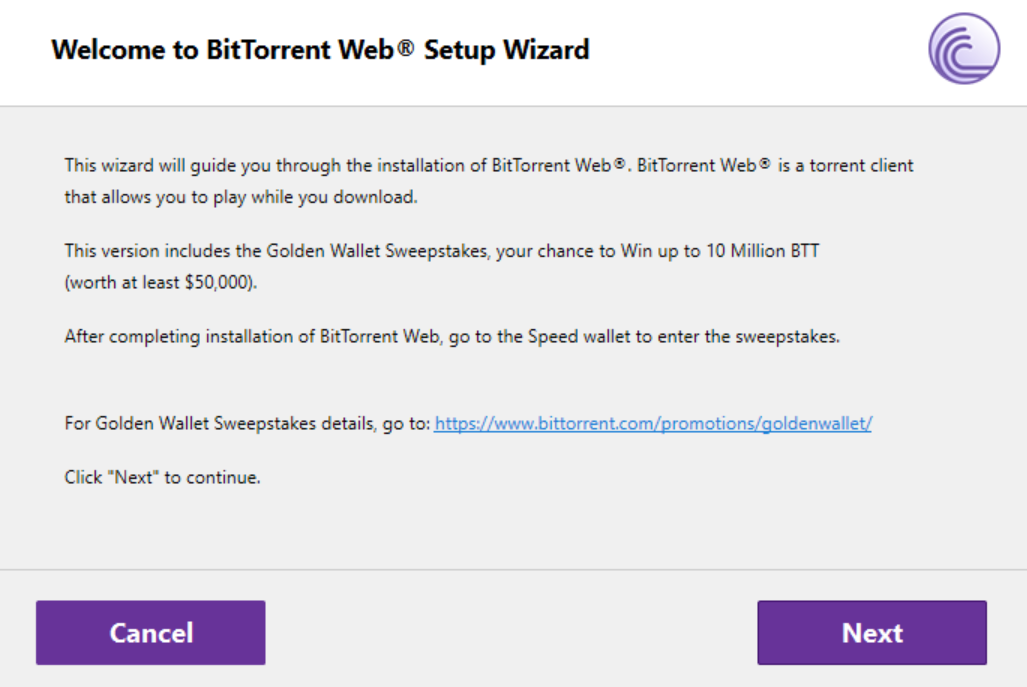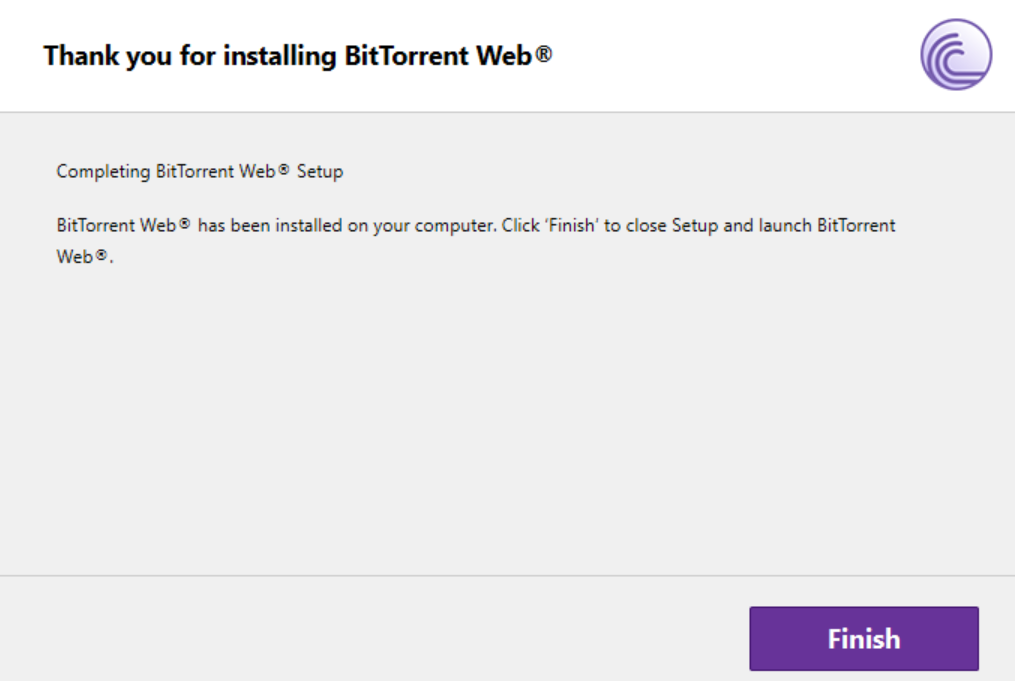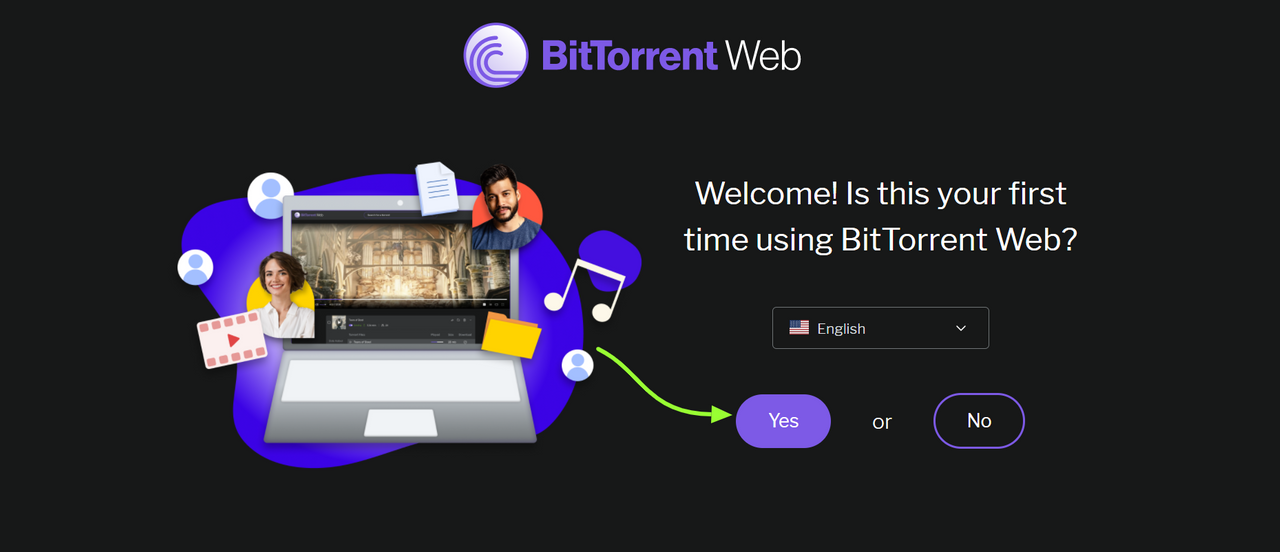 ---
Go back to the Dashboard(BitTorrent Speed Wallet- Desktop). You will get to know the Download speed, Spending ratio to increase the Download Speed, etc.
Click on Wallet again. Enter the password.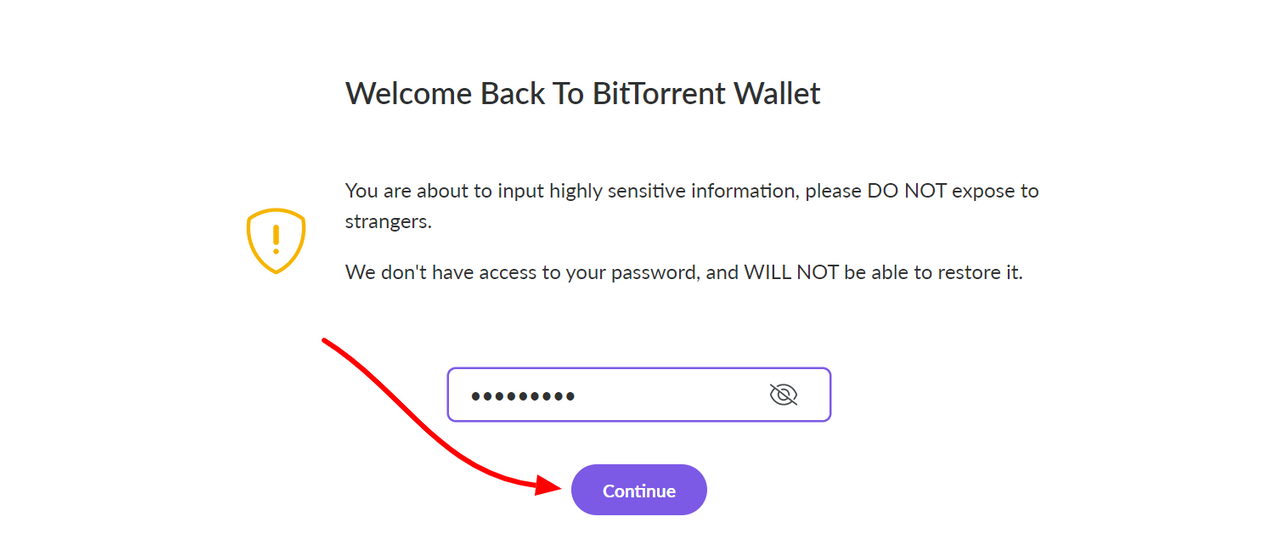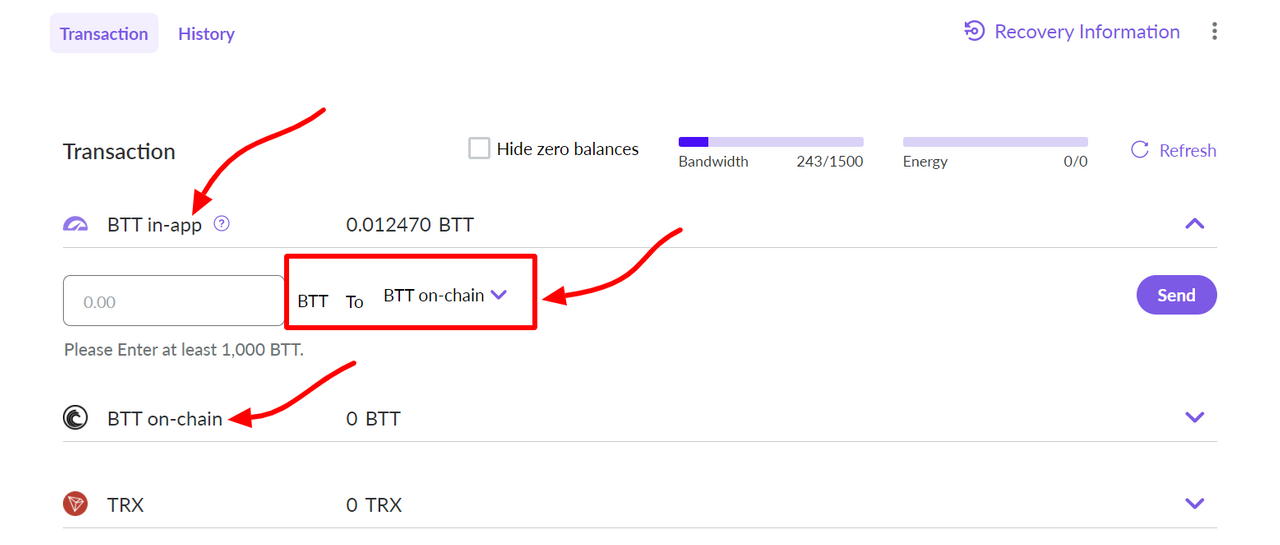 There is an in-app balance and BTT on-chain balance. You can transfer BTT from in-app wallet to on-chain wallet and vice versa from this place. The in-app Blanance will continue to grow if you keep seeding torrent files and bandwidth. That's the purpose of the BitTorrent Speed wallet.
Recovery Information of BitTorrent Speed Wallet:-
Click on Recovery information
Enter Password. Click Continue.
Check the Box(I Understand the Risk). Click on Reveal.
Now, it will display the Private key and the Mnemonic key of your BitTorrent Speed Wallet. Secure it in a safe place, preferably off-line.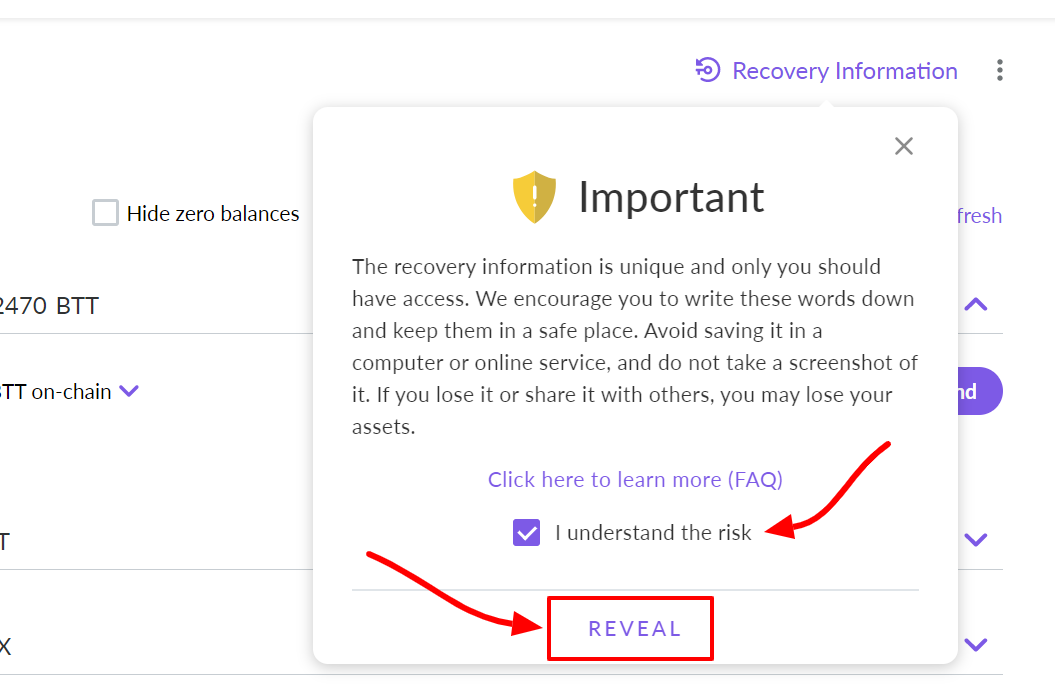 How do I restore BitTorrent Speed wallet in TronLink Wallet
Open your TronLink wallet extension(Assuming you already have installed your TronLink web extension)
Click on Restore
Set a new Account Name for your BitTorrent Speed Wallet.
Select the type of key using which you want to restore your BitTorrent Speed Wallet.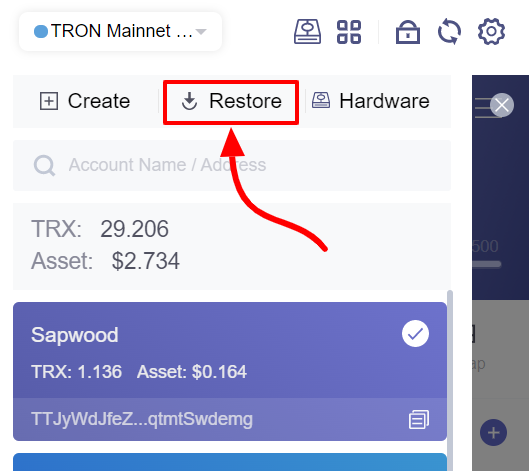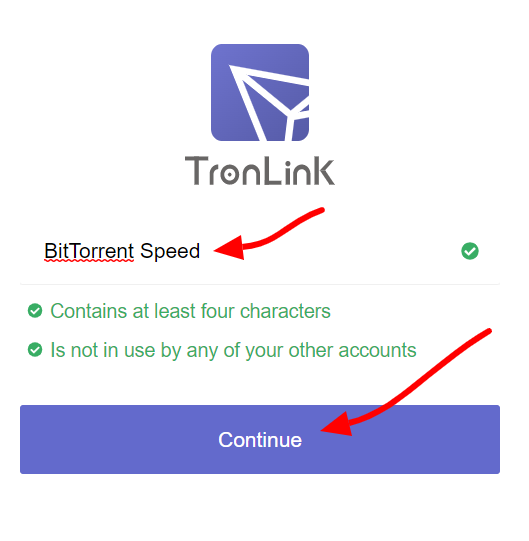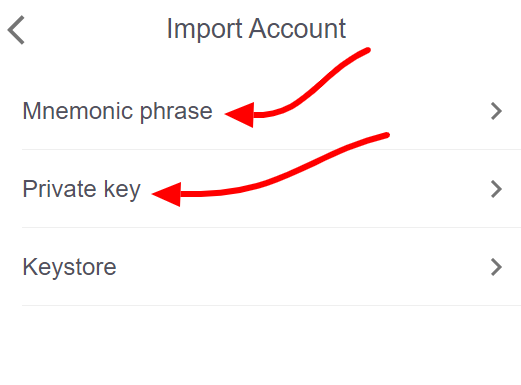 Please note that you already have the recovery information of your BitTorrent Speed Wallet(both Prvate key and Mnemonic key). You can use either a private key or mnemonic key to restore your BitTorrent Speed Wallet in TronLink Wallet.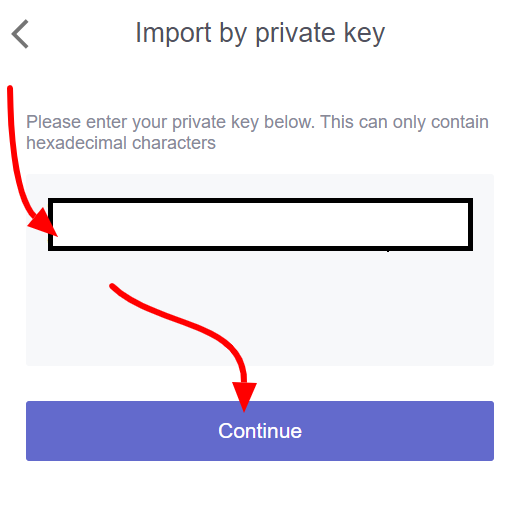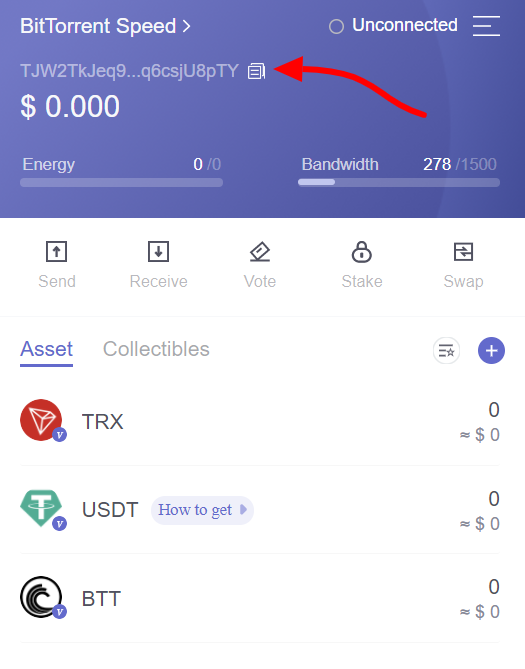 I have used private key to restore BitTorrent Speed wallet. You will also get to know your BitTorrent Speed wallet's associated Tron Wallet address(or Public Key).
If you send BTT to this address, the balance will reflect in BTT on-chain balance. You can transfer BTT on-chain balance to BTT in-app balance using the wallet interface of BitTorrent Speed wallet.

How do I deposit BTT from Exchange to BitTorrent Speed wallet
Go to Binance or Huobi or any other exchange where BTT is listed. Go to the withdraw section, enter the amount of BTT, paste the withdrawal address(BTT Address). You need to paste the public key of BitTorrent Speed Wallet.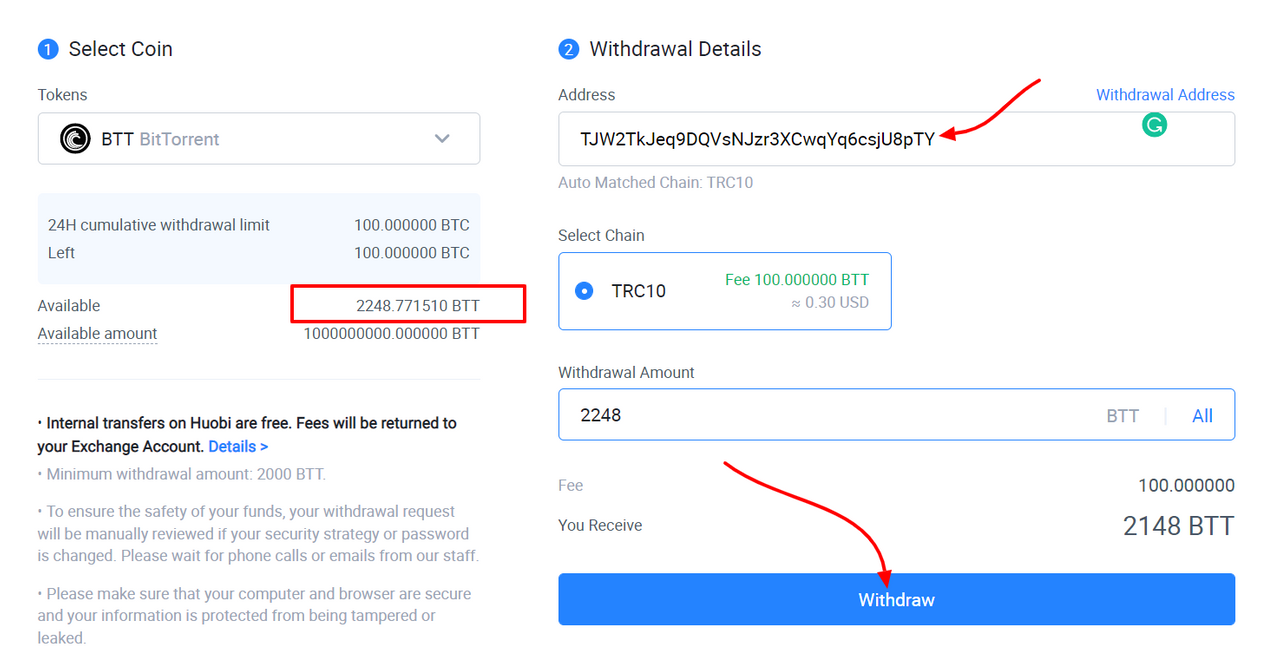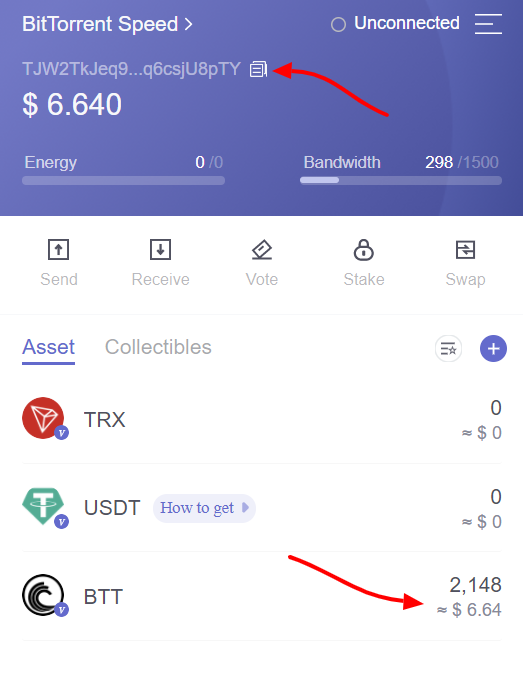 I got my BTT transferred to TronLink Wallet(BitTorrent Speed Wallet) from Huobi. Please note that it will show as on-chain BTT. If you want it as in-app balance, then you need to make a transfer.
Now go back to the wallet interface of BitTorrent Speed Wallet.


Click on BTT on-chain. Enter the amount of BTT you want to transfer to in-app BTT, finally hit the Send button.


How do I withdraw from BitTorrent Speed Wallet?
In a similar way, you can withdraw BTT from BitTorrent Speed wallet to on-chain BTT. It takes comes time to reflect in your TronLink wallet(BitTorrent Speed Wallet). Please note that the minimum amount to withdraw from BitTorrent Speed wallet in-app balance is 1000 BTT.

BitTorrent Web
Click on the BitTorrent Web icon. It will automatically open in a browser.
Here you can add Torrent, Create a new Torrent, Share a Torrent.
Basically, it is the process of seeding Torrent, and in exchange, you earn BTT.

Add Torrent:-
Click on Add Torrent.
Either Drag/Drop a file, or Brwose or paste the Torrent link at the designated box/space.
Finally, hit Add Torrent.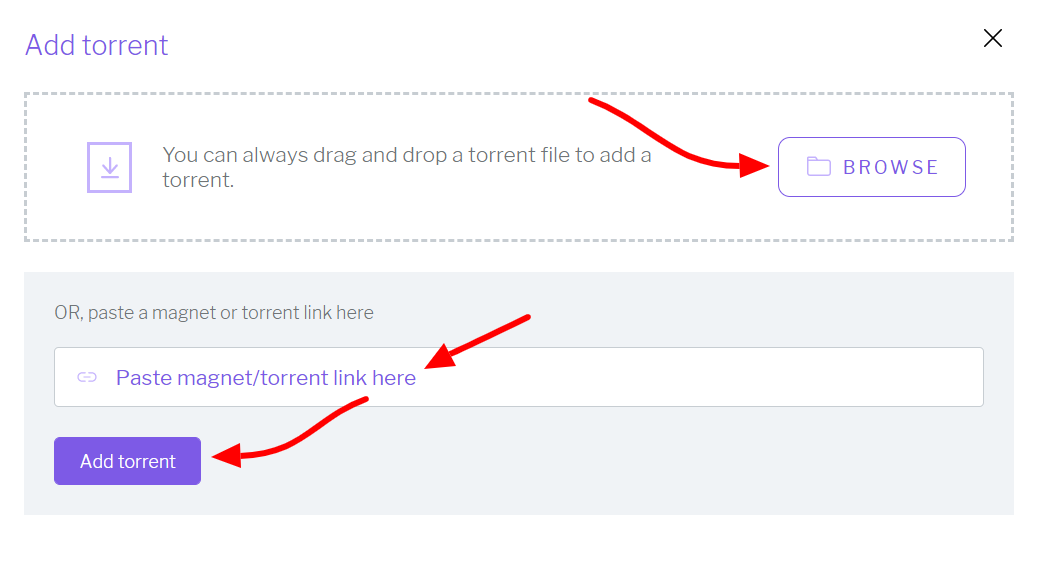 Create Torrent:-
Click on Create Torrent.
Select the file.
Finally, hit Create Torrent.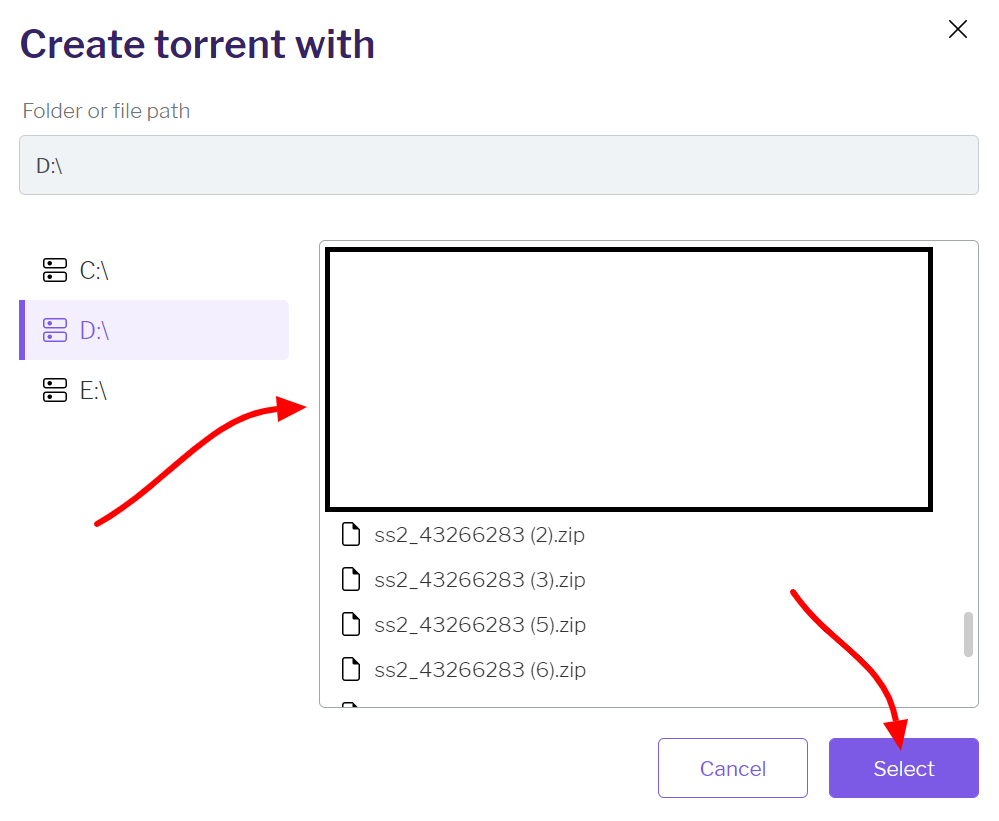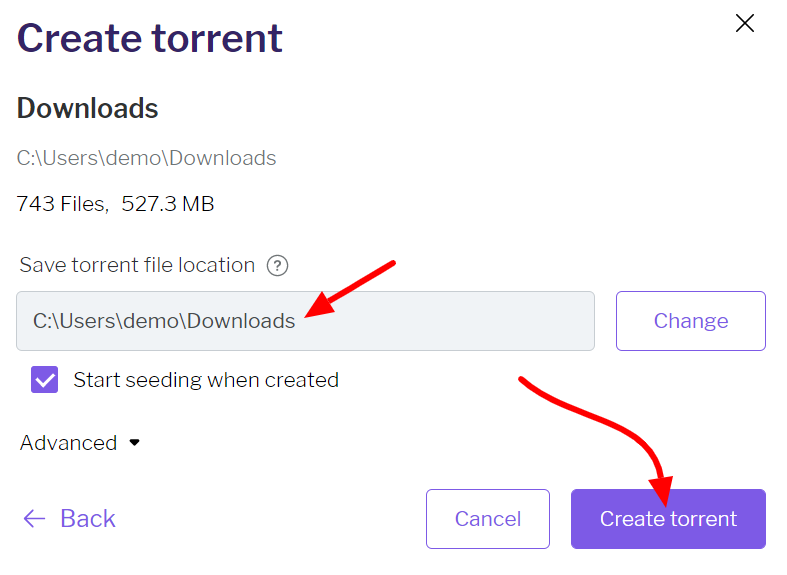 You can also add/create torrent using the Desktop client. The process is quite similar. Make sure to check the box "seeding"; doing so will earn you BTT token.
Go to Desktop client.
Torrent---->Create New Torrent
Add the file, make sure to check the seeding box/option
Finally, hit create button.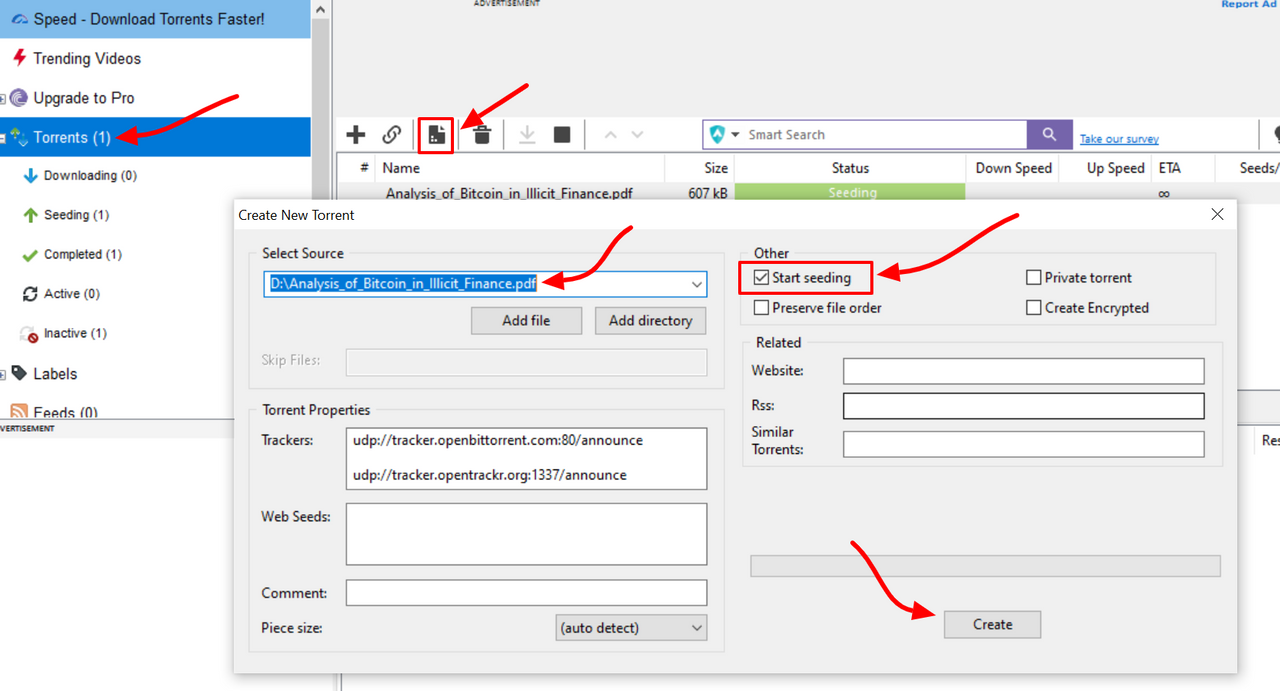 Thank you.

Homework Task (Season 5/Week-3)
(1) What is torrenting, what is seeding in BitTorrent, how does it earn BTT rewards? Demonstrate with examples?
(2) Download and install BitTorrent Speed Wallet? Restore it in TronLink Wallet? How do you secure the private keys of BitTorrent Speed Wallet?
(3) Transfer BTT from an Exchange to BitTorrent Speed Wallet? How do your transfer on-chain BTT to in-app BTT & vice versa? Demonstrate with real examples? Include relevant screenshots?
(4)How do you Create and/or Add Torrent? How do you seed it? Demonstrate with real examples?
Guidelines
Your article should be at least 500 words.
It is always better to gain user experience before submitting your article.
Refrain from spam/plagiarism. This task requires screenshot(s) of your own experience. Use images from copyright-free sources and showcase the source, if any.
This homework task will run until 4th Dec'2021, Time- 11:59 PM UTC.
Users with a reputation of 65 or above and a minimum SP of 900(excluding any delegated-in SP, delegating to vote-buying services is viewed negatively) are eligible to partake in this Task. (Must not be powering it down).
#club5050 status (last one month) is a prerequisite to participating in this homework task. The minimum threshold for Club5050 is 150 SP power up in the last one month regardless of the payout and earning. This is applicable for both active and inactive users. The upper threshold is subject to your cashout and earning for the specified period(i.e. last one month). There should not be any power down history for the specified period.
Add tag #sapwood-s5week3 #cryptoacademy in your post and should be among the first five tags. You can also use other relevant tags like #btt #bittorrent #tron or any other relevant tag. And also make sure you post in the Steemit Crypto Academy community.
Those who include the real examples/screenshots will score better.
Your homework title should be BitTorrent Speed Wallet- Steemit Crypto Academy- S5W3- Homework Post for @sapwood
Important Note:-
"If you have not had any earnings in the last one month, you will need to make a power-up of at least 150 STEEM to take part in the Academy(to validate your Club5050 status, inactive users).
This can either be from any liquid STEEM or SBDs you have, or you can buy STEEM from an exchange".
"Alternatively you can make posts outside of the Academy and wait until you have earnings from those posts to power up."
(Please feel free to join the comment section if you have any doubt on Homework-Task)

I request @steemcurator01 not to vote this Post, because I could not keep up with the Club5050 status(even though I have powered up 50% of my Author Reward in the last one month). I tried my best. But I am going through a rough patch at the moment financially; this week, I succumbed to that pressure, that's why cashed out STEEM. I am not trying to gain sympathy by saying this; It's not even like I don't want to be a part of Club5050. I am a strong proponent of Club5050.
But I am saying this from a different perspective. The students in the Academy should not feel discriminated (on Club5050). It is applicable for all, including professors. Therefore the sacrifice should come from the professor/MOD first. I will continue to work with utmost passion and determination in the Academy(without support, should I fail to maintain Club5050 status). I will try my best to restore my Club5050 status as I progress.

Unless otherwise stated, all the images, infographics, charts, tables, etc(if any) are my original works. The screenshots are taken from BitTorrent Speed Wallet.