Greetings professor and my fellow steemians, the academy never ceases to expose us to greater and shocking aspects of developing technology which would benefit users greatly and make using easier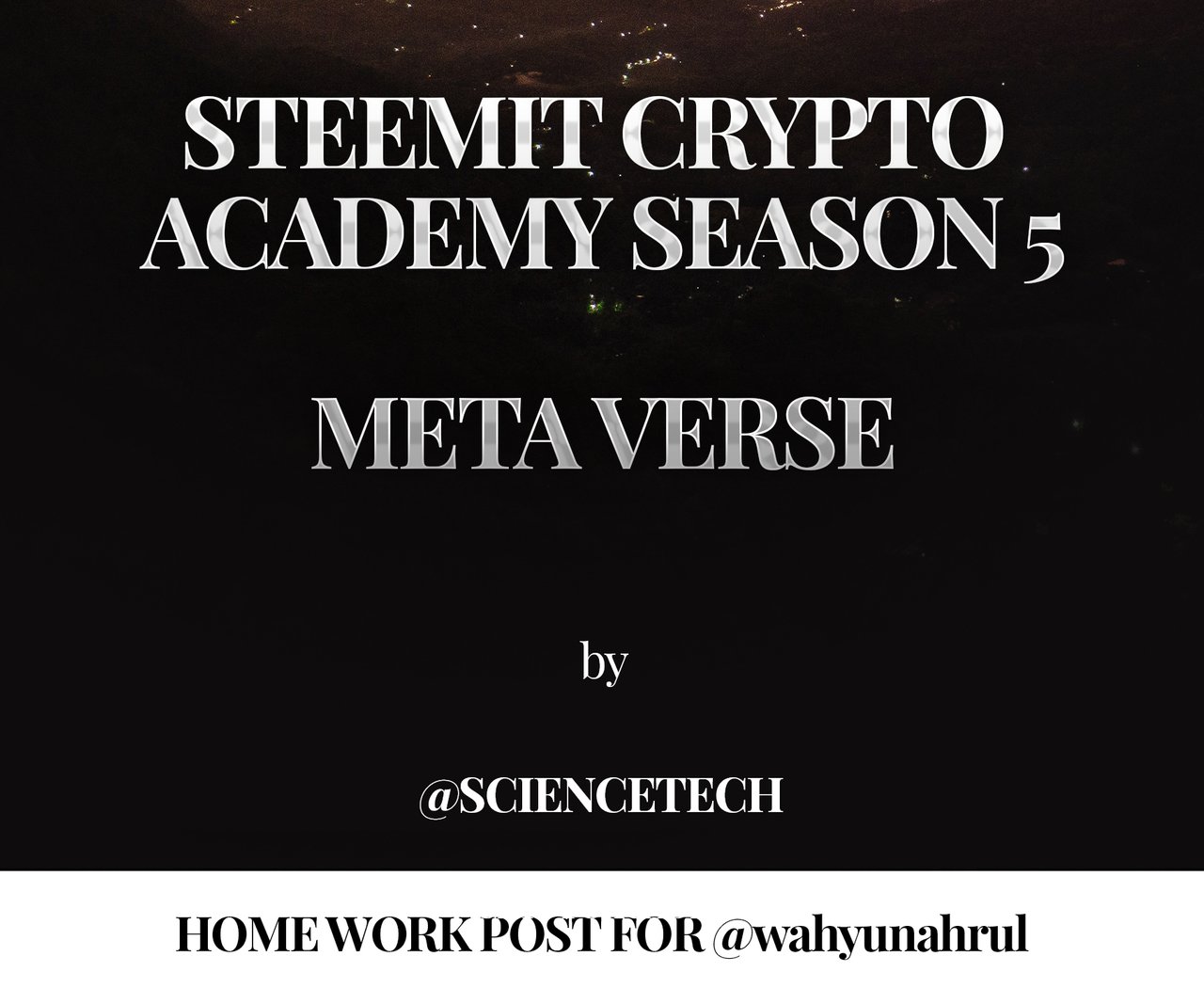 designed with photoshop by me

1.) Is Metaverse is the next level of future technology?
The concept of Metaverse, when I heard first I felt was joke since my ignorance made it look impossible that humans would be able to interact with digital avatars but as the times pass, it seems possible.
Just like centuries ago considered androids or IOS systems impossible, decades ago would have felt same about Metaverse but actually, it's becoming a reality.
Speaking about Metaverse technology, we consider humans and avatar interaction on the internet where we can now feel the digital world with our entire senses hereby eliminating the normal human to screen kind of digital communication
Absolutely yes.!, I take to the yes-answer because Metaverse has proven to leave users directly involved in interactions even on the internet.
This idea would be a great relief and joy to most internet users since the barriers of trust, and less knowledge gets broken.
Here users are fully aware of digital steps taken, and the presence of avatars, give them the detailed knowledge they need.
Secondly, the Metaverse has six different layers which include :
Experience
Discovery
Creator economy
Spatial computing
Decentralization
Human interface
Infrastructure
These levels cover every need internet users would have and this proves that Metaverse, of a truth is the next level of future technology

2.) Why Metaverse and Blockchain are compatible pairs?
The world has not completely felt the impact of the crypto and blockchain world and the Metaverse seems to be a solution to this since users would better partake and invest in a project well know to them.
In the levels of Metaverse, we see
Decentralization spelt there and this points to the crypto world. There would be no singular avatar to regulate the entire Metaverse, from my understanding and that would explain the concept of Decentralization.

Secondly, transactions that would be done on the Metaverse, are done in decentralized and not fiat currencies, therefore crypto currencies with blockchains, would be the basis of payments on such an arrangement

Finally when we get to see various Metaverse projects, we see features like gaming, trading,Non Fungible tokens and this are activities that would involve actively the use of digital avatars to help users of the platform

3.) Fundamental analysis of a meta verse project.
I'll be conducting a fundamental analysis on the project Decentraland (MANA)
The decentraland (Mana) as at the time of writing is one of the biggest Metaverse projects if not the biggest due to its very realistic feature. Decentraland could be seen as a digital website on the Ethereum block chain and here users of this Metaverse can acquire land spaces and work on them and convert earned funds to fiat currencies. The local token, is called MANA and is responsible for the purchase and converting of spaces on the platform. Through an ICO, this project ass launched in 2020 with a total of $24 million
How decentraland works :
The decentraland is sub-divided into a total of 90,601 different parts of land and everyone is 16metres (digitally) and could be found geometrically in the Metaverse
Mana holders purchase lands and lease too even through their consensus voting on project activities and policies
Security of Mana :
MANA is secured by the Ethereum blockchain and of course huge number of nodes together on this blockchain work together for its security
Mana is valued at : $3.95 and a market cap of $7,215, 088,564,its circulating supply is 1.824,627,356 with its max supply unknown since the tokens are periodically burnt.
It equally has a trading volume of $2,578, 116, 792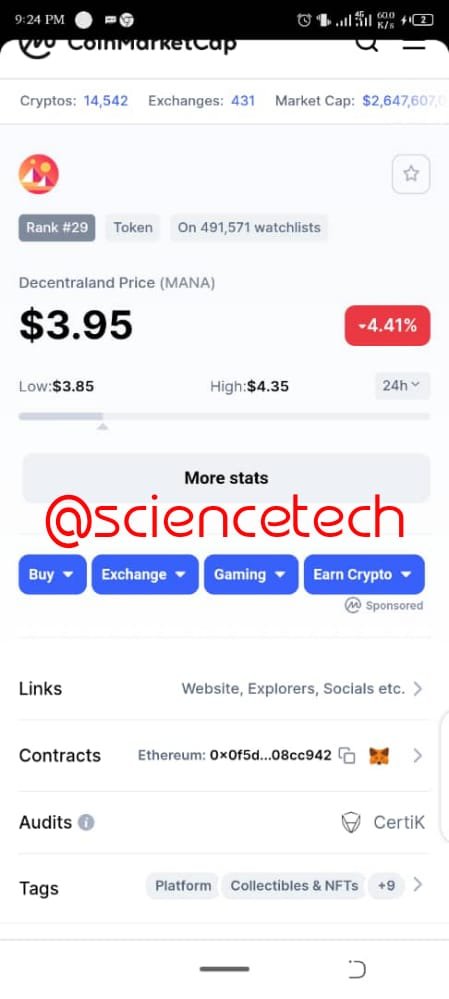 source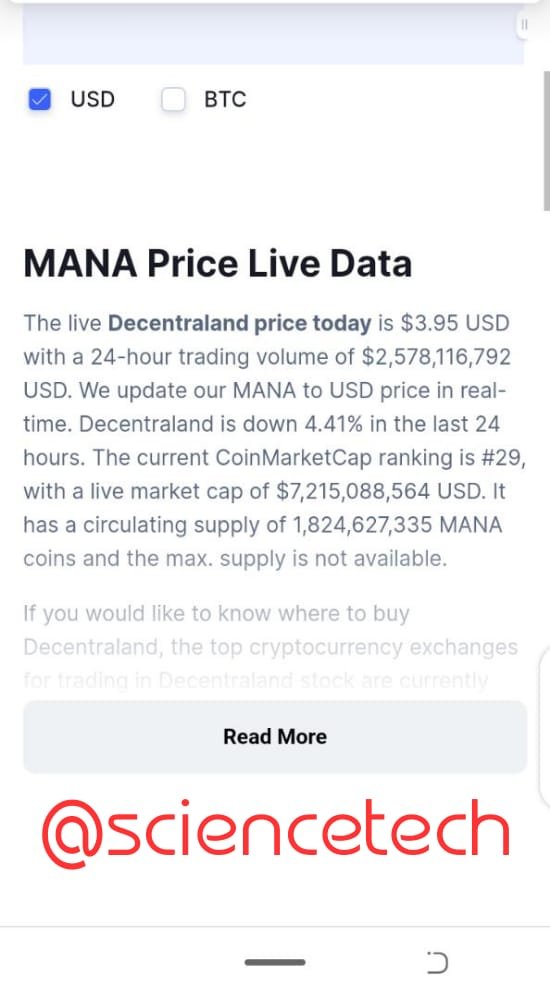 source

4.) Steps for connecting a crypto wallet with Decentraland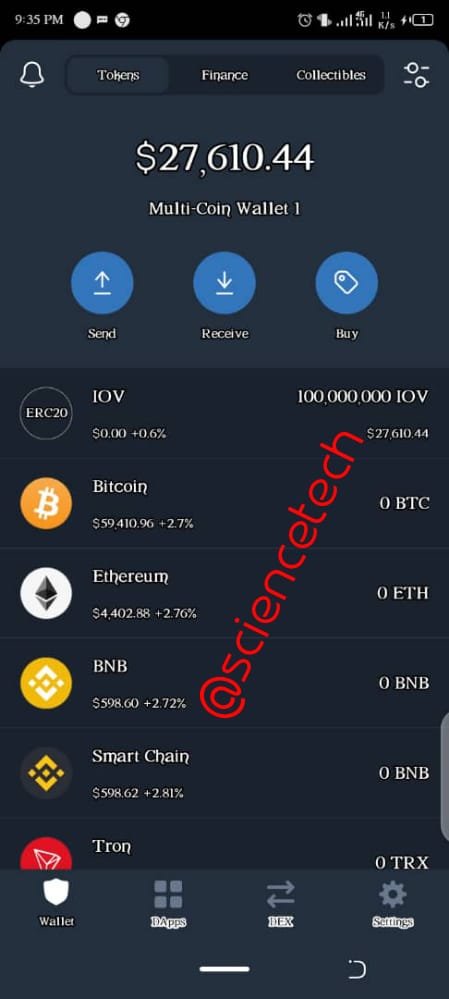 source
For this procedure, I'll be using trust wallet and all I have to do is enter my trust wallet
On the Dapps section, I search for decentraland market place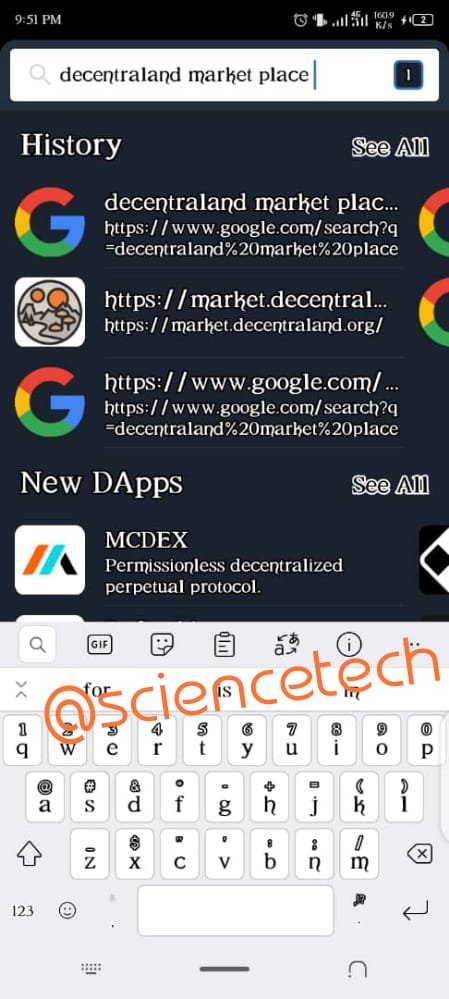 source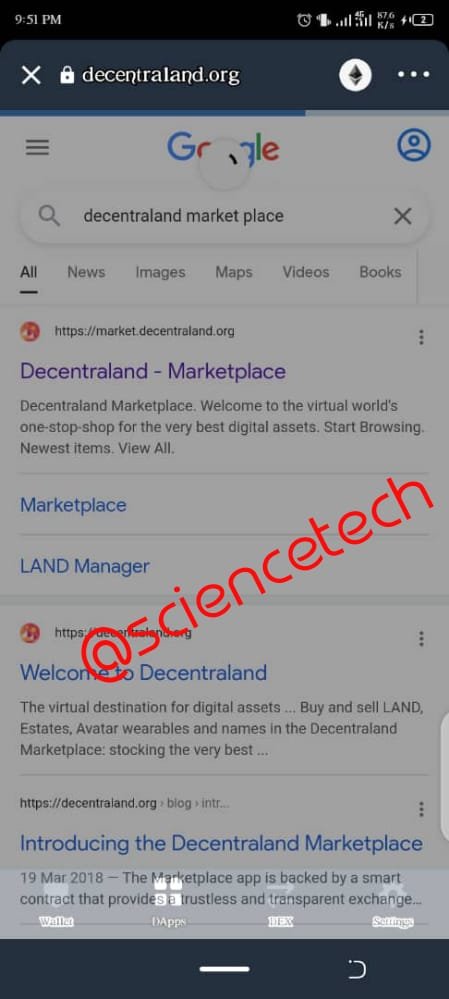 source
I click on it and I'm connected to the decentraland platform where I browse for land and if I have land tokens, I use it to buy free lands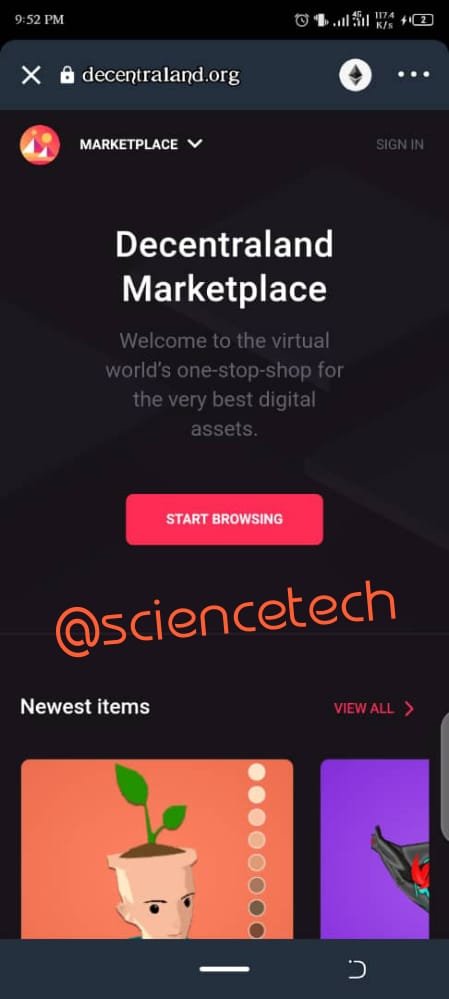 source

5.) Exploring Decentraland and showing its features and advantages.
Before we move into the platform we know that Decentraland has different features and outstanding advantages like the ability of users to buy lands on the project with their Mana tokens and equally, they can convert their tokens into currencies at any time and make external use of them including NFTs that are auctioned in this case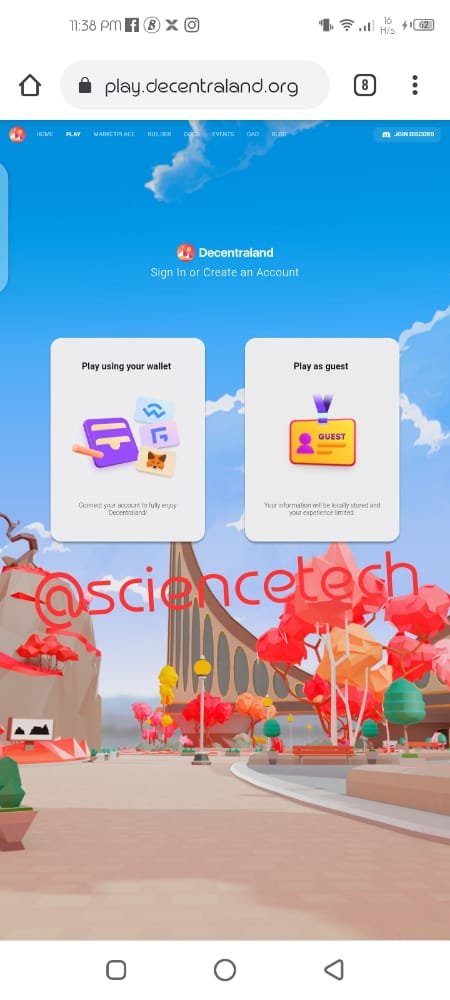 source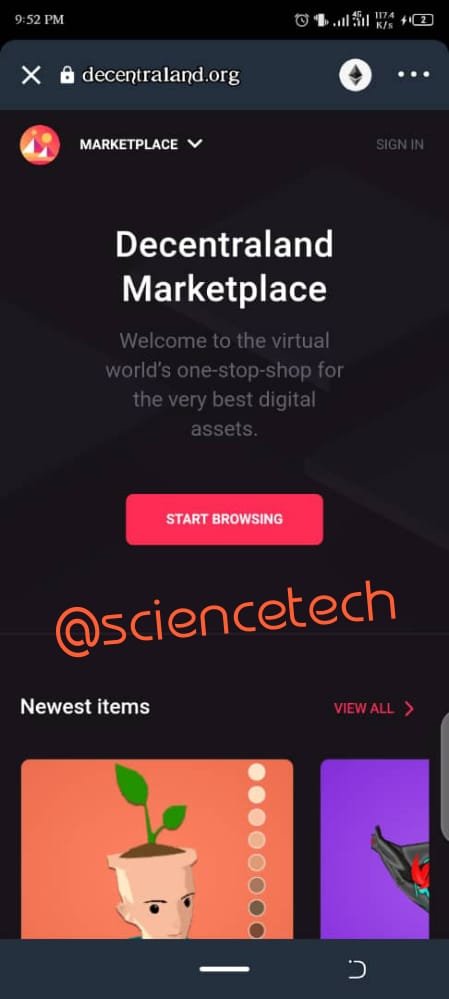 source
In as much as I would love to attempt this part of the homework post, I am limited as the decentraland do not currently support phones
CONCLUSION
The metaverse is filled with a lot of great potentials and considered the future of technology. Its blend with the cryptocurrency is enhancing its popularity across the globe.
The goal of activating a perfect user experience is mind blowing, giving users a virtual reality experience.
I thank the professor for delivering an amazing lecture and I will really love if there was a part 2 to learn more about the metaverse.
cc
@wahyunahrul