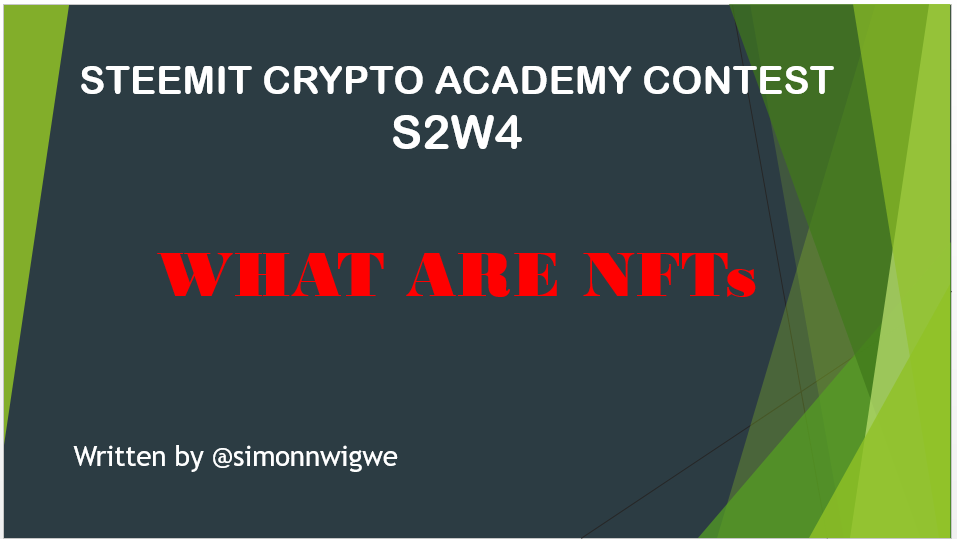 Hello guys,
It is the last week of the steemit engagement challenge season 2 and I'm so happy to have pushed through to this moment. The challenge though very interesting but also has not been very easy. This engagement program has helped me in so many ways among which include writing at least one article daily and also reading more articles and engaging with fellow steemians.
Today I will be attempting the contest hosted in the steemit crypto academy with the title what are NFTs. In this blog, I will be explaining my understanding of the acronym NFT. To explain this properly, I will be attempting the questions given in the contest. So without too much time wasted, let's dive into the topic under review.


Using your own words to define non-fungible tokens: NFT, and to show the difference between fungible and non-fungible tokens.


A non-fungible token which is abbreviated as NFT is a type of digital asset whose value can not be replaced by anything at all. We can say NFTs are special artwork, music, video, craft etc. This artwork is sold by the owners to earn some amount of money. Now, it is important to mention here that these NFTs are not replicated hence they are given a unique identity. If for instance, I produce a special artwork and then put it on the marketplace for sale, the NFT will be given an identity which it alone has.
NFTs are digital assets as I have said earlier hence the use of the blockchain pattern of processing just like the cryptocurrencies we are having today. This implies that NFTs are bought the same way crypto assets are bought and also sold the same way. To be able to trade NFTs you will be required to have a wallet first. NFTs are transferred and held in the wallet just like every other crypto asset. I have mentioned earlier that every NFT has a unique identity hence one NFT is to one person and nothing more.
We can categorise the difference between fungible tokens and non-fungible tokens in just two different ways and these ways are seen below.
1.- Fungible tokens are those types of tokens that can be interchangeable and at the same time can be replaceable. More also the token can be divisible.
2.- Non-Fungible tokens are the direct opposite of fungible tokens I.e this type of token can not be interchangeable and at the same time can not be replaceable. More also, it can not be divisible.


Are NFTs interchangeable? What are the differences between an NFT and other currencies? Is there an NFT marketplace? And how to invest in NFTs?


I have stated above while discussing the difference between fungible and non-fungible tokens that non-fungible tokens are not interchangeable and in this section, I will like to give us a few reasons why NFTs are not interchangeable. During my explanation above I have stated that every NFT has a unique identifier assigned to that NFT alone and for that reason, its value can not be traded for anything at all. Though owners of the NFT may put a price attached to it in which the asset will be sold but note that NFT is the only one present in the entire NFT market hence it is not interchangeable. It remains.
There are several differences between NFT and other cryptocurrencies and they are listed in the table below.
| NFT | Other Cryptocurrency | Fiat |
| --- | --- | --- |
| Cannot be interchangeable | Can be interchangeable | Can be interchanged |
| Have unique identifiers | Does not have unique identifiers | Does not have unique identifier |
| Tokens are irreplaceable | Tokens are replaceable | Tokens are replaceable |
| Use generally | Use generally | Use by only people of the country |
| Transaction are public | Transaction are public | Transactions are private |
| Use blockchain technology | Use blockchain technology | Don't use blockchain |
Is there an NFT marketplace?
The answer to the above question is yes. The marketplace is where you make your buy and sell of NFT assets. Recall that it is decentralized and uses blockchain technology hence a digital wallet is required to be able to execute such transactions. Some of the marketplace we are having for NFTs sells and buy are as follows;
Rarible
OpenSea.io
Super Rare
Nifty Gateway
Draftkings
Foundation
Axie Marketplace
Super Rare
And how to invest in NFTs?
To invest in NFTs, you need to follow the same process used in investing in another crypto asset if you want to be successful. The things needed to be done are to make proper research about the NFT you wish to invest on and thereafter look for a good marketplace that is truly worthy before buying your NFT. You have to be convinced that the project behind the NFT you are purchasing will stand the taste of time.
In buying your NFTs you first be sure that the marketplace is genuine enough and that their prices are not too much. You can buy for the marketplace or better still you can progress to the companies which are saddled with thr task of producing the NFTs to do a particular NFT of your choice for you. So you can purchase and hold and after some time when the asset becomes more relevant than you can sell it.


How to create a new NFT and is it possible to have an NFT stolen? And why use a distributed file system like IPFS in this area?


Creating a new NFT is quite very easy and simple. I'm going to be listing the steps used to create an NFT from the OpenSea marketplace using the MetaMask wallet. Let's get started.
1.- Go to the OpenSea website
2.- Locate the Create button and then click on it.
3.- Choose Metamask (this depends on your wallet of interest.)
4.- Read and accept terms and conditions and then locate the connect button and click on it.
5.- Fill in the displayed form presented to you, this will carry information about the NFT you are creating. When you are done filling out the form click on the create button.
6.- After this step, you will see your NFT created and then you can place it for sale in the marketplace.
Is it possible to have an NFT stolen?
It is very possible to have an NFT stolen. Though it may not be an easy task because hacking a blockchain is very difficult. Though most times, it is the wallet that we store this asset that is hacked by hackers and hence they have access to the asset. An example is if the NFT stored using our Metamask wallet is been accessed by a third party. This can be possible only if the keys of the seed phrase of the wallet are seen by some other person. The seed phrase can be used to change our private keys and others hence if a third party has access to it, then our asset can be stolen. This is a similar case to our crypto asset, once a third party have access to your private key then he can steal your asset.
And why use a distributed file system like IPFS in this area?
Interplanetary File system IPFS is a method used to safeguard our files and data in case of any unforeseen circumstance that occurs along the line as we join the digital world, this also makes the information closer to its users. This is a method where the blockchain which houses many nodes or to which many nodes around the world connect to it is given information to store and keep so that if one node has issues, the information can be retrieved from the other nodes which stand as backups. So this method helps to keep user information more secure.


How are NFTs used in art, video games and collectable card games? And how are NFTs revolutionizing property titles?


NFTs are ways in which art, video games and collectables card games are monetised by allowing the people who create this artwork to put it in digital works and sell it for some amount of money thereby earning high for the job they have done. So art such as music, craft, audio etc is now digitalised to earn more money instead of keeping it in the physical world without any form of reward. Video games are designed now to pay players for the effort and time they spent while playing this game. So, lovers of games, today don't just waste the talent they have to play the game, they are given some form of reward for displaying their expertise. In the aspect of collectable card games, the players have to buy the card for them to have access to the game and when they play and show off their expertise they also get rewarded.
When we talk about NFTs revolutionizing property titles, we are talking about NFTs showing proof of ownership by the person who has it. I have earlier stated that all NFTs have unique identifiers and for that reason, the ownership can not be taken away without the consent of the true owner. Hence the owner has more authority over his or her asset.


How are NFTs regulated? And what are the solutions to the limits of NFT development?


Presently, NFTs have no authority to regulate it. We are aware that we are talking about NFT which means non-fungible token which has the characteristics of irreplaceability, interchangeability etc. Regulating such an asset will be very difficult I presume. Since there is nothing to interchange it with or replace it with, it is a problem already and for that reason regulating such an asset will still be a lot more of a problem. Due to this fact, NFT is seen to be even riskier as there is no authority to control it.
The solutions to the limits of NFT development can be based on solving the issues of the limitations of NFT. One of which is the provision of an authority to regulate the price of NFT, make available more marketplace for the buying and selling of the NFT, make provision for more wallet connections and provide a very low gas fee during the transaction of the NFT etc.


Conclusion


NFT is gaining more ground daily as more and more people troop into the trading of this digital asset. Many persons have earned a lot of money by monitoring their products via NFT. Today music, works of art, crafts, and video games are all different ways where people get money. Imagine playing a game and having fun and still making money. This makes life simple and even sweeter.