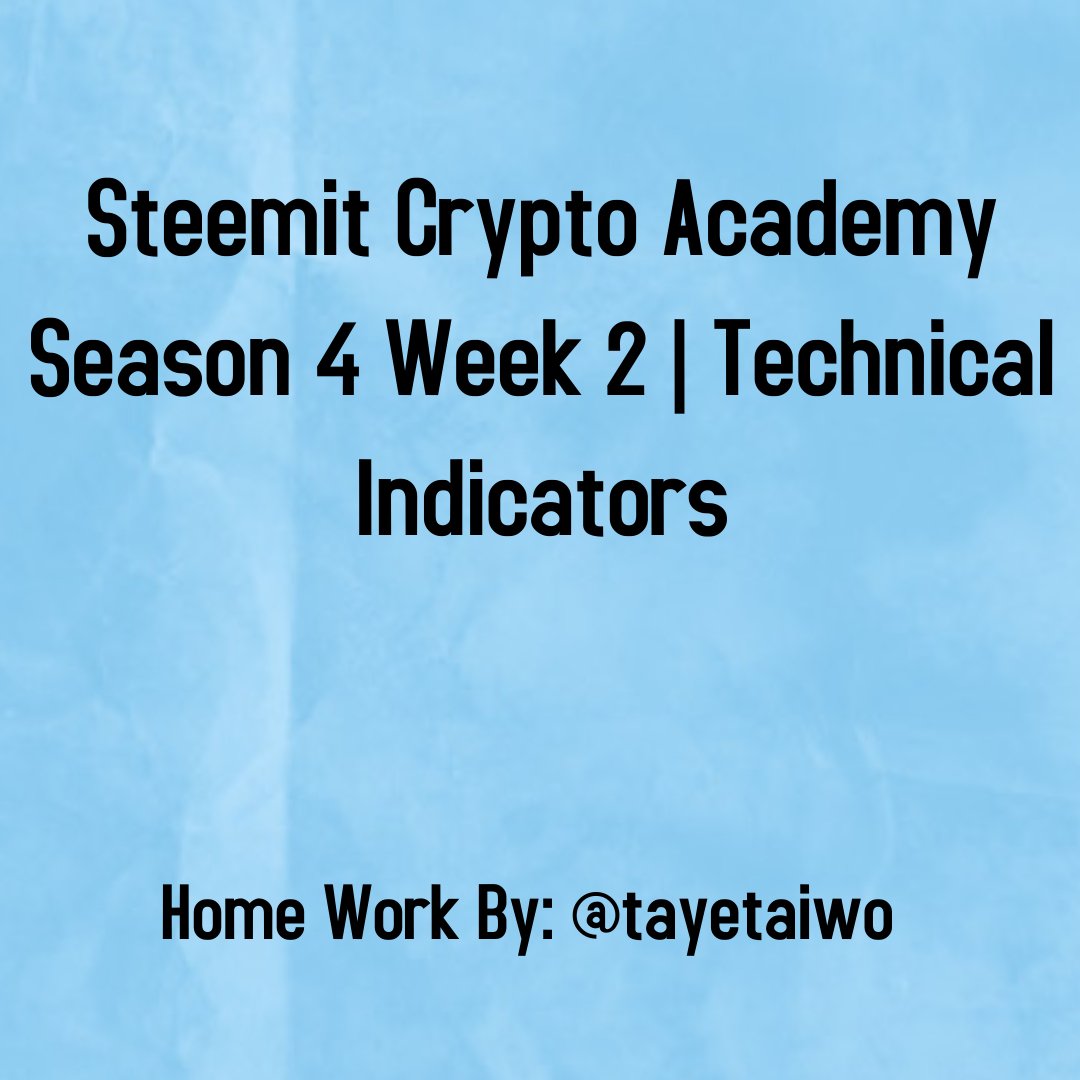 Question 1
---
In your own words, explain Technical indicators and why it is a good technical analysis tool.
---
Technical Indicators are based on historical data from past trading sessions and calculated using the indicator's programmed mathematical function, the indicator also provides a clue for future price movement of the market trend, assisting traders and investors in making the best entry and exit decisions.
There are over 100 indicators available on the trading chart and each with a different way of being used on a chart. Technical Indicators do not say to buy or sell, but if you understand their definition and how to use technical indicators properly, they can provide information about possible places to buy or sell a stock or an asset at a period of time
---
b) Are technical indicators good for cryptocurrency analysis? Explain your answer.
---
Technical indicators are without a doubt, highly useful for cryptocurrency research. All trader has to know how to read and interpret technical indicators. We have a different kind of technical indicators, each of them serves a unique or specific purpose in coin or asset analysis.
The Average Directional Index (ADX) and Moving Convergence Divergence (MACD) are technical indicators that illustrate the momentum of market moves. The MACD shows the trend direction for that timeframe, while the ADX measures the strength and velocity of the trend.
In general, Technical indicators are good for cryptocurrency analysis, this is because they provide buy and sell signals at a particular period of time. Furthermore, the Indicators are also capable of detecting market trends and asset price patterns. As a result, every trader who understands and make use of technical indicators, as well as combine them with other technical tools, stands to profit from trade the most than other traders who doesn't utilize the technical indicators.
---
c) Illustrate how to add indicators on the chart and also how to configure them. (Screenshot needed).
---
Go-to the website of tradingview.com.

Navigate and locate the chart option on the home screen and select the trading pair you want.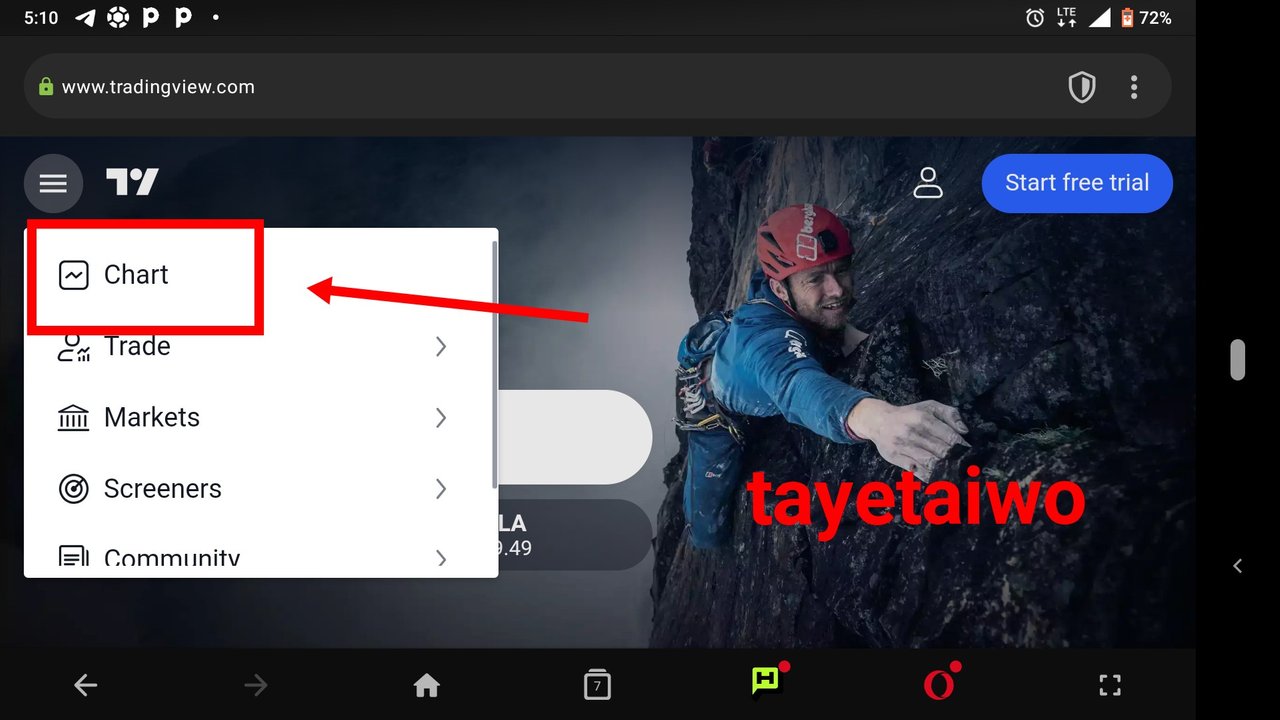 Click on FX at the top of the chart to add your indicator.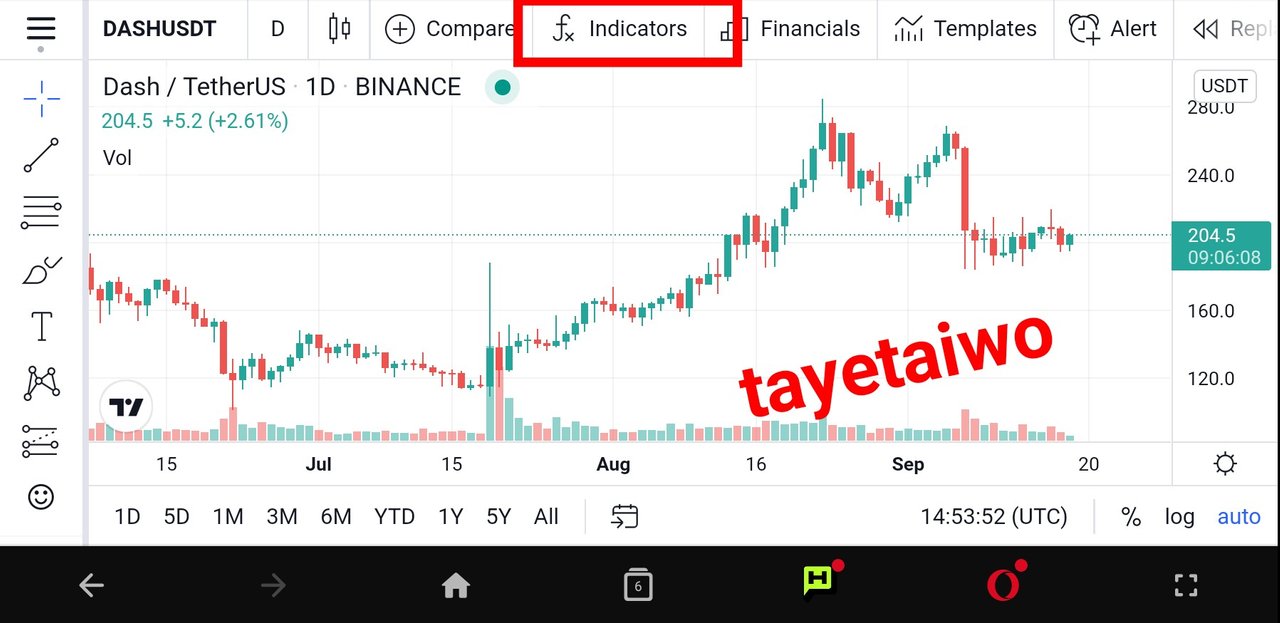 When you click it, a pop-up menu will appear, as shown below, along with a search field where you may type in the name of the indicator you want to add. The Moving Average Exponential indicator will be used in this chart, as shown in the image below.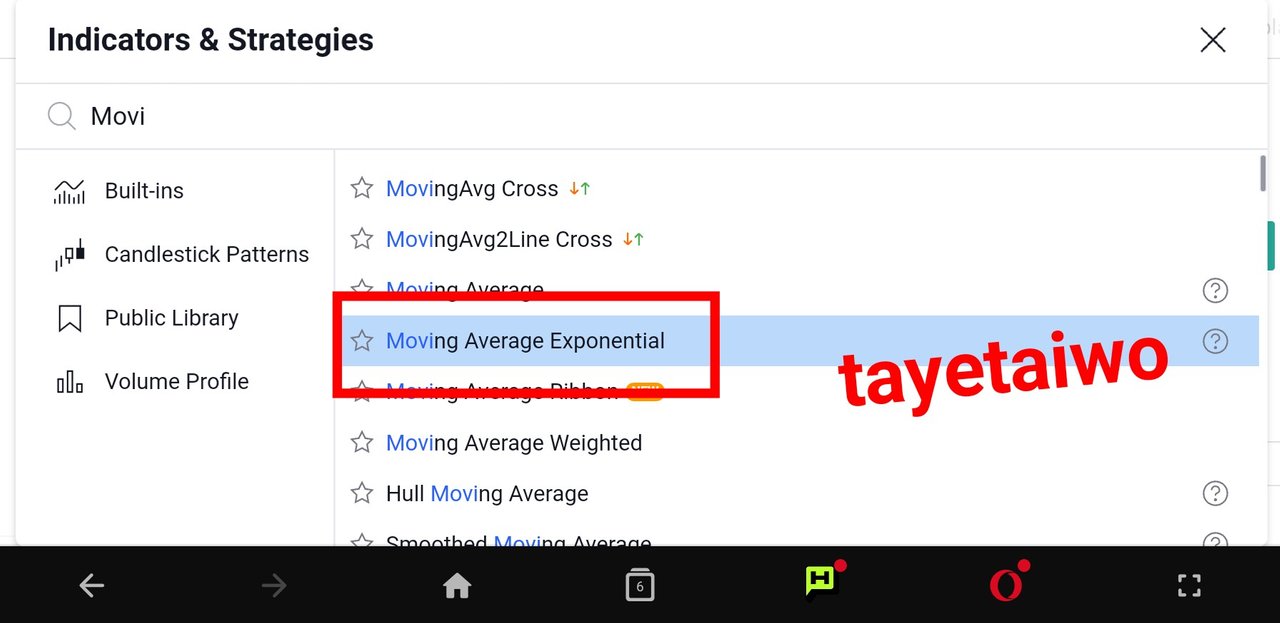 After you've added your Indicator, navigate to the indicator, as seen in the image below, and then click on settings icon to configure it.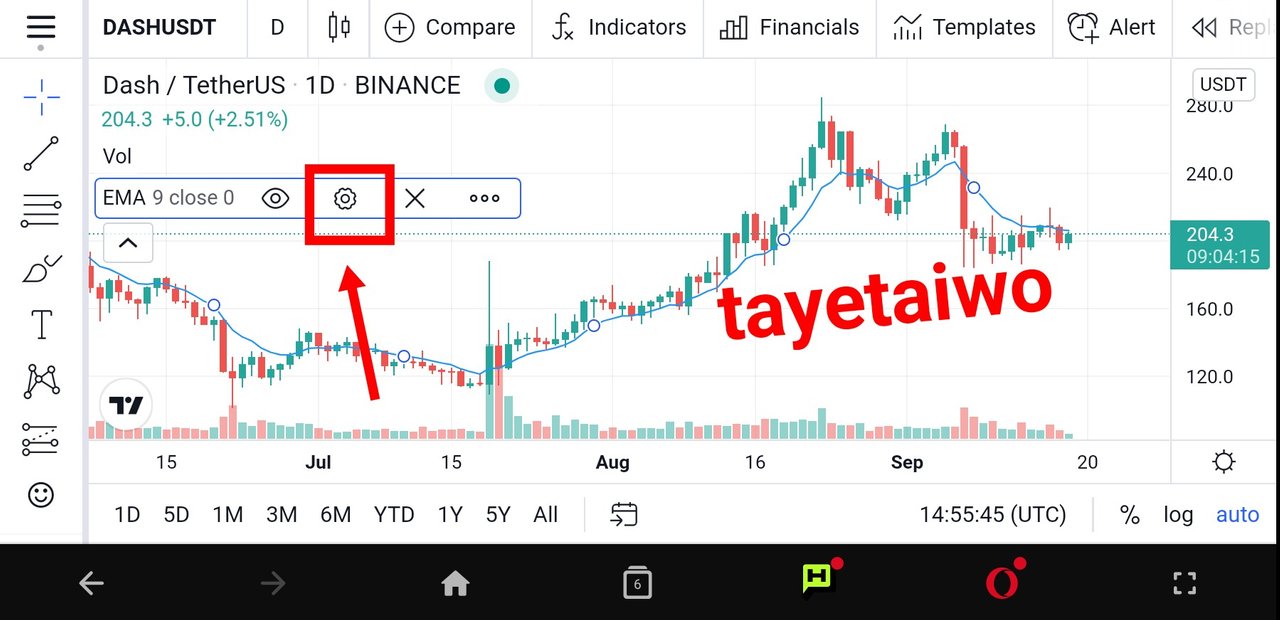 • After clicking on settings, you'll be given with all of the parameters you'll need to make adjustments to your chart and set it to your preference.. Some of these setting options are seen in the screenshots below.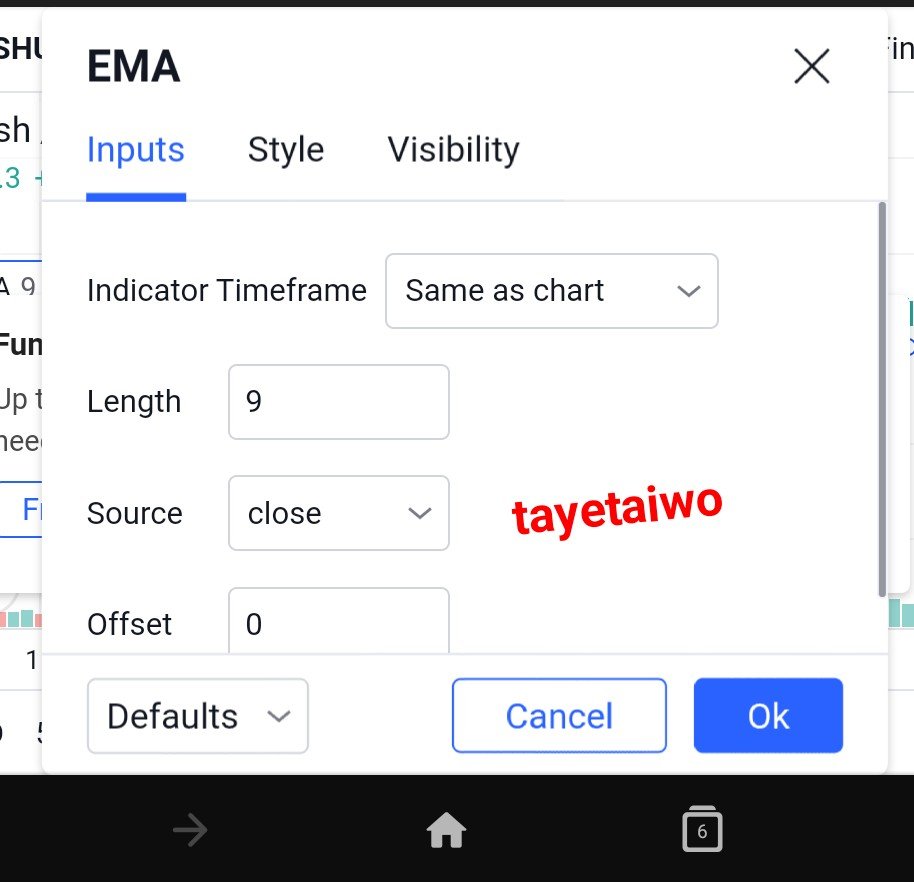 Question 2
---
a) Explain the different categories of Technical indicators and give an example of each category. Also, show the indicators used as an example on your chart. (Screenshot needed).
---
Trend Indicators
Trend-based indicators are those that are based on the current market direction. Trend-based indicators follow the market and leave traces for traders in both circumstances, as the market rises or falls in a trend. Trend-based indicators are essential for traders to make successful transactions since most traders prefer to trade in trends. As with other indicators, a full understanding of indicators is required. Trend-based indicators include the Moving Average Exponential.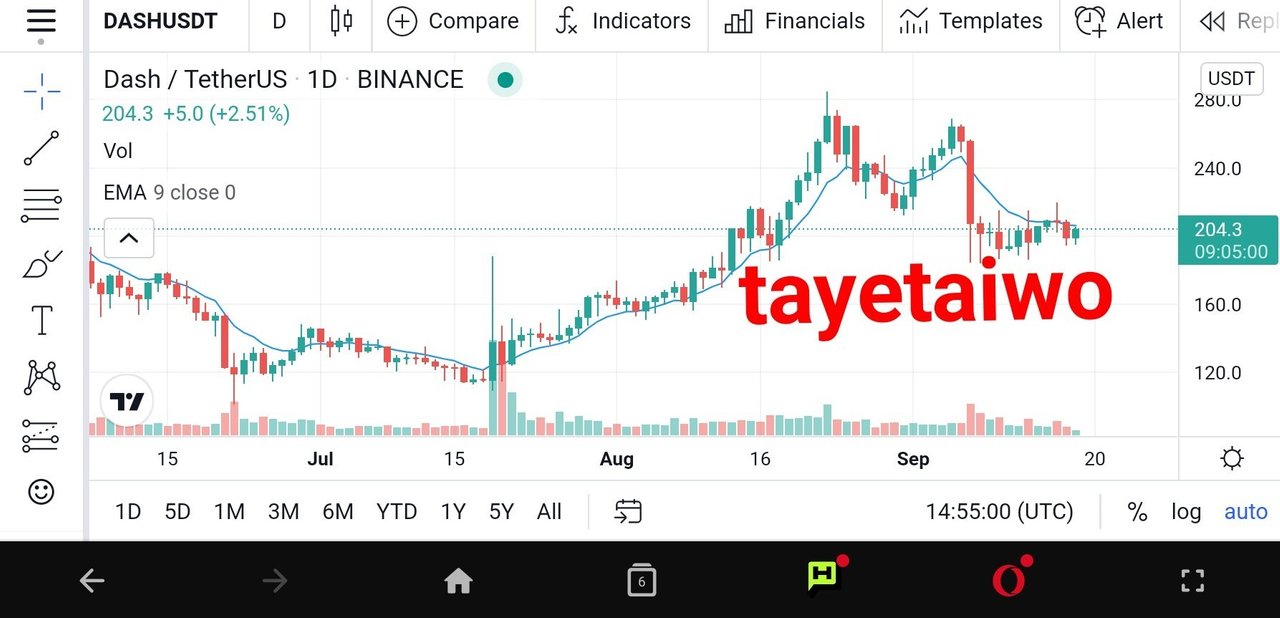 Moving Average (Exponential) on DASH/USDT chart
Volatility Indicators
Extreme market volatility is simply a matter of time. Markets may become extremely volatile after any incident, providing excellent trading chances. If the market falls, it might also result in a significant loss. Traders can use volatility-based indicators to keep track of possible market volatility.
Traders can produce excellent trading chances and protect themselves from potential loss by using volatility-based indicators. Bollinger Bands is an example of Volatility-based indicators.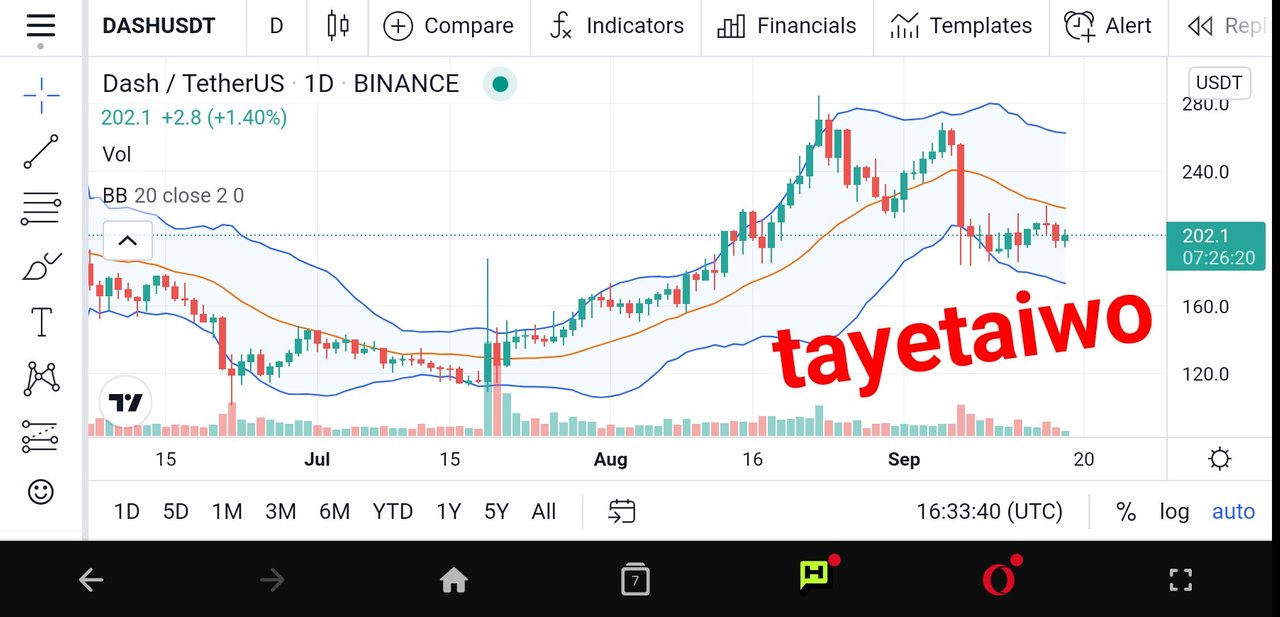 Bollinger Bands on DASH/USDT chart
Momentum Indicators
Momentum-based indicators are extremely helpful tools for traders; yet, they are rarely utilized alone since complementing them with indications from other categories makes them more comprehensible. Momentum-based indicators, commonly known as MOM Indicators, display price momentum over time. Oscillators are another name for them.
MOM highlights the underpriced and overpriced pricing points and invites traders to make a transaction based on their preferences. Traders that hold a specific asset prefer to sell it when it is overpriced, but when prices fall, some traders invest in it in the expectation of a future price increase. Relative Strength Index (RSI) is an example of Indicator based on Momentum.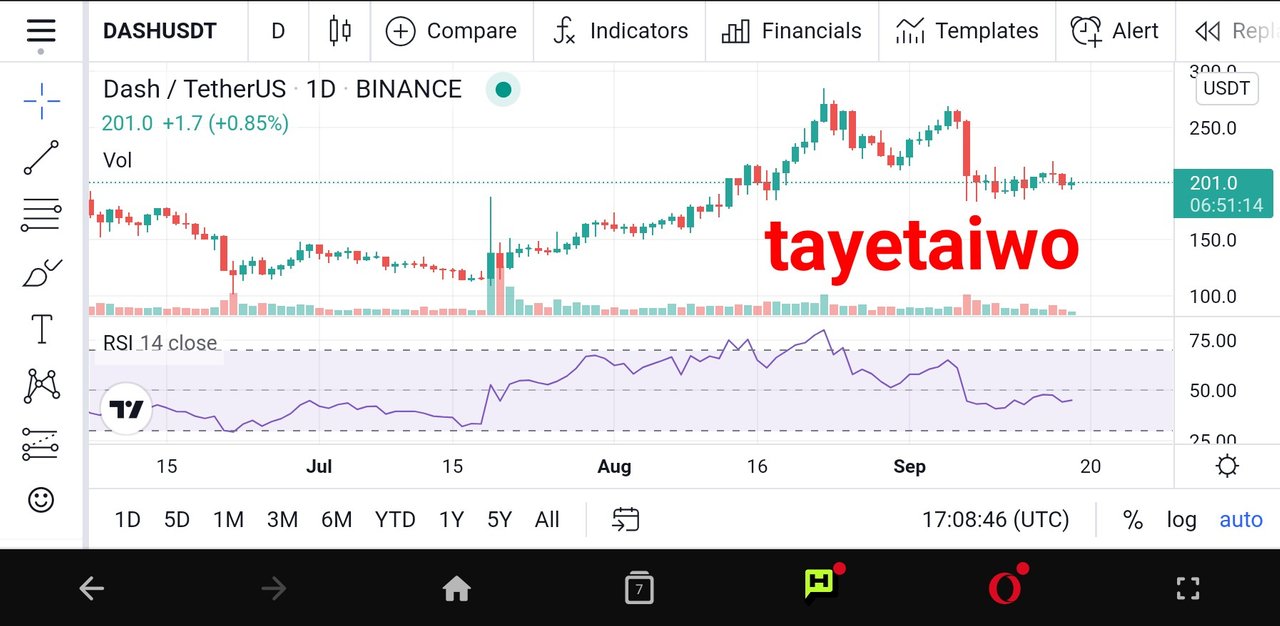 RSI indicator on DASH/USDT chart
---
b) Briefly explain the reason why indicators are not advisable to be used as a standalone tool for technical analysis.
---
In general, using any sort of indicator as a solo tool is not recommended since indicators might provide skewed signals. Another aspect is that only one indicator can accurately anticipate the direction of price change.
It is widely believed that combining numerous indicators that cover various aspects of price representation is the best strategy. Combining the Moving average indicator with the Relative Strength Index (RSI) indicator, for example, will improve the trading skill and quality.
---
c) Explain how an investor can increase the success rate of a technical indicator signal.
---
The first step for traders and investors is to fully comprehend the
Indicators that will be used to assess a cryptocurrency, since many traders and investors still rely on indicators without fully comprehending its use.
Traders must also be able to select indicators that are appropriate for their trading strategy. Not all indicators are suitable for one's trading style.
Never utilize a single Indicator; instead, mix and combine the indicators we use with additional supporting indicators so that the judgments we make have a higher chance of success than we do.
We should avoid using too many indicators as this would have a negative influence on us.
Conclusion
---
If used correctly, technical indicators are excellent tool for analysis. However, one cannot rely solely on the signals provided by technical indicators; other factors must also be evaluated before to trading.
Always strive to understand as much as you can about the indicator you intend to apply. It's a good idea to just apply indicators that are appropriate for your trading style. Don't try to study too many indicators at once or you'll become confused. Always utilize two or three indicators when trading to assist you pick out fake signals.
Every indicator has a specific function, so use it intelligently while also being mindful of its limitations.
Thank you all for reading!