ENGLISH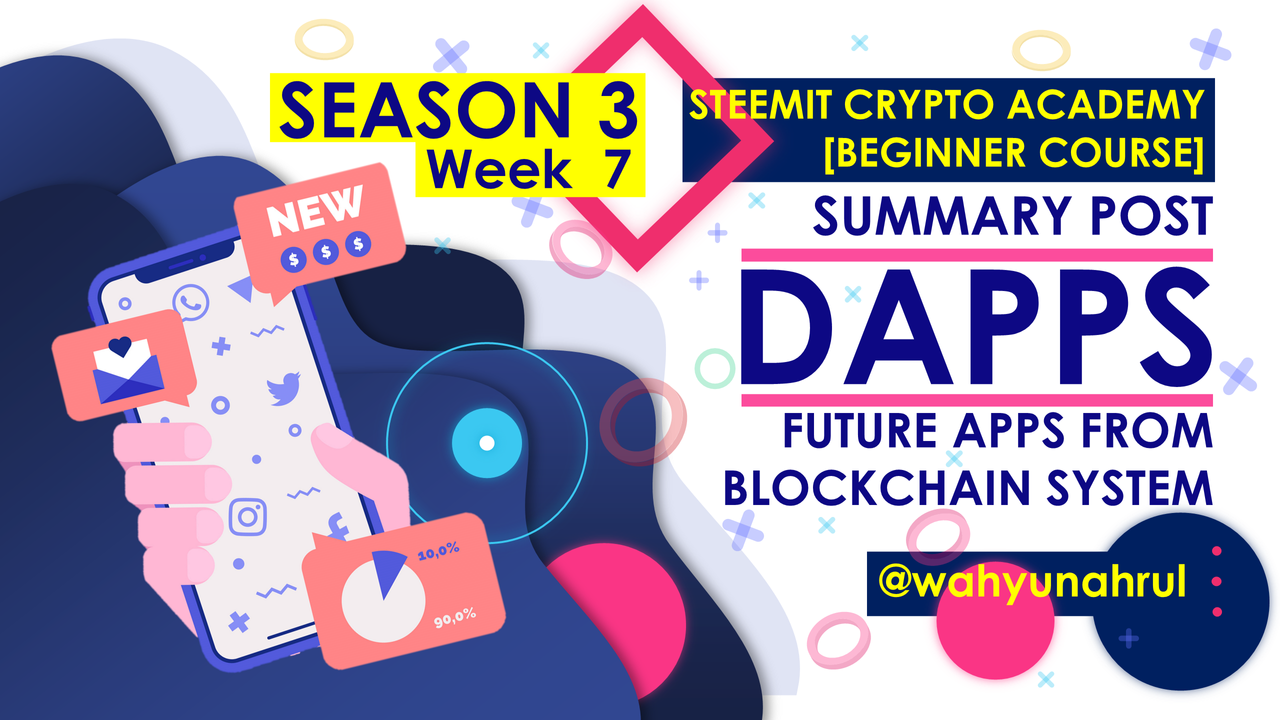 Note:
Switch to "Night Mode" for a better reading experience.

Hey Guys...!!!
The 7th week of the third season has ended on July 14, 2021, at 23:59 UTC. This week is my last week in providing learning materials for all of my friends for this season. I'm very happy that many of my friends are very enthusiastic about participating in my class this week, I am very grateful to all of my friends who have participated in my class.
I hope that all of my friends who have taken my class this week can understand well and gain new knowledge about the learning that has been made, namely with the topic "Decentralized Apps (DApps)".
I took this topic because I think all of us as people who have plunged into the world of cryptocurrencies must understand very well what developments are currently happening. We often only focus on how to trade and invest cryptocurrencies, even though there are other more amazing things that we can see if we look at the blockchain system as a whole.
We must be aware of the times that every day continues to move towards the future. This is no exception to the development of application technology that we often use on our devices, with the birth of a new network system called "Blockchain" that makes technological developments currently run very rapidly so that one of those affected by the development of Blockchain is application.
By adapting the characteristics of Blockchain, which include: open-source, decentralized, peer-to-peer, etc. makes DApps the latest breakthrough for today's applications. So it will be a pity for all of us if we do not understand this new breakthrough which is already in front of our eyes.
So that all my friends really understand the topic that I created, I have given some questions that were answered by friends in the form of posts on the Steemit Crypto Academy community using the tag #wahyunahrul-s3week7. The questions are as follows:
1). Will DApps be able to replace centralized apps in other fields in the future?
2). Is there any chance of DApps stealing user data?
3). Explain how DApps promote their apps to the public?
4). Choose a DApp and perform a detailed analysis that proves that a DApp is a good one to use. (Provide proof with screenshot).
5). If you were a DApps developer, what kind of app would you like to create? Describe all the details of the DApp plan you are going to create.
6). Conclusion.

Task Assessment Statistics Results
For 6 days there were a total of 89 assignments that were entered in the #wahyunahrul-s3week7 tag and I've checked all the assignments that have been made. The results of checking all incoming assignments are as follows: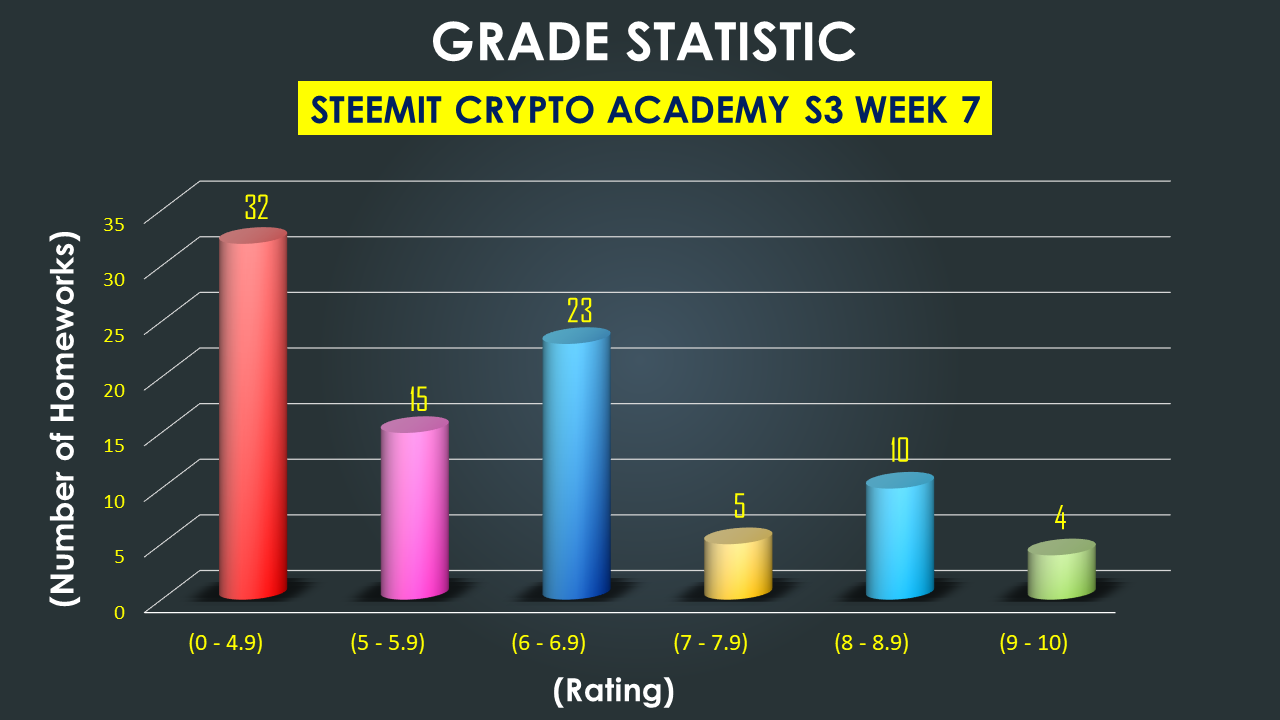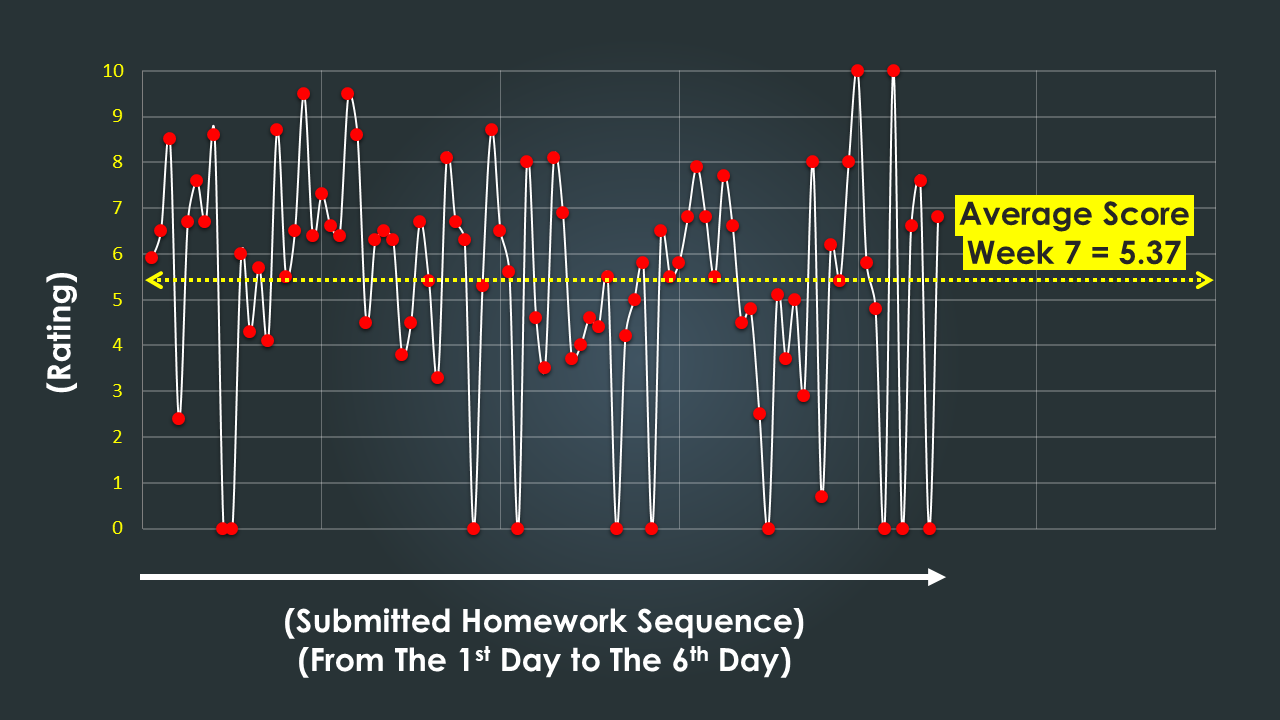 Number of Incoming Assignments and Average Score on Week 7
From all the scores that I have given, the average score is 5.37. By looking at the data for all posts that have been made, the percentage of quality assignments that have been made by all of you are as follows: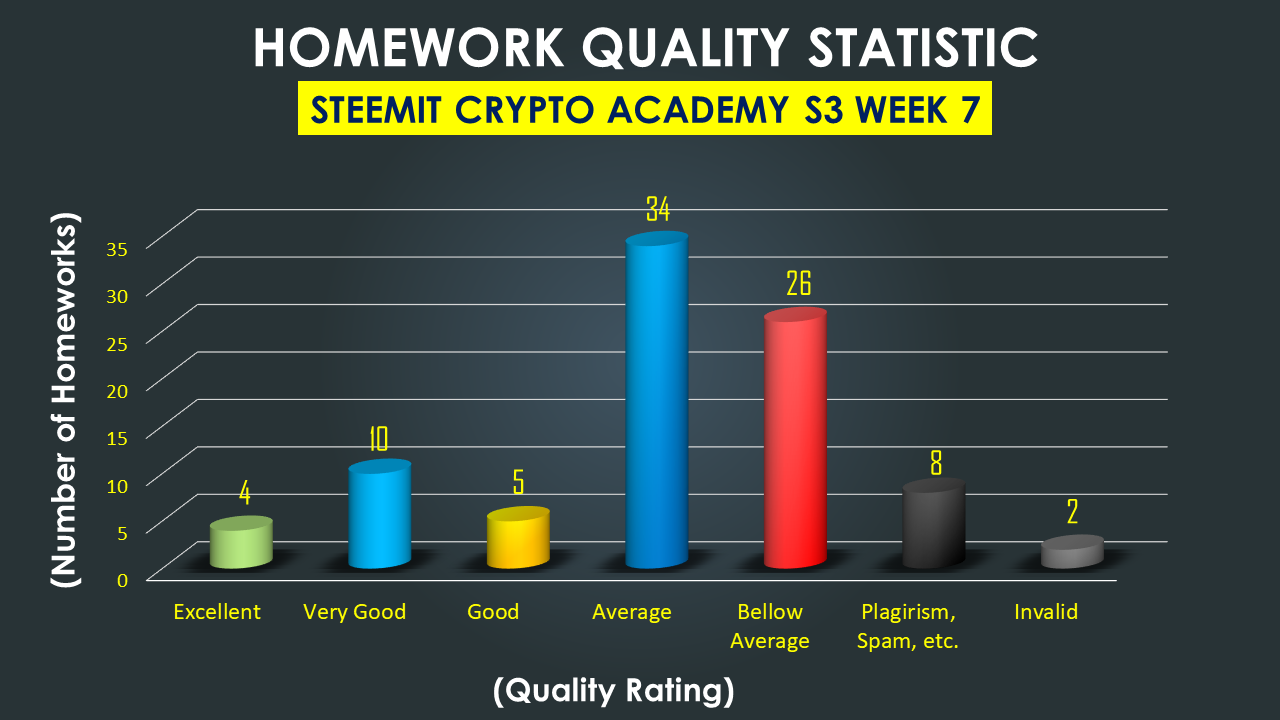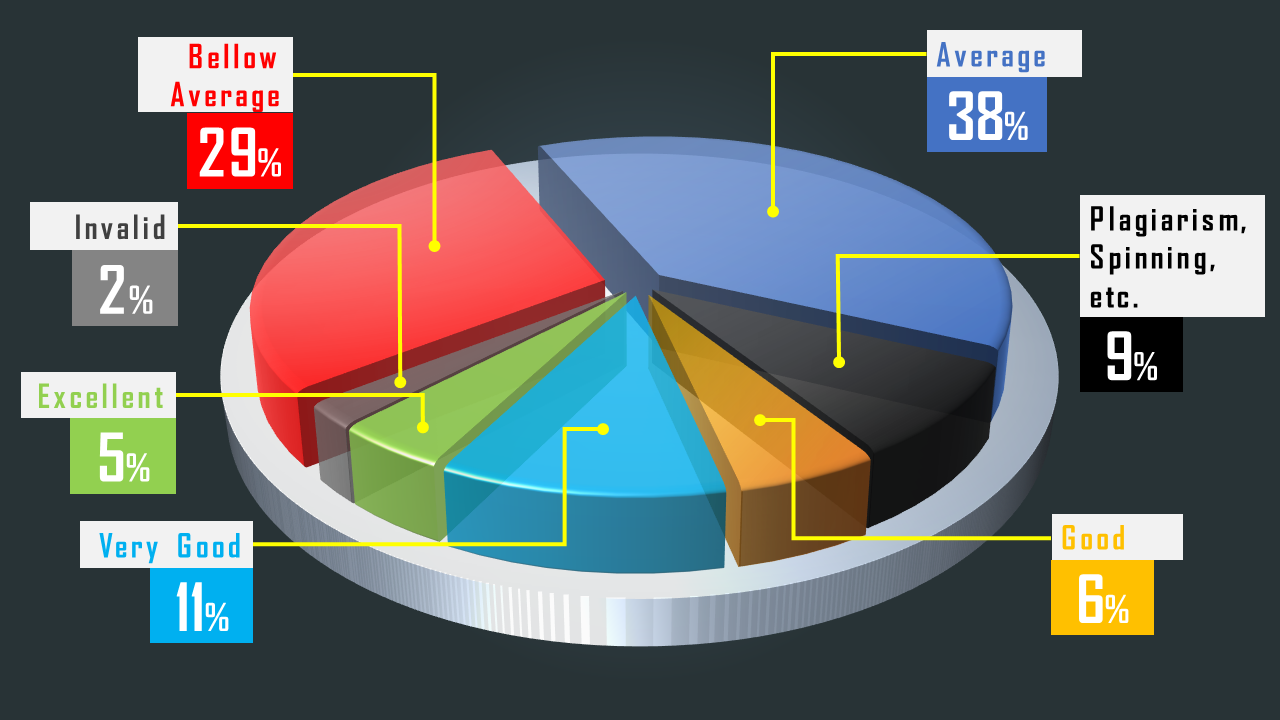 Quality of Assignments on Week 7
Notes:
"Invalid" homework can be caused by the following reasons:
Accounts that do not have a minimum amount of Steem Power (125 SP) for this task, or accounts that are currently powering down Steem Power.
Accounts with less than 50 reputations.
Accounts indicated as farming accounts.
Accounts that have been blacklisted for plagiarism.
Accounts that post unfinished tasks before the deadline and then edit them again.
From the graph above, we can see that the tasks that are still below the average score are 29%, then furthermore the number of assignments that have an Average Score of 38%, Good Scores are 6%, Very Good 11%, Excellent 5%, Invalid 2% and Plagiarism, etc. 9%.
Top 3 Homework Posts
From the total of 89 Homeworks that I have checked in this 7th week, there are many posts that I think have good content quality, but among all of them there are 3 posts which in my opinion have the best level of content quality among all submitted assignments, including :

Evaluation, Observation and Additional Notes
Steemit Crypto Academy has passed the 7th week, I have made a total of 4 classes which are in the 1st, 3rd, 5th, and 7th week. After 4 times I made classes, then I have gotten 4 average grades from each week, These values can be seen in the graph below.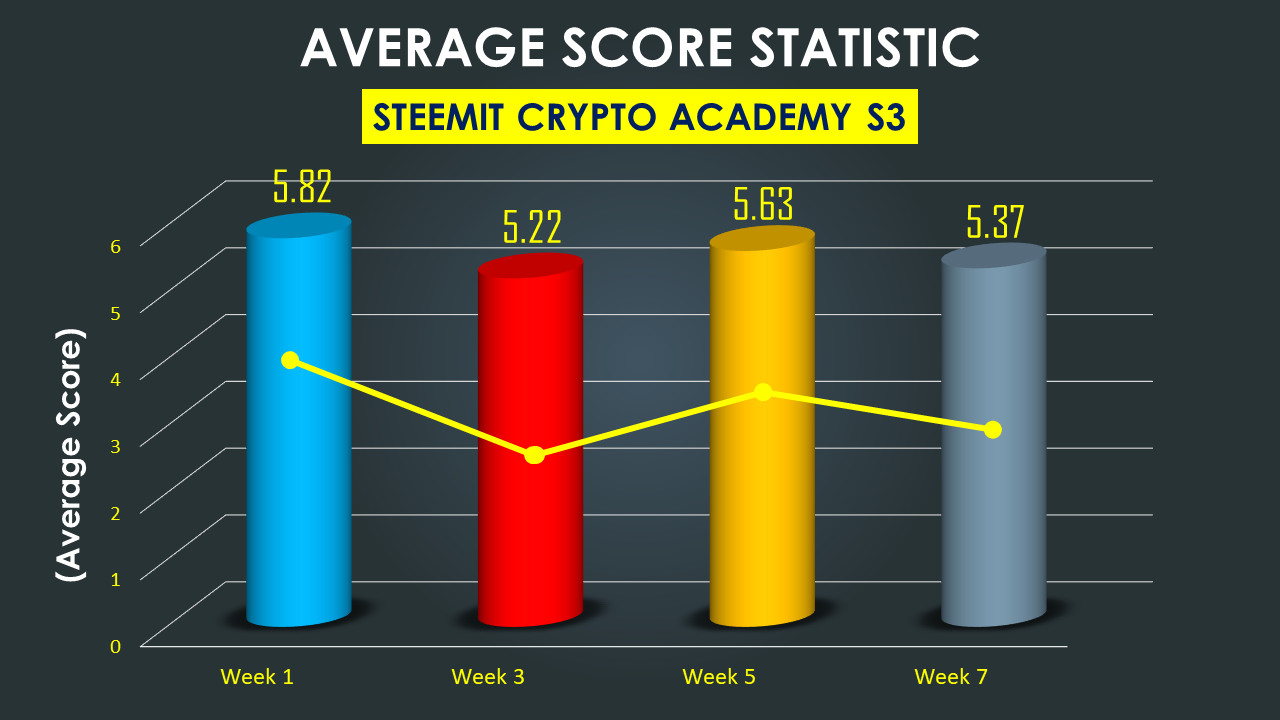 Average Score Each Week
We can see in the graph above, the average value obtained by students for 4 weeks in season 3 has a variety of values. The pattern of changing values tends to form waves where there is an increase and decrease in the average value.
In the 1st week, the average value obtained was 5.82 then in the following week which is the 3rd week, the average value decreased to 5.22. However, in the 5th week the average value again increased to 5.63 and last week in the 7th week, the average value decreased again to 5.37.
After I re-examined the data, I got the answer why in the last week the average value has decreased from the previous week. Some of the things I got include:
1. Making Tasks On D-1 Deadline
This is the main reason why the average value can decrease. In the early days of this 7th week, I gave a pretty good assessment of the students' assignments and even checked the average score when it reached 6 and of course, I was quite happy because it means the students have started to improve the quality of their content.
However, I was surprised at the number of tasks that came in on the last day of last week. After I calculated the total, there were 46 assignments that came in on August 14, 2021, which is the last day of submission of assignments. This number indicates that more than 50% of the total incoming assignments in week 7 were made on the last day. The result of this is that I see very, very, very many assignments that are of poor quality.
I see many students who seem careless in making assignments, they just complete assignments and hope to get a good assessment so that they will get a high percentage of curation. This is so wrong! I will not give a good rating for a task that has poor quality
2. Understanding the Topic Given
From all the assignments this week, I see that many students have understood the questions I gave well. Even though on average they have poor quality content, almost all students don't make mistakes in understanding the questions so that the answers given are appropriate.
3. Compliance with Rules & Guidelines
The level of compliance with regulations and guidelines that exist in the 7th week has improved quite well, I only got 1 assignment that did not put the source image and only a few that used copyrighted images.
The students have also complied to put a watermark on every screenshot they make to validate that the screenshot is their own.
4. Plagiarism, Spinning, etc
Although the level of compliance and guidance is quite good, this does not make the perpetrators of plagiarism disappear. This week I got 8 cases of plagiarism and content spinning, on average they took content from the internet or from assignments that had been made by other friends, and then they changed their grammar so that they would not be detected by plagiarism detectors.
This is intolerable, every perpetrator of plagiarism and spinning content will be added to the Greylist, and if they are caught doing it again then they will be entered into the Blacklist and then banned from this community so that they cannot follow all classes on Steemit Crypto Academy.

Conclusion
Those are all things that are a summary of the 7th week of homework as well as the closing week of my class in this 3rd season. I congratulate the winners this week, I hope this victory will not reduce the quality of your content and I hope this will be able to motivate other friends who are beginners to improve the quality of their homework.
I apologize if I made a mistake in checking the homework from all of my friends, I and the other professor team will try our best to continue to improve the quality of learning that we will provide every week, and we will continue to be professional in every condition.
Thank you again to all of you who have participated, see you at homework for the next season.
Thank you!!!

Note:
All unsourced images are author's creation.

Cc:-
@steemitblog
@steemcurator01
@steemcurator02

BAHASA INDONESIA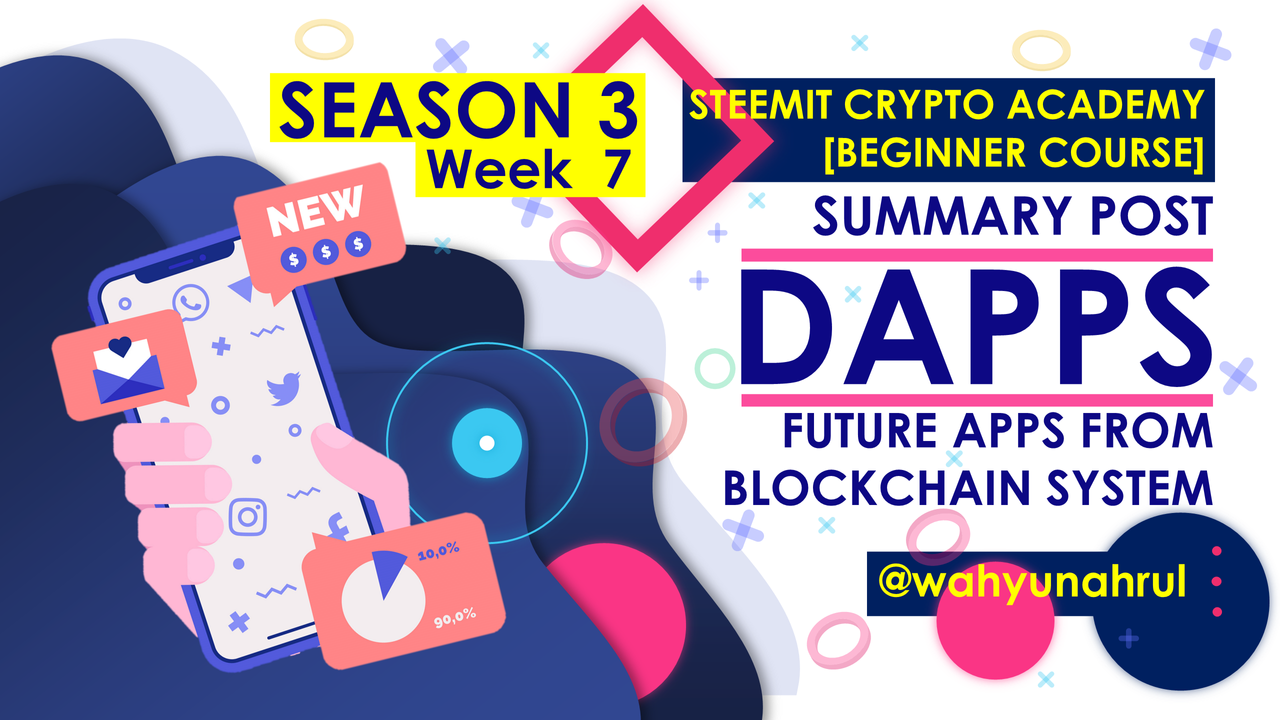 Catatan:
Beralih lah ke "Night Mode" agar mendapatkan pengalaman membaca yang lebih optimal.

Hey Guys...!!!
Minggu ketujuh dari season ketiga telah berakhir pada tanggal 14 juli 2021 tepatnya pada pukul 23:59 UTC. Minggu ini adalah minggu terakhir saya dalam memberikan bahan pembelajaran bagi teman-teman semua untuk season ini. Saya sangat senang banyak dari teman-teman yang sangat antusias dalam berpartisipasi pada kelas saya di minggu ini, saya sangat berterima kasih kepada seluruh teman-teman yang sudah ikut berpartisipasi pada kelas saya ini.
Saya berharap untuk teman-teman semua yang telah mengikuti kelas saya pada minggu ini bisa memahami dengan baik dan mendapatkan ilmu baru mengenai pembelajaran yang telah dibuat yaitu dengan topik "Decentralized Apps (DApps)".
Topik ini saya ambil karena menurut saya kita semua sebagai orang-orang yang sudah terjun kedalam dunia cryptocurrency harus paham betul apa saja perkembangan yang sedang terjadi saat ini. Kita sering hanya fokus terhadap bagaimana cara trading dan investasi cryptocurrency, padahal ada hal yang lebih mengangumkan lainnya yang bisa kita lihat jika kita mengamati sistem blockchain secara keseluruhan.
Kita harus melek terhadap perkembangan zaman yang setiap hari terus berjalan menuju masa depan. Hal ini tak terkecuali pada perkembangan teknologi aplikasi yang sering kita gunakan pada perangkat-perangkat kita, dengan lahirnya sebuah sistem jaringan terbaru yang bernama "Blockchain" membuat perkembangan teknologi saat ini melaju sangat pesat sehingga salah satu yang terdampak dari perkembangan Blockchain adalah aplikasi.
Dengan mengadaptasi sifat-sifat dari Blockchain yang antara lain: open-source, terdesentralisasi, perr-to-peer, dll membuat DApps menjadi sebuah terobosan terbaru yang dimiliki oleh aplikasi-aplikasi saat ini. Sehingga akan sayang disayangkan bagi kita semua jika tidak memahami sebuah terobosan baru ini yang padahal sudah ada didepan mata kita.
Agar semua teman-teman benar-benar memahami topik yang saya buat ini, saya telah memberikan beberapa soal yang dijawab oleh teman-teman dalam bentuk postingan pada komunitas Steemit Crypto Academy dengan menggunakan tag #wahyunahrul-s3week7. Adapun soal-soalnya adalah sebagai berikut:
1). Akankah DApps dapat menggantikan aplikasi terpusat di bidang lain di masa depan?
2). Apakah ada kemungkinan DApps mencuri data pengguna?
3). Jelaskan cara DApps mempromosikan aplikasinya ke publik?
4). Pilih DApp dan lakukan analisis mendetail yang membuktikan bahwa DApp bagus untuk digunakan. (Berikan bukti dengan tangkapan layar).
5). Jika Anda seorang pengembang DApps, aplikasi seperti apa yang ingin Anda buat? Jelaskan semua detail dari rencana DApp yang akan Anda buat.
6). Kesimpulan.

Hasil Statistik Penilaian Tugas
Selama 6 hari ada total 89 tugas yang masuk pada tag #wahyunahrul-s3week7 dan saya sudah mengecek seluruh tugas yang telah dibuat. Hasil dari pengecekan seluruh tugas yang masuk adalah sebagai berikut: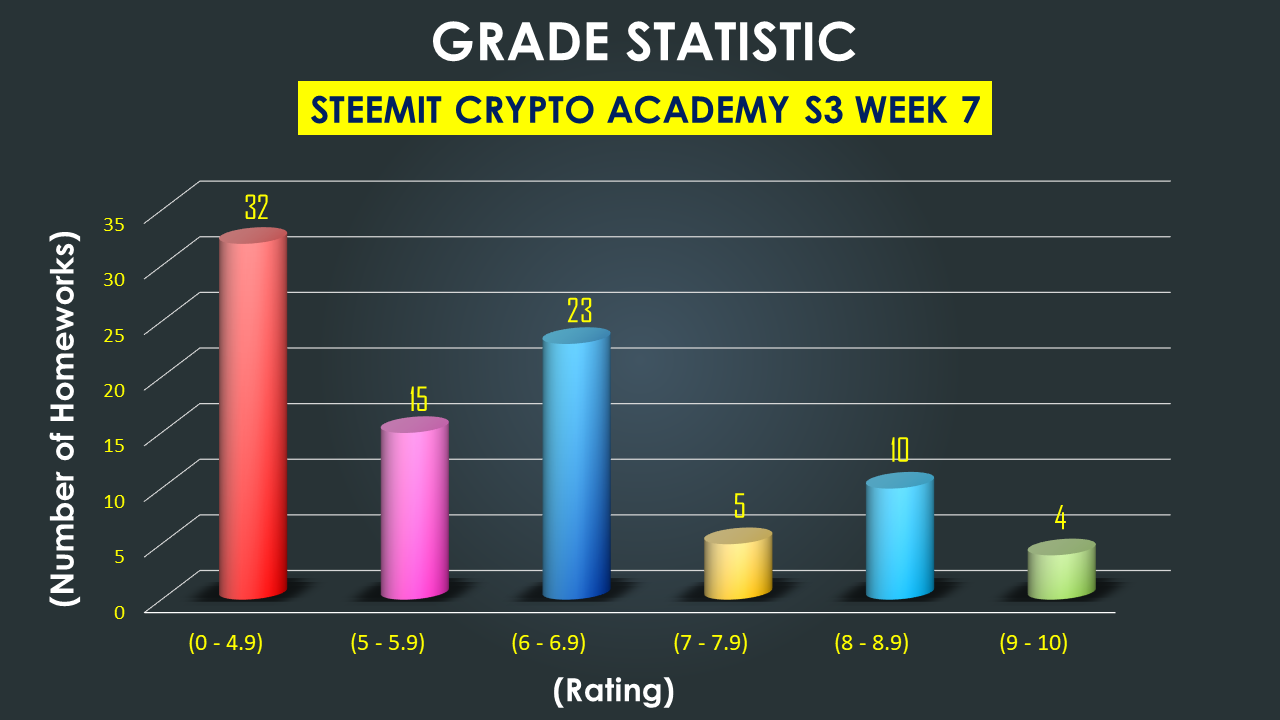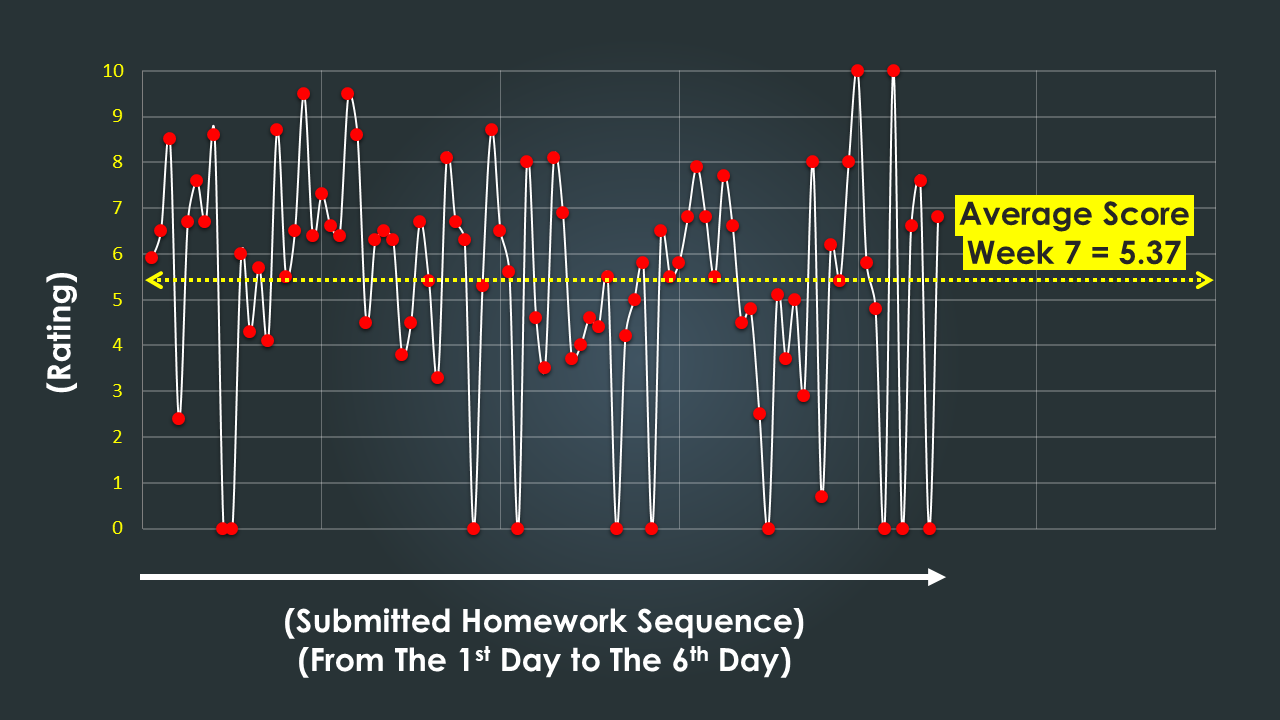 Jumlah Tugas Yang Masuk dan Nilai Rata-Rata Pada Minggu Ke-7
Dari semua nilai yang sudah saya berikan, nilai rata-rata penilaian didapatkan pada angka 5,37. Dengan melihat data seluruh postingan yang telah dibuat, maka persentase kualitas tugas yang telah dibuat oleh teman-teman semua adalah sebagai berikut: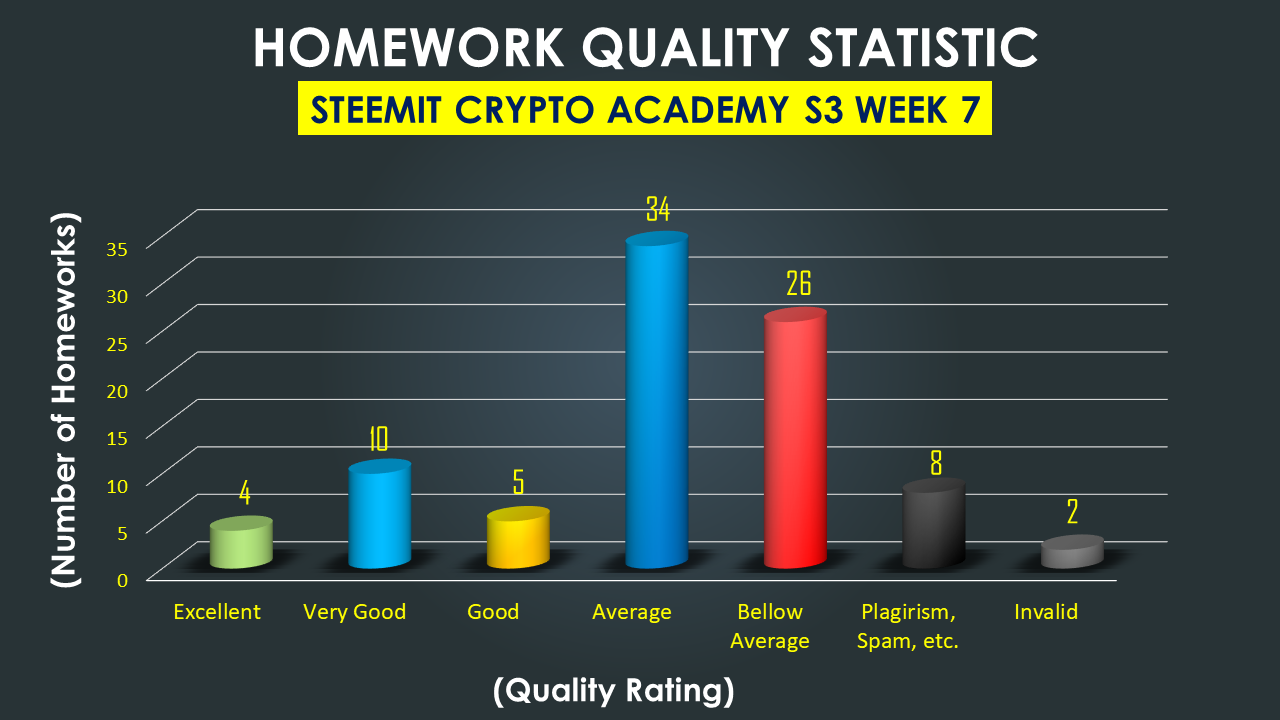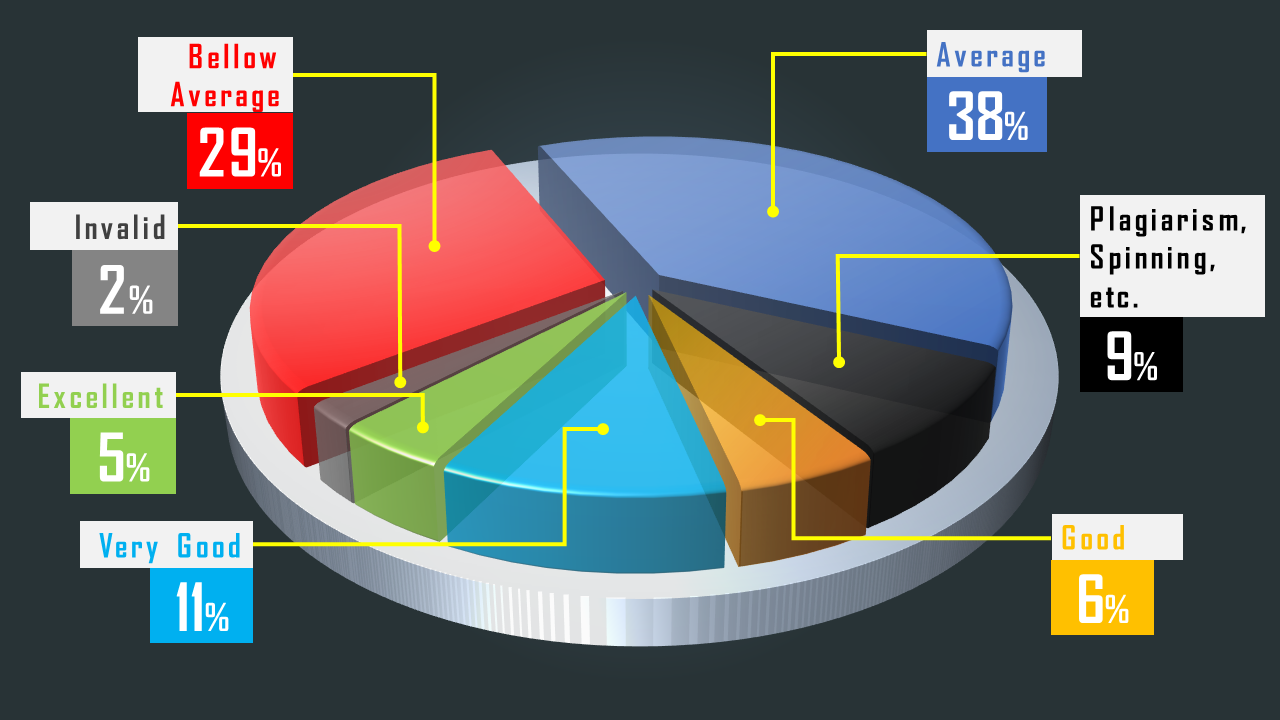 Kualitas Tugas Pada Minggu Ke-7
Catatan:
"Invalid" homework dapat disebabkan oleh alasan berikut:
Akun yang tidak memiliki jumlah Steem Power minimum (125 SP) untuk tugas ini, atau akun yang sedang melakukan power down Steem Power.
Akun dengan reputasi kurang dari 50.
Akun yang terindikasi sebagai akun farming.
Akun yang telah masuk daftar hitam karena plagiarisme.
Akun yang memposting tugas yang belum selesai sebelum deadline lalu mengeditnya kembali.
Dari grafik diatas bisa kita lihat tugas-tugas yang masih dibawah nilai rata-rata yaitu sebanyak 29%, lalu selanjutnya jumlah tugas yang memiliki nilai rata-rata sebanyak 38%, Nilai bagus sebanyak 6%, Sangat Bagus sebanyak 11%, Sempurna 5%, Invalid 2% dan Plagiarisme, dll sebanyak 9%.
Top 3 Homework Posts
Dari total 89 homework yang sudah saya periksa pada minggu ketujuh ini, ada banyak postingan yang menurut saya memiliki kualitas kontem yang bagus, tetapi diantara itu semua ada 3 postingan yang menurut saya memiliki tingkat kualitas konten yang terbaik diantara seluruh tugas yang sudah masuk, antara lain:

Evaluasi dan Catatan Tambahan
Steemit Crypto Academy sudah melewati minggu ke-7, saya sudah membuat total 4 kelas yaitu pada minggu ke-1, 3, 5, dan 7. Setelah 4 kali saya membuat kelas, maka saya sudah mendapatkan 4 nilai rata-rata dari tiap minggunya, nilai-nilai tersebut bisa dilihat pada grafik dibawah.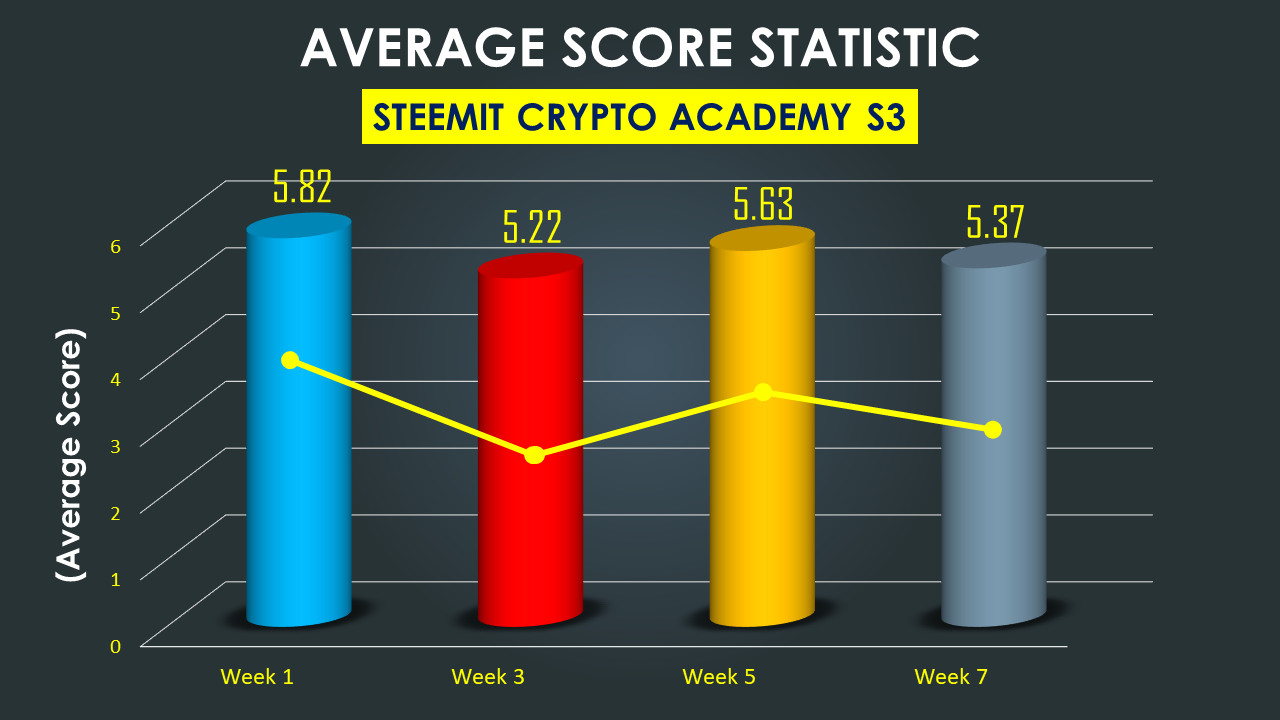 Nilai Rata-Rata Pada Tiap Minggu
Bisa kita lihat pada grafik diatas, nilai rata-rata yang didapatkan oleh para siswa selama 4 minggu pada season 3 memiliki variasi nilai. Pola perubahan nilai cenderung membentuk ombak dimana ada terjadi kenaikan dan penurunan nilai rata-rata.
Pada minggu ke-1 nilai rata-rata yang didapatkan adalah 5,82 lalu pada minggu selanjutnya yaitu minggu ke-3 niali rata-rata mengalami penurunan menjadi 5,22. Akan tetapi pada minggu ke-5 nilai rata-rata kembali mengalami peningkatan menjadi 5,63 dan yang terakhir pada minggu lalu yaitu minggu ke-7 nilai rata-ratanya mengalami penurunan kembali menjadi 5,37.
Setelah saya memeriksa kembali data-data tersebut, saya mendapatkan jawaban mengapa pada minggu terakhir ini nialai rata-rata mengalami penurunan dari minggu sebelumnya. Beberapa hal yang saya dapatkan tersebut antara lain:
1. Pengerjaan Tugas Pada H-1 Deadline
Ini adalah alasan yang paling utama mengapa nilai rata-rata bisa mengalami penurunan. Pada hari-hari awal di minggu ke-7 ini, saya memberikan penilaian tugas para murid dengan cukup bagus bahkan saya sempat mengecek nilai rata-rata sementara saat itu mencapai 6, tentu saja saya cukup senang karena berarti para murid sudah mulai meningkatkan kualitas konten mereka.
Akan tetapi, saya terkejut melihat jumlah tugas yang masuk pada hari terakhir minggu lalu. Setelah saya menghitung totalnya ada 46 tugas yang masuk pada tanggal 14 Agustus 2021 yang merupakan hari terakhir pengumpulan tugas. Jumlah ini mengindikasikan bahwa lebih dari 50% dari total tugas yang masuk pada minggu ke-7 dibuat pada hari terakhir. Dampak dari hal ini adalah saya melihat sangat sangat sangat banyak tugas yang memiliki kualitas yang buruk.
Saya melihat banyak murid yang terkesan asal-asal dalam membuat tugas, mereka hanya menyelesaikan tugas dan berharap mendapatkan penilaian yang bagus sehingga akan mendapatkan persentase kurasi yang tinggi. Hal ini sangatlah keliru! saya tidak akan memberikan penilaian yang bagus bagi tugas yang memiliki kualitas yang buruk
2. Pemahaman Terhadap Topik Yang Diberikan
Dari keseluruhan tugas yang masuk pada minggu ini, saya melihat sudah banyak murid yang memahami soal yang saya berikan dengan baik. Walalupun rata-rata memiliki kualitas konten yang bisa dibilang buruk , tetapi hampir seluruh murid tidak ada yang salah dalam memahami soal sehingga jawaban yang diberikan sudah sesuai.
3. Kepatuhan Terhadap Peraturan & Panduan
Tingkat kepatuhan terhadap peraturan dan panduan yang ada pada minggu ke-7 sudah mengalami peningkatan yang cukup baik, saya hanya mendapatkan 1 tugas yang tidak menaruh sumber gambar dan hanya beberapa yang menggunakan gambar yang memiliki hak cipta.
Para murid juga sudah mematuhi untuk menaruh watermark pada setiap screenshot yang mereka buat untuk memvalidasikan bahwa screenshot tersebut merupakan miliki mereka pribadi.
4. Plagiarisme, Spinning, dll
Walaupun tingkat terhadap kepatuhan dan panduan sudah cukup baik, hal ini tidak membuat para pelaku plagiarisme sudah hilang. Pada minggu ini saya mendapatkan 8 kasus plagiarisme dan spinning konten, rata-rata mereka mengambil konten dari internet ataupun dari tugas yang sudah dibuat oleh teman-teman lainnya lalu mereka mengubah tata bahasanya agar tidak terdeteksi oleh alat pendeteksi plagiarisme.
Hal ini tidak bisa ditoleransi, setiap pelaku plagiarisme dan konten spinning akan dimasukkan kedalam Greylist, dan jika mereka kedapatan melakukannya sekali lagi maka mereka akan masuk kedalam Blaclist dan kemudia akan di banned dari komunitas ini sehingga mereka tidak dapat mengikuti seluruh kelas yang ada pada Steemit Crypto Academy.

Kesimpulan
Itulah semua hal yang merupakan ringkasan dari homework minggu ketujuh sekaligus minggu penutup kelas saya di season ke-3 ini. Saya ucapkan selamat kepada para pemenang pada minggu ini, saya harap dengan kemenangan ini tidak membuat kualitas konten anda menurun dan saya harap hal ini akan mampu memotivasi teman-teman lainnya yang masih pemula agar bisa meningkatkan kualitas homeworknya.
Saya mohon maaf jika ada kesalahan saya dalam memeriksa homework dari teman-teman semua, saya bersama tim profesor lainnya akan berusaha semaksimal mungkin untuk terus meningkat kualitas pembelajaran yang akan kami berikan tiap minggunya, dan kami akan terus untuk bersikap profesional disetiap kondisi.
Terimakasih sekali lagi untuk teman-teman semua yang sudah berpartisipasi, sampai ketemu di homework pada season selanjutnya.
Terima Kasih!!!

Catatan:
Semua gambar yang tidak memiliki sumber merupakan milik penulis.