One of the ways cryptocurrency developers publicize/ grow the value of their cryptocurrency is through airdrops. During an airdrop, the developers share tokens to the members of the public who fulfill a set of task prescribed by the developers. Avenues by which the public get to know about this airdrop includes press release, social media and so on.
Airdrops are usually done prelaunch of the main cryptocurrency, therefore, if the airdrop of the token is successful, then it will increase the trade volume of the coin, it's value and finally it's market dominance. Thus, if the airdrop is legit, all those who participated in the airdrop get to receive free money.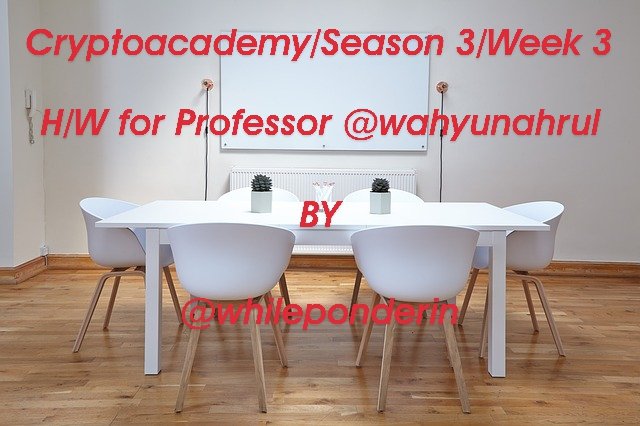 Background:Pixabay
In today's lecture, professor @wahyunahrul while teaching on the topic "Airdrop - Giveaway In Cryptocurrency" has explained to us the concept of airdrop in cryptocurrency and how to partake in them, below is my response to the assignment he gave after the class.

Question 1: WHAT DO YOU THINK ABOUT AIRDROP IN CRYPTOCURRENCY?
Airdrop is basically one of the ways developers promote their cryptocurrency. During this event, they create awareness of their project by sharing their cryptocurrency token to the public.
To understand how airdrop works, we must recognise that money in general derives it's value from it's level of acceptability. The higher the number of people who accept it as a medium of exchange, the more it grows in value.
This same principle works in airdrop. During an airdrop, part of the total market supply of the token is shared among the participants, therefore creating acceptability of the token. Normally, the shared token has a low price compared to already established crypto assets. Now, as the users of the token begins to trade with it, the asset, as well as the whole project begins to grow in value.
Normally, before a member of the public is awarded some of the tokens of an airdrop, he is required to fulfill some conditions set up by the developer. Completion of these conditions makes him eligible to receive some airdrops.
Currently, there are lots of airdrops going on in the crypto world. Below is an image showing a list of airdrop projects and several other details such as: number of those who participated, number of those who received rewards, number of tokens shared and lots more.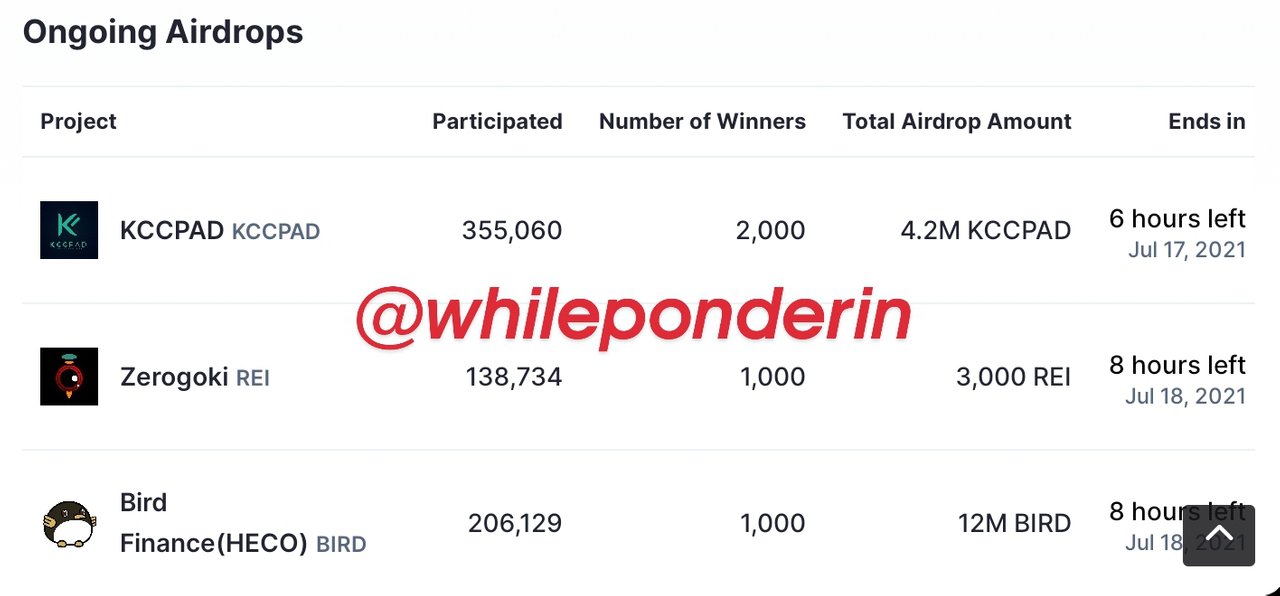 Coinmarketcap

Question 2: HOW CAN WE KNOW ABOUT AN AIRDROP EVENT SO THAT WE CAN PARTICIPATE?
The developers of crypto assets announce their airdrop events through several channels. Some of these channels includes, their official website, social media accounts, press news release, airdrop alert websites and lots more.
Through each of these channels, the developer tells the public about the project, how they can participate in it and how they intend to share the reward. Some project give out reward per task completed, while others give out tokens at the end of the airdrop event. Also, through these channels, subsequent informations which the developers wish to let the public know during the course of the event are announced.
Although each of channels provide information concerning the airdrop, it's important that the participants carries out a deep research by sourcing information through many of these channels in other to find our how the organizers of the project propose to run the project, and also how they plan to reward the participants. By doing so, the participant will know whether the project has a future, and if it's worth investing his energy and resources.

Question 3: WHERE ARE AIRDROP EVENTS OFTEN HELD?
Where an airdrop event holds depends on the type of the airdrop event. Some airdrops events holds in the projects official website, while others hold in wallets, social media, telegram bots e.t.c. How the participant register for the airdrop event is determined by where the event holds. Below is the listing
Airdrop in Project website:
In standard airdrop that holds in the developers project website, the participants are required to provide their name and email address during the registration. This is so that any further information or notification concerning the airdrop will be sent to their email address.
Airdrop through Social media:
Airdrops that are done through social Media normally require that the participants of the airdrop share informations concerning the airdrop event on their several social media account such as Facebook, Twitter, Instagram and so on. They are also required to carry out social media related tasks such as joining the token's social media community. This type of airdrop is refered to as the Bounty airdrop. Airdrop events done through telegram bots are classified in this area.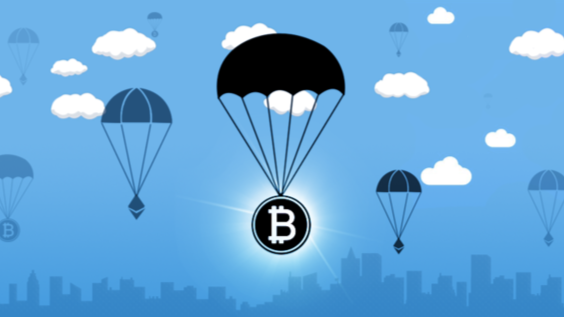 Airdrops
Airdrop events that are fine through wallets normally require that the participants create a wallet and store a certain amount of a particular token in their wallet till a specified period of time. This period of time is referred to as snapshot. Any participant who manages to hold on to his asset for this long period of time gets rewarded. This airdrop type is called Holders airdrop.

Question 4: ARE ALL AIRDROP EVENTS FREE FROM SCAMS? OTHERWISE, HOW CAN WE AVOID THE SCAM?
Although the whole idea of airdrop is for the advancement of the crypto world, some dubious people have found a way to create events similar to airdrop events just to scam other people. These bad set of people have been able to decieve a lot of people, because they don't know that airdrop doesn't requires personal information from the participants, nothing that will be detrimental to them.
Through these scam airdrops, they have been able to steal data of participants like wallet address and private key, personal information and Identity card and so on. Since we can't actually stop these scammers, as everything is done anonymously, we can avoid these scam projects by following the following instructions:
Before partaking in an airdrop event, it's best to evaluate the project and know what is it's purpose. By doing so, you can tell whether the developer has good prospect for the project or not.
Never give out your Private key:
No legit airdrop will require you to submit your private key, as they don't need it to send you your reward. Any airdrop that ask for this is a scam.
Pay attention to the URL of any web address before filling in your personal information. Any sure that is a direct link to the tokens official website should be avoided. Also, avoid any airdrop event that requires you to put in a more sensitive information than your email address.
Paying a certain amount before receiving token:
Be careful not to participate in any airdrop event that requires you to pay a certain amount of money before you receive some airdrop. These kind of scam are common in telegram, try and avoid them.

Question 5: HAVE YOU EVER PARTICIPATED IN A CRYPTOCURRENCY AIRDROP EVENT? IF SO, THEN EXPLAIN. MEANWHILE, IF YOU HAVE NEVER PARTICIPATED BUT HAVE HEARD OF THE AIRDROP EVENT, THEN EXPLAIN IT.
I haven't participated in an airdrop event since am fairly new to the crypto world (I hope to participate in one soon), but I recently learnt about an airdrop event currently listed on the Coinmarketcap website. The name of the token is KCCpad, so I will be use it to answer this question.
KCCPAD
KCCpad is an acronym for KuCoin Community Chain Pad. This launch pad was developed to be a start up platform for all projects that will be launched in the KuCoin community chain. KCCpad was developed by BlueZilla Labs who are also the developers of Tronpad and BSCpad.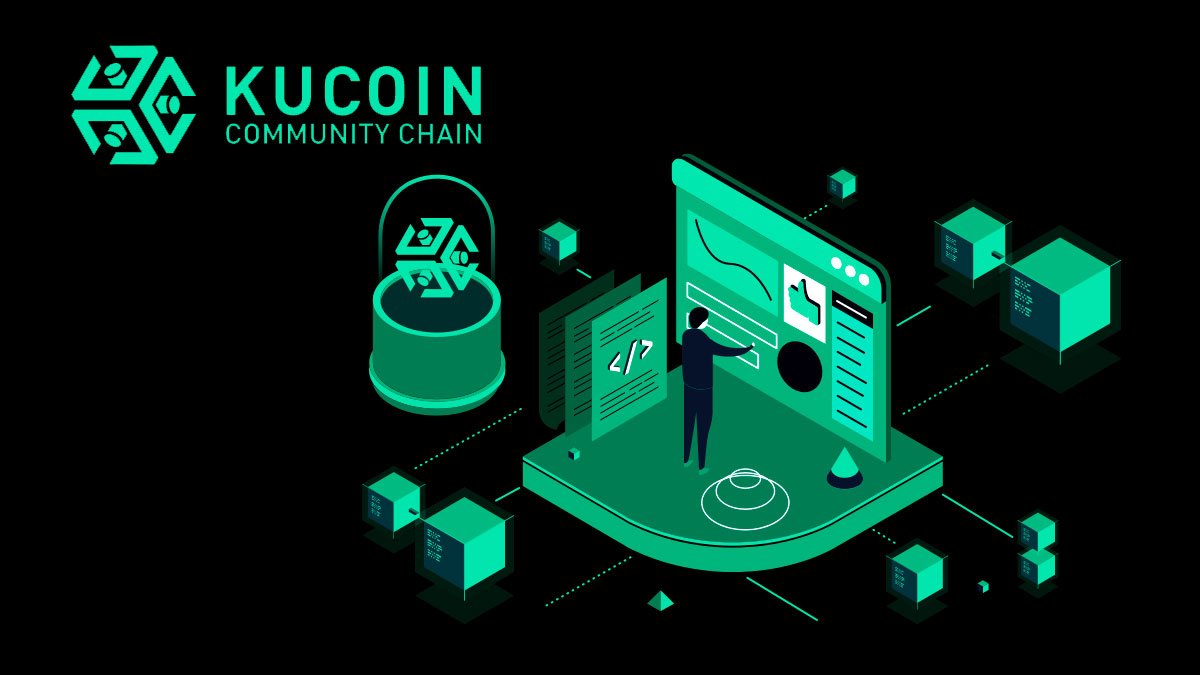 Kucoin
The project has a token of the same "KCCpad" and it's currently listed in coinmarketcap and also coingecko website at a price of $0.04052. Based on a rough estimate, the token has a trade volume of $1 million.
According to the details of the airdrop, about 4,200,000 (worth over $21,000) KCCpad token will be distributed to 2000 lucky participants who have completed the conditions of the airdrop. Each of them will get 2100 KCCpad tokens.
The KCCpad airdrop combines the various method of airdropping, as it involves registering in the developers site, submission of the participants Binance smart chain wallet address, and a little bit of social media advertising.
The snapshot of the airdrop is tomorrow 18th July 2021, and any participant who have completed fulfilled the conditions given stand a chance of getting 2100 KCCpad tokens (about $138).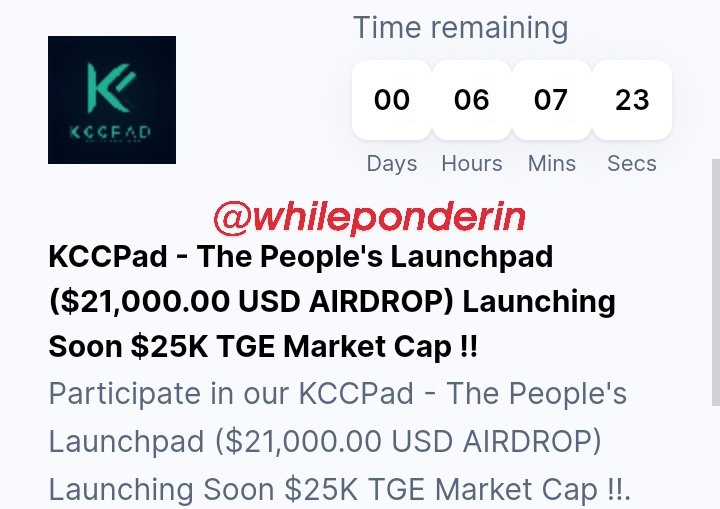 KCCpad airdrop

Question 6: GIVE AND EXPLAIN AN EXAMPLE OF AN AIRDROP EVENT THAT HAS PASSED AND THE AIRDROP WAS SUCCESSFUL. THEN GIVE ONE MORE EXAMPLE THAT HAS BEEN PROVEN TO BE A FRAUD.
To answer this question, I will be explaining the Decred Link airdrop which was a success, and the popular scam airdrop Corbit as an example of a fraudulent airdrop.
SUCCESSFUL AIRDROP (Decred Link)
Decred Link is one of the most successful airdrops to have held in cryptocurrency. This project was developed in the year 2016 with the goal of creating a community with an open governance. This protocol that allowed for open governance gave room for everyone in the community to approve transactions and also vote of matters concerning the whole blockchain.
Before the Decred project was fully launched, 8% of it's total supply was mined. From the 8%, the company used 4% to pay the developers that built the project, and the remaining they shared to the interested members of the public through airdrop. The 4% shared through the airdrop event was about 258,000 DCR.
Today, Decred (DCR) is one of the remarkable cryptocurrencies in the cryptoworld. It is currently worth $115.07 and it's ranked #51 on coinmarketcap. Decred has a tradred volume of $12.4 million and a market capitalization of $1.4 billion. I believe is one of the cryptocurrencies that will still be thriving in the nearest future.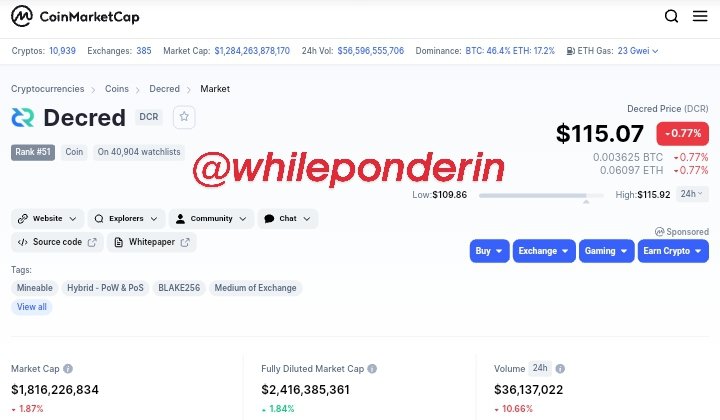 Decred: Coinmarketcap
FRAUDULENT AIRDROP (Corbit)
One of the most popular fraudulent airdrop is Corbit airdrop. The developers of the fraudulent token projected a project that involves creating a decentralized exchange that charges very low transaction fee. During the airdrop, they promised to give each participant 30 Corbit coins totally worth $6.
The whole concept sounds promising therefore it was a surprise to anyone that the number of participants who signed up for the airdrop on the first week alone was above 80,000. Each of these participants were required to advertise the project through their social media, and also to sign in, they have to do so through their Twitter or telegram accounts (bounty airdrop method).
Many people believed in the project, and the got little investors within that short while, then after a while, the developers took their official website offline, and removed every single trace of the proposed exchange. You can read more about the airdrop here.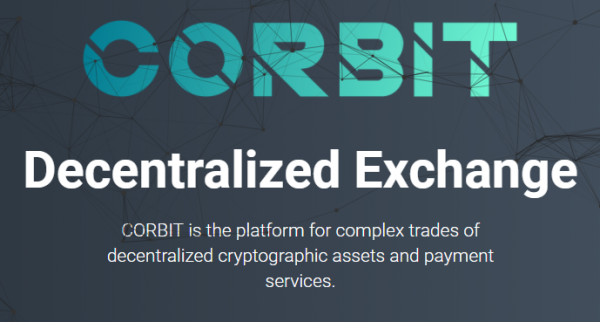 Source

Question 7: LOOK FOR AN EXAMPLE OF ONGOING AIRDROP EVENTS, MAKE AN ANALYSIS THAT PROVES THAT THE AIRDROP OF YOUR CHOICE IS GOOD.
Although I haven't joined the airdrop, but the token airdrop event that I may like to participate in is the WELL airdrop event. This airdrop is listed on Coinmarketcap.
WELL TOKEN
WELL token is a token owned by the bitwellex exchange. It is an ERC-20 token based on the Etherum blockchain. Bitwellex exchange makes profit by allowing crypto users to carry out buying and selling of crypto asset on their platform, while they receive transactions fees in return. Just the same way several exchanges own their own tokens, for instance Binance has its own, WELL is the official token of Bitwellex.
Reasons Why I Chose It
Well is owned by an exchange:
Tokens owned by well established exchanges do thrive and rarely turn out to be a fraud. If that kind of thing happens, it will tarnish the image of the exchange, and the developers if the exchange won't let that happen.
A white paper must contain several problems the project is there to solve. Bringing solutions to a problem is what actually make the token grow in value. When a white paper proposes a solution that is not feasible, it's a sign that the project is fake.
In Bitwellex white paper, they highlighted out several problems we currently face on the exchange market and how they tend to make improvements in those areas. All the goals they listed, and how they plan to achieve it are not easy, but they are all feasible.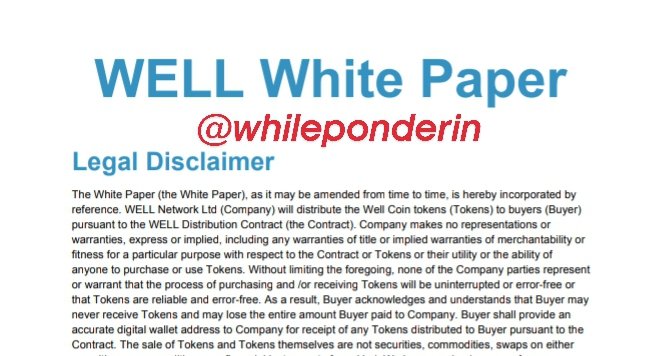 whitepaper
Listing in Coinmarketcap:
Another thing that made me believe that this airdrop is going to be successful is that fact that the token has been listed on coinmarketcap (Coins listed on coinmarketcap stand a chance of thriving).
As of today, WELL token is ranked #356 on coinmarketcap and it's currently worth $0.4403. It has a Market capitalization of $68 million and a circulating supply of 137 million tokens.
Airdrop Details
At the end of the airdrop, 10,000 WELL tokens will be shared to amongst 500 lucky participants. The selection will be based on the snapshot of the airdrop on 19th July 2021. The participants who have successfully fulfilled the terms of the project will be eligible for selection. As of today, the total number of participants for the airdrop is 142,496.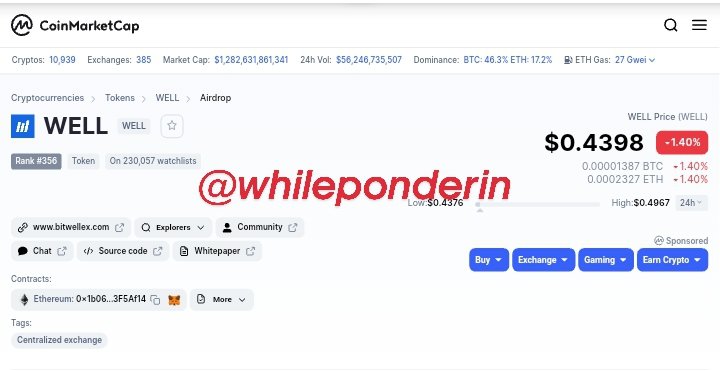 Coinmarket

Question 8: EXPLAIN THE STEPS TO PARTICIPATE IN THE AIRDROP OF YOUR CHOICE.
WELL token airdrop can be classified under bounty type of airdrop. This means that to register, the participants is required to complete some task that are social media related.
Below are some of the conditions the participant is required to fulfill before they can apply for the airdrop:
The participant is required to add WELL token to his watchlist on Coinmarketcap platform.

The participant should join two telegram groups: ICOclubPro and bitwellex_English.

The participant is expected to follow the Twitter handles: bitwellex_english Twitter, superaaron_cmc and ICOclubPro.

Retweet one or more of their post.

The participant is expected to submit his Binance smart chain wallet address.

Submit his/her telegram username

Submit his/her Twitter handle.

Then submit the link of their Twitter post you retweeted.
After you have completed all these conditions, click on "Join airdrop" to submit your application.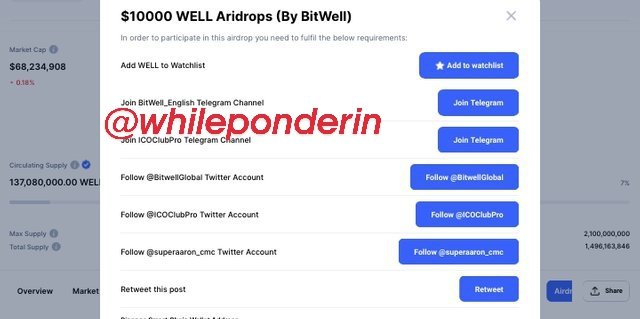 Airdrop form

CONCLUSION
Airdrops are one of the best ways of creating acceptability for a new crypto asset. There is high chances of a crypto asset growing when there are several people who own it, and are willing to trade with it.
Although airdrops are great, and participants get to earn free tokens, some people have used it as a means to carry out fraudulent acts. For this reason it's important that every one who wishes to partake in an airdrop carry out a thorough research on the project before participating in it so as not to fall victim of these fraudulent people.
Thank you so much professor @wahyunahrul for the lesson.