Blockchain video games are any kind of video game powered by blockchain technology. In the earlier season of the Crypto Academy, we learnt about Blockchain Technology. This is basically defined as an immutable distributed public ledger of information arranged in form of blocks and secured with Cryptography.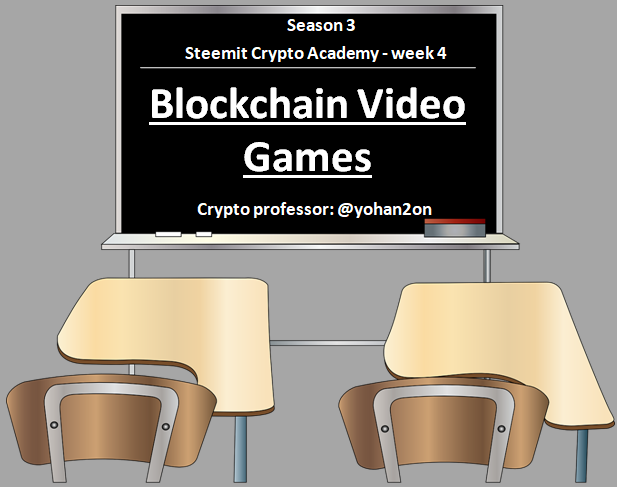 Background image:Pixabay
The gaming industry is a very wide and popular industry. Many people like playing video games. Personally, I have grown up playing lots of video games; I found these very entertaining and something that relieves me of the stress and any pressures of life. There are plenty of reasons why people prefer taking off some time and play these video games. However, many of these lack the aspect of in-game incentivisation of user behaviour.
Blockchain technology has revolutionized the gaming industry by ushering in another great benefit of playing video games and that is "earning crypto" while playing the game. Game players can make in-game purchases of special items such as special swords, guns, and other ad ons used in accomplishing certain game levels on a better advantage. These items can be purchased using Crypto and can later be sold to other players since they are stored on the blockchain.
During the gameplay, a player can acquire collectables or special inventory which he can sell to other players in the open marketplace situated in the game. That's basically how people make money through these games.
You can find plenty of Blockchain Video games on the Dappradar site.
---
Case studies
---
Cryptokitties
Crypokitties is one of the popular blockchain games, a decentralized application running on the Ethereum Blockchain. Cryptokitties made blockchain gaming go mainstream in 2018 when a Cryptokitty called Dragon was sold at $170,000. This showcased a great blockchain potential in revolutionizing the gaming sector plus a great opportunity for players to make money through the game.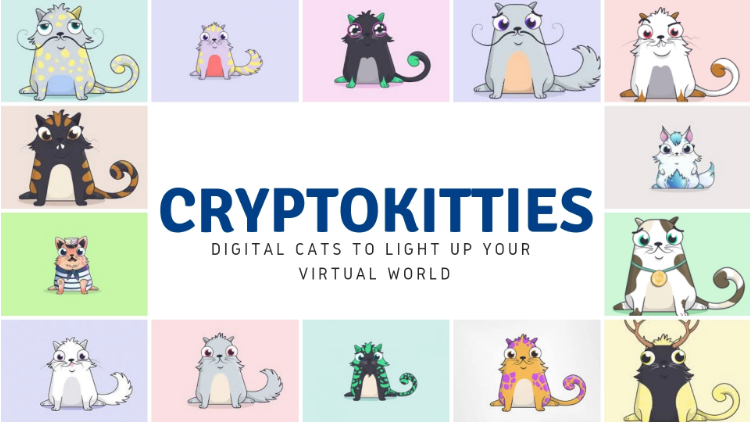 Image source
Cryptokitties game involves purchasing and breading of cats with rare attributes. The value of a cat depends on the rare attributes it has. Therefore players make money by breeding cats with rare attributes and selling them off to other players.
The innovation of "Non-fungible tokens" also boosted the popularity of Cryptokitties since these are rare virtual cats and interchangeable just like NFTs that's why a rare virtual cat-like Dragon would cost $170,000.
My Crypto Heroes (MCH)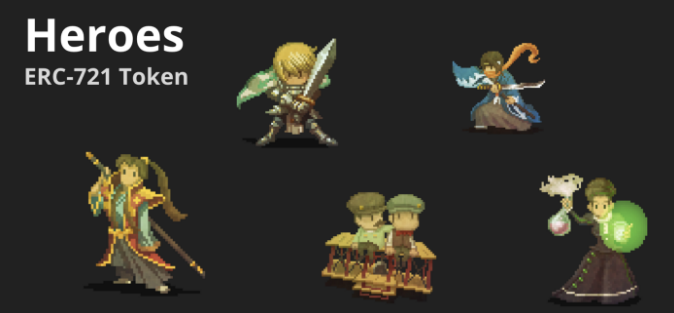 Image Source
This is a blockchain video game powered by the Ethereum blockchain. It involves buying heroes levelling them up and equipping them with Extensions (equipment). You basically acquire and grow valuable digital assets. These assets are ERC-721 tokens; they can be extensions that can be acquired through fighting and competing in tournaments. Extensions can be sold in Opensea for Ethereum.
Relevance of Blockchain Video games to the Crypto space
True ownership of in-game assets
By default, all traditional game assets are owned by the developers and this is due to the centralized system they are designed in. These developers can opt to remove any items in the game at any time since they own the entire game system code. With Blockchain games, ownership of the game items such as special weapons, and other inventory acquired while playing the game are owned by the players since these are recorded and secured on the blockchain. These players can opt to sell their items to any other player at their will hence a great aspect of true ownership of the in-game assets.
Diversification of investment portfolio
Blockchain video games are another great investment opportunity ushering in more investors in the Crypto space through the gaming industry. For example, many people have invested in the startups of blockchain games like My Crypto hero, Cryptokitties, Axie Infinity. The earlier adopters of these games have made a fortune from these games. Blockchain video games can therefore act as another way to diversify one's investment portfolio through buying and holding valuable in-game tokens.
Value addition to the Crypto space
Blockchain video games provide a good working product for Cryptocurrencies like Ethereum, Tron, etc which contributes greatly to the thriving of these cryptocurrencies in terms of value. For instance, a player signs up on a Blockchain game like Axie-Infinity, he will have to purchase 3 Axies using Ethereum as per the rule and guidelines of the game hence a great creative way to encourage people to buy and hold Ethereum.
Crypto mass adoption
Popular blockchain video games like Cryptokitties have attracted very many people to the Crypto space and that is through providing a good use case of Cryptocurrencies. In the game, players can purchase and breed cats with rare attributes and eventually make profits by selling them off for Ethereum. Such games are acting as a good source of income for many game players.
Limitations/challenges of Blockchain video games
High transaction costs
Blockchain video games particularly those built on the Ethereum blockchain are faced with the challenge of high transaction costs. For example, to get started with Axie-Infinity, a player needs to buy 3 Axis which may cost up to around $100. This is a limiting factor to the useability of the game due to such a high charge to simply get started with the game. On top of that, there are also high gas fees when buying or selling game items on the Ethereum network.
Difficulty in Making them fun
Most Blockchain video games are boring games since blockchain gaming is still in its initial stages. Developers are still having great work to do in making these games fun. The centralized traditional games are still taking the lead in the aspect of being fun and very entertaining. Many people wouldn't want to play a game that is boring even though it has money rewards. This is therefore limiting their adoption and usability.
Poor graphics
Many of the blockchain video games I have played such as Ethermon, My Crypto heroes; have poor graphics when I compare them to traditional games like Need for Speed, Grand theft Auto(GTA), I find Blockchain video games still having a lot of work to be done in improving on the graphics of the game. The graphics of the game have an impact on user satisfaction. When playing a video game, a user wants to feel like his playing something real; and this depends on the graphics quality of the game.
In conclusion, though Blockchain Video games are still in their initial stages, faced with quite a number of limiting factors, these are very relevant to the Crypto space. They are the future gaming sector due to the unstoppable and disruptive power of Blockchain technology that is behind them.
---
Homework task
---
Review the following blockchain video game;
Blockchain cuties universe
What's all about Blockchain cuties universe?
Talk about the features of the game.
You will need to play the game and attain some user experience
Your review should be balanced (talk about the Positive and Negative sides of the game)
What's your rating for the game on a scale of 5
---
Rules and guidelines
---
Post your homework article in the steemit Crypto Academy
Only steemexclusive articles will be curated
Your article should range between 300 – 1000words.
Use an exclusive tag #yohan2on-s3week4 and also tag me @yohan2on so that I can easily find your article.
Clearly reference your work in case you have directly borrowed any content from other sources. Otherwise, be original and as creative as possible.
Plagiarism and spinning of other users' articles will not be tolerated in the homework task. Otherwise repeat offenders will be blacklisted and banned from the Crypto Academy.
Use only copy-right free images and showcase their source.
To participate in this task, you should have a minimum of 250SP and your reputation score should not be less than 55.
This homework task runs till 24th/07/2021, Time: 11:59 pm UTC.