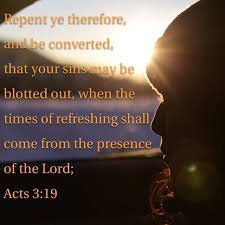 Repent that your sins may be forgiven!
Peter said to the people, The God of Abraham and of Isaac and of Jacob, the God of our fathers, glorified his servant Jesus, whom you delivered up and denied in the presence of Pilate, when he had decided to release him. But you denied the Holy and Righteous One, and asked for a murderer to be granted to you, and killed that Author of life, whom God raised from the dead.
Peter pointed out to them that they were witnesses, making it clear to them, he said: I know that you acted in ignorance, as did also your rulers. But what God foretold by the mouth of all the prophets, that this Christ should suffer, he thus fulfilled. Repent therefore, and turn again, that your sins may be blotted out.