To comfort is to give encouragement, comfort, positive exhortation and to be received by those who need it favorably, although there are cases that some person wants to console but unfortunately people are not left by so many tribulations and emotional state that have damaged their hearts
God is an expert in comforting us in all tribulation and if we receive comfort, then with our experiences we can comfort others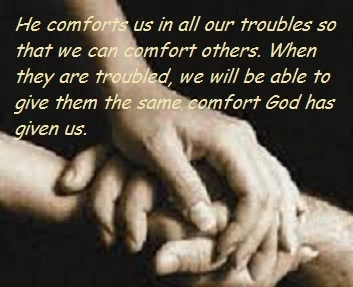 Source
2 Corinthians 1: 4
who comforts us in all our tribulations, so that we too can comfort those who are in any tribulation, through the consolation with which we are comforted by God.
(RVR1960)
The bible teaches us testimonies of miracles where God used in many men and women so that later they could be instruments of many in future and new generations because man has always been subject to sufferings and tribulations
For example, I particularly love this verse where the father of a sick child suffers from the illness of his son but speaks loyally to his master, recognizing him as the only miracle worker.
Mark 9:24
Instantly the father cried out, "Yes, I think, but help me get over my disbelief!"
NTV
Possibly your suffering is due to illness caused by a family member or by another cause that today invades the families of the earth, but Jesus is always ready to help when people with humility turn to Him.
In this order of ideas, the verse shows us that the father who had a mute sick son and who was constantly attacked by convulsions, went before the disciples of the Lord and before Jesus since he knew that he had the solution to his problem, and I love it the way this man acts that humility with which he addresses the Lord saying: Yes, I believe, but help me to overcome my disbelief!
This man was suffering and struggling with his faith but he was sincere before the Lord and God granted him victory
Many of us have gone through various situations that we have overcome with the help of God and currently he has enabled us to be able to comfort someone who today goes through the same thing since it is not the same to advise or comfort someone when we do not have the slightest idea why what's happening
That is why we first receive comfort from God in our tribulations in order to later be able to comfort others.
Sometimes we also feel that our faith is broken but that is where we have to strengthen ourselves more than God and ask for mercy before him so that he can help us and comfort us by increasing our faith
There is nothing that you ask your father with faith and humility that he does not grant it to you unless it is something that we are asking that later can affect us for some cause because God knows everything
I have been consoled by God in my tribulations that have also touched me, so today God has given me the privilege of being able to console and help many who have been in my environment, therefore the struggle of my projects, because I know what which is to suffer and not receive help or consolation from anyone but only from God, but God uses personal instruments to comfort us and bless us after we have passed the desert
¡God is good and faithful!