What is the nature of your own faith? Yeah you heard me right. It's a question and not just a topic or title to this post. Hence I want you to take a deep breath, seat tight and ponder on this topic again.
Like what the scripture say that faith as recorded in the book of faith Hebrews 11:1
Now faith is confidence in what we hope for and assurance about what we do not see. NIV
I do not always have a definition of faith other than what the scripture has said in the above quoted scripture. However, there is always some stories that helps me to explain what faith is to some believers especially those that have some reasons to stay back off or let go of their faith.
Talking about faith, many people have their opinion and explanation to it. Mine is quite simple. I draw my inference from the little school children.
When a child leaves the house to school, most of them may miss breakfast because their parents or they themselves woke up a bit late, thus they do not have time to prepare the breakfast or they sometimes do not have time to eat the breakfast as doing so would make them go to school late or miss to catch their school bus.
Hope your following the explanation? Please be patient and follow me gradually.
The truth is that the young child may go to school hungry because of the aforementioned reasons. However, while the child returns home, he or she is very very certain that there will be food at home for his lunch. Hence the child doesn't wanna know whether the parents had collected their month's salary or whether their parents are rich or whether their parents have money or not. It doesn't concern them if the parent would be borrowing money from the neighbour or not all he is that he most eat.
Now, you need to ponder on that story again and see what lessons we both can learn from it. As for me these are some of the salient lessons.
The child trust in his parents because he knows their responsibility to him.
The child knows their parent's capacity.
The child may not have such confidence in another person else than their parents.
The child doesn't care how the food is gonna come by, what is his concern is when, how and what to eat.
The child is trusts in the parents ability.
So we fix our eyes not on what is seen, but on what is unseen. For what is seen is temporary, but what is unseen is eternal. 2 Corinthians 4:18
---
There are things that parents did to this children that has made them develop such confidence in them. How then can some of the Christians not develop a strong faith towards God is supply band can never go dry.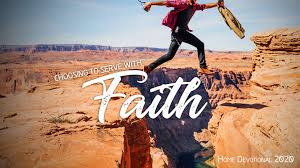 Have a leap of faith
Thank you for reading my blog. God bless you in Jesus name, amen.