I think everyone at some point in life has been tempted to something, which by the way is not good, but we want to experiment, or we like that and we want to have it, but what happens after succumbing to temptation is one of the worst sensations that the human being can experience, at the moment you can enjoy that but then it will turn out that you even hate yourself.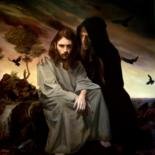 No one has said that it is easy to stand firm against it, but it is not impossible either. If we are guided by what God established in the bible, we will live with a secure and stable firm, we will know where we must walk, then when making an important decision like that, the same Holy Spirit of God will give you the strength you need.
There will always be something or someone that encourages us to act negatively or to give in to a temptation, as they are darts from the enemy, to make us lose our purpose.
Therefore, the only one capable of helping us overcome and overcome the situations where we are tempted is Jesus, who also went through those situations and managed to emerge victorious.
When we go through these kinds of situations, Jesus is our lawyer, let's start taking firm and solid steps. The decision is up to each one of us, whether or not to follow the steps that Jesus gave us.
From God we can learn to overcome every temptation, and not give in easily to them, show that we are capable of remaining firm, and this we can achieve through prayer, our communion with God, we go before God when we feel that we are weak before some situation and without a doubt He will come to our aid.