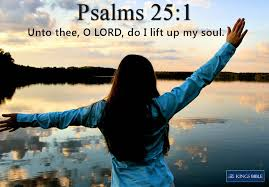 Source
---
---
David implores direction, forgiveness and protection
Psalm of David.
25 To you, O Jehovah, I will lift up my soul.
2 My God, I trust in you;
Let me not be ashamed,
Let not my enemies be glad of me.
3 Certainly none of those who wait for you will be confused;
Those who rebel without cause will be ashamed.
4 Show me, O Jehovah, your ways;
Show me your paths.
5 Lead me in your truth, and teach me,
Because you are the God of my salvation;
In you I have waited all day.
6 Remember, O Jehovah, your mercies and your mercies,
That they are perpetual.
7 Do not remember the sins of my youth and my rebellions;
According to your mercy remember me,
For your goodness, O Jehovah.
8 Good and upright is Jehovah;
Therefore, he will teach sinners the way.
9 He will guide the humble through judgment,
And he will teach the meek his career.
10 All the ways of Jehovah are mercy and truth,
For those who keep their covenant and their testimonies.
---
---
Today I want to share a little meditation on Psalm 25 where King David implores direction, forgiveness of God and protection, the King begins remembering that his soul raises his eyes for God and that he trusts him. In verses 4 and 5 we find supplications, he wants to understand his will and his way, but it may also be that after the lord does not show we do not have that will to follow, so David makes a second request in verses 7,8, soo ask for mercy and kindness.
We need God's direction to navigate these storms of life, in the complex situations that shape human experience. Many times we do not know how to move forward. We are in darkness, we need light. The conviction that David expresses in Psalm 25 gives encouragement: "He will teach the path you have to choose." David appeals to God again for his personal name, "Jehovah" (ten times in this psalm).When we miss the path and God forgives us we find peace, really that peace is indescribable, there are storms that only God can help us and understand us. David is talking about his own personal experience, recognizing that God is sublime and capable of changing his anguish.
David knew who God was and seeks his love, forgiveness and protection knowing that there is no other place to seek refuge.
---
---