Imagine this scenario, a lady was to be executed for a crime she committed, then a man she knew nothing about delivered her. Later, she went and committed a bigger crime hoping she will be pardoned again but the same man that delivered her the first time, was the judge this time but without mercy.
In Psalms 98
O sing to the Lord a new song, for He has done marvelous things; His right hand and His holy arm have wrought salvation for Him.
2 The Lord has made known His salvation; His righteousness has He openly shown in the sight of the nations.
3 He has [earnestly] remembered His mercy and loving-kindness, His truth and His faithfulness toward the house of Israel; all the ends of the earth have witnessed the salvation of our God.
4 Make a joyful noise to the Lord, all the earth; break forth and sing for joy, yes, sing praises!
5 Sing praises to the Lord with the lyre, with the lyre and the voice of melody.
6 With trumpets and the sound of the horn make a joyful noise before the King, the Lord!
7 Let the sea roar, and all that fills it, the world, and those who dwell in it!
8 Let the rivers clap their hands; together let the hills sing for joy
9 Before the Lord, for He is coming to judge [and rule] the earth; with righteousness will He judge [and rule] the world, and the peoples with equity.
Verse 1-3 praise God for His deliverance, verse 4-6 praise God for being a just judge.
Has God delivered you from a difficult situation recently? Thank Him for that, has He demonstrated His power as king in your life, sing a new song unto Him.
If God as to deal with us according to our sins, we would all be dead by now but certainly, a time is coming when this same saviour now shall judge the earth tomorrow. He always remembers His mercy and that is why we must praise Him, strife to please Him with our life while He tarries.
Remember our saviour today will be our judge tomorrow.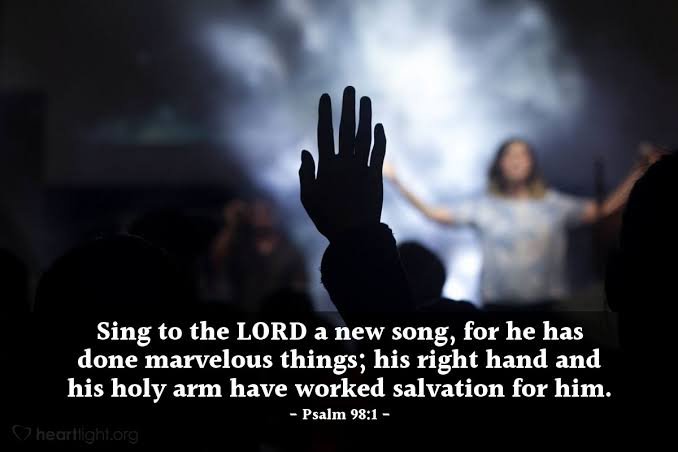 Image source