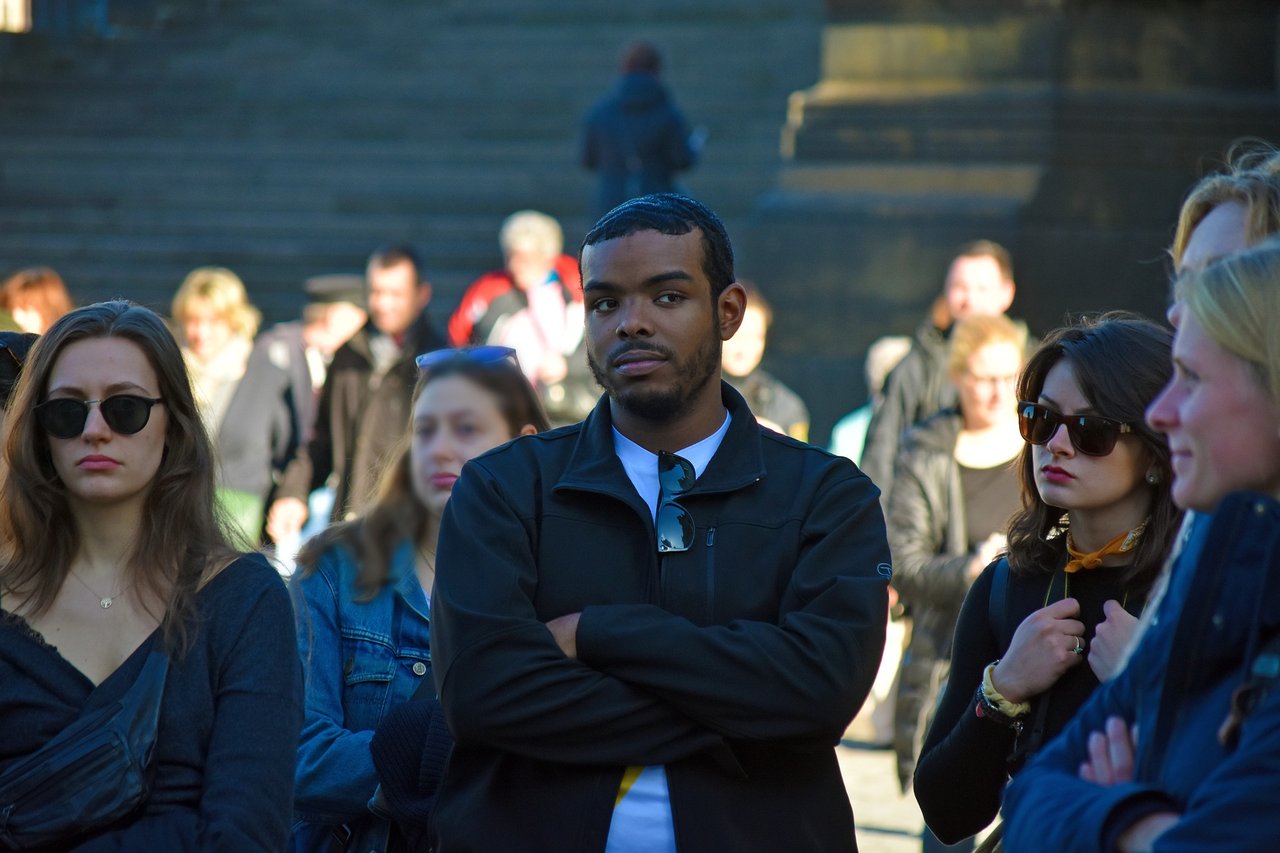 Imagen de Manuel Alvarez en Pixabay
Romanos 12, 2
2 No sigan la corriente del mundo en que vivimos, sino más bien transfórmense a partir de una renovación interior. Así sabrán distinguir cuál es la voluntad de Dios, lo que es bueno, lo que le agrada, lo que es perfecto.
Josefa manejaba su camioneta, le acompañaba su amiga Nirva. Ambas habían planeado un par de días atrás ir a la función dominical del cine del pueblo. Cómo se les había hecho tarde, Josefa decidió, por el afán de llegar a tiempo a la función, no hacer caso a los dos últimos semáforos en rojo. Antes de bajarse de la camioneta Nirva miró fijamente a Josefa y le cuestionó diciendo - ¿Por qué no respetaste los semáforos, acaso no sabes que eso está mal? - A lo que Josefa contestó - Relájate amiga, no pasa nada, nadie respeta los semáforos los domingos -.
No porque muchos hagan algo significa que esté bien hacer tal cosa. Muchas personas consumen drogas y eso no significa que esté bien consumir drogas, muchas personas cometen adulterio y eso no quiere decir que esté bien hacer tal cosa, muchas personas son envidiosas y codiciosas y eso no significa que la codicia y la envidia sean cosa buena. Quizás Josefa creyó que no había hecho nada malo pues para ella su acción era perfectamente justificable en la premisa "nadie respeta los semáforos los domingos", después de todo ella sólo había hecho lo que todo el mundo hacía. ¿Cuántos hoy como Josefa? ¿Cuántos hoy se encuentran cómodos y justificados en el relativismo moral que tiñe nuestro mundo de libertinaje? ¿Cuántos en este tiempo hacen a un lado la Palabra de Dios sólo para sentirse "cómodos" en la inmoralidad y en el pecado que deliberadamente comenten?
Sí Josefa hubiera reflexionado sensatamente sobre la pregunta de Nirva, habría podido comprender que esta la cuestionaba por su propio bien, que lo hacía movida por el amor y con la esperanza de que reconsiderara su manera de pensar, a fin de evitar una tragedia en el futuro. La Palabra de Dios nos interpela, nos aconseja y nos guía con amor, sí la escuchamos con humildad y creemos en ella, provocará en nosotros renovación interior y nos hará conscientes de lo que es verdaderamente bueno y agradable a los ojos de Dios, a fin de preservarnos de todo mal. ¿Quieres renovación interior? ¿Quieres cambiar y ser bueno? ¿Quieres poder librarte de las trampas y las mentiras del mundo? Busca a Jesús, en Él hallarás la verdad (Jn 14, 6), en Él hallarás la sabiduría que viene de lo Alto, en Él hallarás lo que desde siempre Dios quiso y quiere para ti, la felicidad.
Que el Espíritu Santo nos haga perseverantes en la fe y en el seguimiento e imitación de Jesucristo. Amén.
---
---
English Version
Romans 12, 2
2 And be not fashioned according to this [d]world: but be ye transformed by the renewing of your mind, that ye may prove what is [e]the good and [f]acceptable and perfect will of God.
Josefa drove her truck, her friend Nirva accompanied him. Both had planned a couple of days ago to go to the Sunday function of the cinema in town. Because they had been late, Josefa decided, in an effort to get to the show on time, to ignore the last two red lights. Before getting out of the truck, Nirva stared at Josefa and questioned her saying - Why didn't you respect the traffic lights, don't you know that's wrong? - To which Josefa replied - Relax friend, nothing happens, nobody respects the traffic lights on Sundays -.
Not because many do something does it mean that it is okay to do such a thing. Many people use drugs and that does not mean that it is okay to use drugs, many people commit adultery and that does not mean that it is okay to do such a thing, many people are envious and greedy and that does not mean that greed and envy are a good thing. Perhaps Josefa believed that she had not done anything wrong because for her her action was perfectly justifiable in the premise "nobody respects the traffic lights on Sundays", after all she had only done what everyone else did. How many today like Josefa? How many today are comfortable and justified in the moral relativism that stains our world with debauchery? How many in this time put aside the Word of God just to feel "comfortable" in the immorality and sin that they deliberately commit?
If Josefa had thoughtfully reflected on Nirva's question, she would have been able to understand that she was questioning her for her own good, that she was doing it out of love and in the hope that she would reconsider her way of thinking, in order to avoid a tragedy in the future. future. The Word of God challenges us, advises us and guides us with love, if we listen to it with humility and believe in it, it will provoke interior renewal in us and make us aware of what is truly good and pleasing in the eyes of God, in order to preserve ourselves from all evil. Do you want interior renovation? Do you want to change and be good? Do you want to be able to free yourself from the tricks and lies of the world? Look for Jesus, in Him you will find the truth (Jn 14, 6), in Him you will find the wisdom that comes from on High, in Him you will find what God has always wanted and wants for you, happiness.
May the Holy Spirit make us persevering in faith and in following and imitating Jesus Christ. Amen.
▃▃▃▃▃▃▃▃▃▃▃▃▃▃▃▃▃▃▃▃▃▃▃
¡Paz y Gracia!
Peace and Grace!