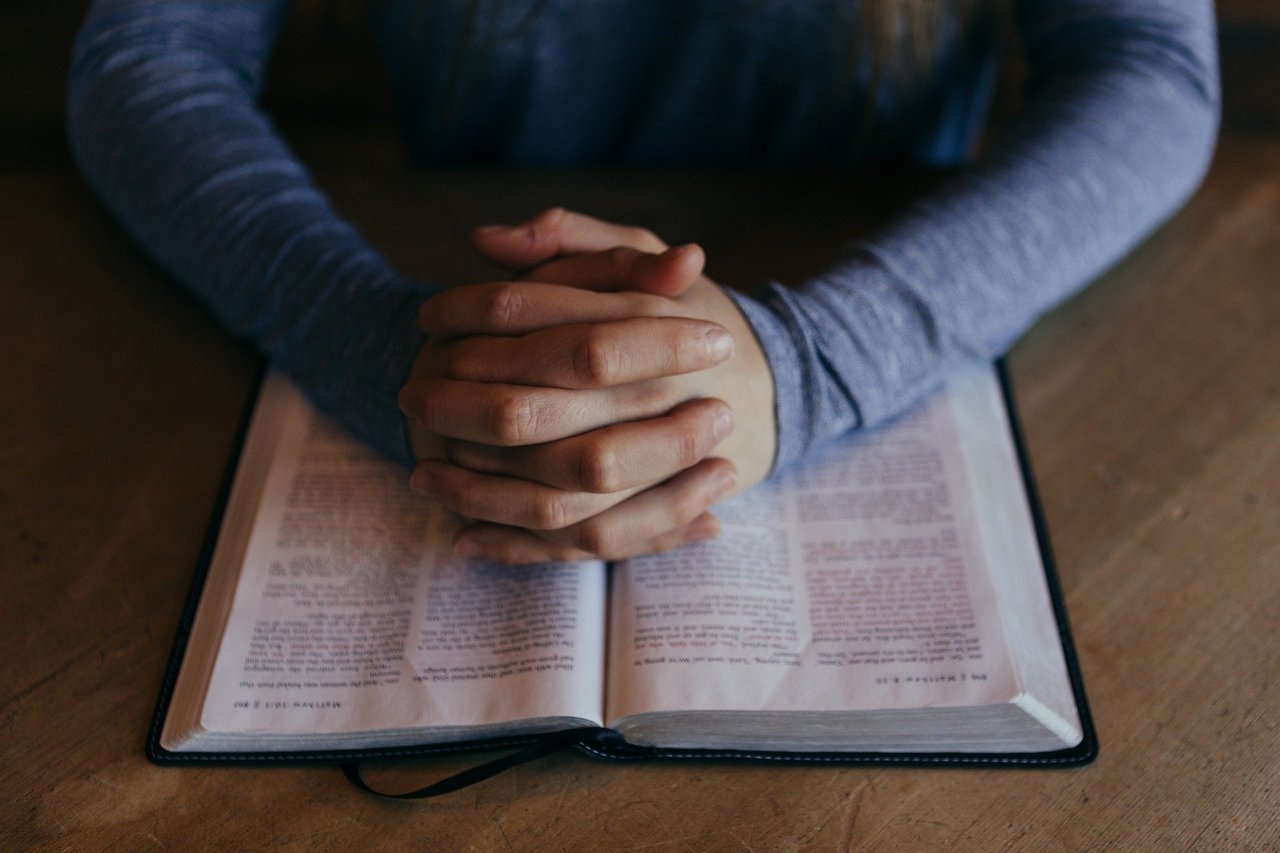 Imagen de Free-Photos en Pixabay
Santiago 5, 13
13 ¿Está alguno entre vosotros afligido? Haga oración. ¿Está alguno alegre? Cante alabanzas.
Oremos con fe en las buenas y en las malas, seamos agradecidos, busquemos siempre hacer el bien y seguir los preceptos de Cristo. Sí cumplimos con todo esto no hay razón para sentirnos afligidos pues somos salvos en Cristo. Puede que en determinados momentos lleguemos a sentir que las dificultades superan nuestras propias fuerzas y ánimo; una enfermedad, la pérdida de un ser querido, una injusticia, etc... Si esto nos sucede, oremos, porque el Señor no es indiferente a nuestras súplicas, Él permanece al lado de los que lo invocan sincera y confiadamente (Jeremías 29,12). Lo que no debemos hacer es entregarnos vencidos a los brazos del reproche, de la angustia y de la tristeza, de hacerlo, sólo conseguiremos paralizarnos y llenarnos de pena y de desesperanza.
Al orar fervorosamente somos consolados y nuestro corazón es renovado e inundado de paz y de esperanza en Cristo Jesús (Filipenses 4, 6-7). Cada vez que oramos le decimos a Dios "te amo, confío en ti", y Él, como Padre amoroso y misericordioso, en medio de ese diálogo cercano que es la oración, nos concede paz y consuelo. Seamos diligentes en el obrar pero también en el orar, pues si el alma perdiera su sustento poco podríamos hacer con nuestras manos.
Un hijo se comunica con su padre vayan las cosas bien o mal, si lo hacemos con nuestros padres aquí en la tierra, con mayor razón, no debemos hacer lo mismo con nuestro Padre celestial? No veamos a Dios y a la oración como un comodín al que sólo acudimos en los tiempos de tormenta. En la enfermedad, oremos; en la salud, oremos; al sentir miedo, oremos; en la seguridad, oremos; al estar desanimados o desconsolados, oremos; al estar alegres, oremos; por nuestros hermanos, oremos; por nuestros enemigos, oremos; en cualquier circunstancia mantengámonos cerca del Señor.
Es importante que al orar y al hacer peticiones a Dios, lo hagamos confiando en Su perfecta voluntad, es decir, con la conciencia de que lo concedido en la oración, será Su voluntad, y lo que no nos sea concedido, también será Su voluntad. Nuestro Señor Jesús nos enseña a orar bajo este principio, respetando y complaciéndonos en designio de Dios Padre, por eso Cristo dijo "Padre, si quieres, pasa de mí esta copa; pero no se haga mi voluntad, sino la tuya."(Lc 22, 42).
Pidamos al Espíritu Santo que nos conceda la gracia de estar siempre alegres, orantes y agradecidos sin importar las circunstancias, aceptando siempre con fe, con amor y con esperanza, la voluntad de Dios. Amén.
---
---
English Version
James 5, 13
13 Is any among you suffering? let him pray. Is any cheerful? let him sing praise.
Let us pray with faith in the good and the bad, let us be grateful, let us always seek to do good and follow the precepts of Christ. If we comply with all this there is no reason to feel distressed because we are saved in Christ. It may be that at certain moments we come to feel that difficulties exceed our own strength and courage; an illness, the loss of a loved one, an injustice, etc ... If this happens to us, let us pray, because the Lord is not indifferent to our prayers, He remains next to those who sincerely and confidently invoke him (Jeremiah 29, 12). What we must not do is surrender ourselves defeated to the arms of reproach, anguish and sadness, if we do, we will only be able to paralyze ourselves and fill ourselves with sorrow and despair.
By fervently praying we are comforted and our hearts are renewed and flooded with peace and hope in Christ Jesus (Philippians 4, 6-7). Every time we pray we say to God "I love you, I trust you", and He, as a loving and merciful Father, in the midst of that close dialogue that is prayer, grants us peace and comfort. Let us be diligent in acting but also in praying, because if the soul lost its sustenance we could do little with our hands.
A son communicates with his father, whether things are good or bad, if we do it with our parents here on earth, even more so, shouldn't we do the same with our heavenly Father? Let's not see God and prayer as a wild card that we only turn to in times of storm. In sickness, let us pray; in health, let's pray; when we feel fear, let us pray; in safety, let's pray; when we are discouraged or heartbroken, let us pray; when we are happy, let us pray; for our brothers, let us pray; for our enemies, let us pray; in any circumstance let us stay close to the Lord.
It is important that when praying and making requests to God, we do so trusting in His perfect will, that is, with the awareness that what is granted in prayer will be His will, and what is not granted, will also be His will. . Our Lord Jesus teaches us to pray under this principle, respecting and pleasing ourselves in the design of God the Father, that is why Jesus said "Father, if you want, pass this cup from me; but not my will, but yours." (Lc 22, 42).
Let us ask the Holy Spirit to grant us the grace to always be joyful, praying and grateful regardless of the circumstances, always accepting with faith, love and hope, the will of God. Amen.
▃▃▃▃▃▃▃▃▃▃▃▃▃▃▃▃▃▃▃▃▃▃▃
¡Paz y Gracia!
Peace and Grace!