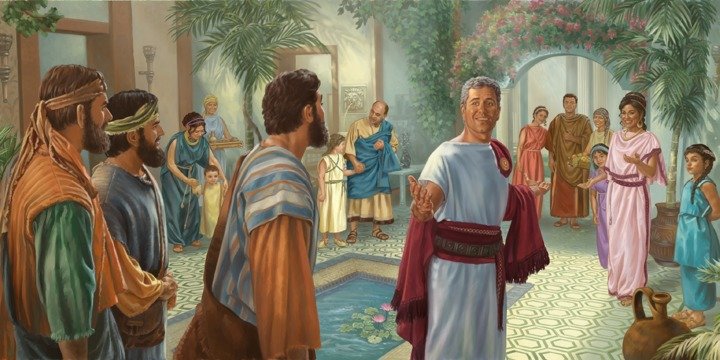 source
There is an Upright man by name Cornelius. The Bible described his of being God fearing, kind and prayerful. Due to that he has also made his family learn from him. He is noted to be given alms to people, especially the less privilege ones. Upon his dignity he held, he did not consider himself to be a great person, but humbled himself for God to use him. Being a Centurion who commanded his people in battle field, he still gave himself to God, obeying his principles accordingly. As Peter rightly put it: "I now realize how true it is that God does not show favoritism, but accepts from every nation the one who fears him and does what is right."
(Acts 10:34-35 NIV).
Indeed Cornelius feared God and followed the principles of God, that's why God also made his glory shine upon by revealing his vision to him. The Angels who went to answered, "Your prayers and gifts to the poor have come up as a memorial offering before God."(Acts 10:1-8) Cornelius was asked to do God a favour to send two of his servants to go and called Simon who was later call Peter to his House to narrate what God has revealed to him. Cornelius, noted to be a commander did it exactly as God spoke through the Angels to him.
Sometimes we get a lot of opportunities to occupy higher positions, at the Assembly level to the topmost positions, but let's access ourselves how we submit to the calling of God. How do we even treat our neighbors around us? We fill the position of King, Chief Justice, Lawyer, Army commander, but these positions can't give us life without the word of God. Though we hold higher positions, yet we can use our fields appropriately to worship God in that capacity. God will respect us much like Cornelius who did not consider having a lot of his servants who also bow before him, but saw that there is certain God who is above him, and after his death he will be accountable to him.
Beloved in Christ, let's weigh this and see. Our lives on this Earth will be meaningless if we do not worship God in truth and faithfulness. Within short time mankind shall leave this planet and how are going to live ourselves, the state we will be is the most important thing we should think about. Our salvation is very important, hence we should act accordingly.