A Serious Setback in Science. (EN - CAST) Un Grave retroceso en la ciencia.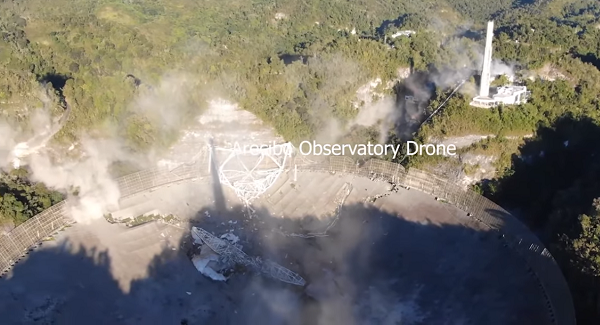 Souce
This year has been very sad and especially for science fans because of what happened on December 1, the legendary and enormous Arecibo Radio Telescope collapsed, since the national science foundation of the USA have published some impressive videos ( I can't stop looking at them) and also very sad.
If you want to know what it looks like up close when some cables are broken that are supporting hundreds of tons of tension, here is the video.
Este año ha sido muy triste y sobre todo a los aficionados a la ciencia por lo que sucedió el pasado 1 de Diciembre, el legendario y enorme Radiotelescopio de Arecibo se derrumbó, desde la fundación nacional de ciencias de los USA han publicado unos videos impresionantes (no dejo de mirarlos) y también muy tristes.
Si quieren saber cómo se ve de cerca cuando se revientan unos cables que están soportando cientos de toneladas de tensión aquí está el vídeo.
---
---
Thanks to the brave drones that he was timely recording right in the place where the cables would fail.
Gracias a los valientes drones que estaba grabando oportunamente justo en el lugar donde los cables fallarían.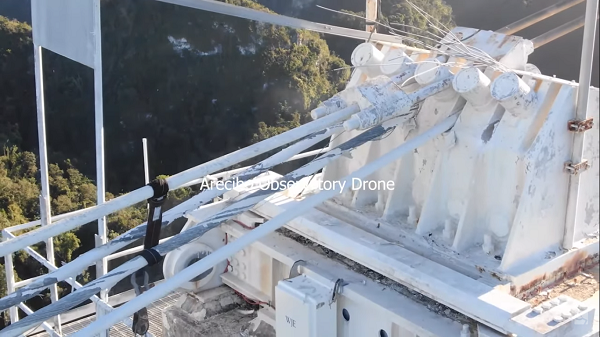 Souce
Here a cable that broke months ago is already missing, which means that the remaining cables are supporting more weight than they should have, you can see the paint lift when the cable wires start to burst; the cable bursts very violently and the chain reaction begins that collapses the entire structure, with only two cables left holding what they were supposed to hold 4 it is a matter of moments before they also burst, each cable falling on the plate of metal runs through it like paper.
The second shot from below or bowl of the antenna, can be seen when it collapses, it will seem that everything is moving in slow motion, it is not like that, it is normal speed, but because of the enormous scale of the structure and the tips of the concrete towers , seems to move very slowly; Fortunately, the people who were working in the complex were unharmed, although there was damage to the nearest buildings.
Aquí ya falta un cable que se reventó hace meses, lo que significa que los cables restantes están soportando más peso del que debían, se puede ver cómo se levanta la pintura cuando los alambres del cable comienzan a reventarse; se revienta el cable de manera violentísima y se inicia la reacción en cadena que derrumba toda la estructura, al quedar solo dos cables sosteniendo lo que debían sostener 4 es cuestión de instantes antes de que se revienten también, cada cable al caer sobre el plato de metal lo atraviesa como si fuera papel.
La segunda toma desde abajo o cuenco de la antena, se aprecia cuando colapsa, parecerá que todo se mueve en cámara lenta, no es así, es velocidad normal, pero por la escala tan enorme de las estructura y las puntas de las torres de concreto, parece moverse muy lentamente; afortunadamente las personas que se encontraban laborando en el complejo resultaron ilesas, aunque si hubo daños en los edificios más cercanos.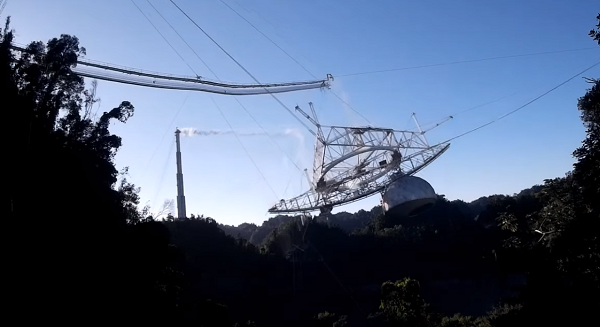 Souce
How impressive, not on a daily basis these enormous forces can be seen in action, this event is unfortunately not only a setback in our technological ability to observe space, but we are now a little more vulnerable to objects that could collide with the earth.
Personally, I am disturbed by so much negligence or neglect, all that could have been avoided, I read that the budget had been drastically reduced since 2007, everything points to its dismantling or collapse as it happened; But because they waited so long, and almost three months after requesting the first replacement cable, the second broke, reaching an irremediable point.
If there was no interest in maintaining the Radio telescope, a few years before a rational dismantling plan could have been programmed at least, it seems that it was a "plan" because now China reaches unstoppable supremacy with its FAST Radio Telescope with 500 meters in diameter and in fully operational since January 11, 2020, it does not seem strange!
Qué impresionante, no a diario se pueden ver estas fuerzas tan enormes en acción, este suceso desgraciadamente no es sólo un retroceso en nuestra capacidad tecnológica de observar el espacio, sino que ahora estamos un poco más vulnerables a objetos que podrían chocar con la tierra.
Personalmente me altera tanta negligencia o dejadez, se pudo haber evitado todo eso, leo que el presupuesto se había ido reduciendo drásticamente desde el 2007, todo apunta a su desmantelamiento o colapso como ocurrió; pero porque esperaron tanto, y a casi tres meses después de haber solicitado el primer cable de reemplazo ocurrió la ruptura del segundo, llegando un punto irremediable.
Si no había interés de mantener el Radio telescopio, unos años antes se pudo haber programado un plan racional de desmantelamiento como mínimo, parece que fue un "plan" porque ahora china alcanza la supremacía imparable con su Radiotelescopio FAST con 500 metros de diámetro y en pleno funcionamiento desde el 11 de enero de 2020, no les parece extraño!.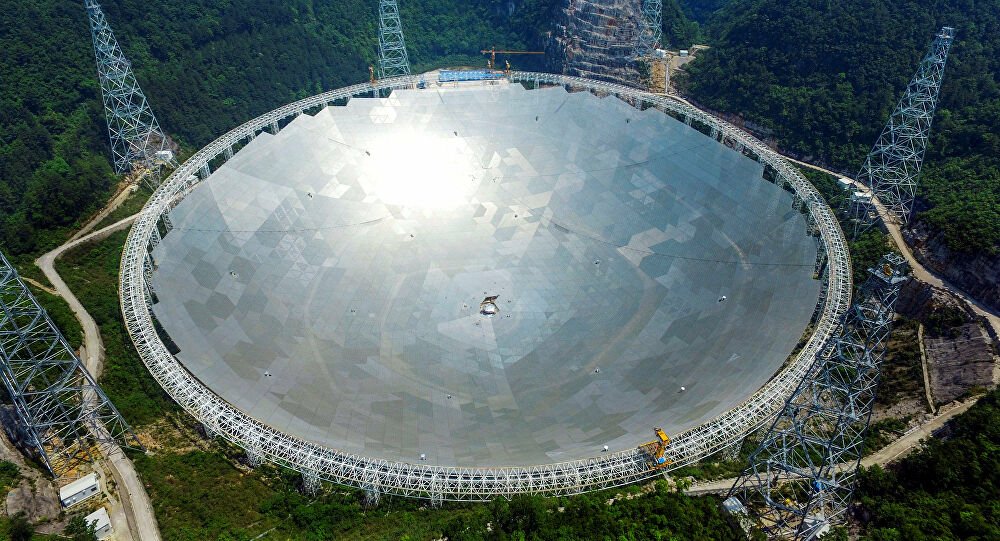 FAST radio telescope Souce
---
---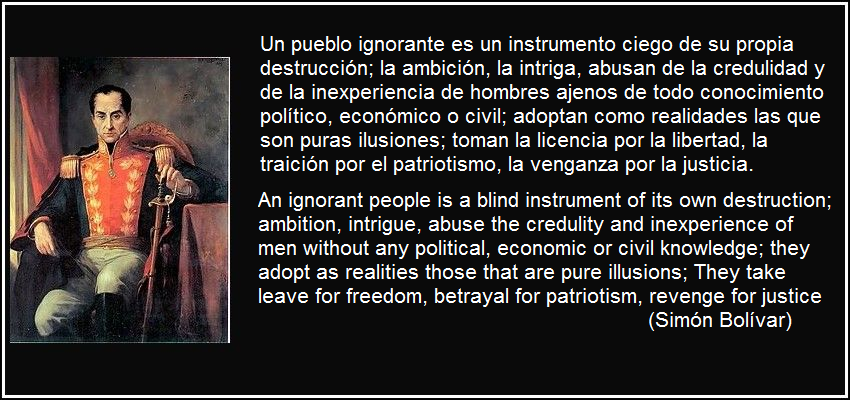 ---
---
Thank you for visiting my blog. If you like posts about
#science
,
#planet
,
#politics
,
#rights
#crypto
,
#traveling
and discovering secrets and beauties of the
#universe
, feel free to Follow me as these are the topics I write about the most. Have a wonderful day and stay on this great platform :) :)
Gracias por visitar mi blog. Si te gustan las publicaciones sobre
#ciencia
,
#planeta
,
#politica
,
#derechos
#crypto
,
#traveling
y descubriendo secretos y bellezas del
#universo
, siéntete libre de seguirme, ya que estos son los temas sobre los que más escribo. ¡Tenga un día maravilloso y siga en esta gran plataforma :) :)