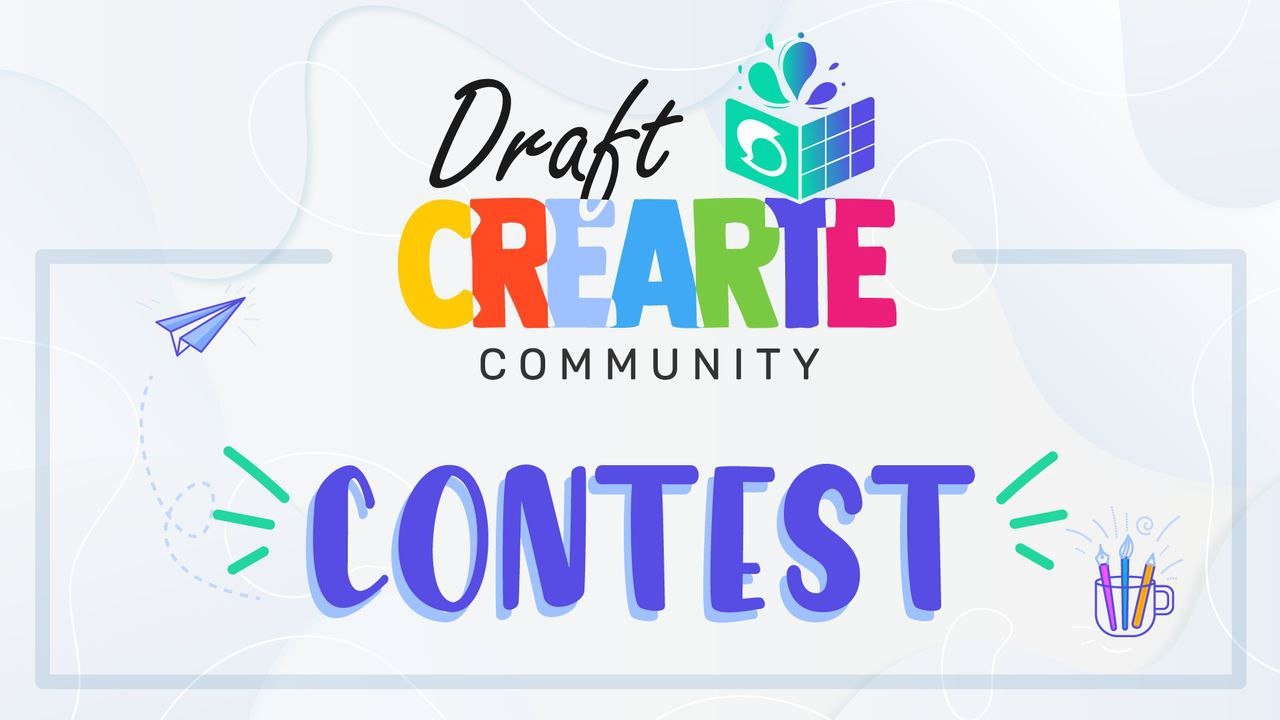 Contest # 16 has ended with 13 participants who complied with the rules established in the contest. The community grows day by day and this is thanks to you, today we have 2,439 subscribers !!
Without further ado, let's keep looking at the valid entries for this contest:
The theme of this contest was "Create beautiful souvenirs by recycling glass jars.".
---
2nd place🏅 10 STEEM
Hola amigos creativos en esta oportunidad quiero presentarles mi participación en el concurso N° 16 que se ha venido desarrollando en esta maravillosa comunidad sobre materiales reciclado y en esta ocasión se trata de crear un souvenirs usando como base envases de vidrio. El motivo del souvenirs que escogí fue sobre unicornio.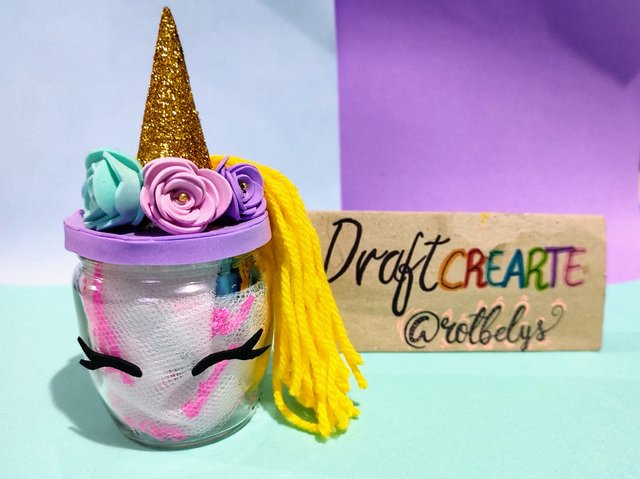 Concurso: Crea hermosos recuerdos reciclando frascos de vidrio. // by @rotbelys
3rd place🏅 8 STEEM
Nuevamente estoy participando en otro maravilloso concurso de nuestra querida comunidad DraftCrearte. En esta ocasión el desafío es reciclar un frasco de vidrio y transformarlo en un bonito souvenir. Para realizar el Souvenir utilicé un frasco de vidrio que era de una pasta de tomate y decidí realizarlo con el tema de la navidad, ya que se aproxima las fiestas navideñas y nos sirve para regalar a familiares y amigos.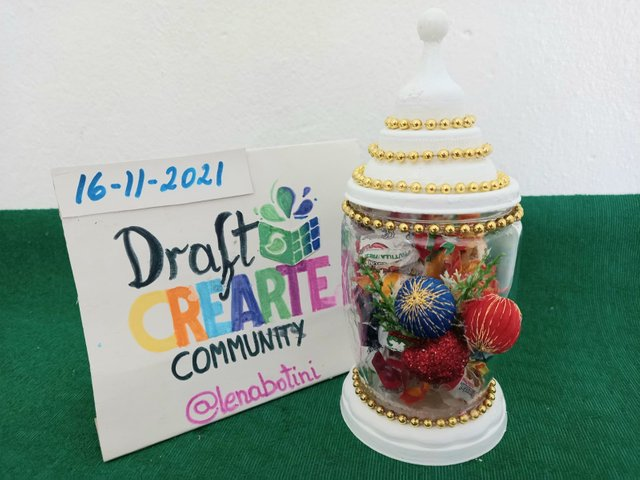 Concurso: Crea hermosos recuerdos reciclando frascos de vidrio // by @lenabotini
---

We are pleased to announce a new dynamic for the contests that we organize each week. Our members have shown us that they are capable of inspiring others with their beautiful creations and a very good job structuring their posts. For this reason we decided to select a post from an active member each week to be an example of a new challenge of DraftCrearte.
Conditions for your publication to be selected:
Present us well structured posts as tutorials where everyone can learn simply.
Must adhere to community content creation rules.
Be a proactive member.
Benefits of being selected:
The first benefit is that your work will inspire others to create.

Your post will receive a positive vote from the booming team

You will receive 10% of the rewards obtained by publishing the @crearte contest.
The selected member will have a special task which will be to promote the contest to achieve the greatest amount of participation. This will be your job and your success!
---
Now yes, without further ado we will see what our new contest is about...

Create an art using hot silicone.
This time you will be challenged to create an art using hot silicone. You can choose any motive and any surface to make it. Use your imagination and surprise us!
On this occasion, our inspiring artist is @lenabotini, with her post on How to make a decorative painting! with hot silicone. You can be guided by his tutorial to make your entry to this contest, go visit it and get inspired. Remember to give love with a great comment.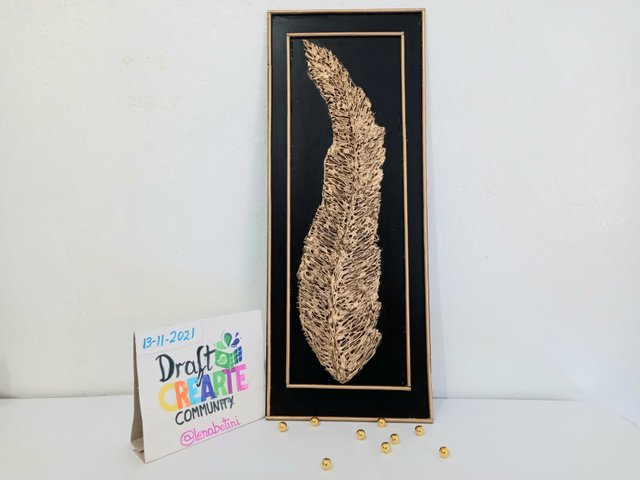 ---

GENERAL RULES
Please read the following rules carefully:
To participate in this contest your account must be verified in our community.
The title of the post should be: Conteste: Create an art using hot silicone. // by @youruser
The Main image of your publication must be the photo of the Final Result of your work.
Include the process by placing at least 5 PHOTOS + FINAL RESULT + SELFIE (You must use your "DraftCrearte" poster, with your username).
Include the tags: #contest18-draftcrearte #draftcrearte #contest #steemexclusive
Be sure to post your entry in the DraftCrearte community.
You need to share your entry on social media by inviting other people to participate. It is necessary that you place the link that redirects them to the contest. Use the tags:
#steemit #crearte #draftcrearte. Also, tag the @DraftCrearte account.
Take a screenshot of your promotion on social media and post it in the comments of your post.
Tag three active Steemit users who do not belong to this community. (NOTE, The idea is to tag in advance so that the invited user has time to participate).
It is necessary to give reestemd.
Comment on the entries of the other participants.
If any type of plagiarism is discovered, the user will be disqualified, and all future DraftCrearte contests.
We accept entries in English and Spanish.
---
Aspects to evaluate:
| Originality-creativity | Photo quality- | art presentation | Step-to-step | Comply with the rules |
| --- | --- | --- | --- | --- |
| up to 3 points | up to 2 points | up to 2,5 points | up to 1,5 points | up to 1 points |

| 2nd place🏅 | 3rd place🏅 |
| --- | --- |
| 10 STEEM | 8 STEEM |
| 4th place🏅 | 5th place🏅 |
| 5 STEEM | 5 STEEM |
---
This contest ends on Friday 26 at 11:59 pm (Venezuelan time) and the winners will be announced the next day, which will be chosen by a group of active members on our Discord channel.
---
DraftCrearte could not be successful without committed members who proactively work for the common good. Decide to be the protagonist of this beautiful project and not just another spectator.
---
Do you already know our dynamics on the Discord channel?
We invite you to participate, do not continue to miss a pleasant environment with a lot of learning.
We invite you to join our Discord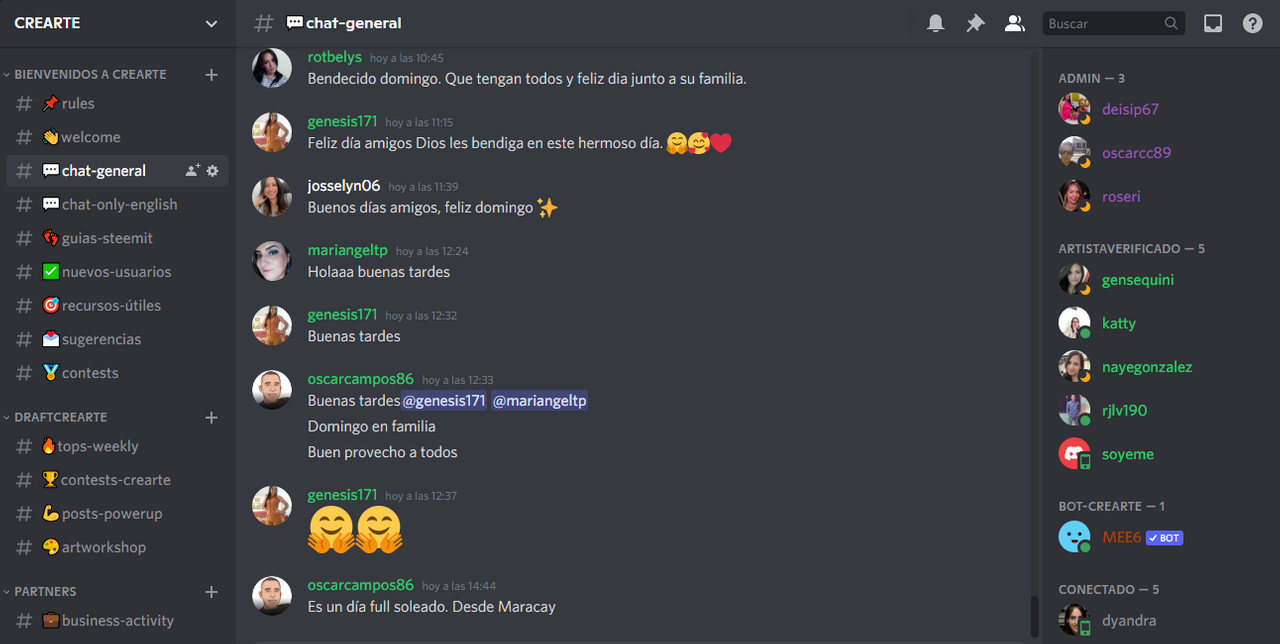 Are you new and would like to join the community? Visit the following post for more details.
https://steemit.com/hive-109427/@crearte/updated-getting-started-in-the-draftcrearte-community-or-general-rules
Links to support our DraftCrearte community via SP.
Social Media:


@steemcurator01
...