Greetings to the readers, in the present opportunity I come to share some information regarding the RobiniaSwap project, as many already know this is a project of DeFi features, designed to perform the a Stake process in the currency of our preference, in its two modalities, the first which is the pool where we only invest in a token, and the second which is the farm where you must invest in two tokens, regardless of the decision our earnings will be in RBS.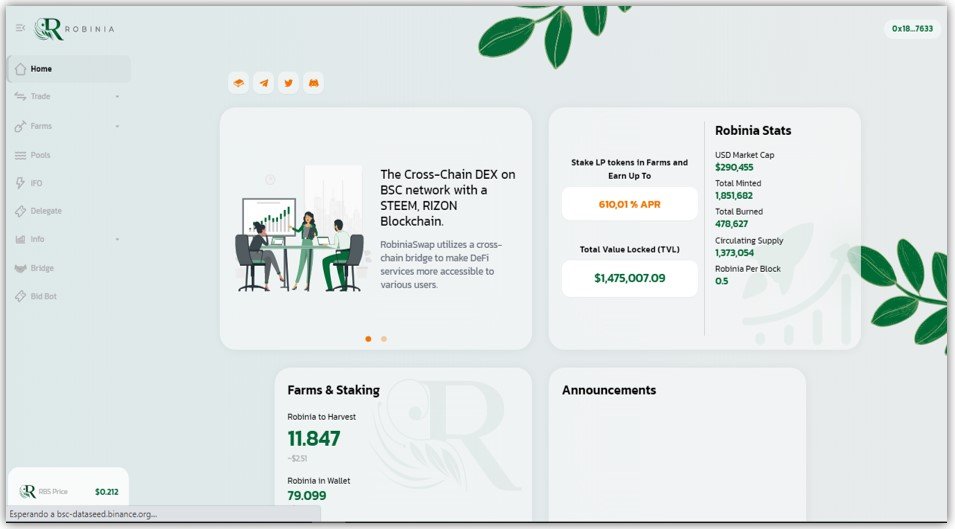 The image used is from Public Domain, Author: Robinia
---

---
The RBS is the native token of the RobiniaSwap platform, when performing the Stake process in any currency, we are going to be generating interests that come to be our profits, these interests are received in RBS, so we must project our profits and market strategies in this native token of the platform, that is why the need to perform a constant evaluation of what its price can do.
Now, what is the way for a token to increase its value in the market? Generally there are several ways, one of them is to generate confidence to attract investors to buy large amounts of tokens by investing their money, and another way is by burning tokens, the less tokens are offered to the market, the value of the token for new investors tends to increase, being a way to value a coin at a higher price.
On the other hand, among the options that we can get in the menu of the main page of RobiniaSwap, there is an option called BidBot which is currently disabled, this option may represent the way to burn tokens in the market, and achieve that the RBS is revalued, we must be very attentive to the next updates generated by the creators of the platform, since in these we can find that enable the option and can revalue the RBS token.
---

---
This token has maintained a constant price in the market for some time, accumulating capital and attracting new investors, it is the opportunity to acquire more coins and generate more interest while waiting for its price to increase, and the opening of the other options that are handled on the platform, being a project that still lacks many potentialities to develop and discover, we must only be patient and wait.
---

---
---

---
All the images used by the Author @Chucho27 are Public Domain, in each one of them you can find the source of the image.
The image of the Banner at the bottom, is in the public domain obtained from: PixaBay