Source: ESR, (2021)
Introduction
Today I present Esportref (ESR), an exciting new dApp just announced on High Performance Blockchain (HPB). The HPB community has been awaiting this launch for a few months and has been subject to some teasers and interactive competitions to win some ESR. For those not in the HPB community who are lovers of the gaming industry, I urge you to keep reading. In my opinion, ESR is aimed at both crypto investors and gaming enthusiasts, who may not be involved in the crypto sphere.
This article will draw most of its information from the whitepaper and cross-reference it against other published sources. As with all whitepapers we need to be sure we are being sold the correct information. Some of my long-term readers may remember my Whitepaper reviews from a few years ago. My style is to always read up on details before I put my money into a project, so I hope this article at least helps some of you to make up your mind whether this is for you or not. As most information is taken directly from the whitepaper, full credit goes to the Author and Developer of ESR Jeff.
The ESR Grand Reveal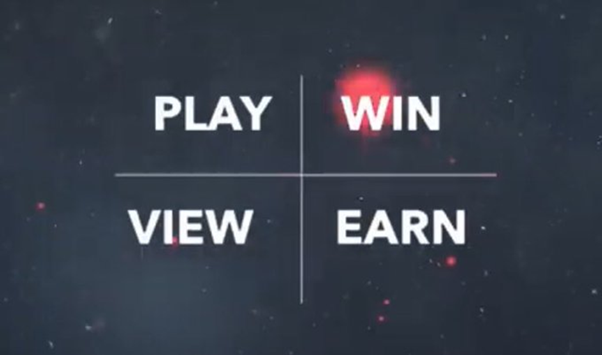 Source: ESR, (2021)
ESR was a closely guarded secret for the past few months within the HPB community. I could not guess what ESR was all about, some in the community may have hit the nail on the head in terms of the industry focus, but I would wager they were far off the mark on the niche area it is targeting within the E-Sports/E-Games space.
ESR stands for "E-Sports-Referee". The Platform is called Esportref. I will explain the huge significance of this industry below, but it is aiming to zone in on a niche area not currently exploited by any other project. In short, the platform will match normal gamers to viewers on streaming platforms, by offering these viewers an opportunity to act as referees on the games, and earn while doing it.
I have read through the whitepaper, but as a non-gamer myself I feel the urge to understand the industry more before summarising the whitepaper and showcasing how this platform will work. For those of you into E-Sports/E-Games feel free to skip the next section.
The ESR Target Market
The whitepaper zones in on the booming E-Sports and E-Gaming markets. My review of the existing research in the market substantiates the whitepapers claim that they are booming industries, they do overlap to a large extent but are different so let's split them in two and examine.
E-Sports

Source: ViewSonic, (2021)
Elchison, (2019) defines E-Sports as multiplayer sports games played by professional gamers competitively for spectators, mostly in live events with fans in attendance and live-streamed. It is a heavily commercialised sector and draws huge media attention. E-Sports "athletes" train hard, even using training facilities and nutritionists to be on top of their game, as it attracts huge fame and prize pools to play for.
Today, Large sporting bodies, sporting celebrities, and venture capitalists are heavily investing here.
The number of venture capitalist investments in E-Sports doubled in 2018, going from 34 in 2017 to 68 in 2018, in dollar terms this was a staggering $4.5 billion in 2018 vs $490 million in 2017 an 837% growth (Deloitte, 2021).
This investment is distributed to players, E-Sports organisations, tournament operators, and digital broadcasters (Reyes, 2021). E-Sports in 2021 is a fully-fledged complex digital ecosystem.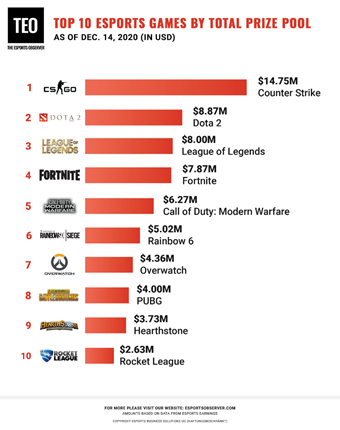 Source: (Stern, 2020)
As seen above, the prize pools are huge! noting that the above represents 2020 data, which drastically fell due to cancellations due to covid-19. Stern, (2020) adds that these prize pools jumped 30% from 2018-2019 to $211 million compared to the $65.5 million in 2020, as indicated in the chart above. Hall, (2020) claims that large sporting bodies moved to E-Sports investment during 2020 to keep fans engaged while cancelations ensued, for example, the NASCAR racing series, with their events attracting up to 1.3 million viewers.
Total E-Sports viewership is expected to grow at a 9% compound annual growth rate (CAGR) between 2019 and 2023, up from 454 million in 2019 to 646 million in 2023, per Insider Intelligence estimates. (Reyes, 2021)
The trends do point to an upward trajectory from 2021 again. Reyes puts forward that most projections put revenue for 2021 surpassing $1 billion and $1.8 billion by 2022. One only needs to see the huge inflows from media rights, live event ticket sales, sponsorship deals, and advertising revenue to see this is true.
E-Gaming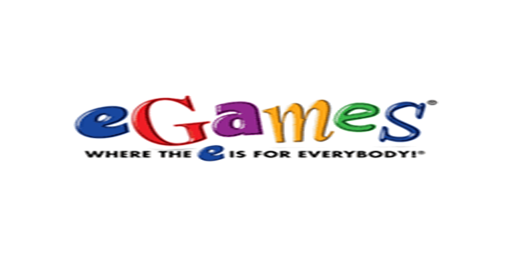 Source: (Crunchbase, 2021)
Elchison, (2019) defines this sector as "Gaming for Entertainment for Everyone", often overlapping E-Sports Games but occurring outside officially sanctioned E-Sports events. Some of these E-Gamers utilise live streaming platforms to entertain their fan basses making them content creators but the distinction is they are not E-Sports athletes. To give some perspective some top E-game streamers cannot get into E-Sports events. There is a huge skill-level gap between the two, E-Gamers are entertainers and E-Sport athletes are experts in their field or game of choice.
E-Gaming attracts a lot more niche games and viewers which do not suit E-Sports, including a huge number of mobile games. Reyes, (2021) and Hall, (2020) put the mobile E-Gaming market share between 45%-48% of the total E-Gaming market.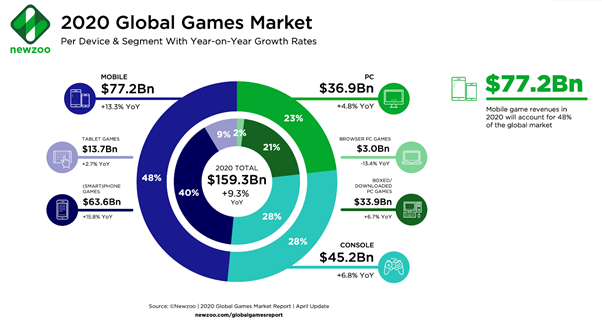 Source: Hall, (2020)
Hall, (2020) indicates in the above chart that the video game market hit $273.5 billion in revenue in 2020, 4 times that of box office revenues and 3 times that of music industry revenues. Asia is leading the charge with 50% of the market, with North America and Europe the next largest. Hall, (2020) suggests that the covid-19 pandemic boosted engagement with video gaming, whilst E-Sports took a hit. Revenues for gaming companies saw huge growth in 2020, evidently because many people dusted off the gaming consoles and PCs to engage in social interactions.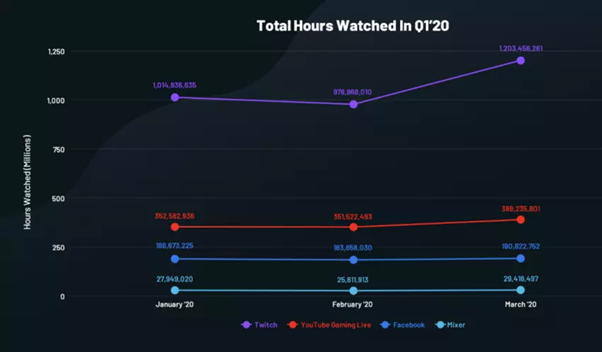 Source: Hall, (2020)
My research suggests it is the social aspect of these gaming events that is driving the huge growth. Video gaming streaming Platforms such as Twitch, YouTube Gaming, and Facebook Gaming saw a 20% growth rate in 2020 (Hall, 2020). They are giving the average viewer a connection to these events and players. Evidence in my research indicates that watching gaming streams is now as big as gaming itself. One only needs to see the followers of some of these gamers to know there is a huge appetite for this.
There is also a huge shift to monetise E-Gaming, offering free-to-play schemes to onboard new users and make use of advertising. The E-Games market is also collaborating with the entertainment sector, for example, a recent Fortnite Rap concert in their game attracted 30 million live viewers.
Does the ESR whitepaper claims stand up?
The ESR whitepaper touches on all of the above, I intentionally looked at alternative research to investigate. Both sets of research correlate. There is a clear uptrend in this industry, which is why I think that ESR targeting the E-Sport/E-Game gamer and viewer niche is a great idea.
This space is being popularized and legitimized unpredictably and profoundly, thanks to the unprecedented, and accidental adoption of E-Sports by broadcasters, leagues, and athletes seeking to engage fans, thanks to covid-19 (Hall, 2020).
ESR will go a step further and allow casual viewers of these E-Games and E-Sports events to earn whilst watching! I also agree with the whitepaper stating that cheating in E-Games is a huge problem, thus making play-win models tough for the average E-Game events. The introduction of a referee is the perfect solution.
As for the whitepaper's viewpoint on differing regulations and gambling laws across the globe, ESR also aims to solve this problem by offering NFTs in place of crypto as winnings. This kind of workaround speaks volumes to the thought that went into making this an all-inclusive platform. More on this in Token Economics below.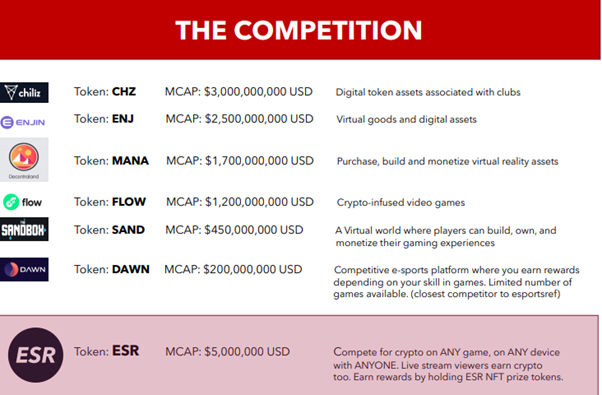 Source: ESR, (2021)
As for the competition, it certainly seems like ESR has no major competition in their niche area. The market cap differences are what is catching my eye! Although, this kind of "Play to Win Model" is currently in operation across the E-Sports and E-Games industry, the smaller 1-1 gaming community lacks this level of competition, and viewers are ignored. It certainly seems that ESR is on the right end of a huge emerging market.
How the Esportsref Platform will work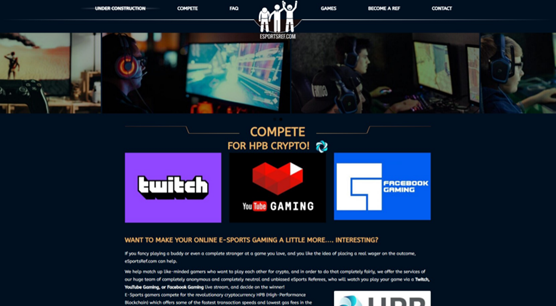 Source: ESR, (2021)
The Alpha version is still under development but the whitepaper states the platform will match Referees (Viewers) with Gamers on any skill-based video games, using any gaming device as long as it can be live-streamed via Twitch, YouTube Gaming, or Facebook Gaming. The platform will be used to enforce the rules once the game has started. In summary, it seems to be designed to work via the following steps (ESR, 2021):
Gaming viewers register on the platform, to view and referee games of their choosing.
Players also register, verifying their age to prevent underage gambling.
Players of any game and differing rule sets enter the platform and agree to play via a chat function, where they can agree on different rule sets and make the game as unique as they wish.
High Performance Blockchain (HPB) Hardware Random Number Generation (HRNG) selects a referee from a pool of available participants. (See my previous articles to understand how HRNG works). This is done via a smart contract.
The chosen referee enters the chat area to interact with players and get familiar with the rules.
Once the game starts and the live stream starts the referee gets full control of the smart contract. They observe the live stream, ensuring players are abiding by the rules agreed in the chat.
Once the game concludes the referee releases the smart contract, the winner takes his/her prize and the referee gets his 3% fee automatically.
Players will have the option to dispute the results if they wish, if this occurs the smart contract is paused and an ESR admin will look at the dispute and decide the winner.
Token Economics

Source: ESR, (2021)
As with all utility tokens, it is vital we know how they are used on the Platform. Esportsref accepts HPB or ESR as payment on the platform, however, the use of ESR is incentivized. The token itself is an HRC-20 token which is ERC-20 compatible (See my previous articles to understand this). To use Esportsref users need to have a positive balance of ESR. I love the way the users have different options to use Esportsref:
If users play for HPB the fees are 5% of the game stake including a 3% referee fee. This is straight forward offering no more benefits.
If users play for ESR the fees are 4% of the game stake including a 3% referee fee. ESR is further incentivised by the addition of "ESR burning" at a rate of 0.05% of the developer fee (not player winnings or referee fee). ESR, (2021) explain this via an example, if 2 players stake 500 ESR each, the winner will take 960 ESR tokens (96%), the referee 30 ESR Tokens (3%), and the developer 10 ESR tokens as a fee, of which 0.05% will be burned (0.005 ESR tokens).
If users play for HRC-721 NFTs in place of HPB or ESR, they still need to pay the entry fee in either HPB or ESR as above. The value of the NFT prize is determined by this choice, if HPB is used the NFT is valued at 95% of the total game stake, and if ESR is used it is valued at 96%, again incentivising using ESR. This value is minted into the NFT. Using ESR is further incentivised here because if you choose this then you can gain ESR airdrops valued at 0.5% of the initial entry fee, every 30 days (after an initial 90-day lock-up period) for up to 24 months, as long as the NFT is held in the initial ESR entry address. These NFTs can be held as trophies on the platform, sold back to Esportsref via their buyback initiative at the value of the game entry fee minus a tiny transaction fee, traded on NFT platforms such as iNFT, or exchanged for Esportsref merchandise and access passes. This is the solution mentioned above for legal issues surrounding gambling.
Esportsref will peg any airdrop rewards to the initial entry fee dollar value ensuring early access will be beneficial. As the platform grows and the value of ESR grows less ESR will be airdropped. ESR, (2021) provides an example:
If ESR tokens are worth $0.1 and 500 ESR tokens are staked by 2 players, the 1000 total tokens at an airdrop rate of 0.5% yields 5 ESR tokens per month. If the value of ESR increases to $1 in this same example 0.5 ESR tokens will be airdropped, but the same monetary value will apply.
I like the token economic model. I can see this project gaining a lot of interest from gamers and viewers.
ESR Token Distribution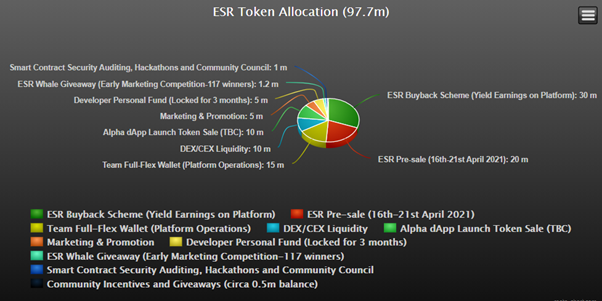 The above charts present's the distribution of the 97,706,651 (97.7m) ESR from the developer's supply when ESR launched its Pre-Sale Event. Please note that there were already 2,293,349 (2.3m) ESR in circulation across 106 wallets before this date, this was from early-stage marketing on HPB to drive up interest.
The token Pre-Sale ended with 15.5 million ESR sold worth 1.55 million HPB, 4,406,448 ESR tokens were burned on April 21st, 2021, reducing the overall supply to 95,593,552. Overall, I like the token allocation, there is a clear focus on platform operations to incentive users coupled with a great focus on DEX/CEX listing and marketing to drive growth. This coupled with the burning of ESR on the platform provides a great economic model.
Growth Plans
ESR will be fully committed to community governance in line with HPBs governance model (See my HPB Governance article). On the 21st, April 2021 the developer released a statement of intent stating his community governance pledge, he also announced a great team of senior advisors of core HPB community members and announced an AMA with the HPB China TG group for the following week. It is clear to me that Esportsref is banking on the huge HPB community helping the project excel.
There will be a huge focus on marketing which I am hyped about. ESR already has the backing of HPB management. The next few weeks will consist of smart contract and dApp development.
The roadmap shows that the Esportsref alpha will be ready by Q2 2021 at which time there will be a heavy focus of onboarding interest from referees. By Q3 2021 the full webpage and dApp will be launched at which time there will be a huge focus on targeting sports companies and ambassadors (ESR, 2021).
Exchange Listing Plans
I am amazed by the speed of ESR development, throughout writing this article updates keep coming, so apologies if this article is outdated after a couple of days. The whitepaper presents a commitment to List on the MyTrade DEX (See my MyTrade article) as soon as possible and then push for CEX listings as soon as practicable.
Keeping in mind that ESR only launched its whitepaper on 19th, April 2021, extraordinarily by the 20th, April 2021 ESR announced a CEX listing process with Bibox and MXC and was preparing applications for GATE.IO and Indodax. They also committed to trying Kucoin. By this date, ESR was already in talks with the MyTrade DEX for listing an HPB/ESR pair.
By 21st, April 2021 Esportsref had a formal offer from Bibox for an ESR/USDT listing with a reduced listing fee as they clearly see the potential of E-Sport/E-Gaming projects. I feel this will be a huge listing as Bibox will provide a lot of advertisement and will potentially offer airdrops of ESR to Bibox users to promote the listing. They seem hungry for this listing. Keeping in line with the ESR community governance pledge, there is a vote currently taking place whether to accept this offer or not, which looks like it will pass.
I just can't believe the pace of this project and the drive of the ESR developer. ESR states that their focus is on quality over quantity of exchanges so they will not list on all. In my opinion, the last thing ESR needs is diluted liquidity across multiple exchanges at an early stage. What I would like to see is Bibox CEX and MyTrade Dex listings for now and let natural growth ensue.
Why launch on HPB

Source: Hpb.io, (2021)
Please read my previous articles to understand why HPB offers a far superior launchpad for dApps than Eth and other EVM-compatible smart contract chains. As we all know dApps built on ETH have insane Gas fees, HPB offers a fraction of the cost and provides a huge amount of advantages, such as:
Speed: HPB offers 5000 TPS vs ETH's 15 TPS, ensuring better dApp performance.
Lower fees: HPB fees are lower than 0.01 USD vs ETH's roughly 30 USD, without this the economic model would not be viable. People won't pay extra for insane fees. For some perspective the early "Whale Giveaway" marketing competition shown above for ESR resulted in 117 winners, all of these transactions cost the developer 0.0446 HPB, at the time of writing the cost of sending these 117 transactions to winners cost less than $0.01 in total.
True Randomness: HPBs HRNG is essential for fully unbiased referee selection. No other blockchain has this capability.
Conclusion
I am not much of a gamer but I like to think of myself as a savvy investor. My personal style is to research a project in full before buying, but I also like to invest in people. Jeff the developer comes across as an extremely trustworthy, driven, and passionate person. I am a firm believer that passion can excel even the greatest project ideas. I have often invested in ICOs over the years based on my gut instinct on the team, coupled with the ESR niche market focus in the E-Sports and E-Games space, this makes Esportref a great project in my opinion.
I think the Esportref platform is a great project in a huge emerging market. This article substantiates the claims made in the whitepaper making it a viable project in my opinion. I love the platforms economic model; it seems like an extremely well-thought-out model. I am also extremely impressed with the fast-paced growth plans including already having exchange listing plans. I am also heavily invested in HPB and I see this as a huge catalyst for growth for both ESR and HPB.
I think this project will attract crypto and non-crypto focused users, one of the first times I have come across such a model. ESR is definitely a project on my radar for 2021. Please check out the links below if you wish to do your own due diligence.
Further reading
References