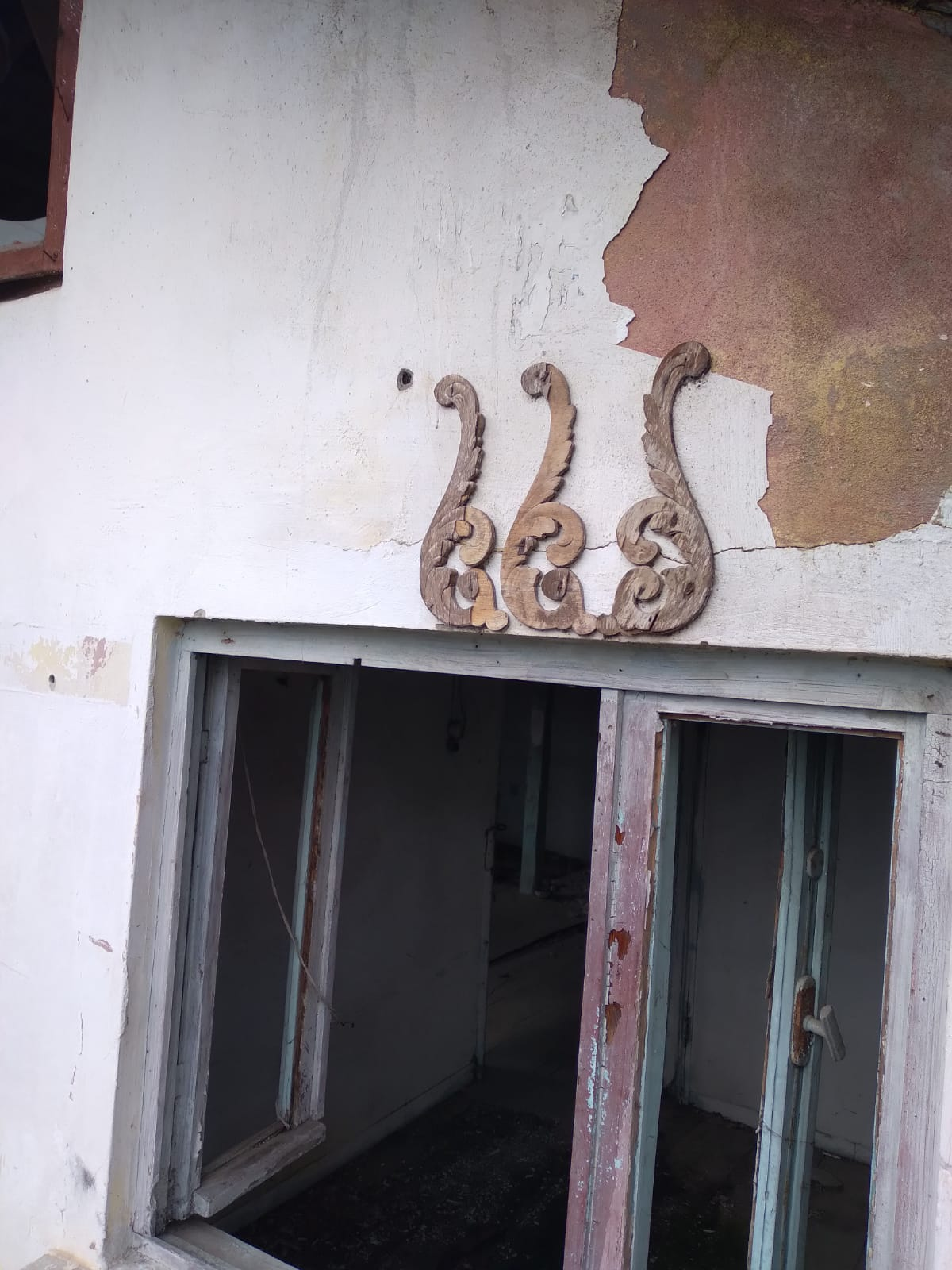 Hello Friends;
I want to write to you about an abandoned house. I am located in Akyazı district of Sakarya city of Turkey. I came here for a temporary job. Here; It is a place where the sky is clear due to its greenery, nature and horizontal urbanization. It is one of the places where you can see far away. However, like many other cities in Turkey, there is a rapid urbanization and competition for high-rise buildings. Maybe for another decade people living in the city center will enjoy the wide sky. It's a nice place, but it can be a bit difficult for someone who is used to big cities to spend time there.
I wanted to write to you the photos of a house that was left in the field of the factory where I worked, where someone who used to work in this factory once stayed, and which was abandoned about thirty years ago, and what I felt while visiting there.
Merhaba Dostlar;
Sizlere terk edilmiş bir ev hakkında yazmak istiyorum. Türkiye'nin Sakarya şehrinde Akyazı ilçesinde bulunuyorum. Buraya süreli bir işte çalışmak için geldim. Burası; yeşilliği, doğası, yatay şehirleşmesinden dolayı gökyüzünün açık olduğu bir yer. Uzakları görebildiğiniz yerlerden birisidir. Ancak Tükiye'de bi çok şehir gibi burada da hızlı bi kentleşme, yüksek binalar yapma yarışı var. Belki bir on yıl boyunca daha şehir merkezinde yaşayan insanlar geniş gökyüzünün tadını çıkarırlar. Güzel bir yer, ancak büyük şehirlere alışmış birisinin buralarda vakit geçirmesi biraz zor olabilir.
Sizlere çalıştığım fabrikanın sahasının içerisinde kalmış, eskiden bu fabrikada çalışmış birilerinin bir zamanlar kaldığı ve yaklaşık otuz yıl önce terk edilmiş bir evin fotoğraflarını ve orayı gezerken hissettiklerimi yazmak istedim.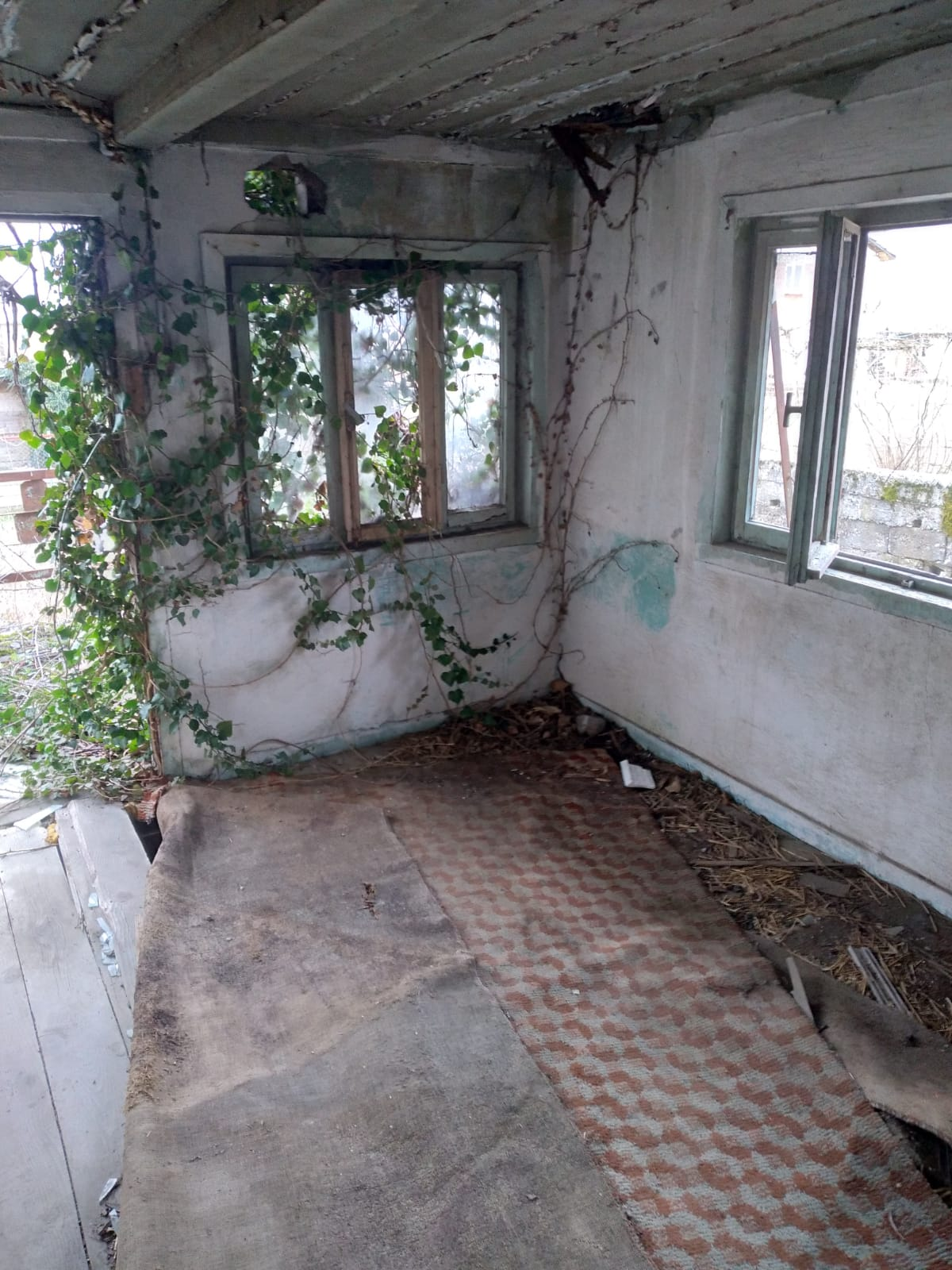 I guess this house; Due to the fine of the factory in 1990, it was abandoned when the factory was closed for a long time. House; outside completely covered with grass. Even climbing the thorny-grassed stairs is as if they wanted the place to be surrounded by thorns because they didn't want anyone to come after them. Let them keep their own memories, so that no one can see the last remains they left... There is a king's crown symbol made of octopus arms on the entrance door of the house. Maybe we will never find out which member of the house was hanged for what. A father who wants to show off, or a teenager who dreams of being a king during his adolescence? The first entrance is probably the hall where guests come and sit. Generally, in the old Anatolian houses, the place where the guests were hosted was the large halls near the entrance door. They shouldn't see the further parts of the house, they shouldn't go too far into privacy...
The carpet on the floor may be the last carpet they printed. Because if we think that they left the front door, the last place they step on is the doorway, where they turn and look back... Who knows where these people who lived here once, were sitting in the house, small children were running around in the house now? Which ones live? Their separation, the ivy started to come in from the door. The vines that have started to claim the house.
*Tahminimce bu ev; fabrikanın 1990 yılında yediği cezadan dolayı, fabrika uzun bir süre kapalı kalmaya başladığı dönemde, terk edildi. Ev; dışarıdan tamamen otların sardığı bir durumda. Dikenli otlarla kaplanmış merdivenleri çıkmak bile, sanki terk eden kişilerin kendilerinden sonra kimsenin girmesini istemedikleri için buranın dikenlerle çevrelenmesini istemişler gibi. Kendi hatırları sadece onlara kalsın, bıraktıkları son kalıntıları kimsenin görmemesi için... Eve giriş kapısının üzerinde ahtapot kollarından kral tacı sembolü var. Evin hangi bireyi ne için astı, belki de hiçbir zaman öğrenemeyeceğiz. Kendince bir şeyler göstermek isteyen bir baba mı, yoksa ergenlik döneminde krallık hayalleri olan bir genç mi? İlk giriş muhtemelen misafirlerinde gelip oturduğu salondur. Genelde eski Anadolu evlerinde misafirlerin ağırlandığı yer giriş kapısına yakın geniş salonlar olurdu. Evin daha ileri kısımlarını görmesinler, mahremiyete çok ilerlemesinler... *
Yerde ki halı son bastıkları halı olabilir. Çünkü ön kapıdan çıkıp gittiklerini düşünürsek son bastıkları yer, dönüp arkaya baktıkları kapı girişi... Kim bilir bir zamanlar burada yaşamış, evin içerisinde oturmuş, küçük çocukların evin içerisinde koşturdukları bu insanlar şu an nerede? Hangileri yaşıyor? Onların ayrılıkları kapıdan sarmaşıklar içeriye girmeye başlamış. Evi sahiplenmeye başlamış sarmaşıklar.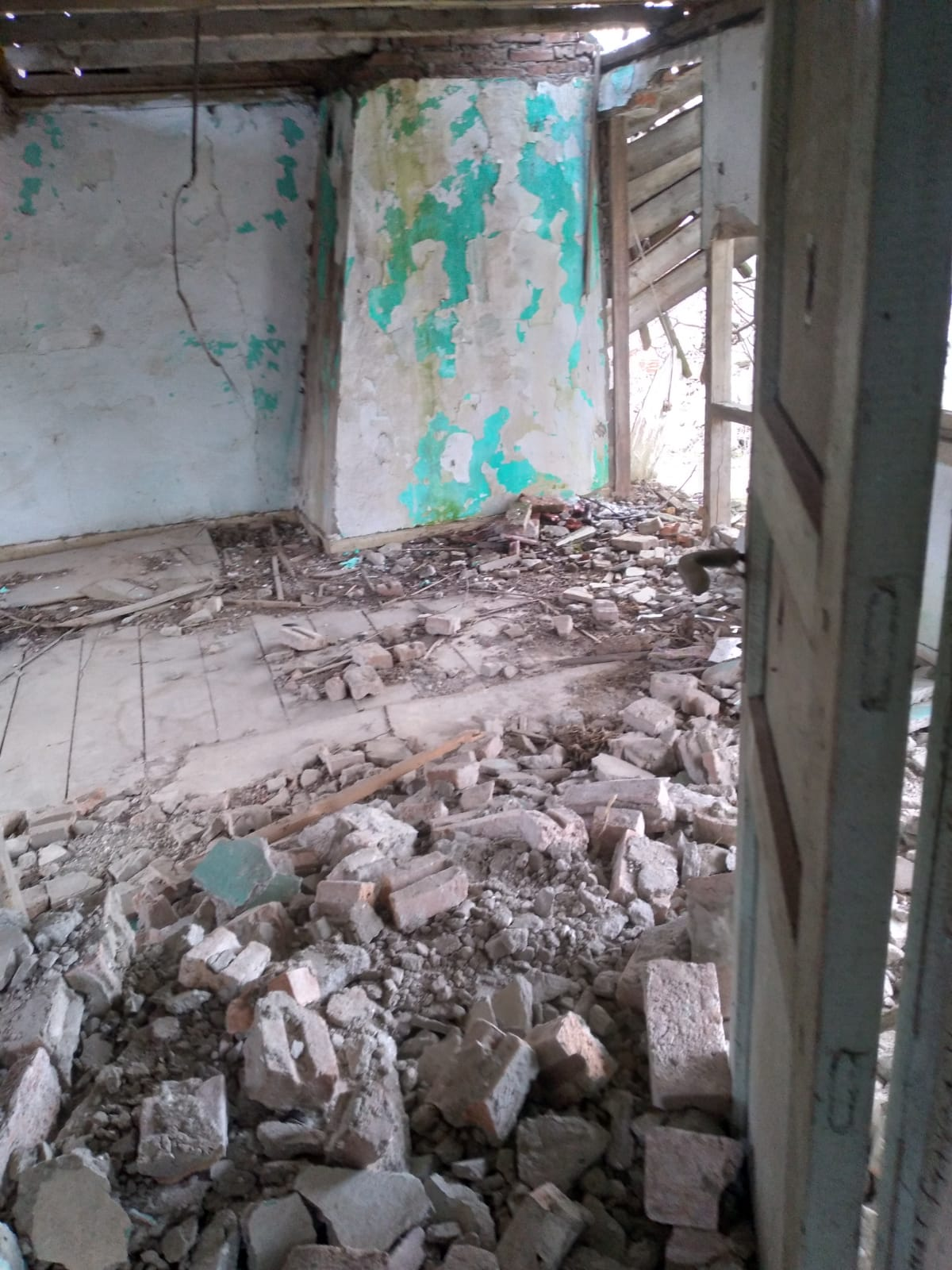 A second room at the back is filled with piles of rubble that has collapsed from the ceiling and walls. Well, a house; When it contains someone inside, it does not become a pile of rubble in this way, why is it poured after it is abandoned? An earthquake struck this city, but can we basically just say that this is the reason? Have we ever thought; wonder the walls, ceiling and floor; He does not want to think that someone is living in the house and destroy it. Perhaps because of their devotion or love for their household; the walls, ceiling and floor did not want to collapse while they were alive.
The state of the outbuilding below can be seen from the hole drilled in the floor. It is completely covered with grass. Nature is patient. It does not intervene immediately to return to its former state. For thirty years, the vines have yet to reach the entrance of the house. They are not destructive like humans.
Arka tarafta ikinci bir odada ise tavandan ve duvarlardan çökmüş moloz yığınlarıyla dolu. Peki, bir ev; içerisinde birilerini barındırdığı zamanlarda bu şekilde moloz yığını haline gelmiyorda neden sonrasında terk edildikten sonra dökülüyor. Bir deprem vurdu bu şehri ama temel olarak sadece sebep budur diyebilir miyiz? Hiç düşündük mü; acaba duvarlar, tavan ve zemin; evin içerisinde birilerinin yaşadıklarını düşünüp de yıklımak istemiyordur. Belki de evdekilere olan bağlılıklarından veya onlara olan sevgilerinden ötürü; duvarlar, tavan ve zemin onlar yaşarken yıkılmak istememiştir.
Zeminde açılan delikten aşağıda ki müştemilatın hâli gözüküyor. Orası ise tamamen otlarla kaplı bir zemine bürünmüş. Doğa sabırlıdır. Eski hâline dönmek için hemen müdahale etmez. Sarmaşıklar otuz yıl boyunca henüz evin girişine ulaşmış. Onlar, insanlar gibi yıkıcı değiller.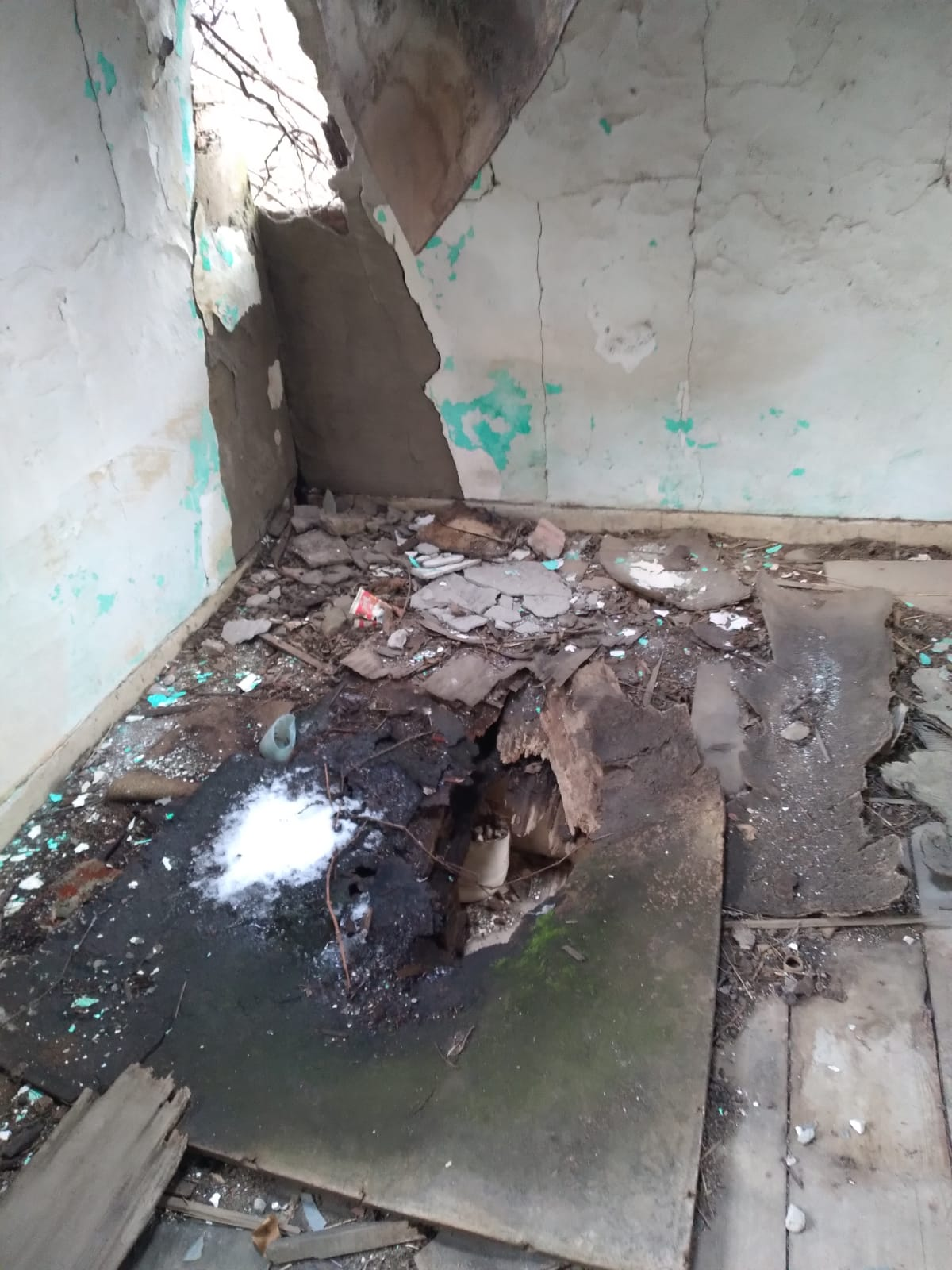 The kitchen is a separate situation for this house anyway. It's very small, big enough for only one person to stand in it. The bottom part is completely gone. For the hostess, we can say that she doesn't even have a space to imagine a bigger kitchen. A section where even dreams are restricted. There is a sink in the back. The toilet was probably also next to this sink, although I couldn't pinpoint it exactly. Or a house with an outside toilet, as in the old buildings of Anatolia.
The walls of the kitchen do not even give you the smell of the food made by the people who lived here. It's so small and narrow that it's almost as if it's never been entered. But there was a family that ate dozens of dishes made here.
Mutfak ayrı bir durum zaten bu ev için. Çok küçük, içerisinde sadec bir kişinin durabileceüi bir büyüklükte. Alt tarafı tamamen gitmiş durumda. Ev sahibi kadın için daha büyük bir mutfak hayal edebileceği bir alanı bile yok diyebiliriz. Hayallerin bile kısıtlandığı bir bçölüm. Arka tarafında bir lavabo var. Tam olarak tespit edemesemde muhtemelen tuvalet de bu lavabonun yanındaydı. Ya da Anadolu'nun eski yapılarında ki gibi tuvaleti dışarıda olan bir ev.
Mutfağın duvaları size burada yaşamış insanların yaptıkları yemek kokusunu bile vermiyor. Sanki hiç girilmemiş denebilecek kadar küçük ve dar. Ama burada yapılan onlarca yemeği yiyen bir aile vardı.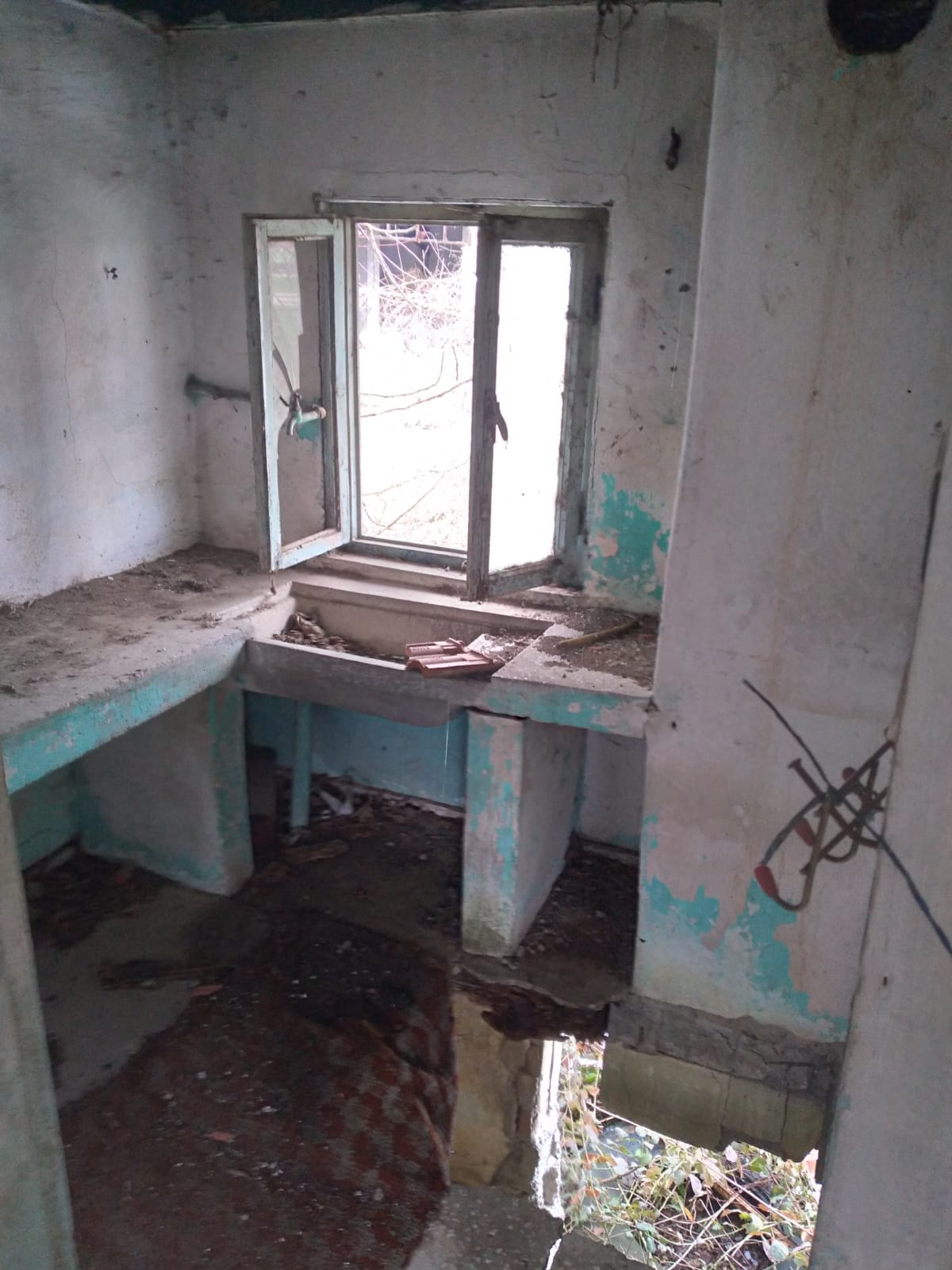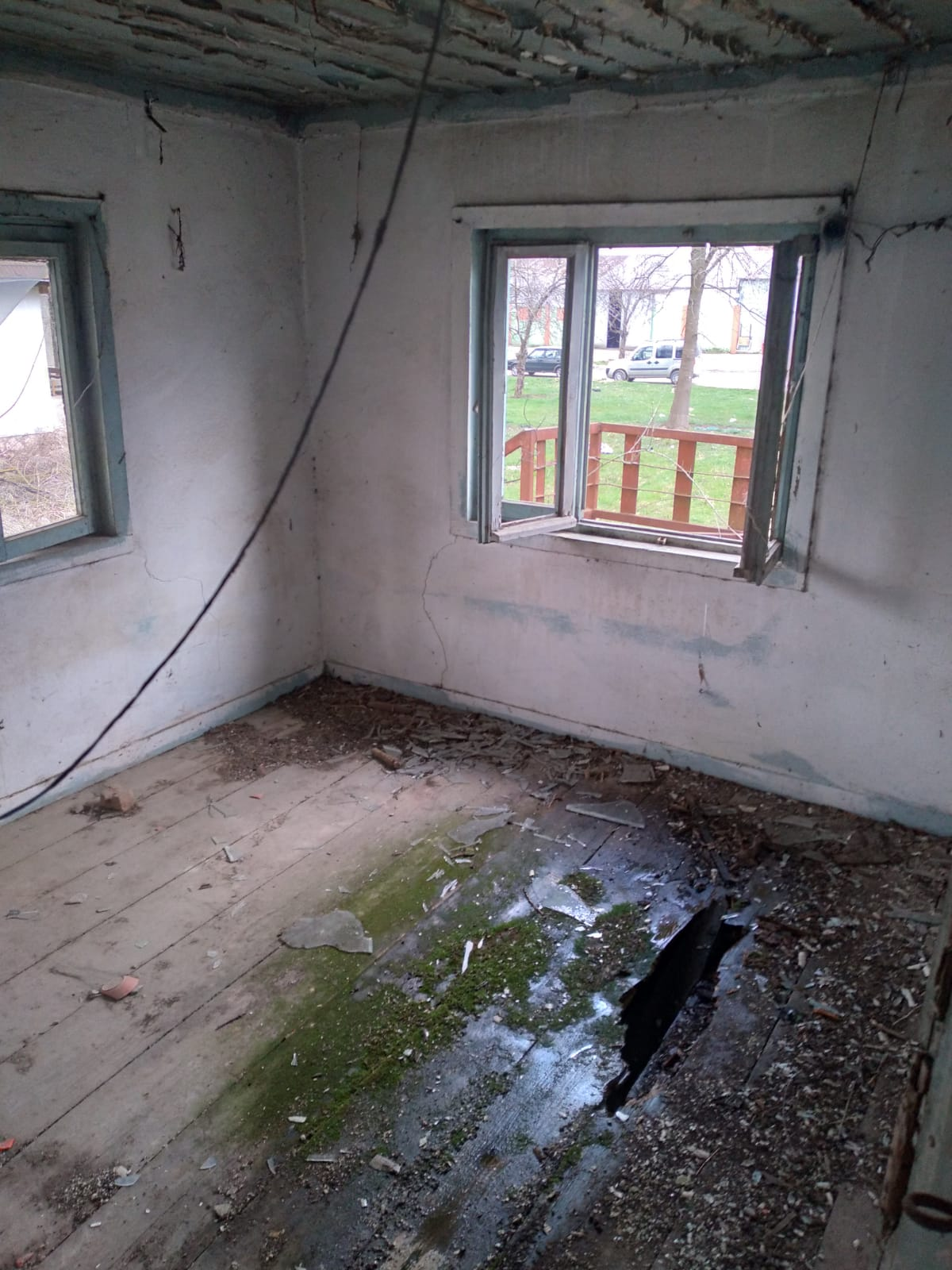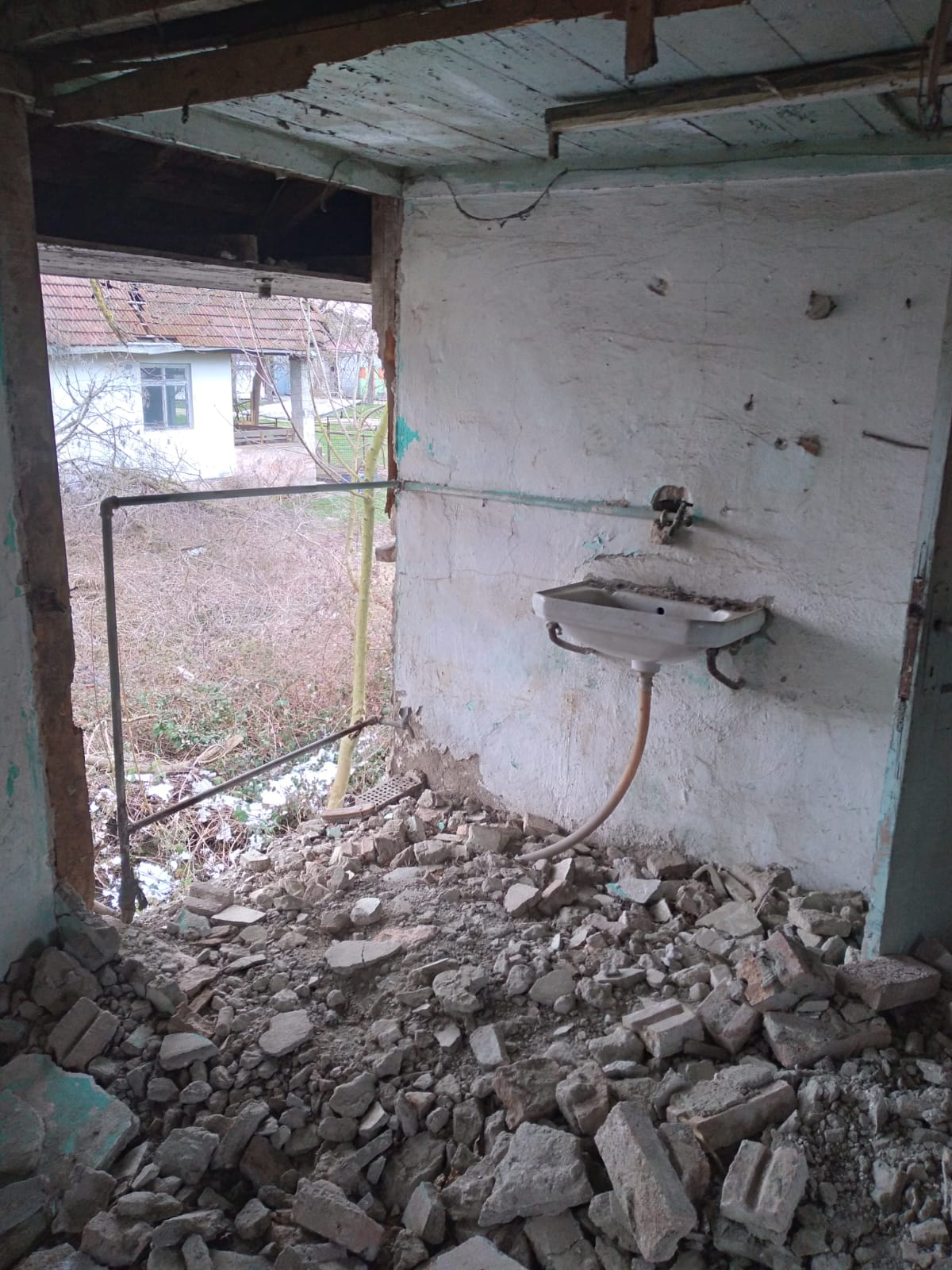 There is a box of breakfast chocolates on the floor. Maybe this chocolate box is the memory of one or a few children who were born in this house, ran around in this house in childhood and thought they would always live in this house. A boy who looked out of his windows, played games on the patio, looked after the animals in his garden. The lettering and color of the box are still evident. This means that this chocolate was one of his last meals...
Yerde bir kahvaltılık çikolatanın kutusu var. Belki de bu evde doğmuş, çocukluk yaşlarında bu evda koşturmuş ve hep bu evde yaşayacaklarını sanmış bir veya birkaç çocuğun hatırasıdır bu çikolata kutusu. Pencerelerinden bakmış, veranda da oyunlar oynamış, bahçesinde hayvanlara bakmış bir çocuk. Kutunun yazısı ve rengi hâlâ belirgin. Bu da demek oluyor ki son öğünlerinden biri olmuş bu çikolata...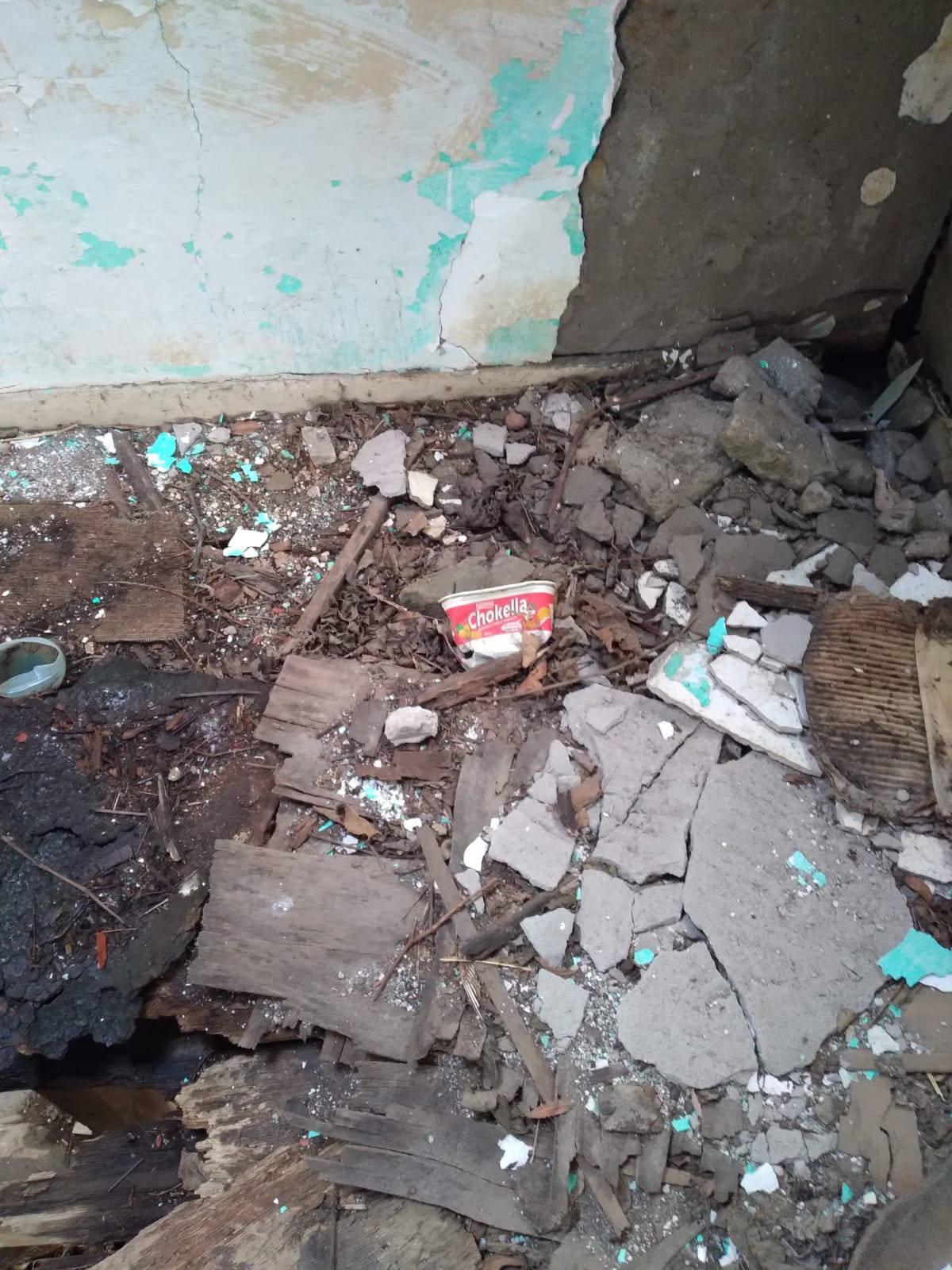 The attic... One of the places that holds all our hidden memories. The place where children are most curious. A shelter for those who want to be alone. More special is the warehouse, where tangible and durable items are usually stored rather than food. A store of memories where people's memories of their past are hidden... All of these describe the attic. But if it is an attic that still remains.
There is no connection between the attic and the living room of the house. The attic spilled all the memories down. All the truths and dreams he kept, saying what's the point of keeping memories after you left. The attic that has thrown away plans for the future and all memories...
Tavan arası... Tüm saklı hatıralarımızı barındıran yerlerden biri. Çocukların en çok merak ettikleri yer. Yalnız kalmak isteyenlerin sığınağı. Daha özel olan, genellikle yiyecek yerine somut ve dayanıklı eşyaların saklandığı depo. Kişilerin geçmişlerinde ki hatıralarının saklı olduğu hatıralar deposu... Bunların hepsi tavan arasını tarif eder. Fakat hâlâ kalmış bir tavan arası ise.
Tavan arası ile evin salonu arasında hiçbir bağ kalmamış. Tüm hatıraları dökmüş aşağıya tavan arası. Siz gittikten sonra hatıra saklamanın ne anlamı var diyerek, sakladığı tüm gerçekleri, hayalleri. gelecekle ilgili planları ve tüm hatıraları atmış tavan arası...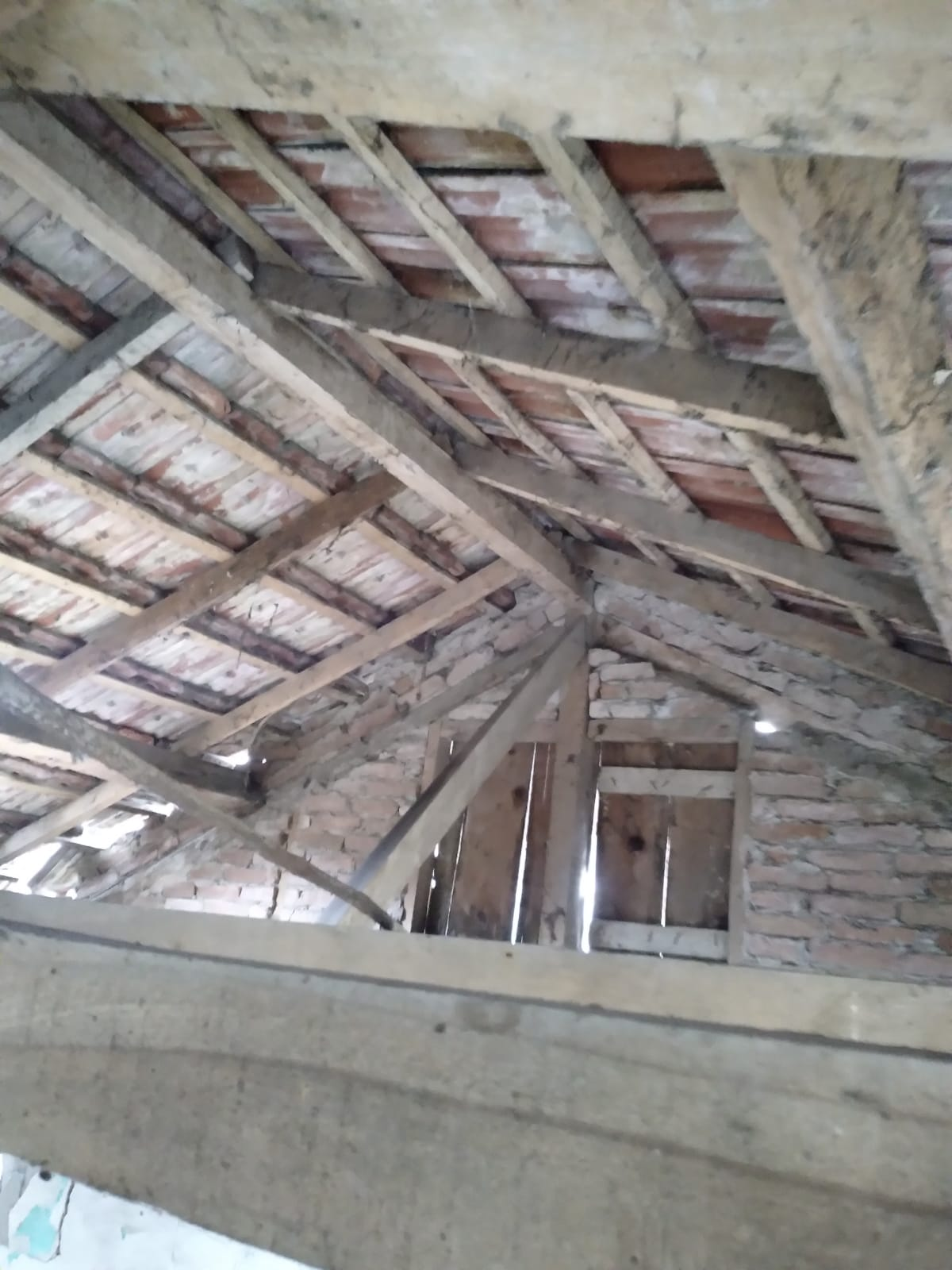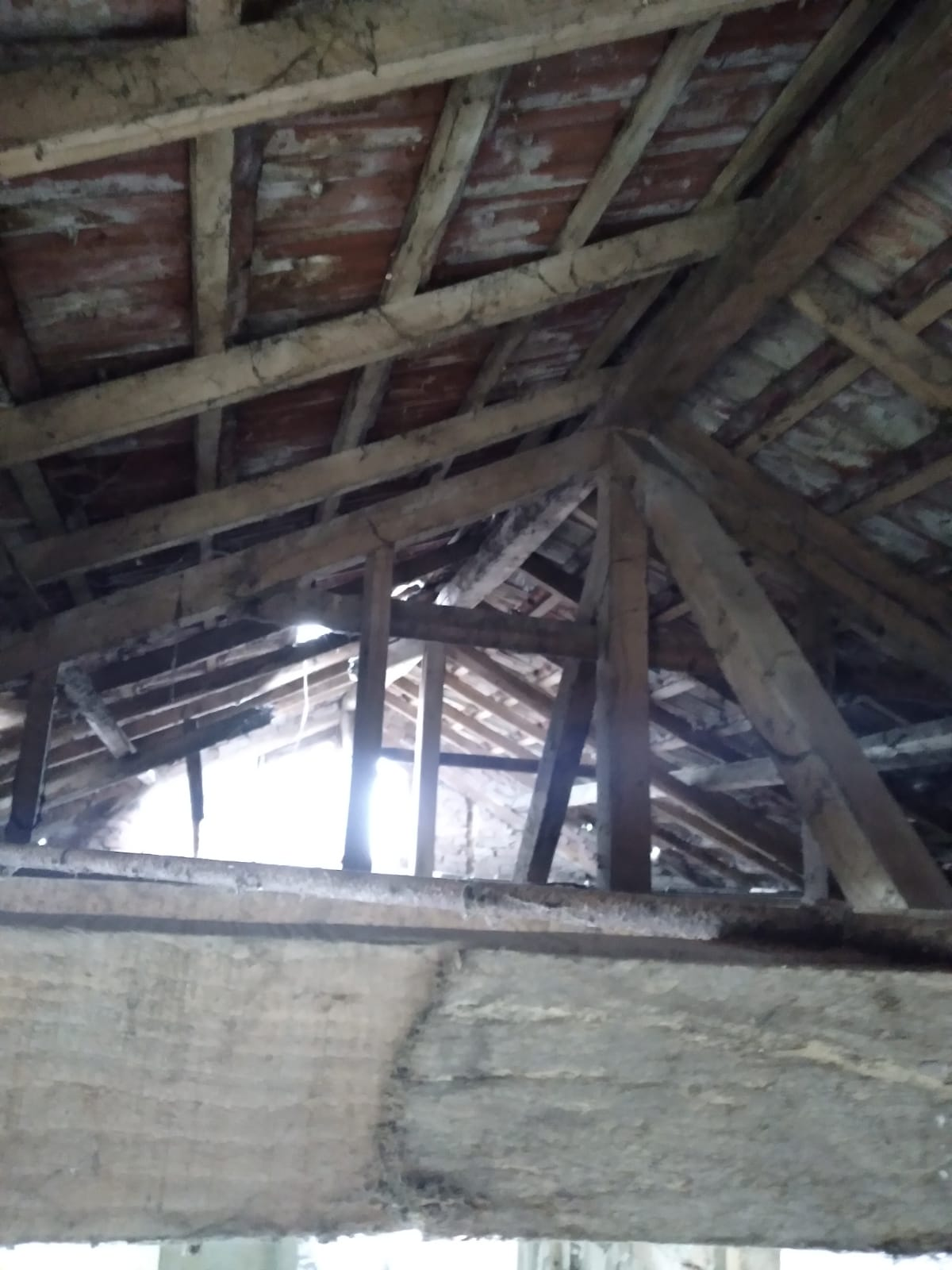 Here is an abandoned place. I always wonder where these people are. There is a big house in Van that we left. When I think about what they are doing, I ask myself what am I living.
İşte terk edilmiş bir yer. Acaba nerededir bu insanlar diye merak ediyorum hep. Bizimde terk ettiğimiz büyük bir ev var Van'da. Acaba ne yapıyorlar diye onlar içinde düşündüğümde, acaba ben ne yaıyorum diye soruyorum kendime.