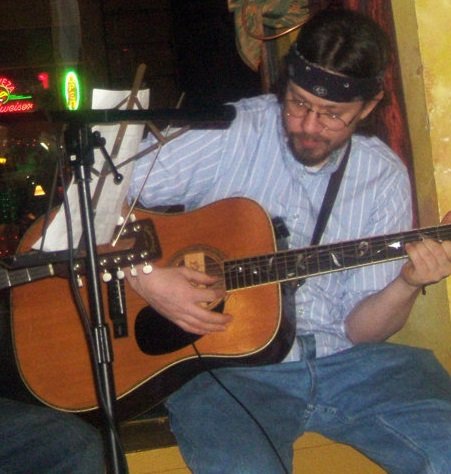 Me playing guitar, age 36.
Twelfth Birthday Gift - My Introduction to Musicianship: A Guitar Lesson
For my twelfth birthday, my brother Larry gave me a free lesson on guitar. I enjoyed it, but found it difficult. It was at that point that I decided I wanted to play an instrument, but as I told my parents, I would rather play drums.
Convincing My Parents to Let Me Have a Drum Kit
When I told my mother I wanted a drum set badly, she still said no. I was very disappointed.
I told my brothers and sisters that Mom had said no, and they told me to show her that I was serious about playing drums and she might reconsider. For more than a year, I practiced hard on cardboard boxes, using pencils instead of drumsticks because my father would not even buy me a pair of sticks. He said they were too expensive, although they only cost about $10.00, so I knew that was an excuse because he really did not want me to play. He made plenty of money to buy me a pair of drumsticks, he just did not want to hear me practice. I tried to reassure him that I would only practice in my room, but it would be some time before he acquiesced.
By my 13th birthday, I thought I had proven to my parents that I was serious about the drums, but my birthday came and went. My parents did not buy me the drums I wanted. I was very disappointed, so my mother said that maybe on Christmas I could have a set. I became very excited at this point. She reminded me that she had said "maybe." But my heart was set on having a drum set on Christmas.
As December came, my brother Joe and my parents sat me down and told me that they had a deal they wanted to make with me. If I paid half, Joe, Mom, and Dad would pay the other half of the cost for a drum set. I was overjoyed!
Joe took me to a couple places to look at used drum kits. We settled on an old Kingston brand jazz set that cost $300. I have not heard of this brand before or since, but it turned out to be a decent drum set. I paid $150 and Joe pulled out the other $150. We crammed all the drums into his hatchback and drove them to my house. I immediately set up the drums in our finished attic and began banging on them gleefully.
Drum Lessons
The next year when I was 14, my mother suggested I either join the school band or get drum lessons because she wanted me doing some type of extracurricular activity. I decided to go with drum lessons at a local music store. From age 14 until age 16, I took weekly lessons at Dewey Latta Music in Rochester, New York.
Ever since Christmas 1983 when I was 13, I have been playing drums and loving it.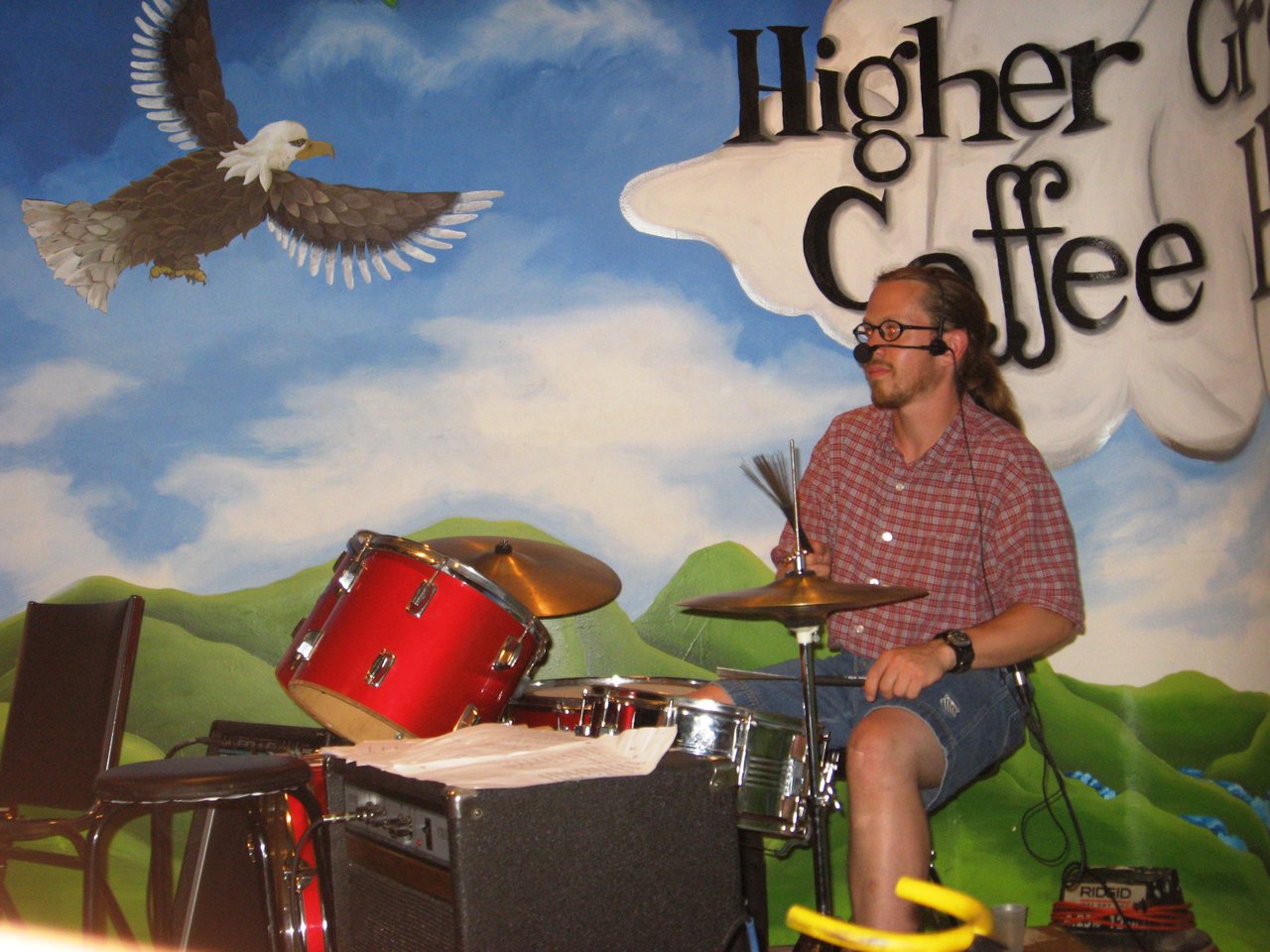 Me on drums while singing.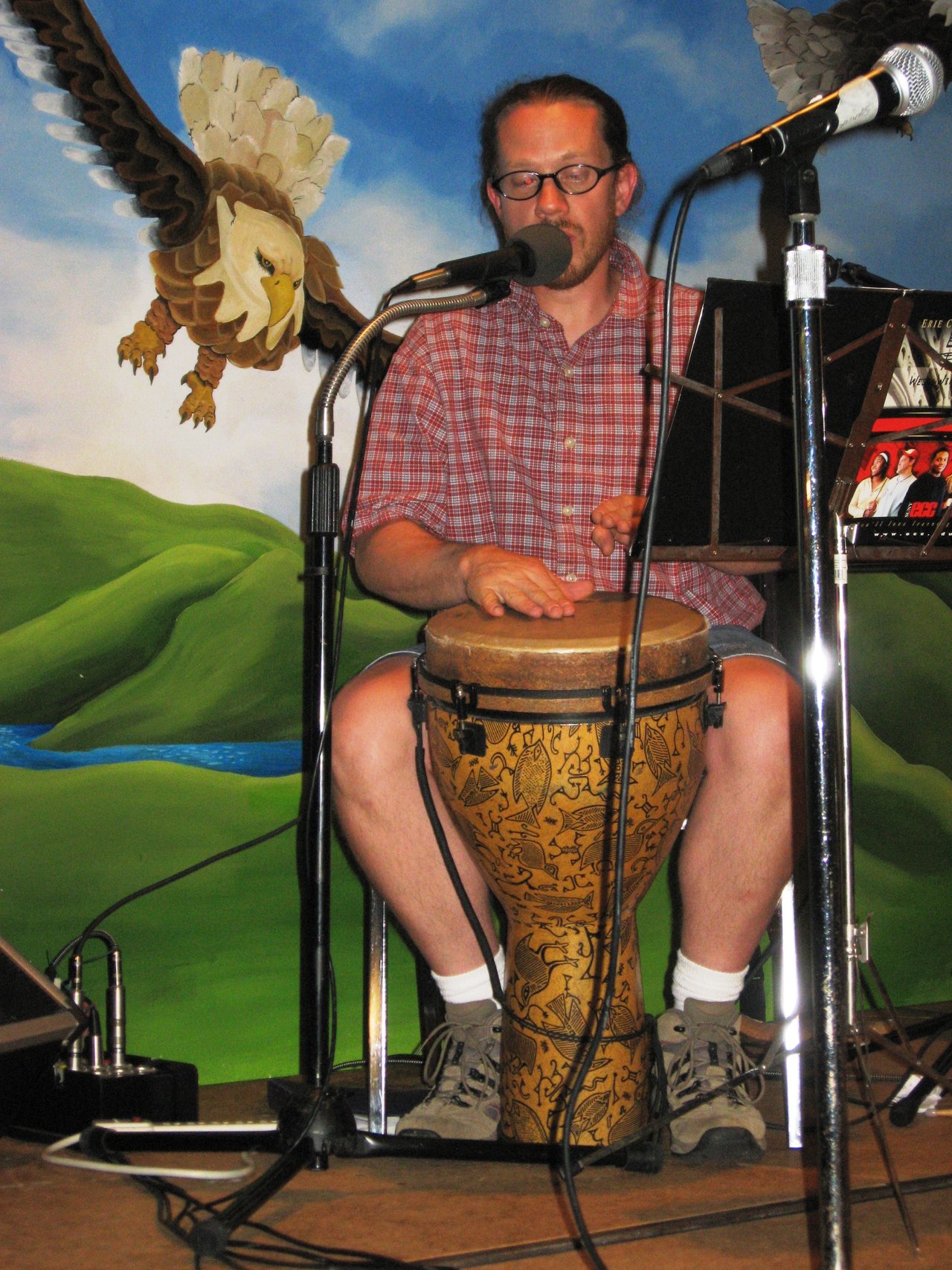 A picture of me playing percussion. This drum is called a djembe, it is an African drum.

Since the time of these pictures, I bought new drums. Pictures of them are not yet available.
Types of Music I Play
I play several genres, including rock, classic rock, jazz, blues, indie, alternative, and some metal.
Why Are Drums So Magical for Me
The drums are the most primal instrument, the most basic; however, one can put an immense amount of thought and calculation into playing them. I find that the combination of the fact that drums are the oldest, most primitive instruments and that they can be so complex is simply captivating to me.
If I could make a song for Steem, I would call it Steem Engine.
My new song would have drums like a locomotive, accented on snare drum with bass drum beats underneath. A guitar would make the melody, and I would write words that entertained everyone.
Thanks for making this contest available and for letting me participate. It has been a joy!
Sincerely,
JP
P.S. I would like to invite the following Steemit users to join this contest:
@hayleydemi @bijoy1 @codingherald @blueflipper123