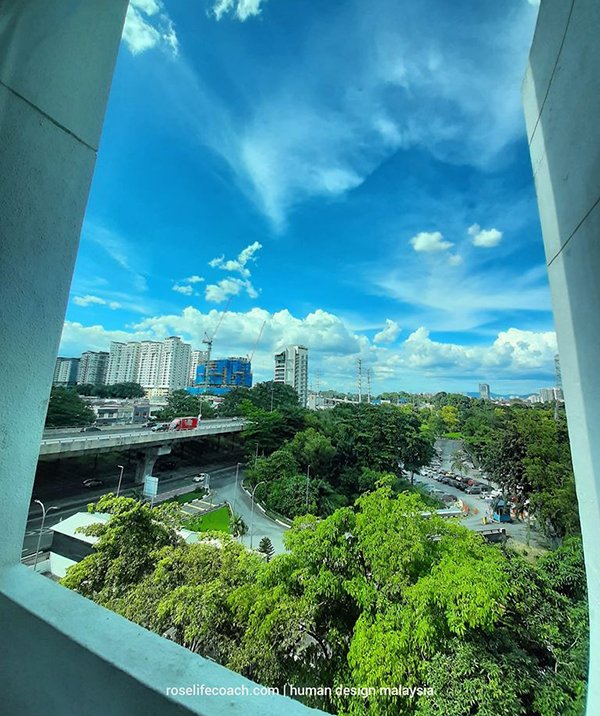 Beautiful isn't it? This is the view from a hospital window I took yesterday.
Now imagine this. We are the sky experiencing Clouds and Earth. The clouds are our thoughts and the Earth is our body. We are the eternal witnessing life.

The clouds, like our thoughts changes from moment to moment. In Human Design, we experience these clouds like a pressure to think in the Head center. Trains of thoughts seem endless. We get a foggy mind too. Observe but don't chase them. Don't become our thoughts. Stop trying to answer questions that not matter. Let the mental clouds work its way to inspire us and the collective by pouring its inspiration.
Then we have this physical body which is a complex being, like the Earth. It has its cycle, timing, rhythm and pattern. If we want to change something about our body, we can't do it overnight. Just like the Earth. Everything takes time in the physical realm.
In living our design, the transformation and alignment of mental and physical frequency take time. First, it changes how we use our mind and we get to observe our thoughts. Observation expands the awareness and slowly it changes our Earthly body so we can live naturally as we designed to be.
Cultivate patience in experimenting with our Aura, Strategy, Authority and Design. And stop expecting anything!
We can learn this from the Earth and the clouds. They didn't expect each other to be better. They simply live their nature and aligned!
Not forgetting to wish everyone HAPPY NEW YEAR 2020!! Have a great year ahead!

What is Human Design?
Human Design system is Self-Knowledge that shows your unique blueprint through a Rave chart called the Bodygraph. It also explains everything about you in a logical way. It shows the conscious and unconscious side of you, your characteristics, your roles in this life and much more.

Human Design shows your Genetic Code and WHO YOU ARE through Definition. With this knowledge, you are able to tap into your own power and begin to heal through alignment of your soul, mind and body.


The Bodygraph is a copyright of Jovian Archive Media Pte. Ltd.

More details and the courses here: https://www.roselifecoach.com/human-design
Follow me here:
www.Instagram.com/yourpersonalmotivator
https://www.facebook.com/humandesignmalaysia/

Original post: instagram.com/humandesignmalaysia

Thank you for reading, I hope this can shed some lights on your journey!
Blessing to you all.
Comment and share your thoughts with me if you like.
#differentkindofmotivation