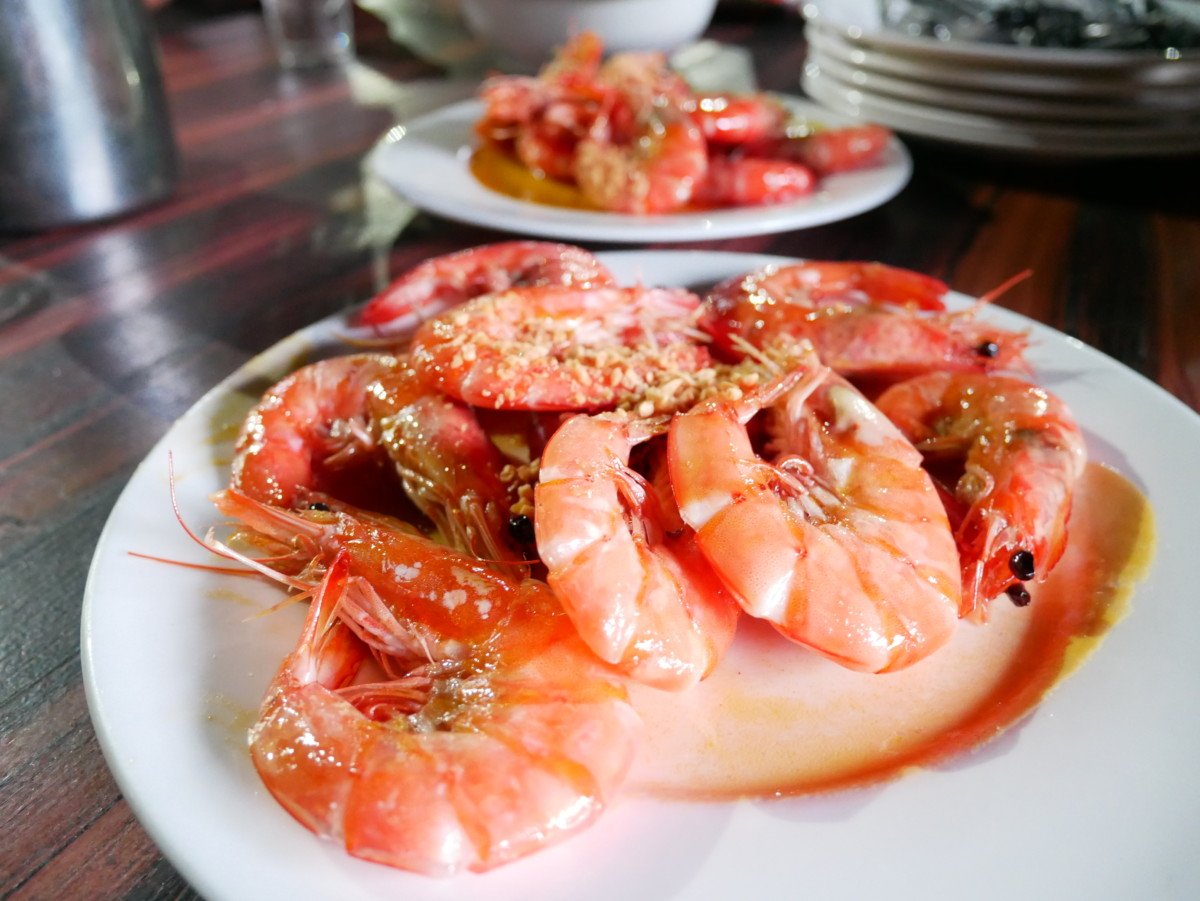 Looking for a place to celebrate? Let me share with you a place where we celebrated my father in law's birthday. The restaurant offers native Philippine cuisine and is slowly making its mark in some parts of the country. Let me stir up your appetite as I take you on a food tour and introduce to you some of the popular dishes from our country.
A Taste of the Philippines "Funnside Ningnangan"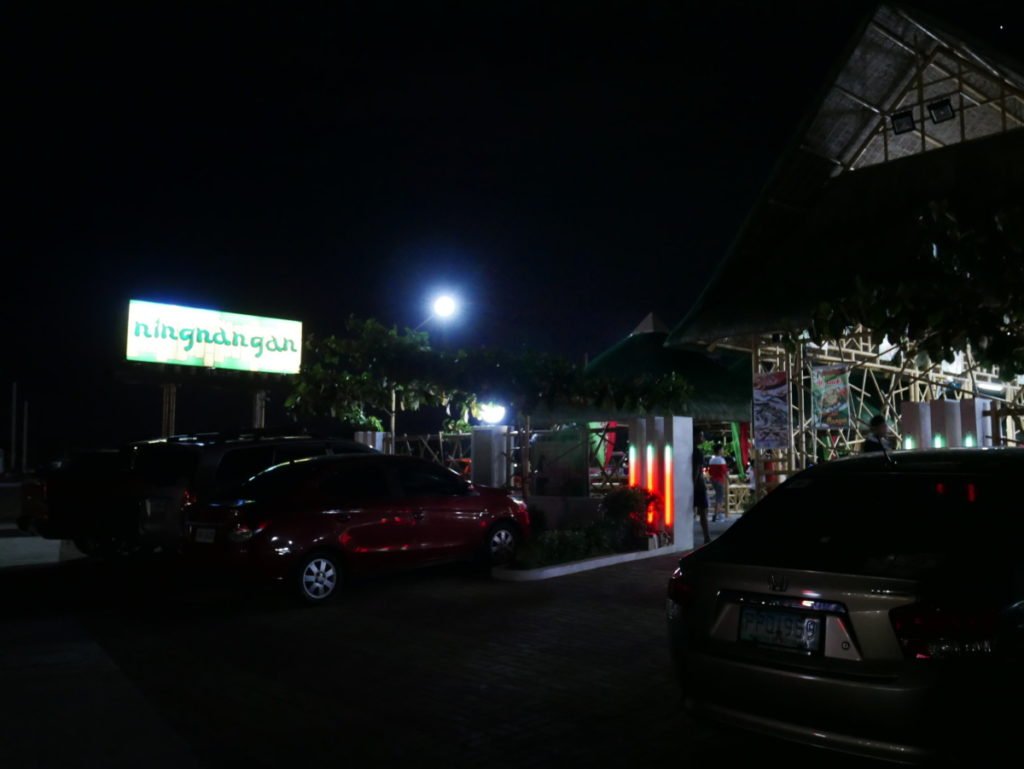 The restaurant is located in Kawit, Cavite in the Philippines and has more than 12 branches now up to date across the country. We often pass by this restaurant and often see a lot of parked cars outside. This is an indication that the food must be good. Now it is about time to taste what they have to offer.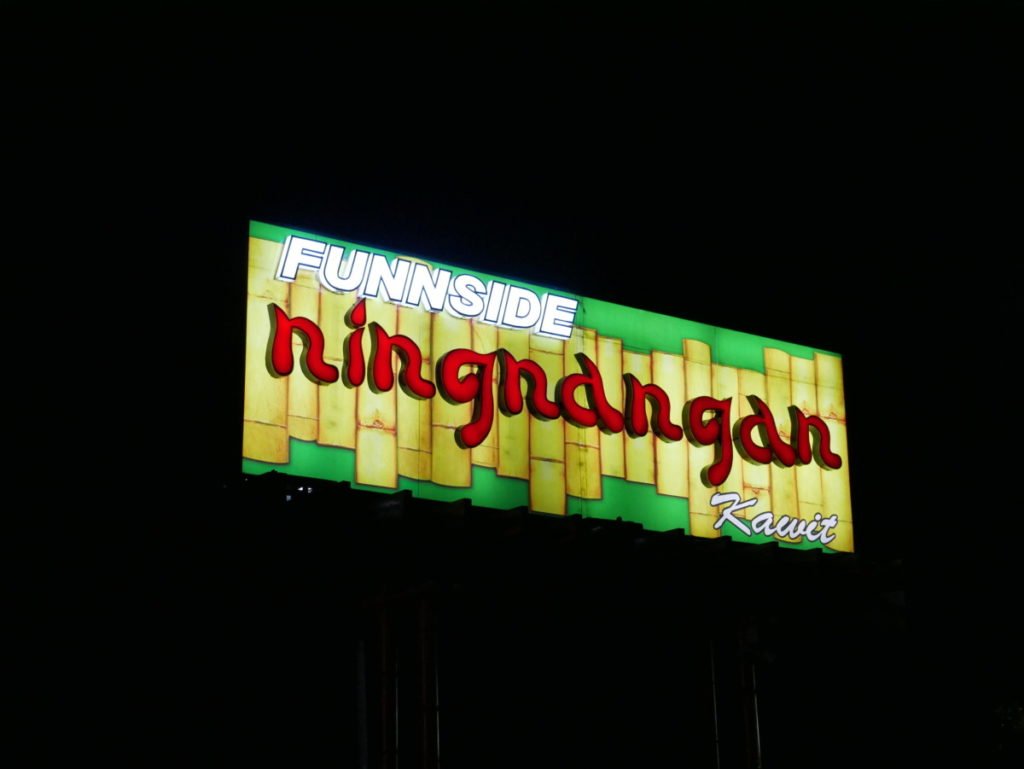 From outside you could already see that the place is well lit and well ventilated. Let's go inside and find a comfortable seat.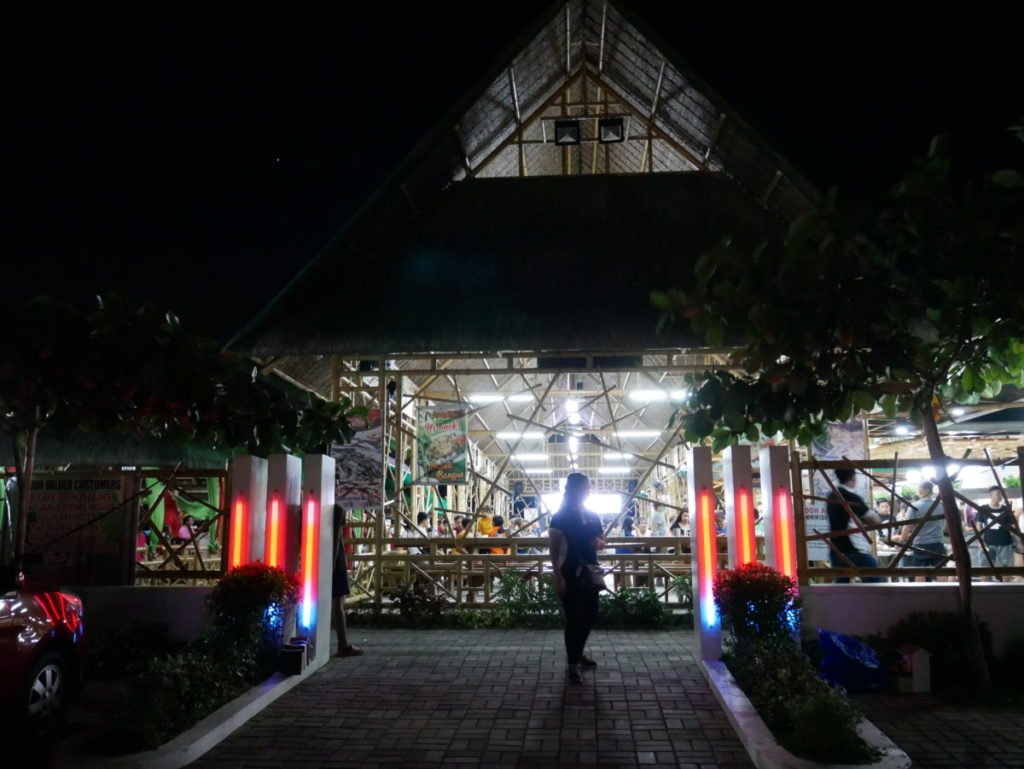 The main dining area is constructed with bamboo and nipa palm leaves as roofing material. This gives the place an authentic Philippine ambiance which resembles our native hut called "bahay kubo".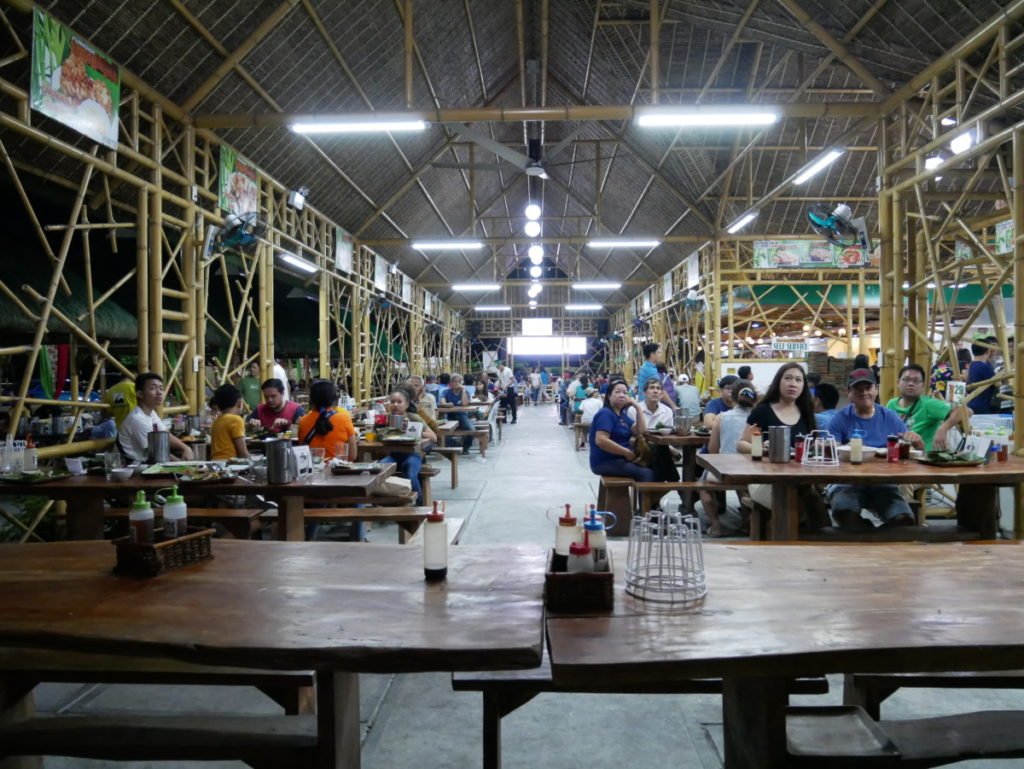 There are still a lot of available tables but it gets pretty crowded during lunchtime and dinner. We came here around 6:00 pm so most of the customers have not come in yet for dinner.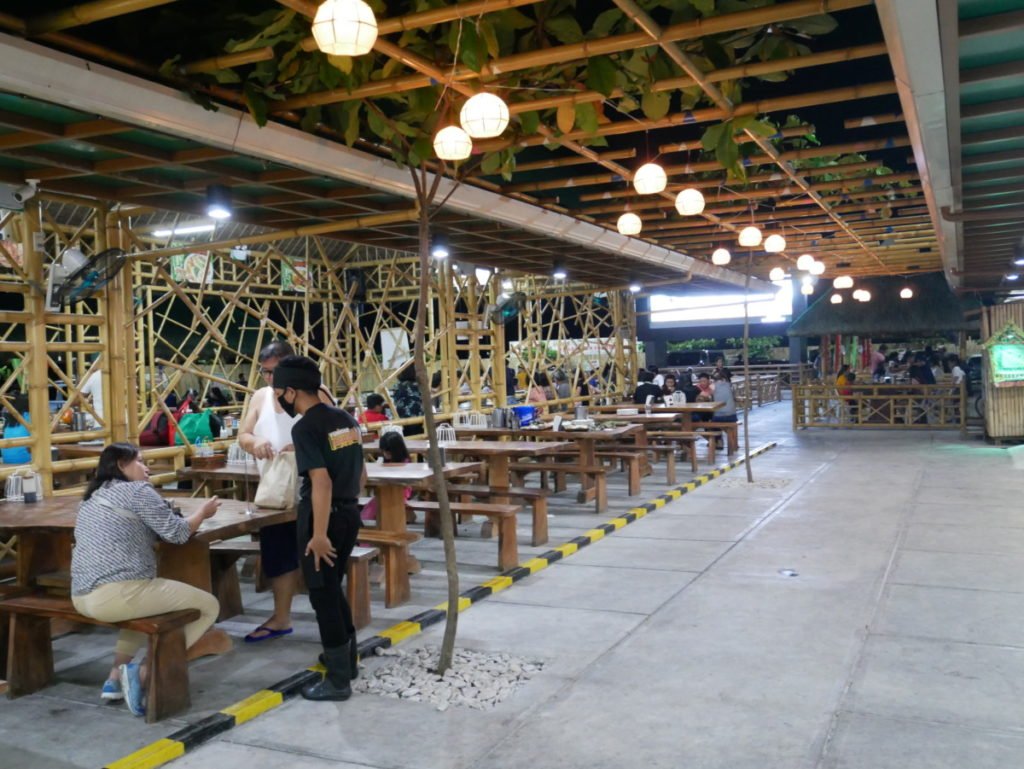 At the back is a gigantic television screen and you could enjoy having dinner while watching your favorite tv show.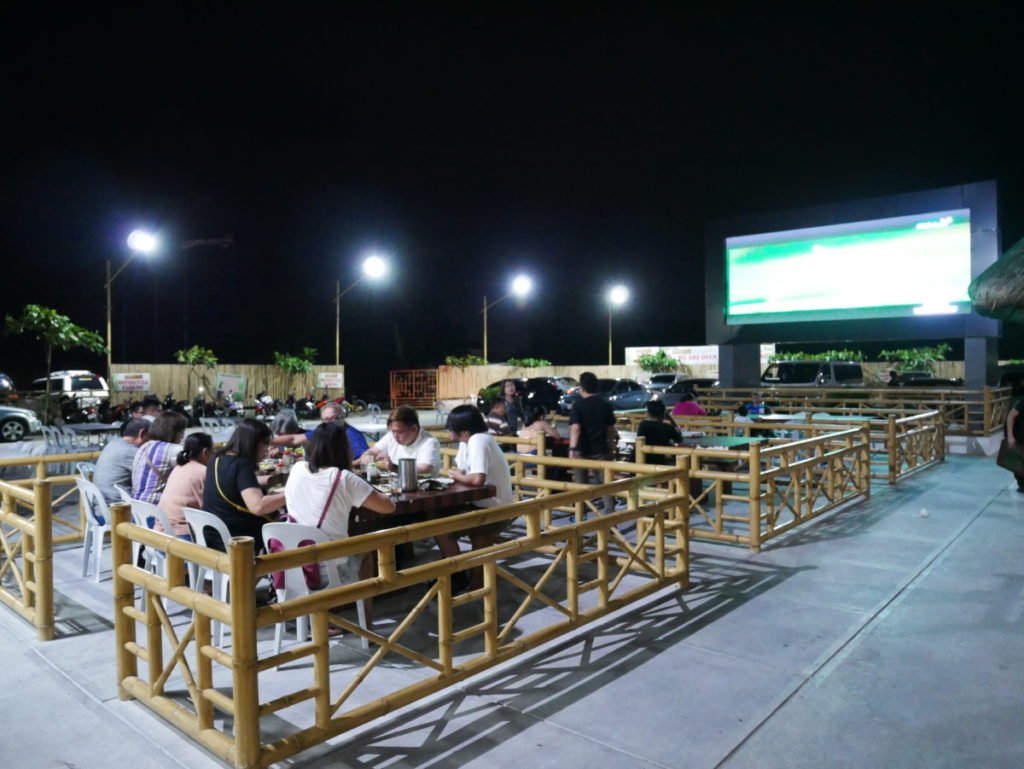 We chose a table outside as my father in law wanted to watch from the gigantic screen and the air outside is cooler.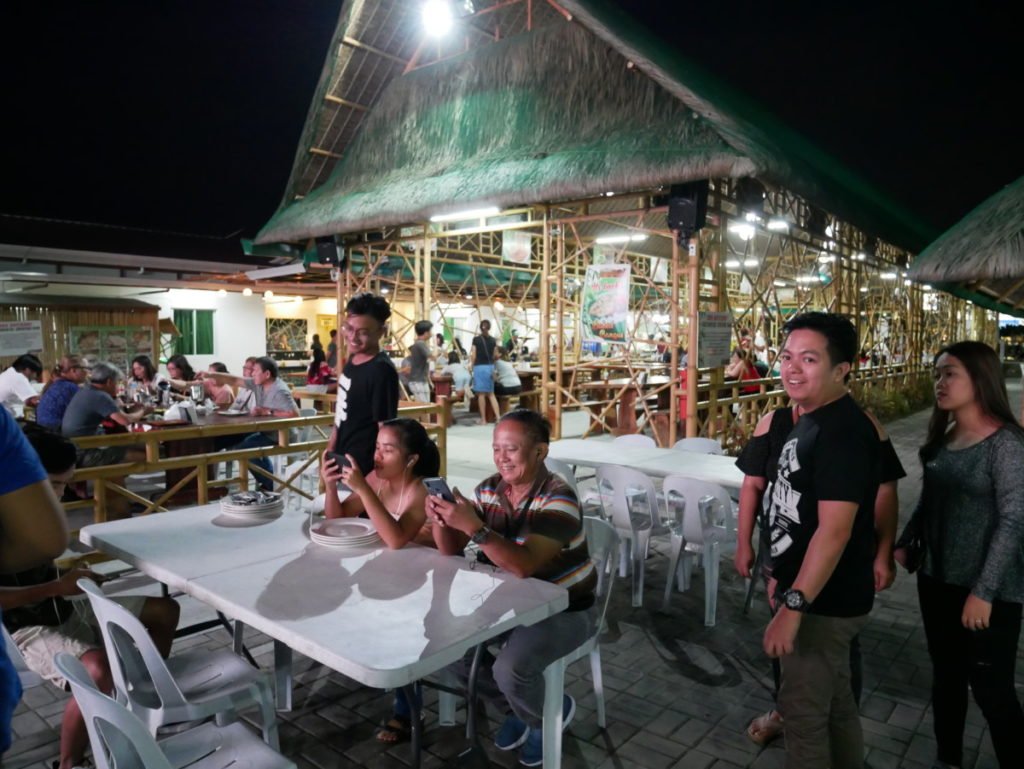 Time to order our food and we headed towards the menu table. Here in our country "Paluto (ask to cook)" has become very popular. The Paluto type of restaurant enables the customers to select the food and ingredients that they want to eat.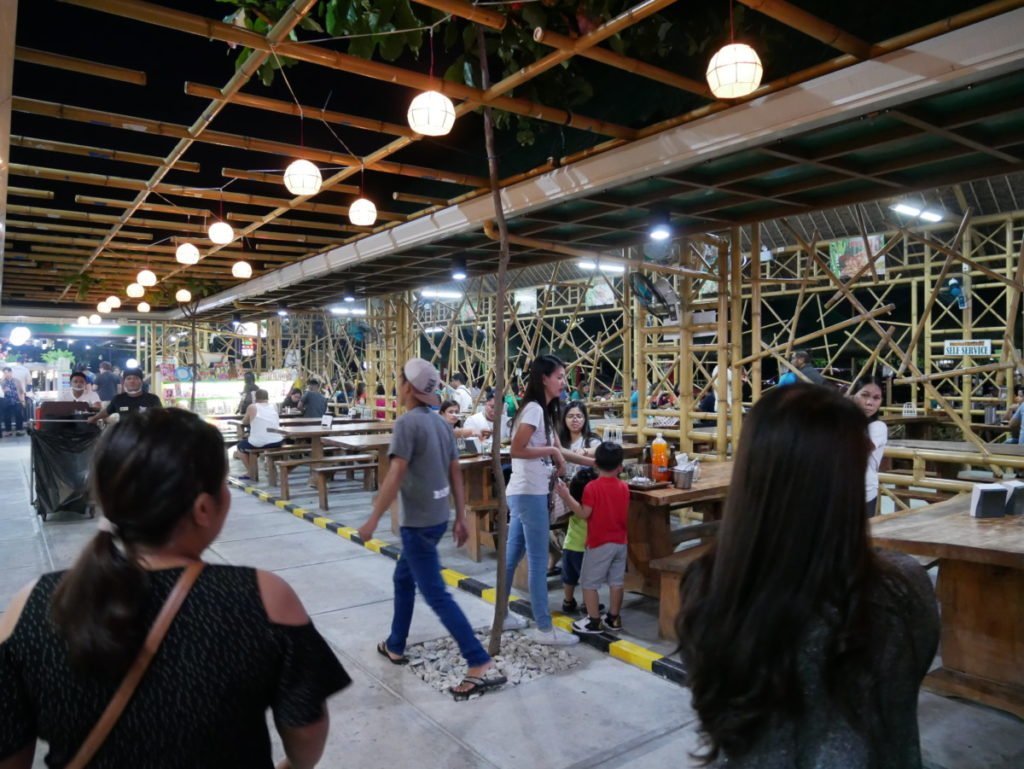 At the starting line if you are unfamiliar with this type of setup there is a guide that you could follow.
Get a tray (it is advisable to have someone help you with an extra tray)
Pick your food (there are so many food options to choose from)
Go to the counter (your food will be weighed and you would be asked how you would like your food cooked)
Pay your at the cashier (pay for your food and make sure they charge you correctly)
Claim rice and drinks at window 2 (here you could also order for extras if needed)
Wait for your order (your orders will be served separately as cooking time varies)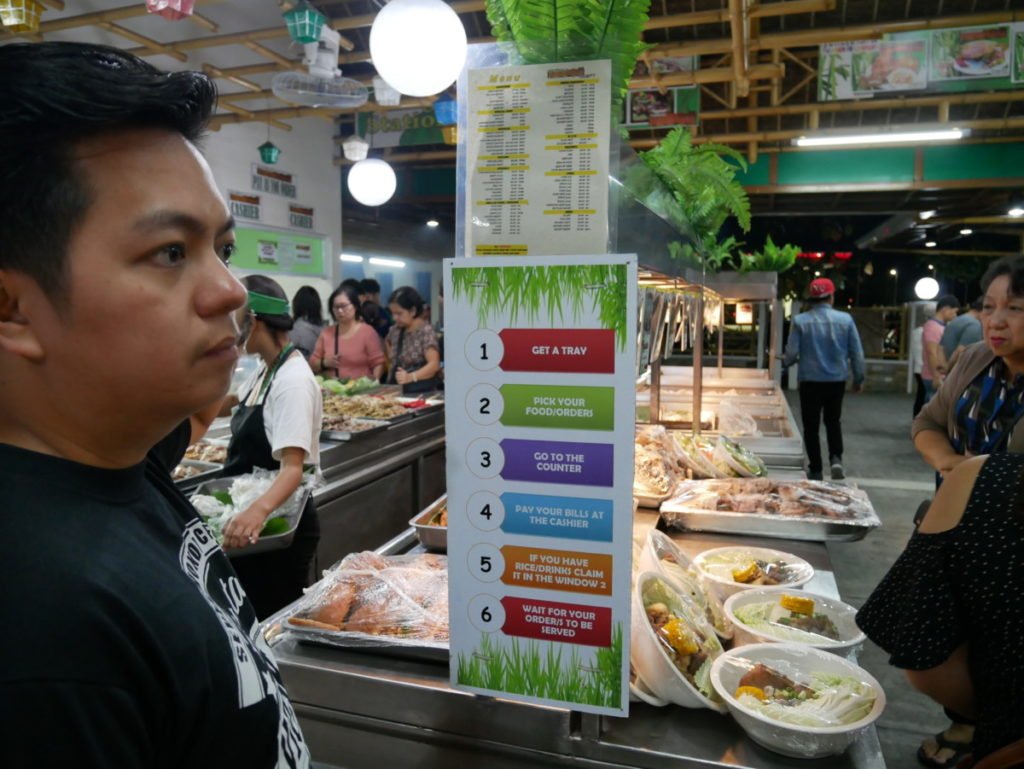 Prices per gram are also listed on the menu. The fresh ingredients are measured per 100 grams and just to give you an idea of the pricing. In our currency, $1.00 USD is equivalent to around 50 Philippine pesos. An example would be the Salmon belly if you would order around half a kilo that would cost around almost $8.00 USD.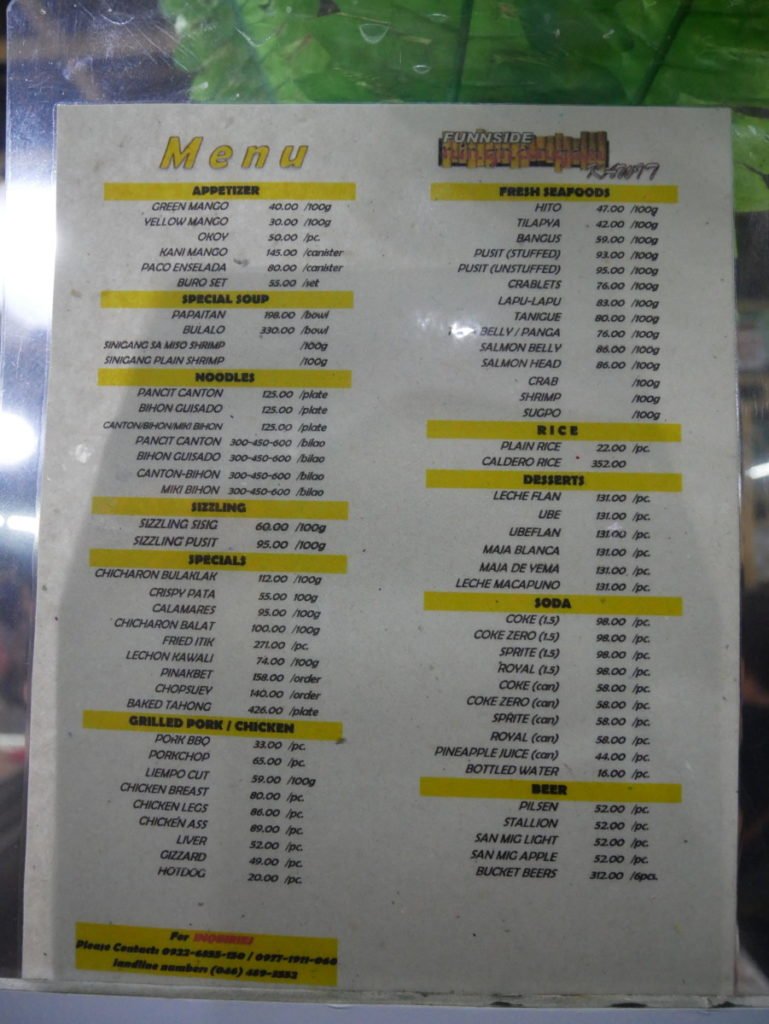 This is the seafood area where you could select fresh crabs, shrimp, fish and other shellfish.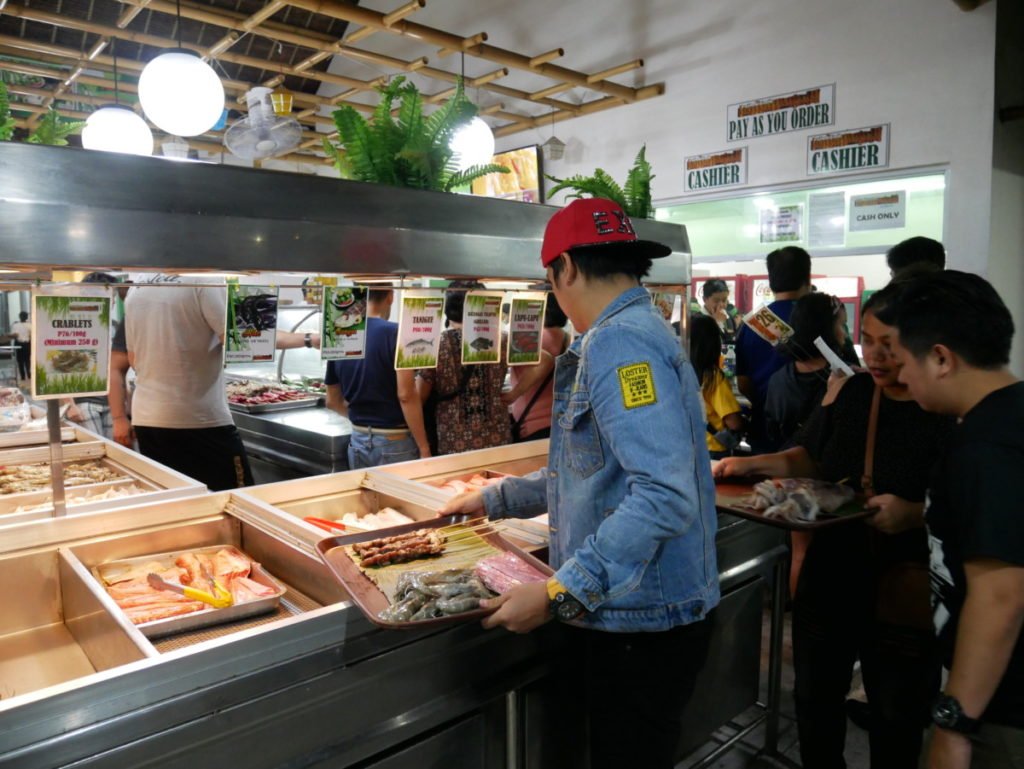 The tuna belly is a popular choice when ordering. It is often grilled and served with calamansi (local lime), soy sauce and chili as a dipping sauce.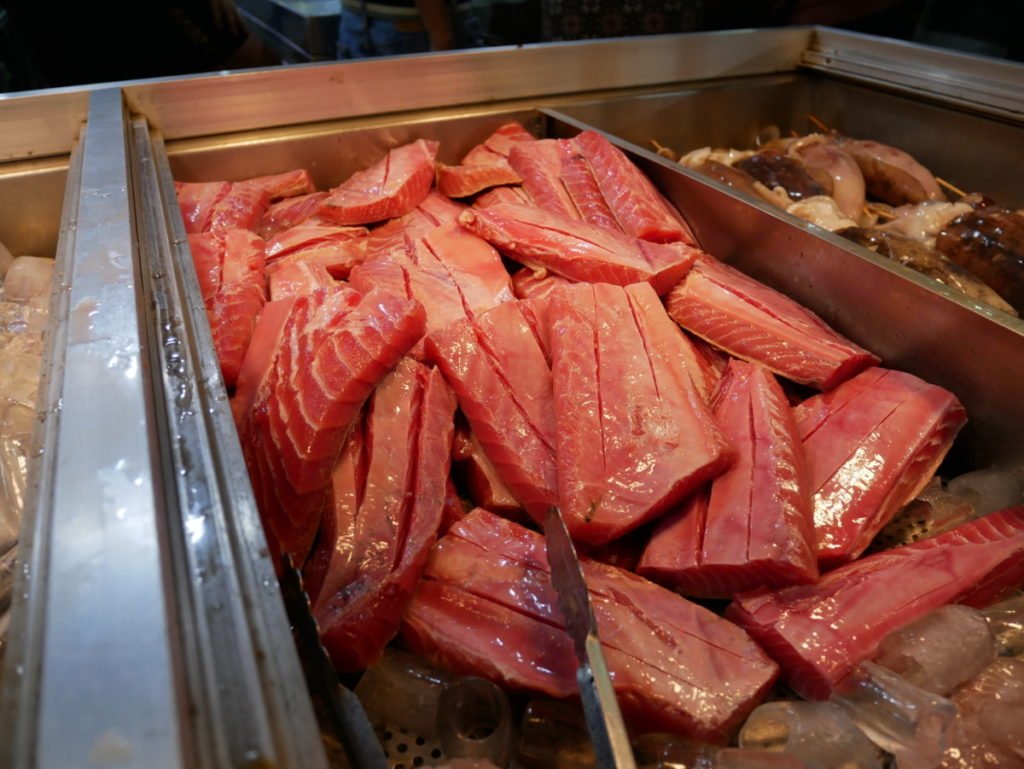 They also have fresh Tilapia and Hito (catfish) but they have run out already at this time. I guess a lot of people love to eat catfish.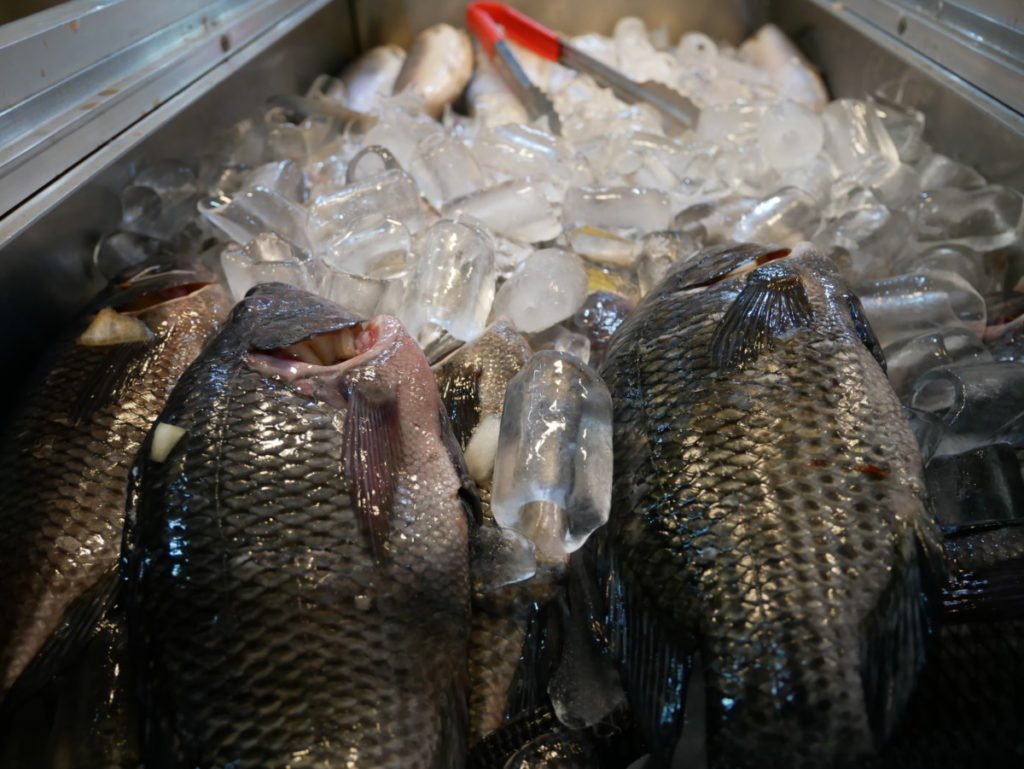 Shrimp does not run out in all of the restaurants the I have visited. There are always a lot as everyone loves shrimp just think of all the dishes that can be prepared from shrimp.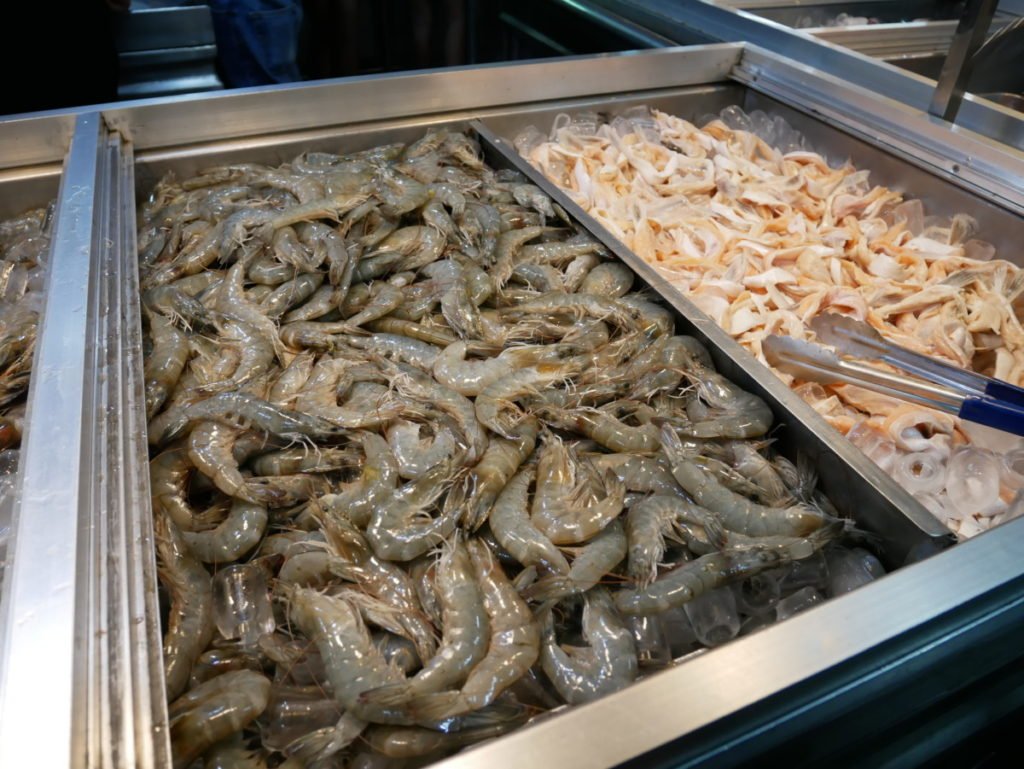 They also have mud crabs and my brother in law can't seem to wait for it to get cooked first.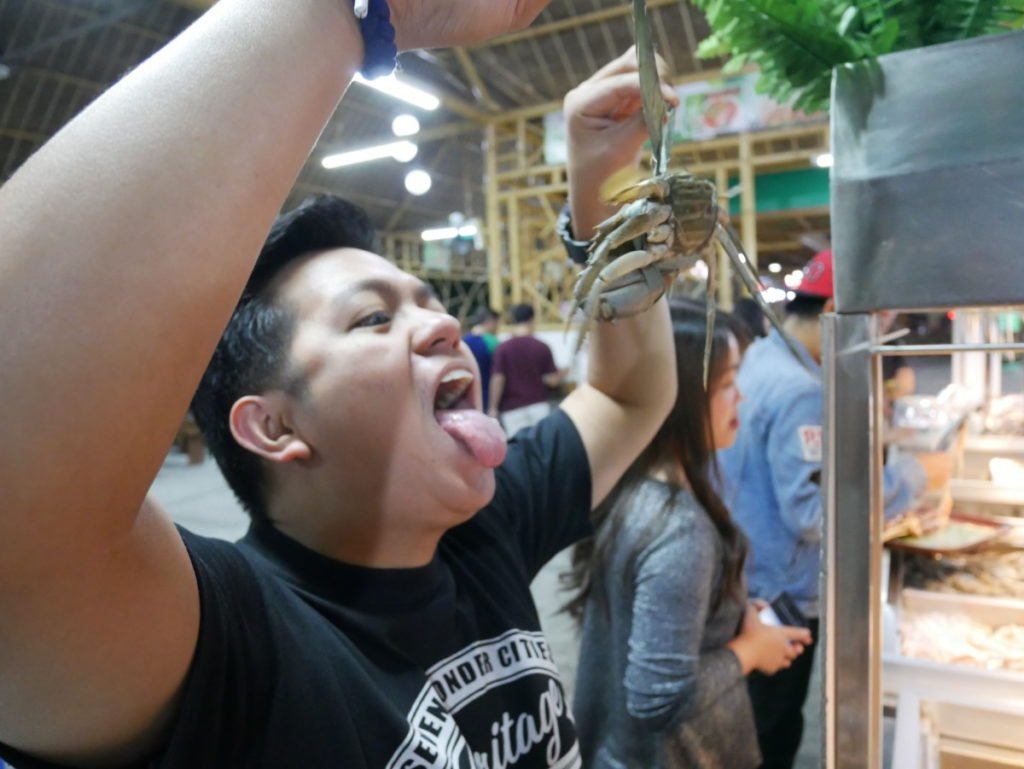 We got two large cuttlefish stuffed with tomatoes and onions inside which will be grilled.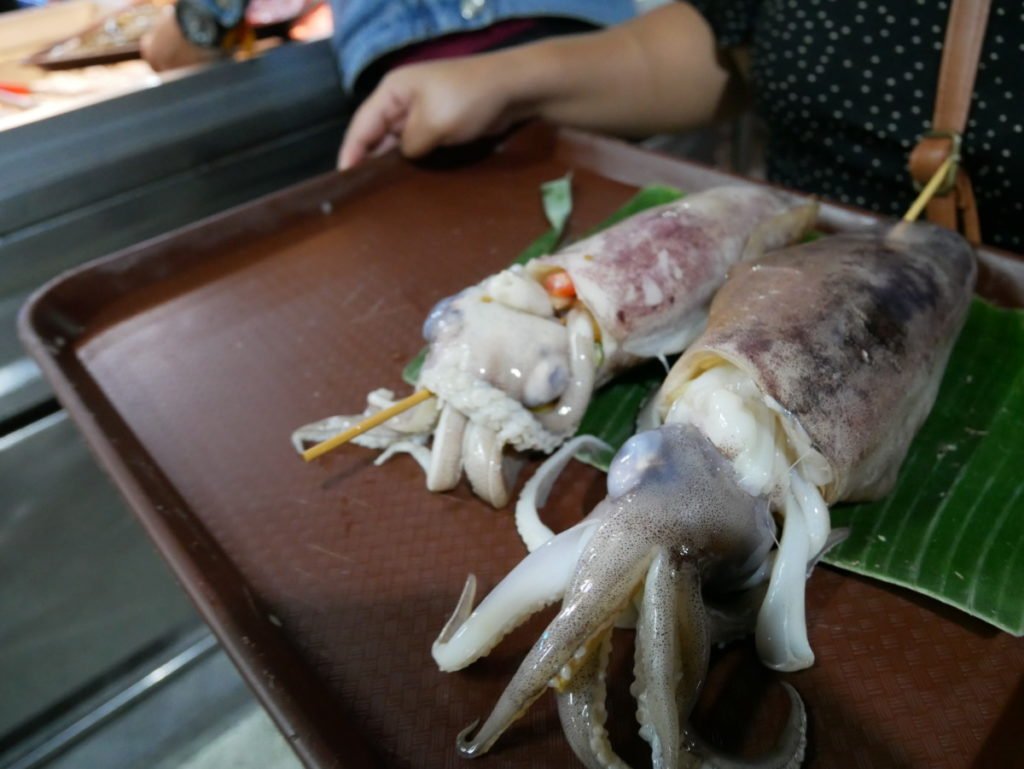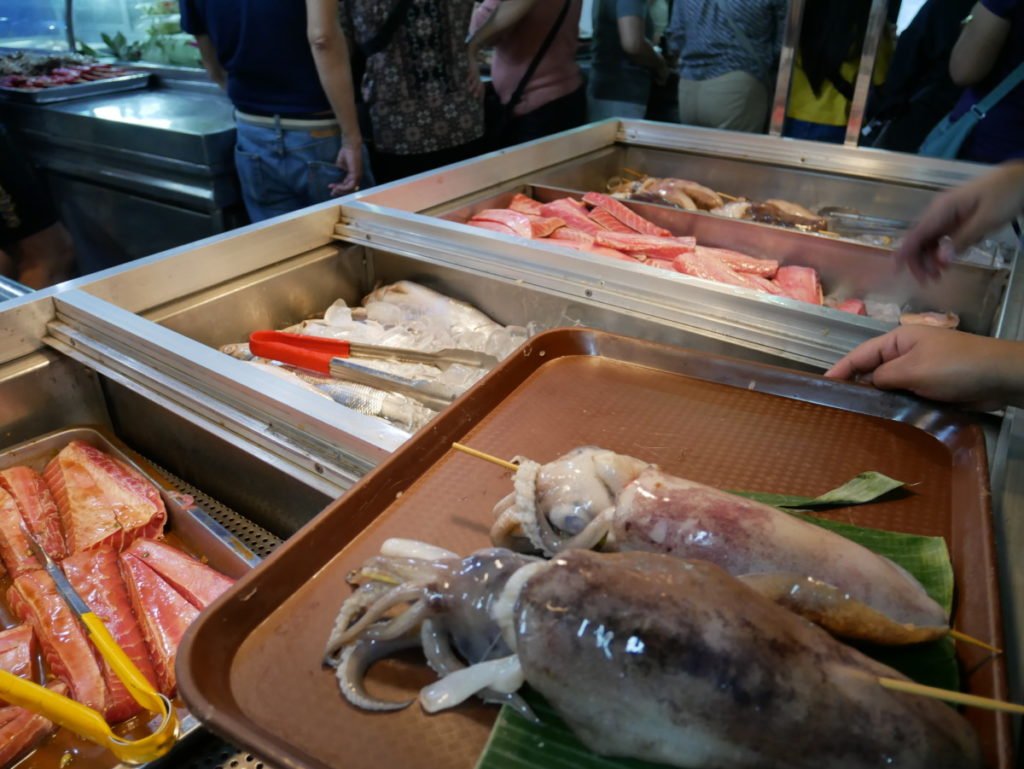 They sold sea mussels by the tray and contains 15 pieces per tray. These will be baked with cheese but we didn't order, I felt it was too expensive as it cost 426 pesos or $8.50 USD per tray. At our local market, you could buy a large can of fresh mussels for 100 pesos and that is around $2.00 USD.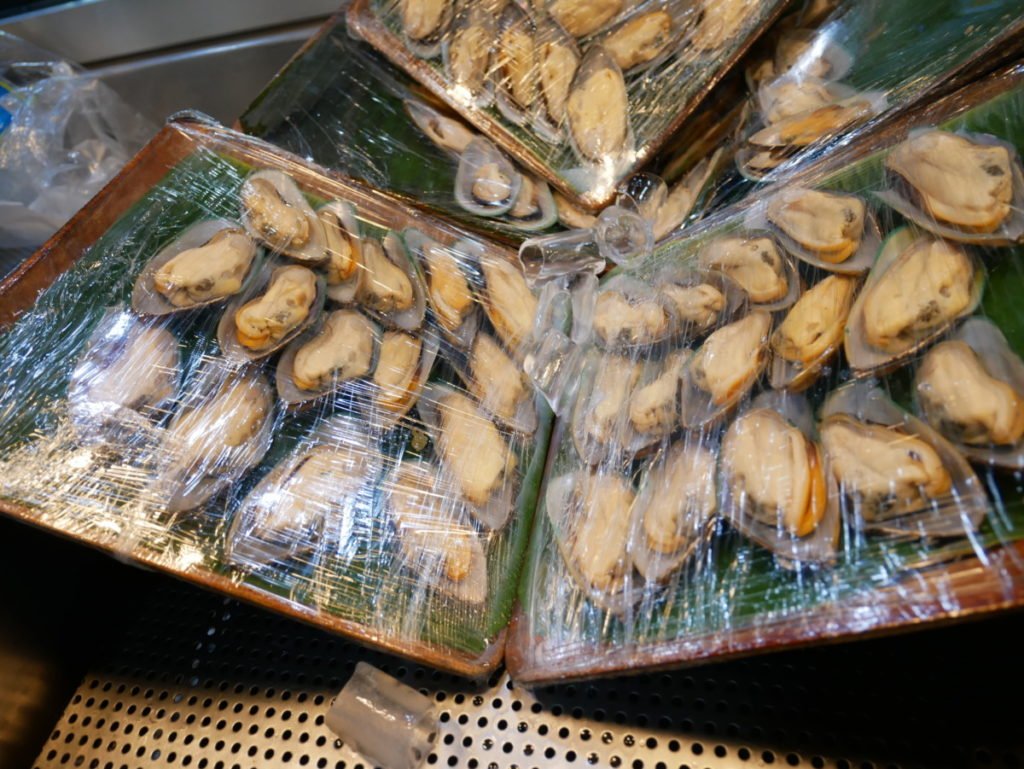 If you love vegetables this plate of mixed vegetables will be cooked in a dish called Chopsuey. A Chinese dish which has become a very popular dish in Philippine culture. The dish is often included during celebrations and is always available in the menu at local restaurants.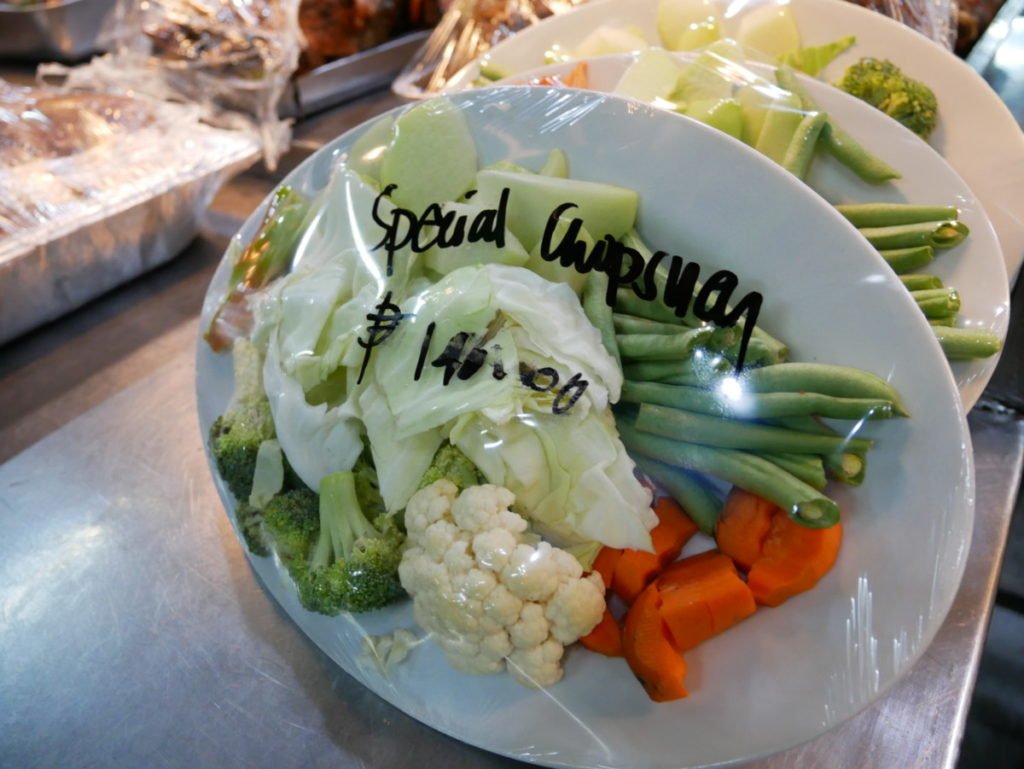 The Beef Bulalo is another popular Philippine dish. Made from boiling beef shank with onions, ginger and pepper. Then it is left for hours to boil to soften the meat and give out a very savory broth.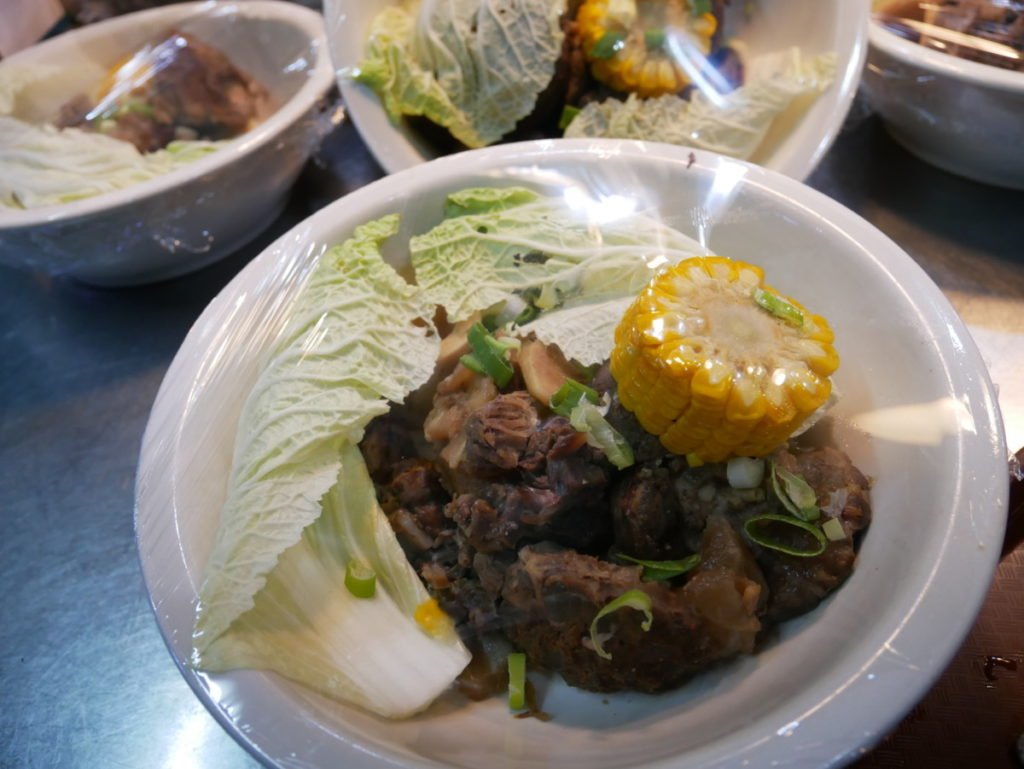 Pre-cooked pork dishes are also available that include Crispy pata (crispy pork leg) and Lechon Kawali (crispy pork belly) which are just a few their pork dishes.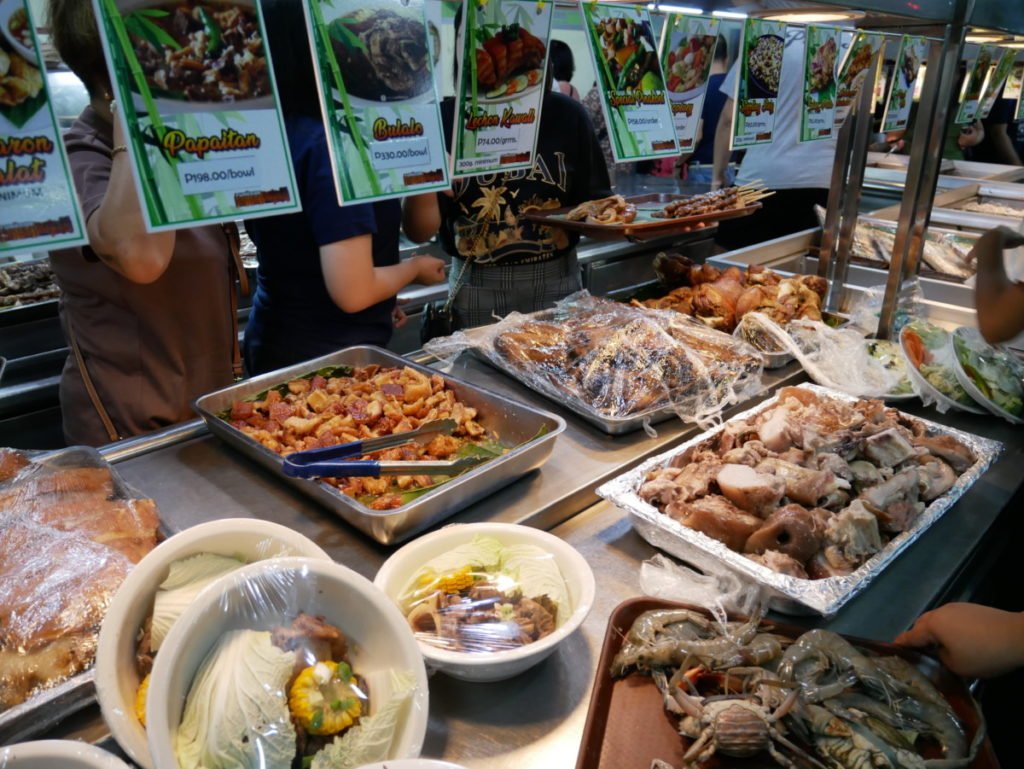 Here are marinated meat dishes like pork barbecue, pork chops and pork belly. Here in our country people loves grilled food and we could not get enough of it. You could even find a barbecue stall in almost every street corner.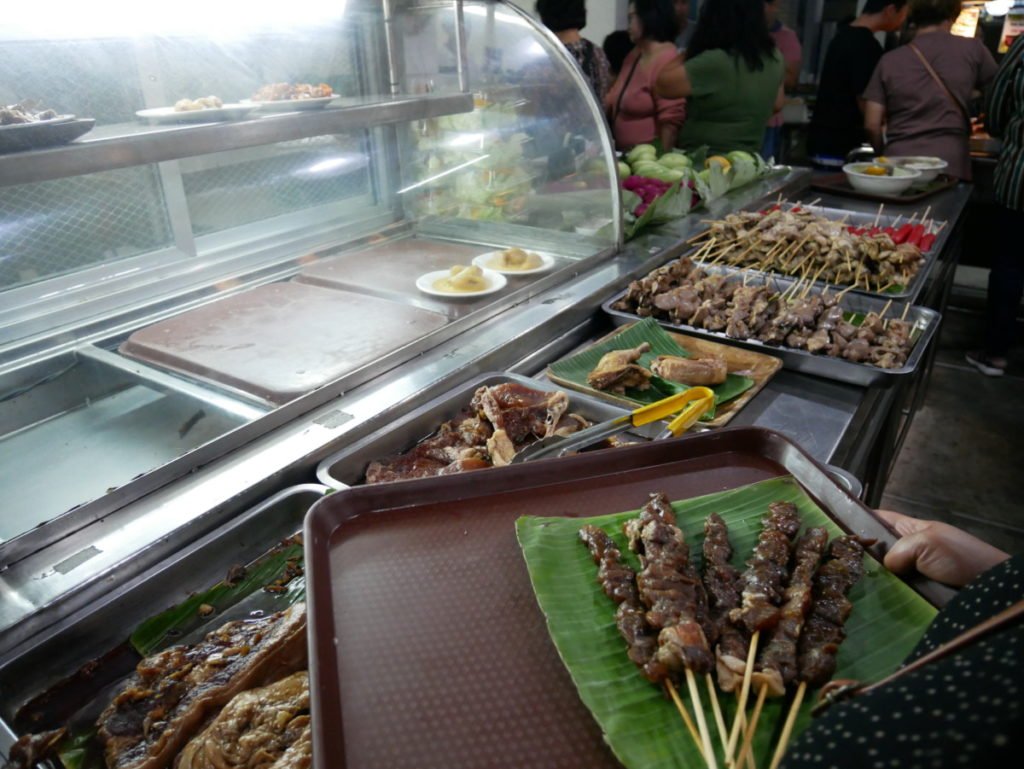 A perfect Philippine meal would not be complete unless you have a side dish of tomatoes, green unripe mangoes and itlog na pula (salted duck eggs).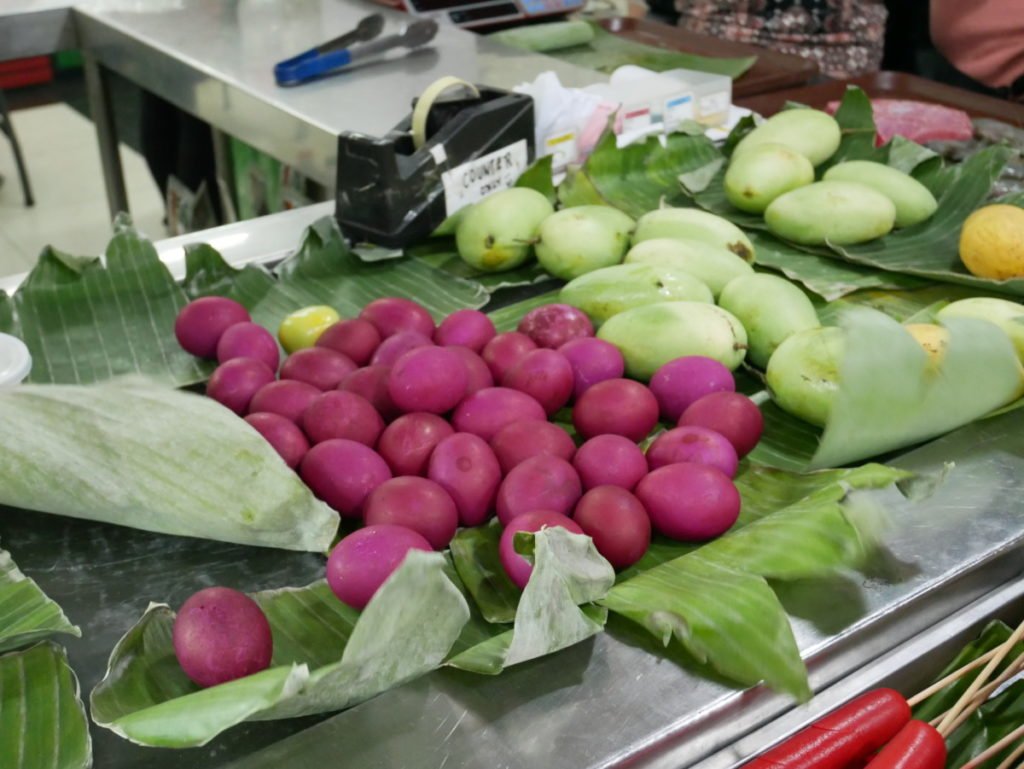 At this station, your food will be weighed and you will be asked how your food will be cooked. If you have trouble deciding you could ask for suggestions for popular dishes and they would be glad to help you out.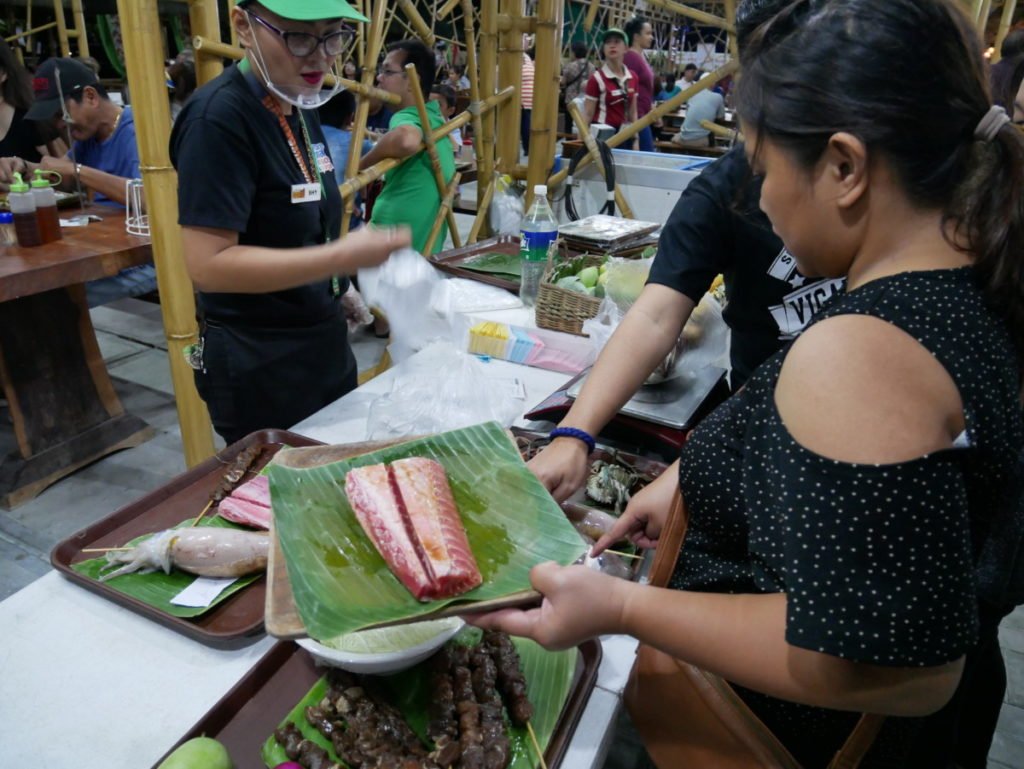 At the cashier they computed our bill and it came to us a bit of a shock. It seems that the cooking fee was a bit steep and we had to remove some of our order.
We paid for around 6,500 pesos which could amount to almost $126.00 USD
two cuttlefish
crispy pata
two bowls of bulalo
two crabs
tuna belly
a couple of barbecue
some shrimps
10 serving of rice
2 bottles of soda
side dish
For 9 people what do you think? Is it a fair enough price? At this point we were regretful as at that amount we could already enjoy unlimited buffet.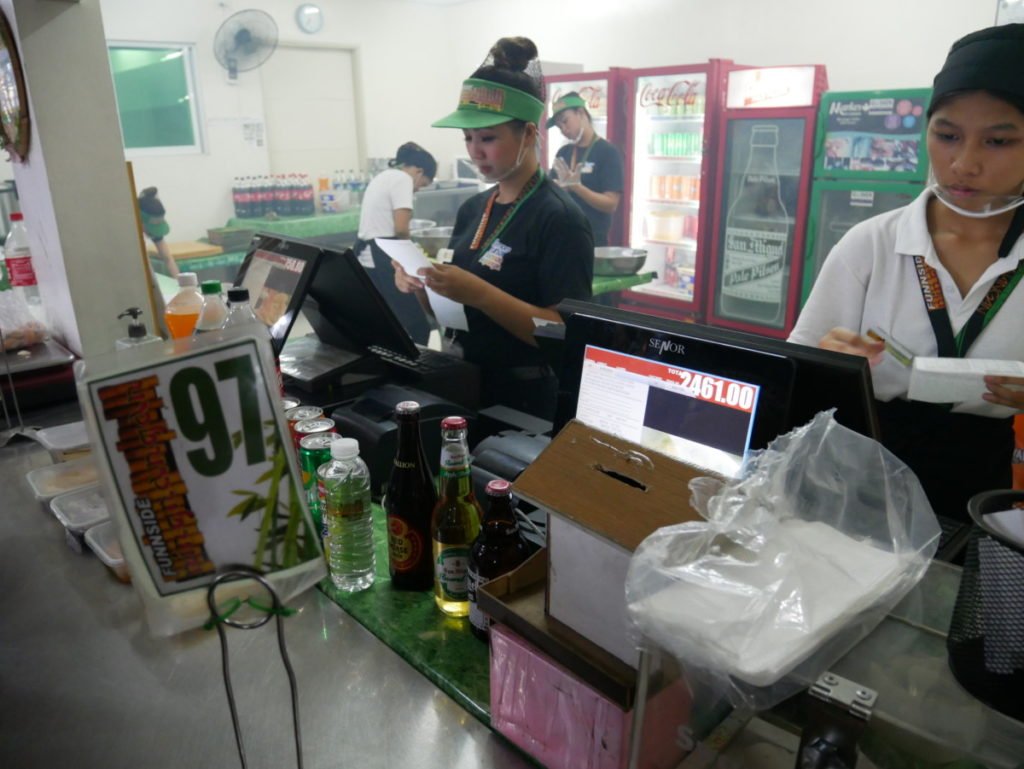 At this station is where all the food is grilled. Trays are all lined up waiting for their turn but there are three grilling stations so it should be quick.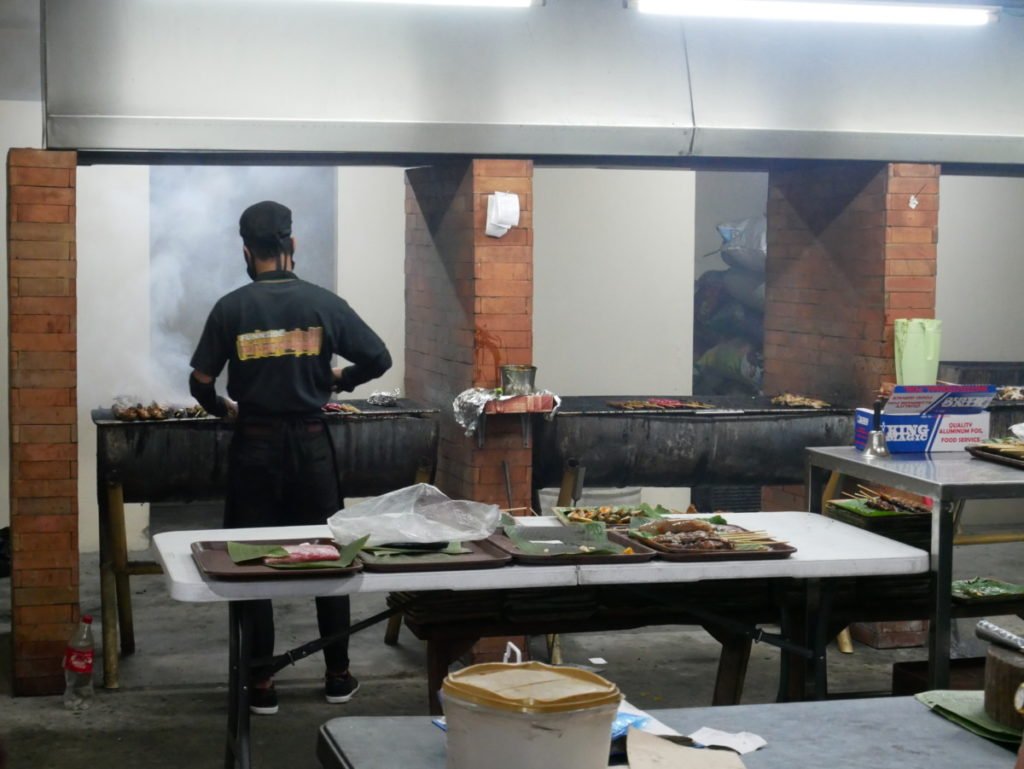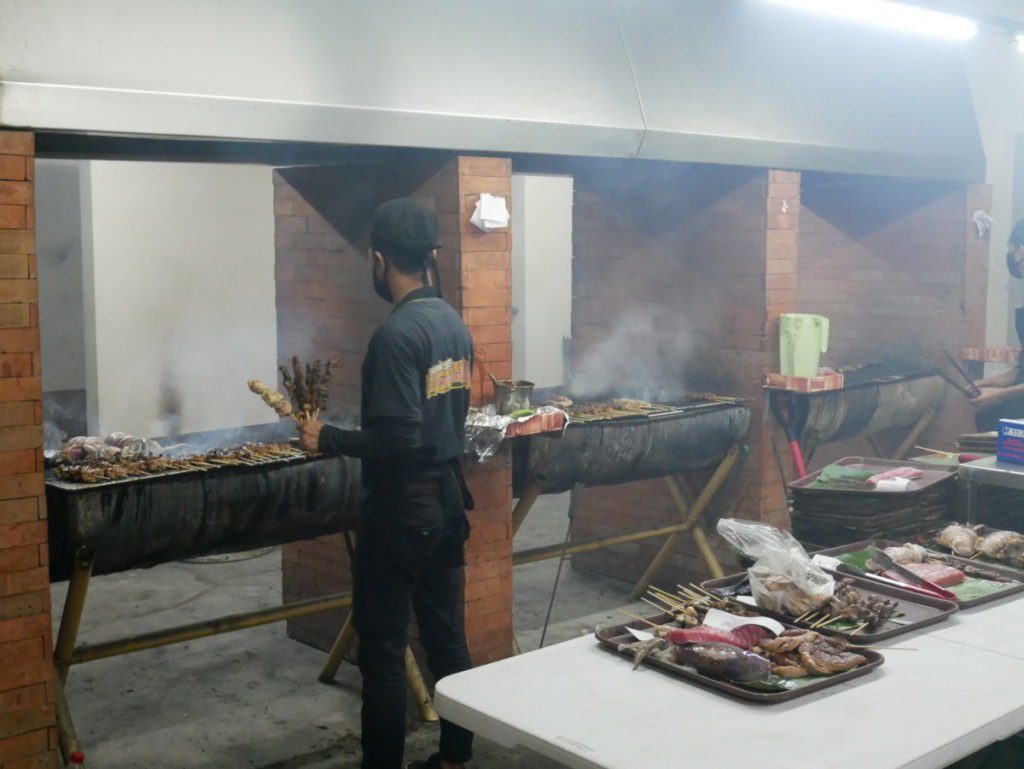 We moved to the center table which is more comfortable and the gigantic screen is just in from of us. Everyone kept themselves busy with their phones while waiting for our order to arrive.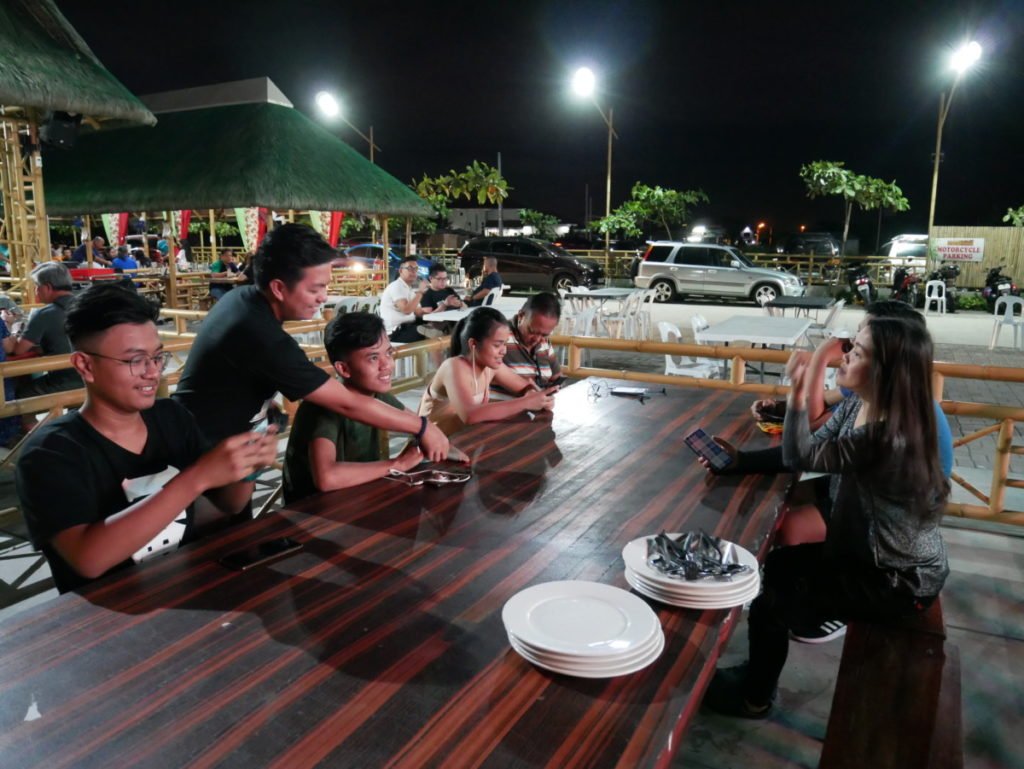 The first to arrive were the side dish of green mangoes, tomatoes and onions. This also includes bagoong (shrimp paste) a very popular salty dipping for almost anything.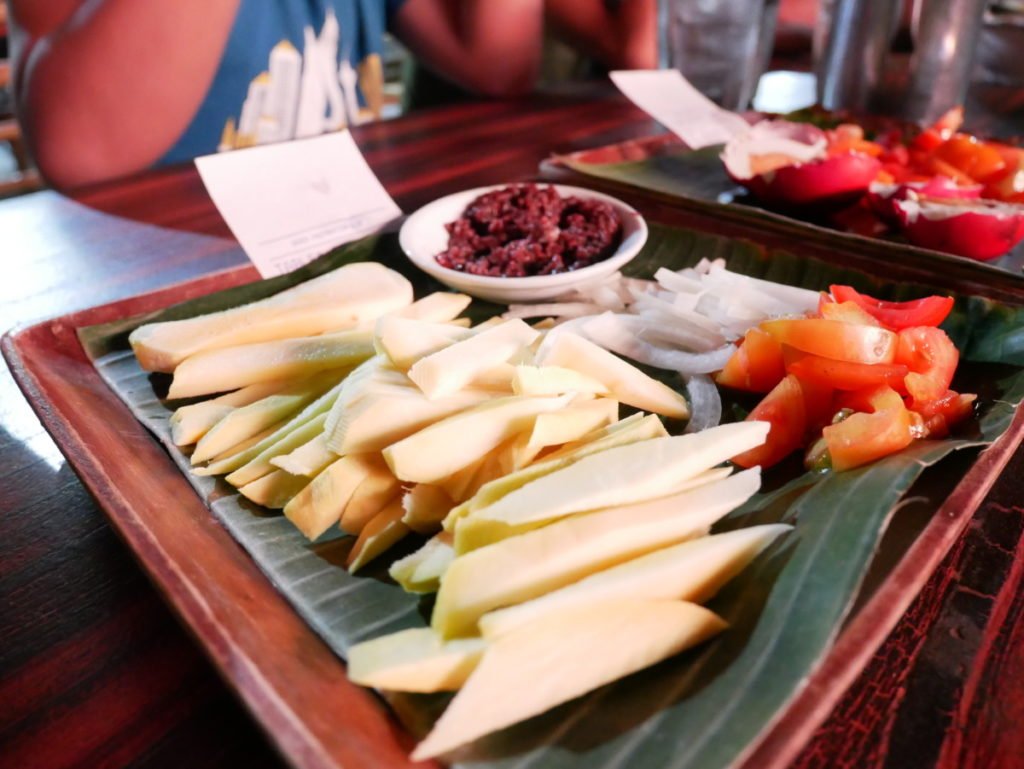 At the same time salted duck eggs with tomatoes also arrived.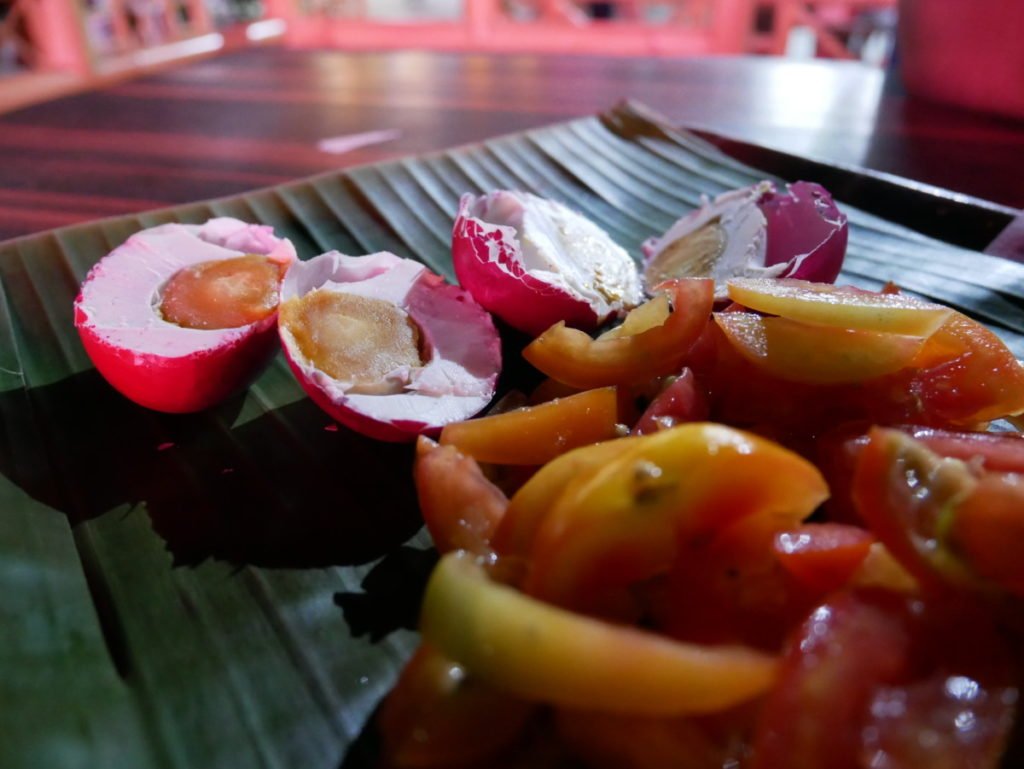 Here is the birthday celebrant with his four grand children.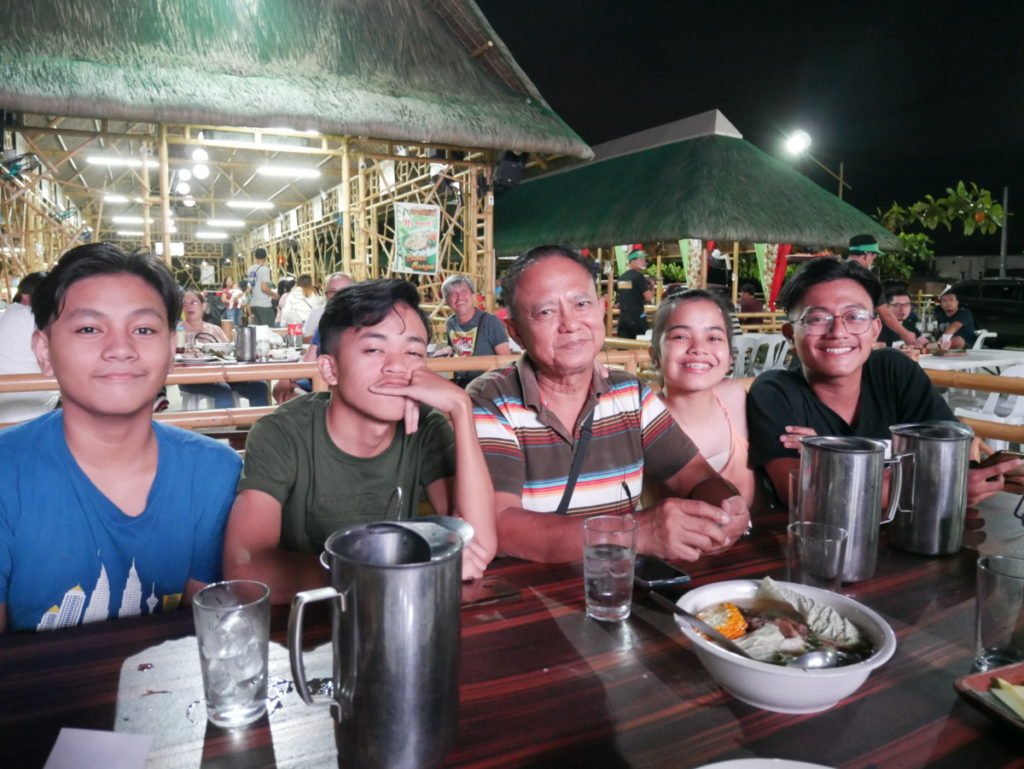 The hot rice is served wrapped in banana leaves which gives it a delicious scent upon opening the wrapper.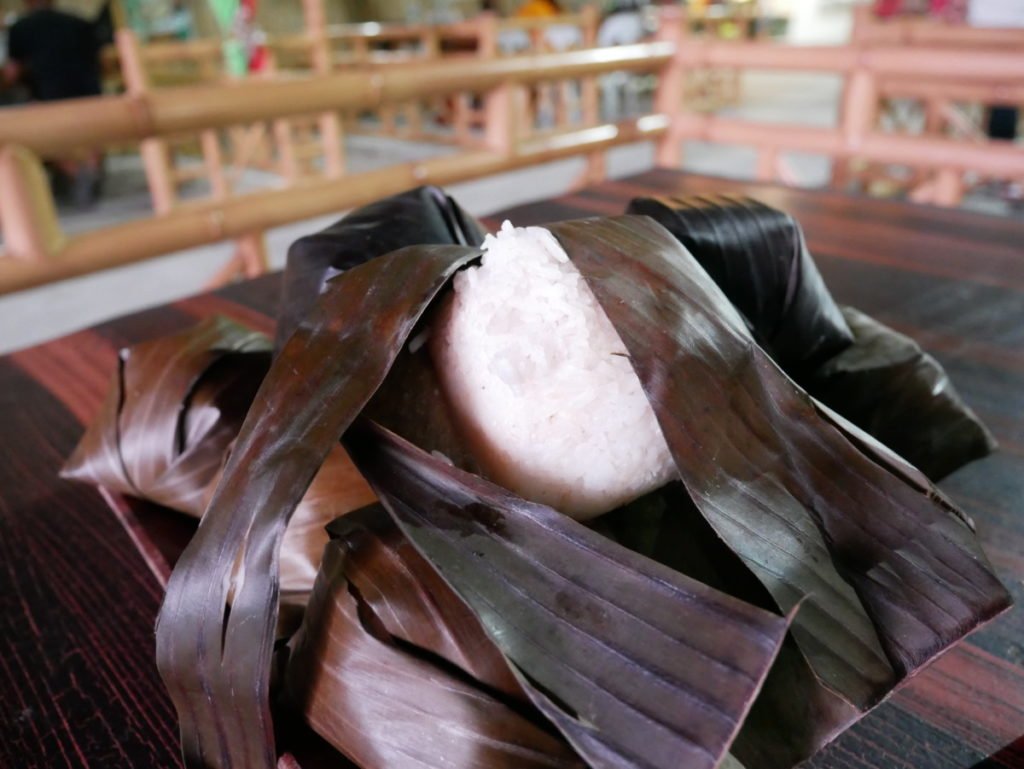 Our buttered garlic shrimps has arrived and it looks very good.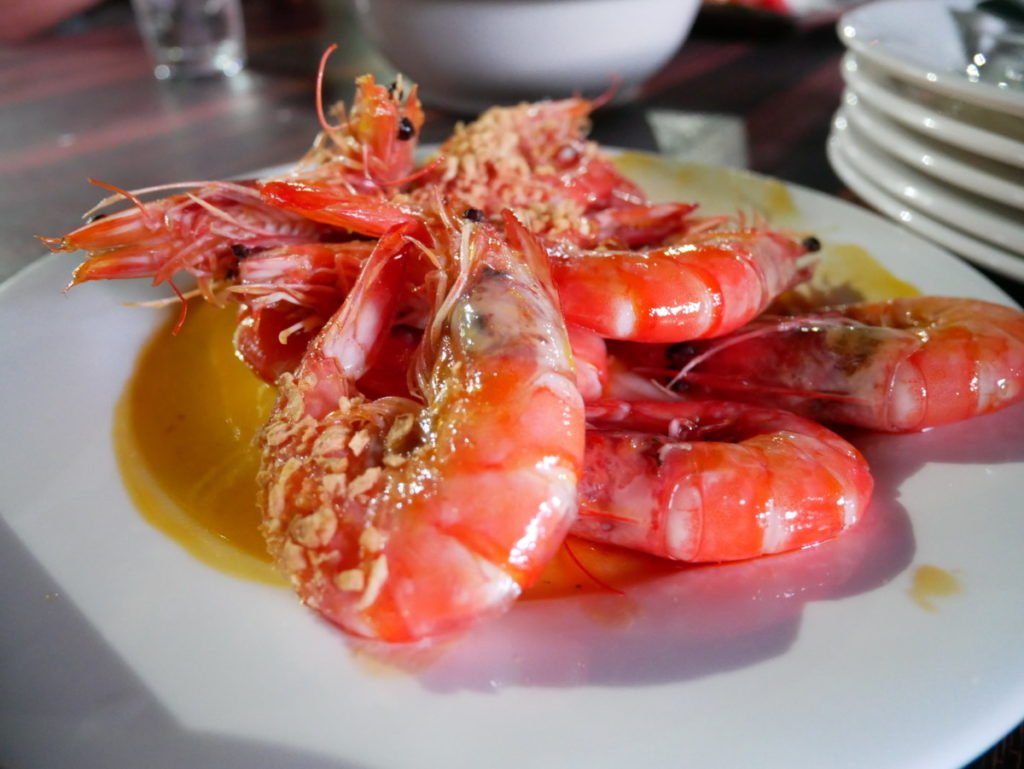 It was followed by chili mud crabs. The crabs were a bit small but it was very meaty and has a lot of crab roe.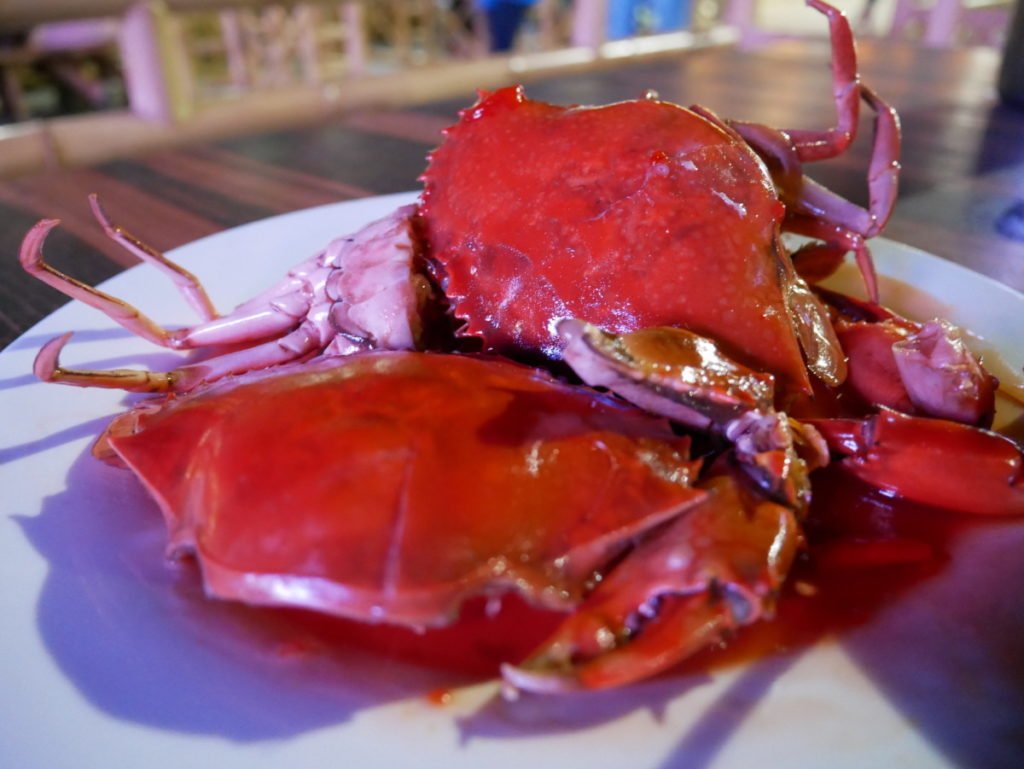 This dish is called "Crispy Pata" pork leg that has been deep-fried to perfection. Crispy skin with meat that is so tender, it is a highly recommended dish if ever you visit the Philippines.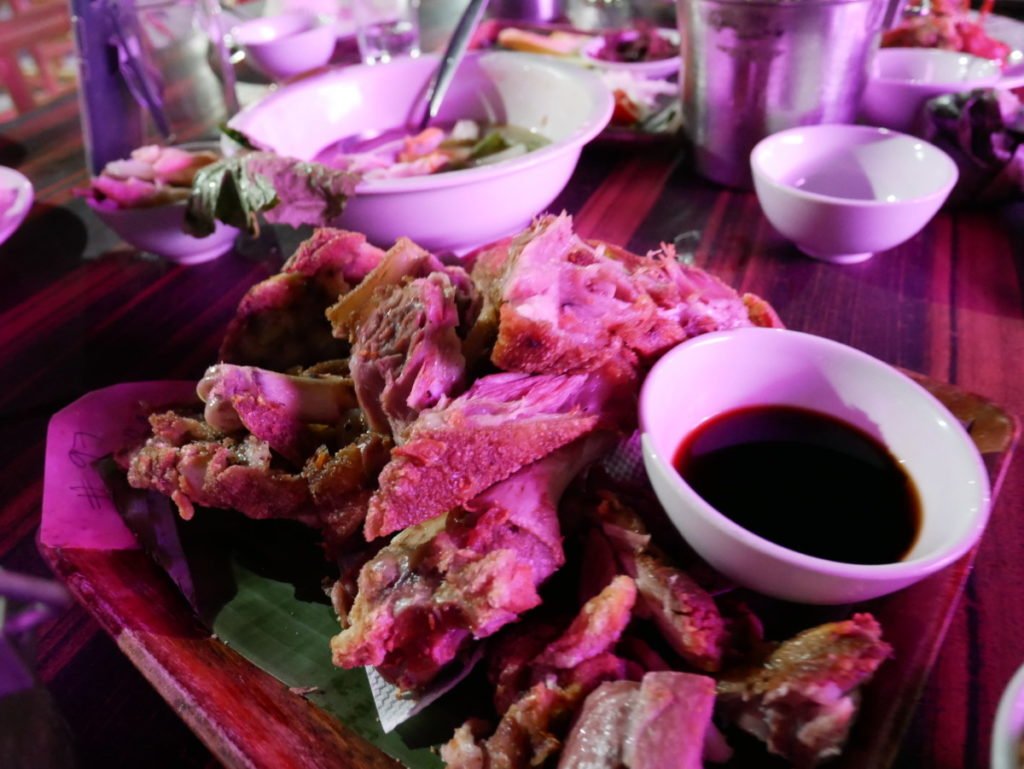 As we were eating we forgot that we ordered some cuttlefish. They grilled it just right and was not overcooked as overcooking would make the meat rubbery in texture.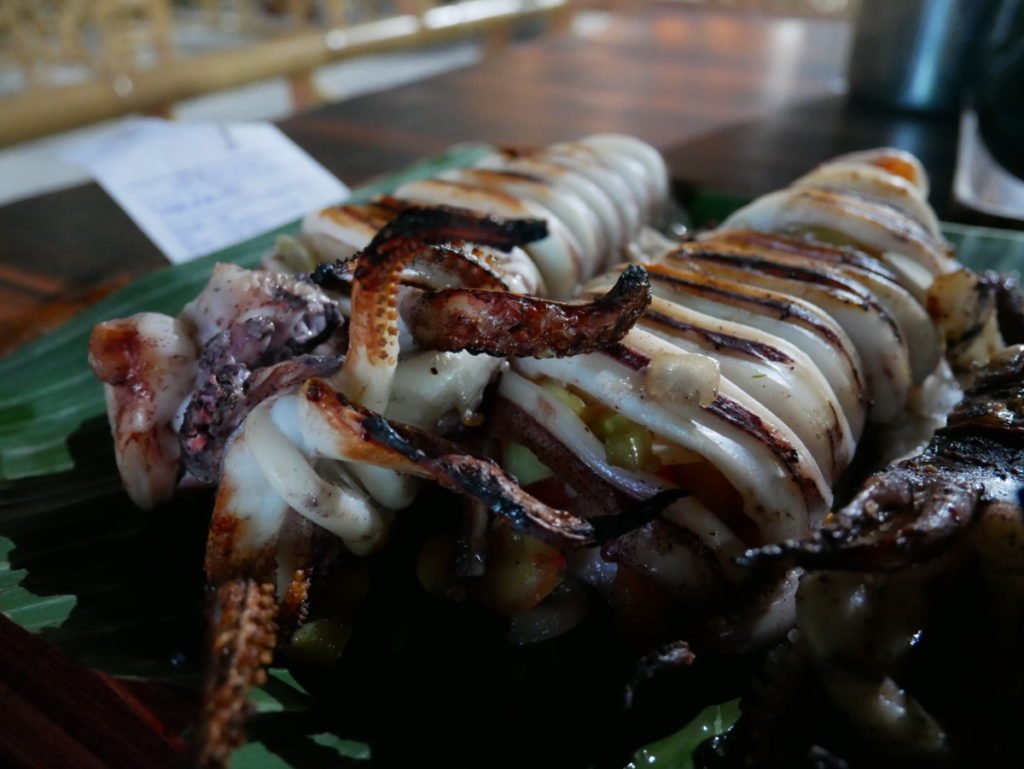 The last to arrive was the grilled Tuna belly. I felt this was a bit over cooked as the fish felt slightly dry.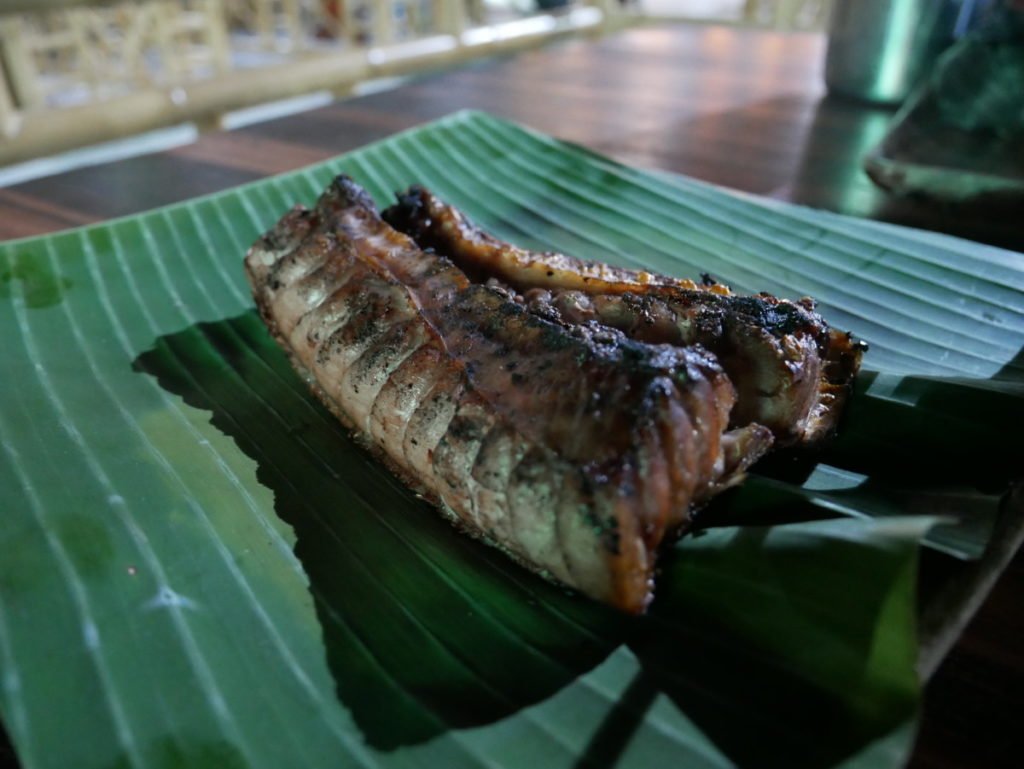 Here is my daughter with her grand dad who looks very pleased with the food.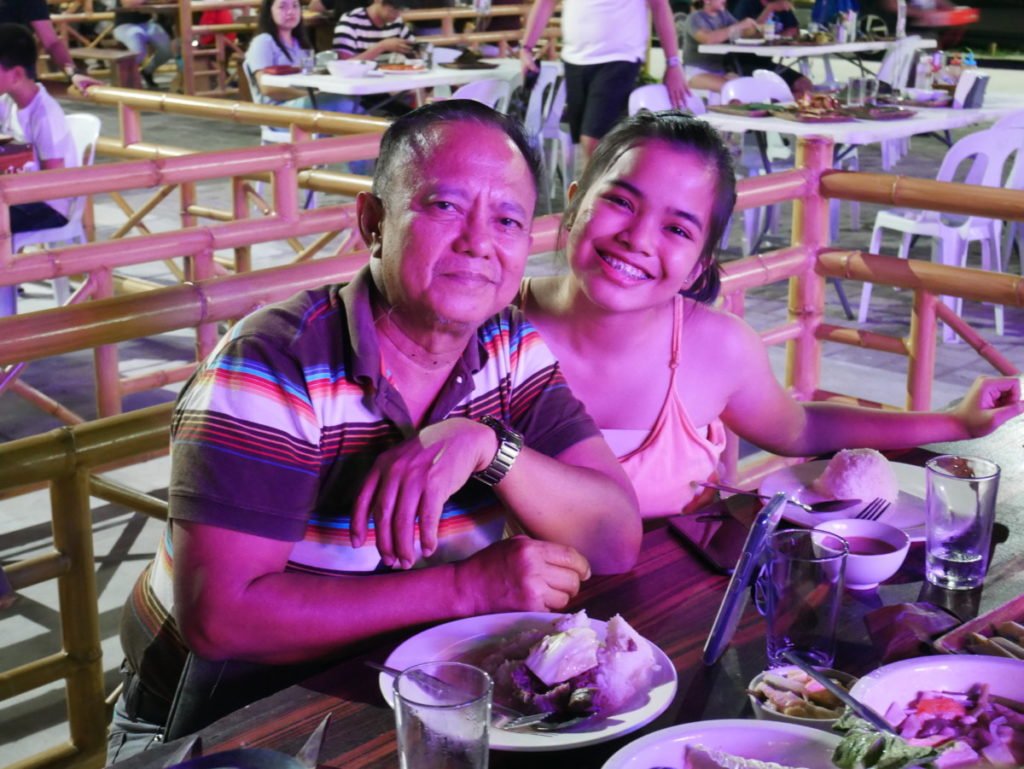 Time for the verdict
Price - Quite expensive compared to other restaurants. At this price point, you could enjoy a very good unlimited buffet restaurant.
Food - Overall the taste of their food is very good
Ambiance - The place is very clean and well maintained
Parking - A large space to accommodate a lot of vehicles
Service - The food was served at an acceptable amount of time
Finally, I would close by saying that the restaurant is really good if not for the steep price that they have. I had a little chat with one of the waiters who admitted that the price was indeed expensive. A great place for special celebrations but not recommended for weekend dinners.
I hope you enjoyed our food tour and hope to see you again next time. What do you think about the review? Please do let me know as I would love to hear from you.
Until then enjoy the rest of the weekend everyone.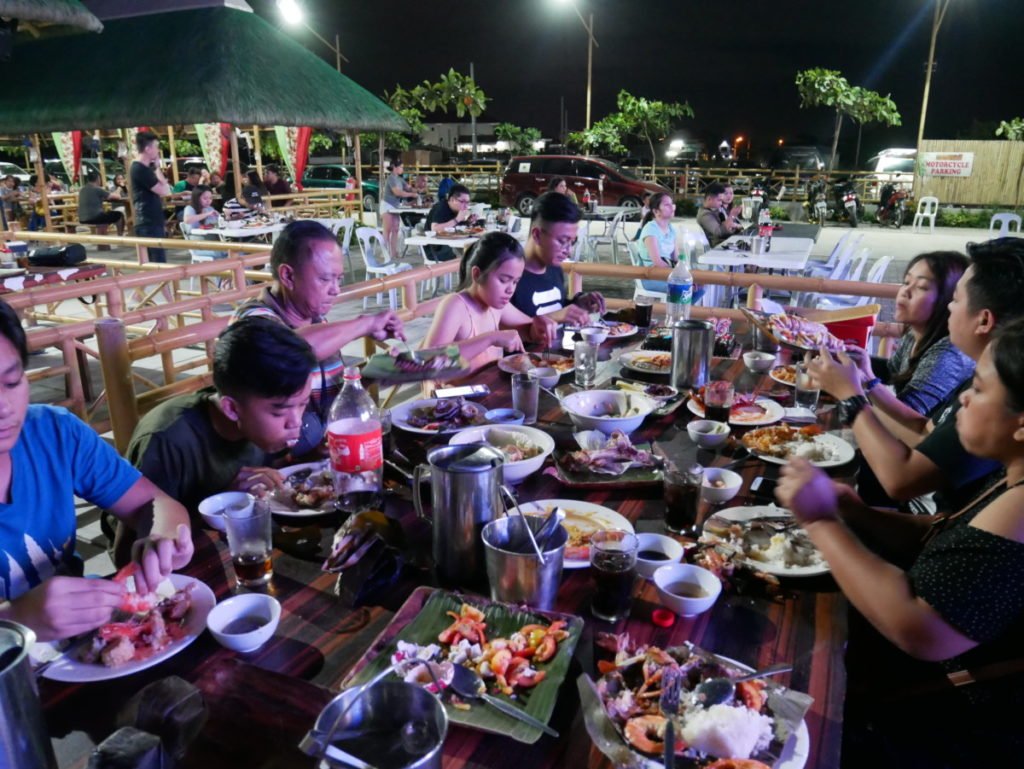 Visit and follow @steemitbloggers AKA #powerhousecreatives. A community that is exceptional, talented and engaging.
Leaving a mark in our beautiful world with @steemitworldmap and @travelfeed
All photos are original and taken with
Panasonic Lumix GX85 with 12-32 mm kit lens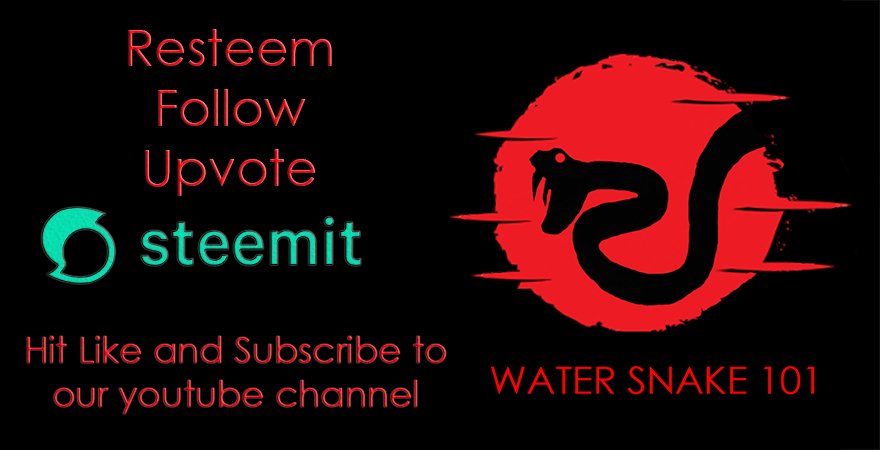 ---
Posted from my blog with SteemPress : http://watersnake101.steemblogs.club/2020/03/01/a-taste-of-the-philippines-funnside-ningnangan-beautiful-sunday/
---