Hola amigos de Steem Geography en este post voy a contarles acerca de un sector hermoso, lleno de encanto, naturaleza, energía, tradición, cultura y misterios, Sendero de la Guadalupe en el estado Falcón, Venezuela.
Hello friends of Steem Geography in this post I am going to tell you about a beautiful sector, full of charm, nature, energy, tradition, culture and mysteries, Sendero de la Guadalupe in the state of Falcon, Venezuela.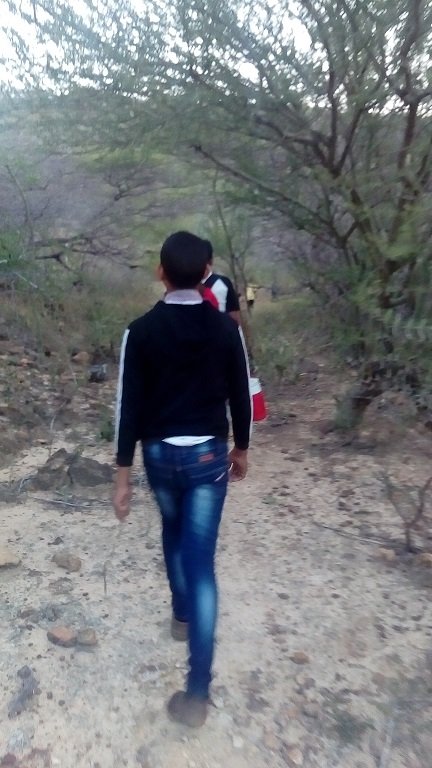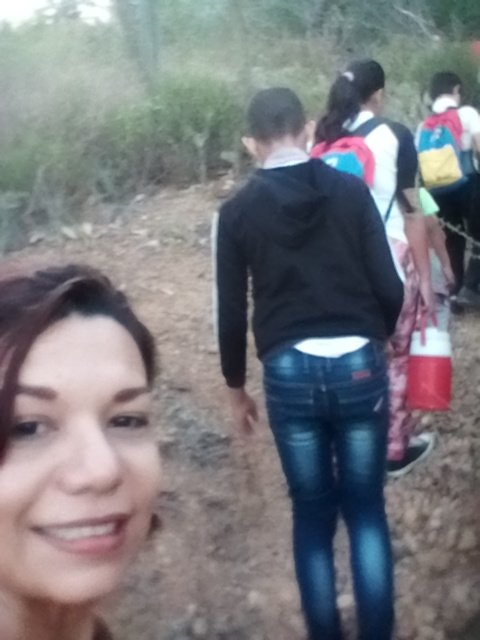 Source: @emimoron
En algunos de mis post he dicho lo mucho que amo el mar, todo lo encierra y significa, en mi búsqueda de nuevos sitios o puntos para hacer snorkel o bucear escuche de una ruta que se hacía tres veces al año hacia un sector de la costa del municipio Colina del estado Falcón en Venezuela, cerca de donde vivo, que se llama la Guadalupe, su nombre está relacionado con el hallazgo del Sagrado Lienzo de la Virgen de Guadalupe que se encuentra en un hermoso Santuario en el Valle de El Carrizal en ese municipio y que tiene 297 años expuesto, el hallazgo de este lienzo por los indios Caquetios se considera un acontecimiento cultural de gran de importancia pero lo más asombroso se encuentra en el milagro de su permanencia de forma intacta durante casi tres siglos sin que hasta la fecha se le haya hecho alguna restauración, la imagen de la Virgen de Guadalupe de El Carrizal ha unido en amor y devoción a todo el pueblo de Falcón.
In some of my posts I have said how much I love the sea, everything it holds and means, in my search for new sites or points for snorkeling or diving I heard of a route that was done three times a year to a sector of the coast of the Colina municipality of Falcon state in Venezuela, near where I live, which is called the Guadalupe, its name is related to the finding of the Sacred Canvas of the Virgin of Guadalupe which is located in a beautiful shrine in the Valley of El Carrizal in that municipality and that has 297 years exposed, The finding of this canvas by the Caquetios Indians is considered a cultural event of great importance, but the most amazing thing is the miracle of its permanence intact for almost three centuries without any restoration to date, the image of the Virgin of Guadalupe of El Carrizal has united in love and devotion to all the people of Falcon.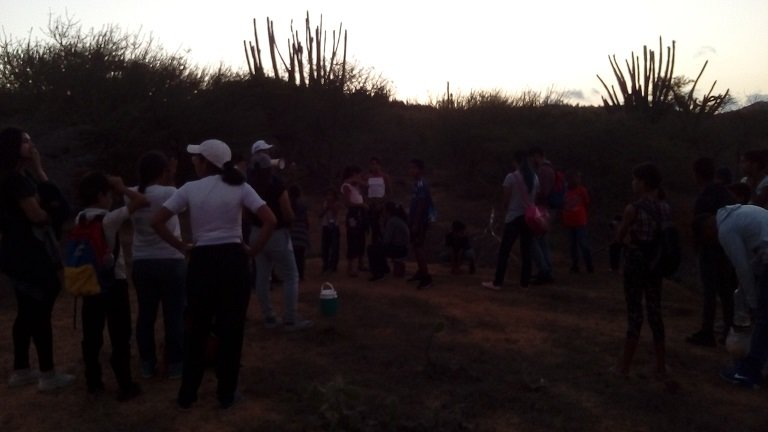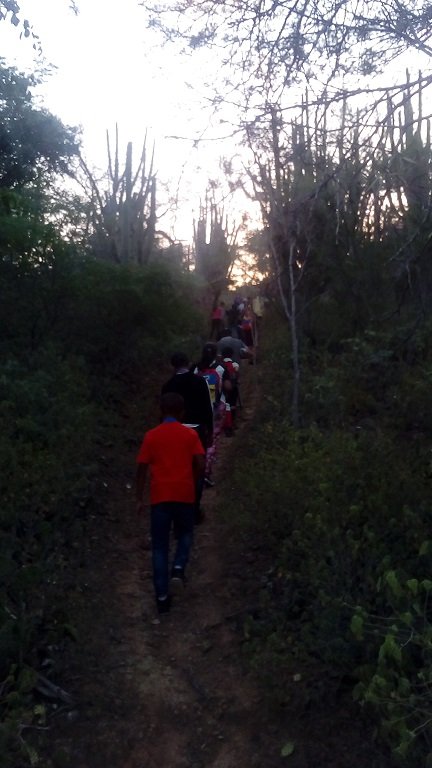 Source: @emimoron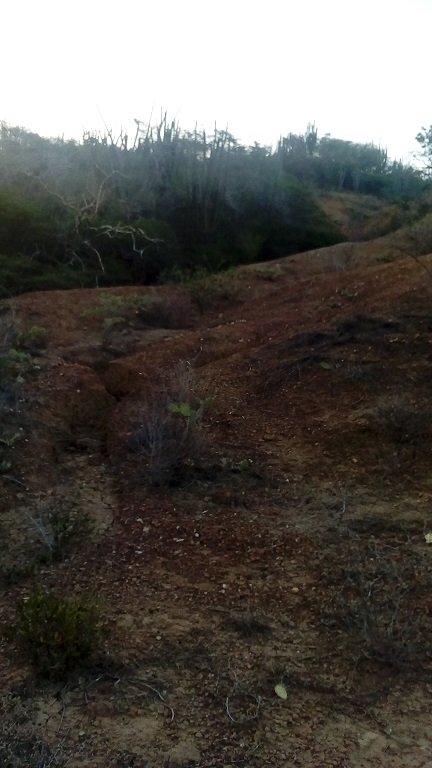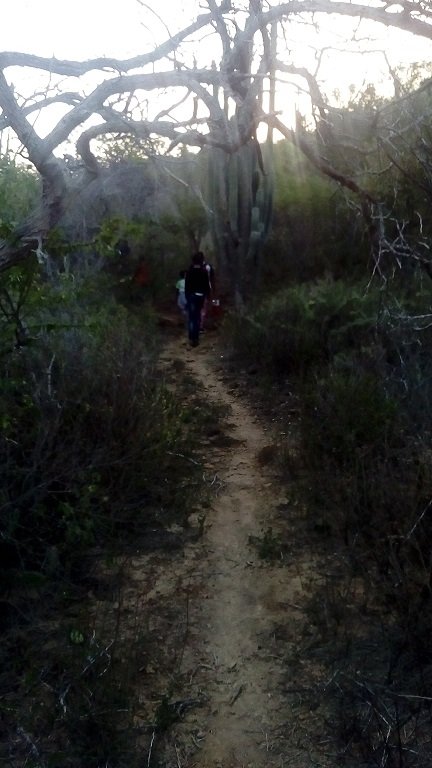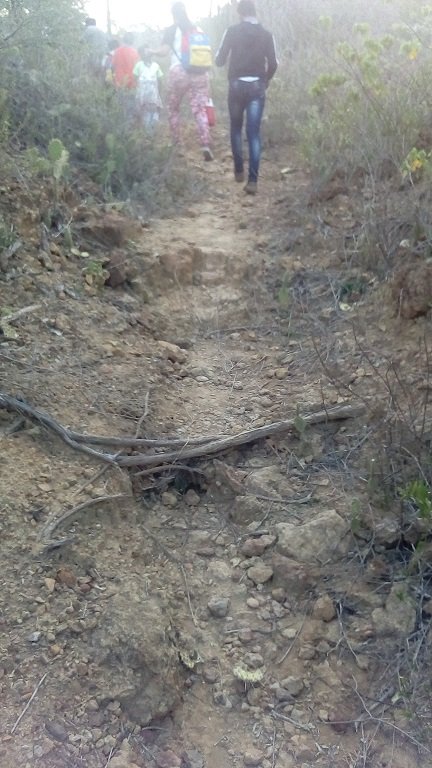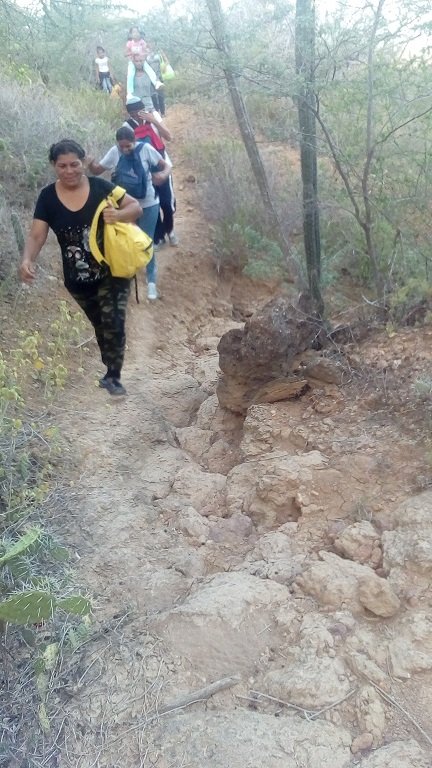 Source: @emimoron
Este lienzo llegó en un baúl en un extremo de la costa falconiana que realmente les digo sino hubiese hecho la ruta del sendero con el grupo seguramente jamás hubiese dado con ese místico lugar. Así que hoy les invito a recorrer conmigo la ruta del Sendero de La Guadalupe. Lo primero que deben saber mis estimados lectores es que no se trata de una ruta sencilla, es realmente un sendero que exige de preparación física, en el caso de las personas que no están acostumbradas al senderismo se requiere de resistencia debido a que son alrededor de 15 kilómetros desde el Santuario Mariano de El Carrizal donde es el punto de salida y llegada, hasta La Guadalupe, el recorrido total son 30 kilómetros ida y vuelta en 6 horas sólo de caminata, pues en La Guadalupe se descansa una hora o dos dependiendo de las características del grupo de senderistas.
This canvas arrived in a trunk at one end of the Falconian coast that I really tell you if I had not done the trail route with the group, I would surely never have found this mystical place. So today I invite you to walk with me the route of the Guadalupe Trail. The first thing you should know my dear readers is that this is not a simple route, it is really a trail that requires physical preparation, in the case of people who are not used to hiking it requires endurance because it is about 15 kilometers from the Marian Sanctuary of El Carrizal where is the point of departure and arrival, to La Guadalupe, the total distance is 30 kilometers round trip in 6 hours of walking only, because in La Guadalupe you rest for an hour or two depending on the characteristics of the group of hikers.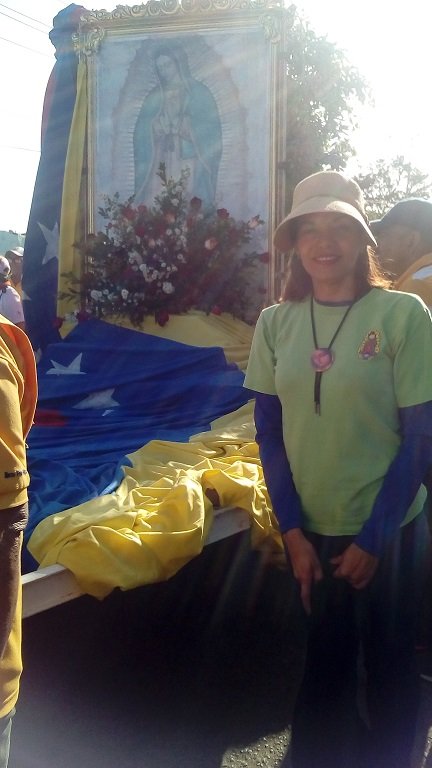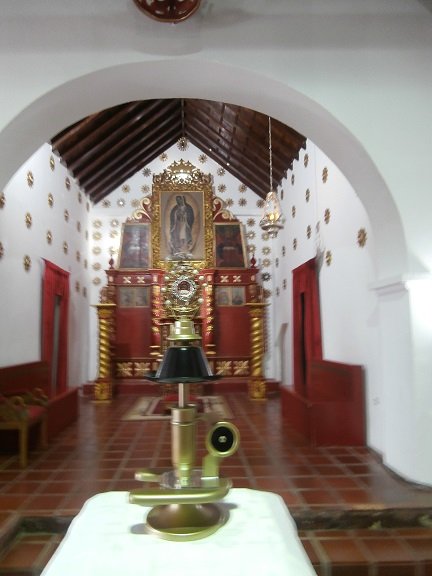 Source: @emimoron
El recorrido inicia a las 5am de la madrugada en el Santuario como ya les dije y de allí se recorre un kilómetro y medio en carretera de asfalto antes de adentrarnos propiamente en la ruta que es muy angosta, se debe ir en fila sólo se puede una sola fila pues la vegetación es cerrada.
The tour starts at 5am in the morning at the Sanctuary as I already told you and from there you travel a kilometer and a half on asphalt road before entering the route itself which is very narrow, you must go in a single line, only one line is possible because the vegetation is closed.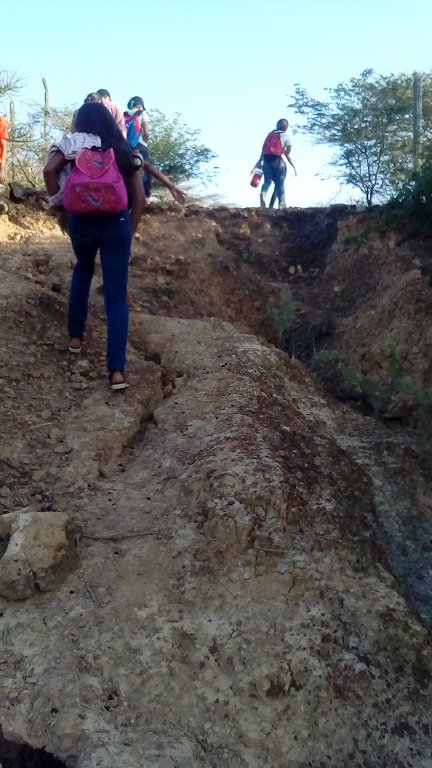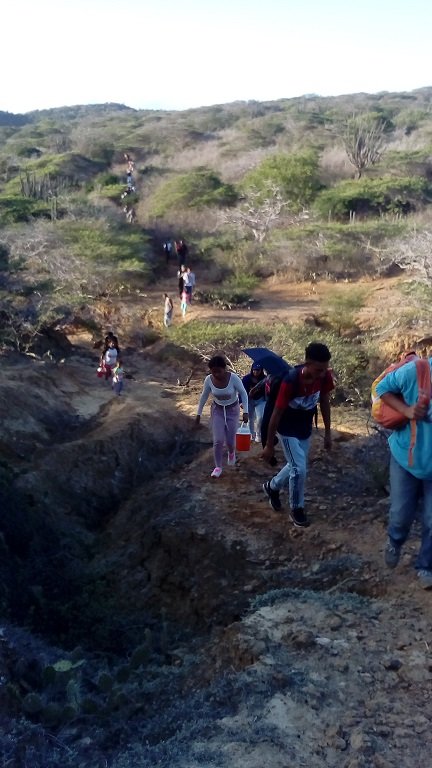 Source: @emimoron
El camino es realmente difícil es un camino no solo de tierra sino de subidas y bajadas, con muchas zonas donde se debe pasar sobre piedras y no puedes agarrarte de nada pues la mayoría de las plantas son xerofitas con espinas, por lo general cactus y la especie de árbol llamada cuji que es fuerte en su tronco pero con ramas espinosas que también abunda en la zona, asimismo hay que llevar los ojos y sentidos muy despiertos por las especies de reptiles entre ellos serpientes venenosas que aunque no son muy comunes también hay en zona.
The road is really difficult, it is not only a dirt road but up and down, with many areas where you must pass over stones and you can not hold on to anything because most of the plants are xerophytes with thorns, usually cactus and the species of tree called cuji that is strong in its trunk but with thorny branches that is also abundant in the area, also you have to keep your eyes and senses very awake for the species of reptiles including poisonous snakes that although they are not very common there are also in the area.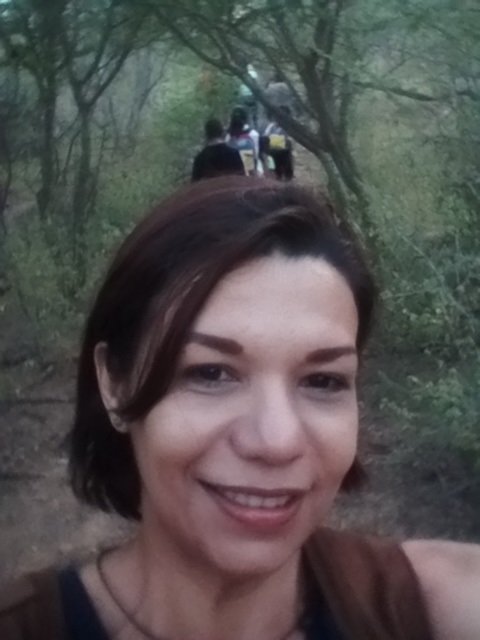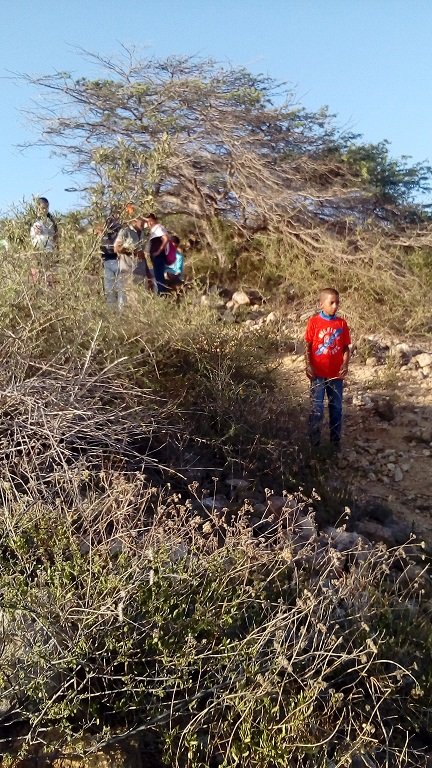 Source: @emimoron
Hay una parte donde pasamos cerca de un pozo petrolero antiguo y abandonado desde allí el camino exige toda tu fortaleza pues comienza la subida de la colina es un camino más angosto aun, esta primera parte del recorrido es realmente exigente y muchas personas solo logran llegar hasta esta zona y de allí se regresan sin llegar a la zona de la Guadalupe, sólo los que realmente están físicamente en condiciones logran llegar, insisto si usted no cuenta con la preparación física no lo haga, debido a que subir la colina requiere de una buena técnica de respiración.
There is a part where we pass near an old and abandoned oil well and from there the road requires all your strength because it begins the ascent of the hill is an even narrower road, this first part of the route is really demanding and many people only manage to reach this area and from there they return without reaching the area of the Guadalupe, only those who are really physically fit manage to get there, I insist if you do not have the physical preparation do not do it, because climbing the hill requires a good breathing technique.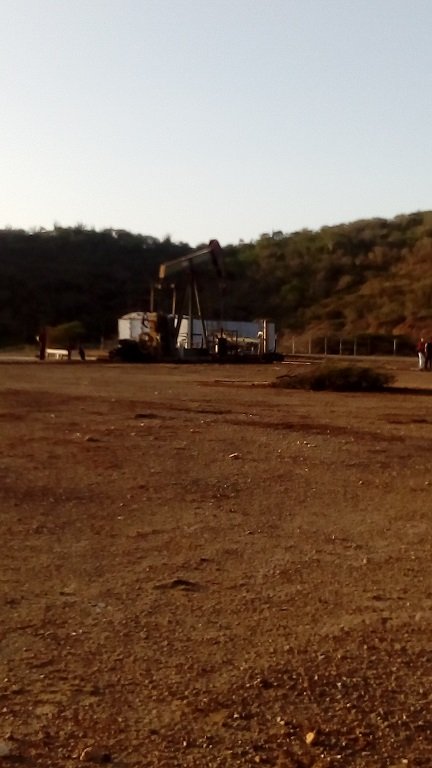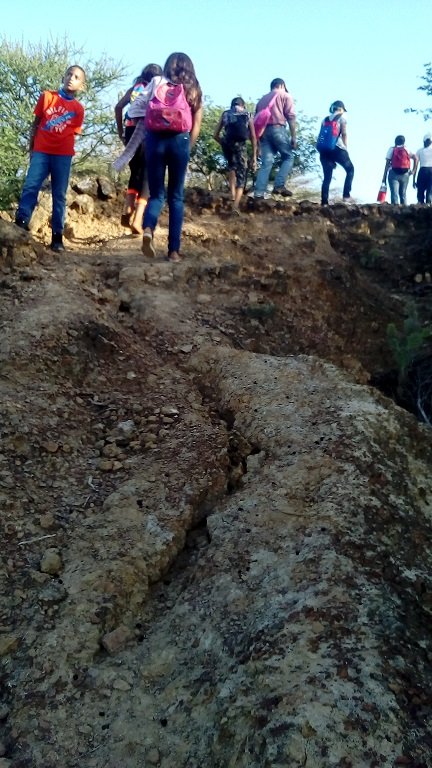 Source: @emimoron
Pasamos la colina y llegamos hasta el ojo de agua donde el agua del mar se decanta en un filtro natural que ha formado como una especie de pozo cuyas paredes de arcilla filtran el agua y convierten de agua salada en dulce, los guias del santuario señalan que hay historias de los antiguos indios caquetios quienes dicen que el agua de este pozo es milagrosa y capaz de curar cualquier mal o enfermedad de quien la toma pues proviene directamente del lugar de donde fue encontrado el Sagrado Lienzo, esto me motivó no sólo a probar el agua y debo decir que ciertamente es agua no tan dulce pero si es agua potable, aquí mi interés por la zona aumentaba.
We passed the hill and reached the water hole where the sea water is decanted into a natural filter that has formed a kind of well whose clay walls filter the water and turn salt water into fresh water, The guides of the sanctuary point out that there are stories of the ancient Caquetios Indians who say that the water of this well is miraculous and capable of curing any evil or illness of those who drink it because it comes directly from the place where the Sacred Canvas was found, this motivated me not only to try the water and I must say that it is certainly not so sweet water but it is drinkable water, here my interest in the area increased.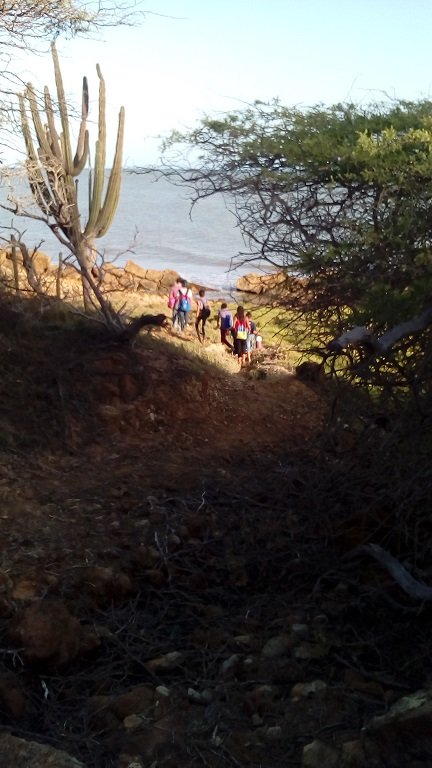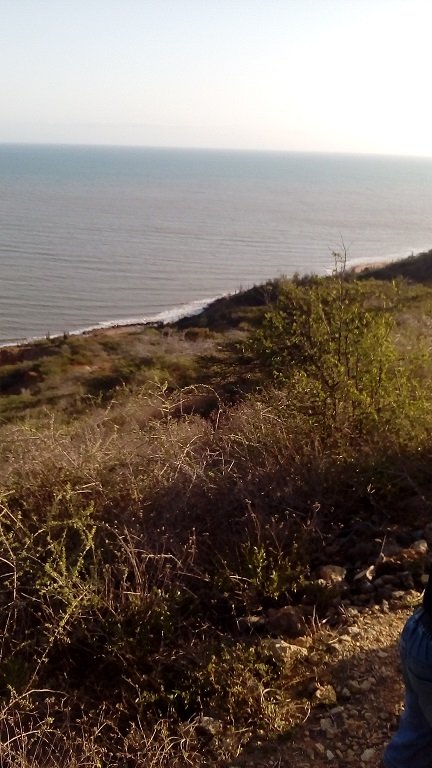 Source: @emimoron
Luego de ese punto ya estábamos muy cerca de La Guadalupe y el espectáculo natural es realmente increíble debo decir que el esfuerzo y recorrido valen la pena tan solo por admirar la belleza de esa naturaleza que no ha sido modificada por la mano del hombre. Aquí las fotos del lugar donde fue encontrado el Sagrado Lienzo de la Virgen de Guadalupe de El Carrizal.
After that point we were already very close to La Guadalupe and the natural spectacle is really incredible, I must say that the effort and journey are worth it just to admire the beauty of this nature that has not been modified by the hand of man. Here are the photos of the place where the Sacred Canvas of the Virgin of Guadalupe of El Carrizal was found.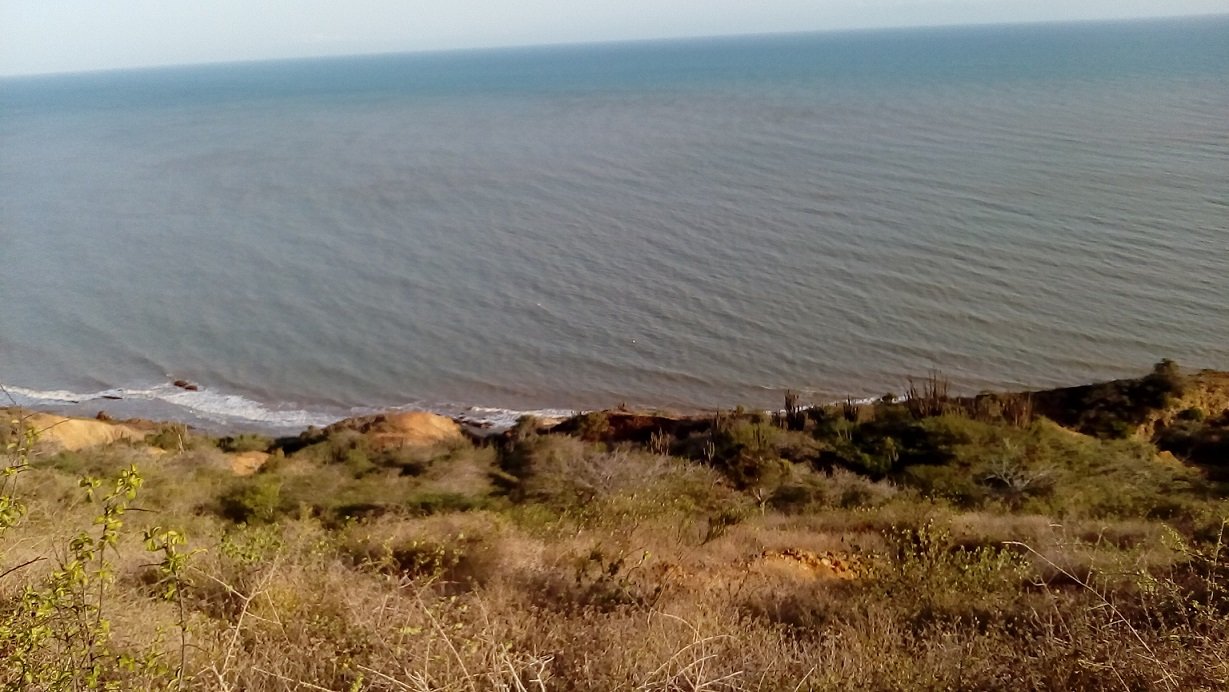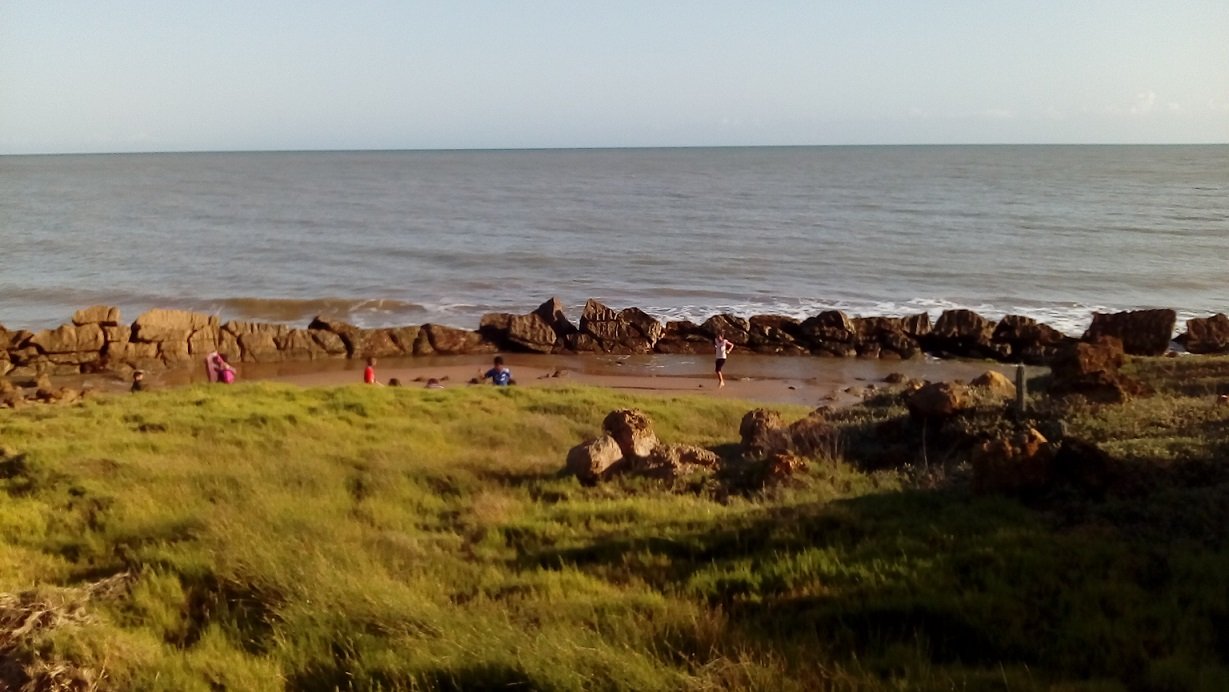 Source: @emimoron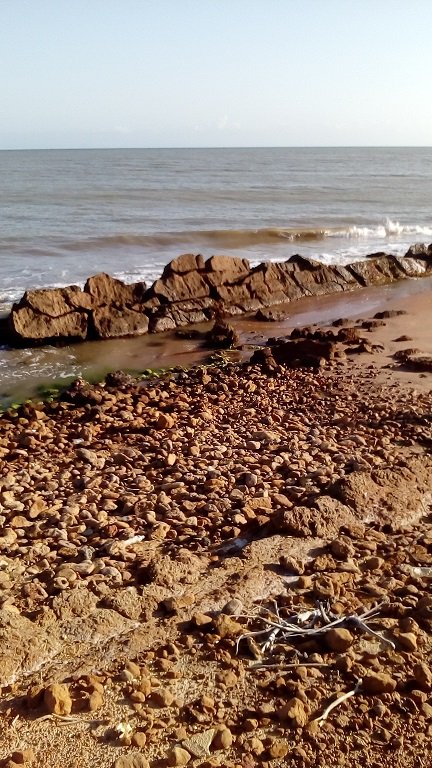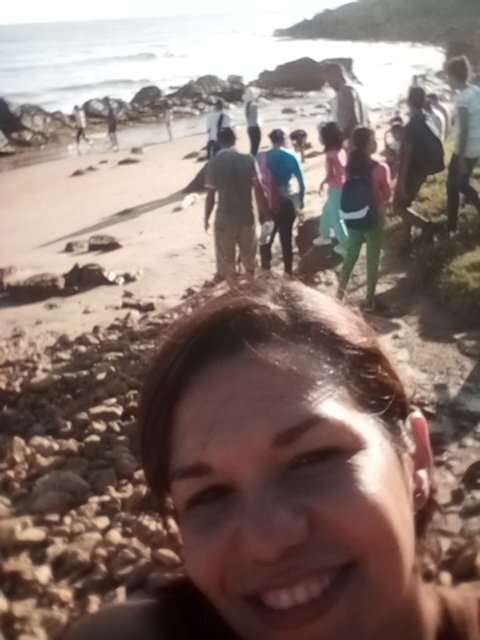 Source: @emimoron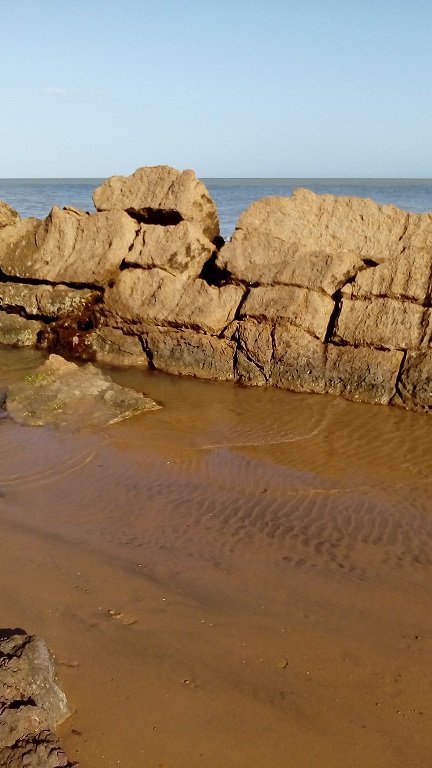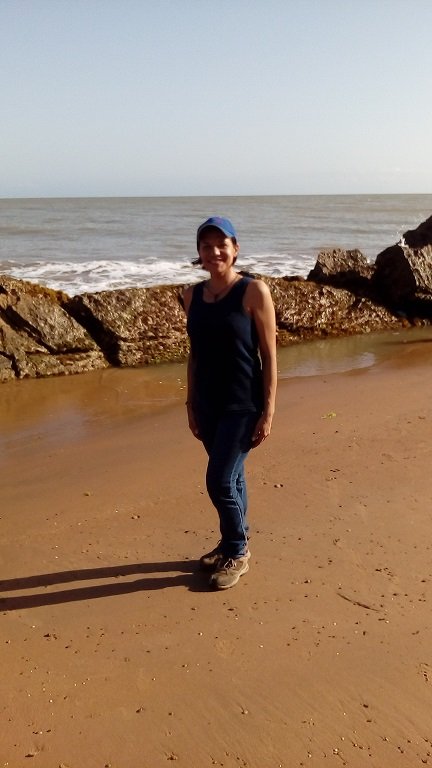 Source: @emimoron
No pude hacer snorkel pues el mar es realmente peligroso su fondo marino está constituido por una formación rocosa de piedras muy filosas y formaciones de corales, incluso los pescadores no arriesgan sus lanchas en esas aguas se forma una pequeña ensenada donde el baúl que contenía el lienzo fue encontrado allí los senderistas pueden disfrutar de un refrescante baño mientras se espera al regreso que se hace a lo largo de la costa, igualmente de difícil o un poco más debido a que el camino está compuesto fundamentalmente de rocas. Espero hayan disfrutado de este paseo si vienen a Venezuela y vistan el estado Falcón por favor pregunte donde queda el Santuario Mariano de El Carrizal de donde podrán conocer a nuestra Virgen de Guadalupe y preguntar por la ruta y los días de las excursiones al Sendero.
I could not snorkel because the sea is really dangerous its seabed consists of a rocky formation of very sharp stones and coral formations, even fishermen do not risk their boats in these waters is formed by a small cove where the trunk containing the canvas was found there hikers can enjoy a refreshing swim while waiting for the return that is made along the coast, equally difficult or a little more because the road is composed mainly of rocks. I hope you enjoyed this walk if you come to Venezuela and visit the state of Falcon please ask where is the Marian Sanctuary of El Carrizal where you can meet our Virgin of Guadalupe and ask for the route and the days of the excursions to the trail.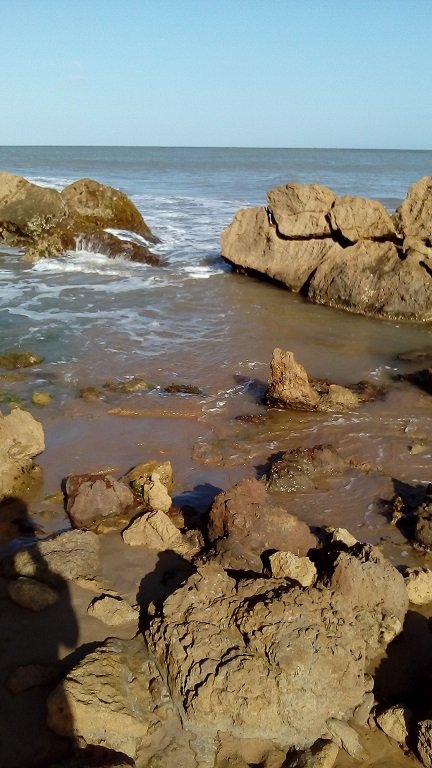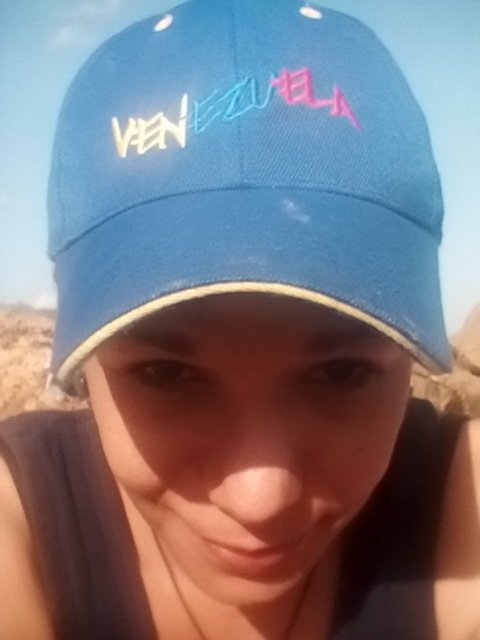 Source: @emimoron
Espero hayan disfrutado ir de excursión conmigo. Este recorrido lo he realizado durante 3 años consecutivos hasta la llegada de la pandemia, espero este año se pueda realizar. Todas las fotos son originales de @emimoron tomadas con mi cámara Olympus Digital 10X algunas con la técnica del temporizador.
I hope you enjoyed hiking with me. I have done this tour for 3 consecutive years until the arrival of the pandemic, I hope this year it can be done. All photos are original from @emimoron taken with my Olympus Digital 10X camera some with the timer technique.