From this photo, I start my miniseries of posts...From today, every 2-3 days I will be uploading one analog photo, with a description of it
the photos you will see in this miniseries were taken by me from around March 2016 to July-September 2017. I Used Canon Prima Super 105x analog camera and (from what i remember) A probably 200 (or 400) ISO film for that
unfortunately, I won't be able to make all the photos public, due to the fact that some of them contain members of my family who might not wish to show their faces.
I plan to upload every photo that i can upload, even the bad one - To describe, what went wrong.
So let's get started: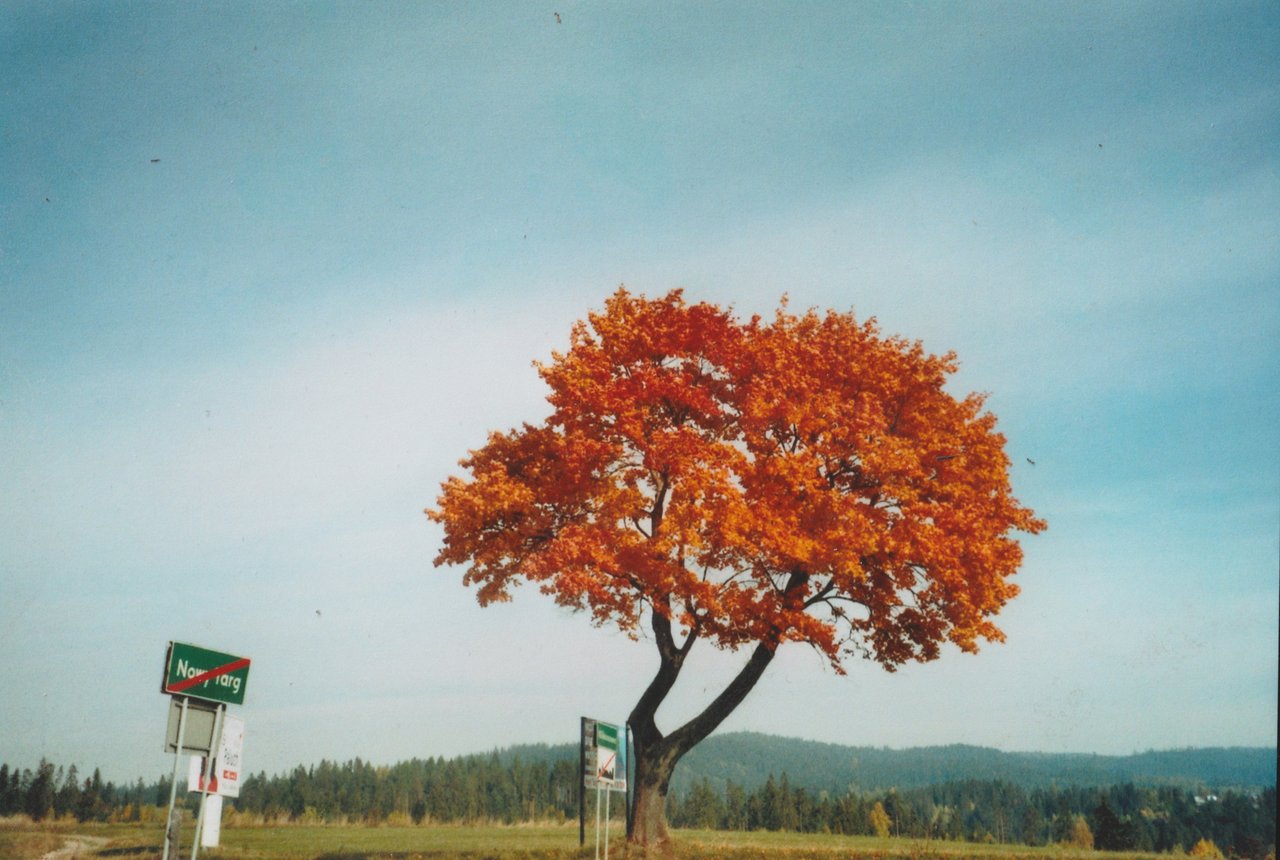 DESCRIPTION:
I took this photo when I went with my family for a few days trip to Zakopane, Poland. It was probably 2016, probably early autumn, so it was still warm. I remember that when I was standing at a gas station, I noticed this tree and i thought to myself "Photo of this tree would be perfect for a wallpaper...or as a some great poster/image to hang on the wall..." So I took this photo...
When I saw the results for the first time, I immediately realized, what analog photography can do, and what digital photography can't do.
When I saw this picture for the first time, I finally understood what Christopher Nolan meant, by saying " "I'm not going to trade my oil paints for a set of crayons." in a 2012 Documentary film "Side-by-side"
The Analog image is completely different from a Digital one. It has different colors, it has different look from a digital one. Mr. Nolan Was right - Even this one frame proves this. This photo, for me, look more like an oil painting, it looks like something more ... precious, it looks to me ... more like a painting.
My problem with Digital photos is that while they are simpler to take than the analog ones, we don't think about them - we don't make any selection - we take 1000 photographs, and then we forget about most of them.. if we are taking analog photos, we only have 30-35 photos to make and we need to make a good selection of what we want to photograph, because analog photography is like a traditional painting - There is no ctrl-z
Either way, that's it for me for today ... Enjoy :)