It isn't new news that honey has many health benefits....from helping with allergies to easing a sore throat, honey is a staple at our homestead.
We love to make herb-infused honey. You can use a variety of herbs for different flavors and uses but for this article we will be talking about Elderberry Infused Honey.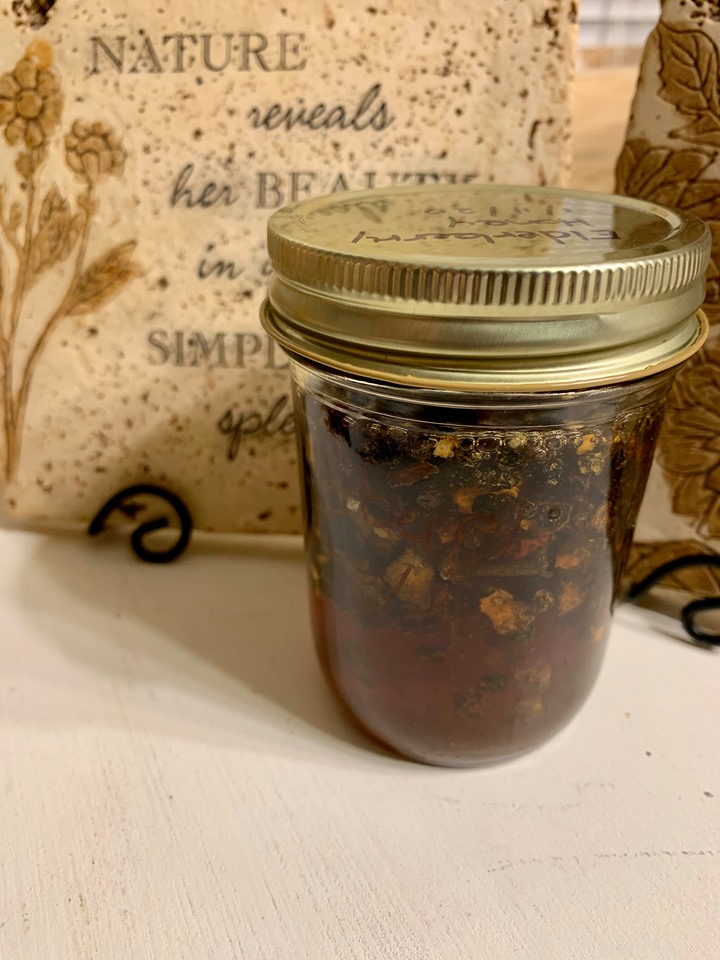 Here at Kindred Acres, we grow our own elderberries. We have several varieties growing and plan to add several more bushes to the food forest. Elderberries are known for their immune-boosting power and their ability to fight off viruses in the body. Couple that with honeys ability to do the same and you have a wonderful blend of a delicious immune-boosting powerhouse.
To make our Elderberry Infused Honey it is best to clean the jar first by boiling it for 5 minutes then allowing it to air dry before use. Next, measure out your ingredients. We use four main ingredients for this recipe. Dried elderberries (if you harvest your own be sure they are very ripe), dried echinacea root, cinnamon sticks, raw organic honey (local is best, hyper-local is even better!). Sometimes we choose to add some cloves to the mix! We follow the 1:3 ratio, herbs to honey - using equal parts of elderberries to echinacea root and one cinnamon stick per 12 oz jar. For example, 1/4 cup dried herbs to 3/4 cups raw organic honey. Place the dried elderberries and echinacea root along with a cinnamon stick (whole or crushed is fine) into a clean jar. Top the herbs with the honey. Place a tight lid on top and label your jar with the name and date it was prepared. Place the jar in a cupboard or dark corner (out of direct sunlight). Be sure to turn/mix the jar daily and 'burp' as needed. Burping a jar means to open the lid to release the pressure then closing it back up. Your Elderberry Infused Honey will be ready to strain in two weeks time but you can allow it to continue to ferment for up to 4 weeks if you choose.
To strain your honey, heat up a double boiler just to a simmer. Place the jar of herb-infused honey in the double boiler. The idea is to just warm the honey so it is loose enough to strain, but not to cook the honey as you do not want to destroy any of its beneficial properties. Once the honey is looser, strain out the herbs and discard the herbs into the compost bin. Pour the strained honey back into the jar and it is now ready to use!
You can enjoy this honey just plain on a spoon, drizzled on top of some sourdough toast with butter, or over some cut apples....you really can't go wrong!
PLEASE NOTE - do not give honey to children under 12 months old. Please do your research to ensure Elderberry Infused Honey is right for you.
Stay tuned for our herb-infused vinegar recipes and our easy oxymel recipes!
#hedgewitch #apothecary #homestead #ilovenaturalmedicine #herbalmedicine #homegrown #kitchenwitch #homesteaders
If you don't have elderberries or echinacea growing and or you are looking to purchase bulk herbs check out these two resources. I do not have any affiliation with these companies nor do I receive compensation in any way.....I just appreciate their products and quality.
https://www.bulkherbstore.com/
https://www.mountainroseherbs.com/cart
With lots of love
~Bren
-Kindred Acres
If you find our blog posts and videos helpful or inspiring and would like to provide a love offering to Kindred Acres for all we do here, you can give us an upvote/comment here on steemit, give us a thumbs up on Youtube, or you can gift us an item from our Amazon wishlist! :) http://a.co/7U2Ibw5
Another option is to send any financial contribution ($1, $5, or whatever you are compelled to leave) via https://www.paypal.me/KindredAcres
We greatly appreciate your help and contributions!
Check out our Etsy shop for live plants, seeds, homestead goodies, crafts, and other options!
https://www.etsy.com/shop/KindredAcres?ref=seller-platform-mcnav
Follow us on Facebook to get notified of any upcoming events https://www.facebook.com/KindredAcresHomesteadAndWellness/
Upvote us on Steemit to show us some love and support!! https://steemit.com/@kindredacres
Give us a thumbs up, subscribe, and hit that bell on our YouTube channel!! https://www.youtube.com/channel/UCiZ8ynfylR5kIR9DnfcGP1g?view_as=subscriber
And finally,
Follow us on Instagram!
https://www.instagram.com/kindredacreshomesteadwellness/

Being in Charge of Our Own Health: A Little Disclaimer | SteemPeak
@HCSO Website | @homesteaderscoop | Discord Community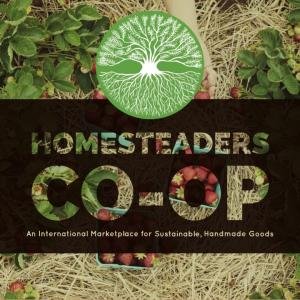 @payitforward

@build-it