Excuse the kale pun, but I couldn't resist - any more than I could resist sneaking a few more jalapenos into my mex style salad. Toasted corn, sour cream and jalapenos make anything mexican to me. I can't get enough of that flavour pairing! Whilst my photos don't do it justice (note to self: teach yourself food photography over the summer holidays) this was one of the yummiest salads I've ever made, especially with the crowning achievement of finally nailing the vegan sour cream.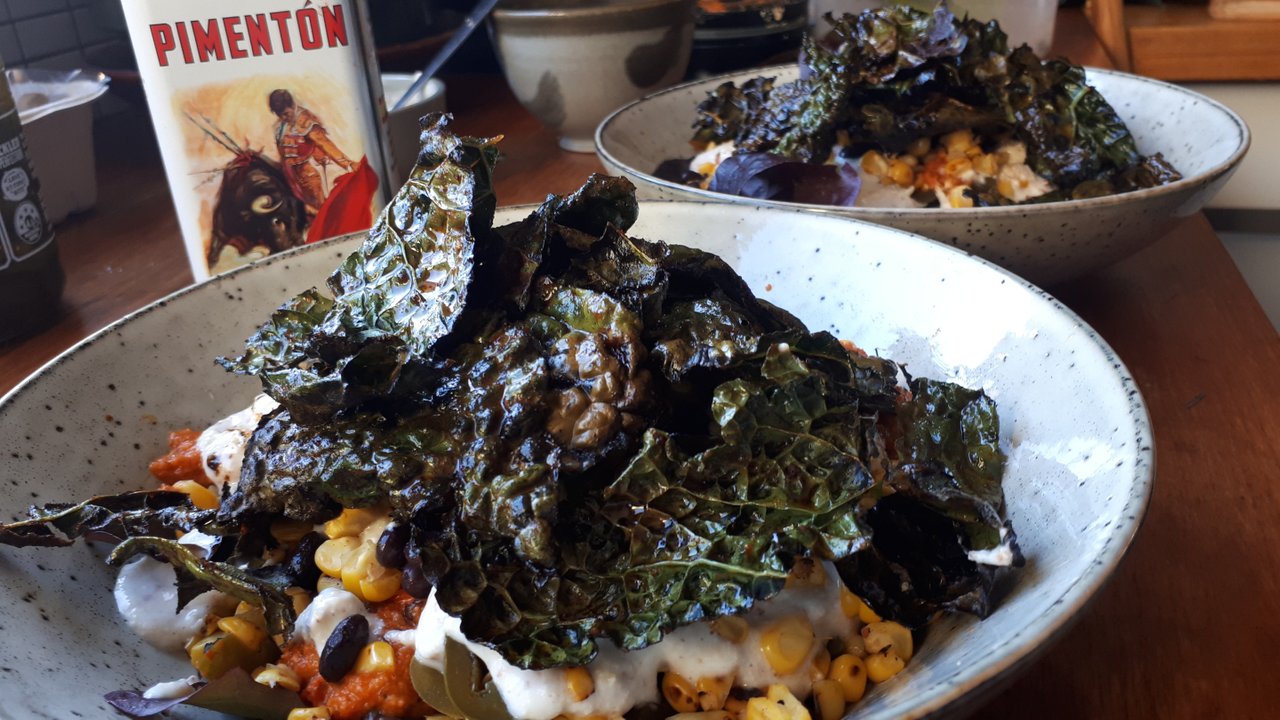 The real trick was getting all the ingredients together first ready to assemble the salad together, in layers, kinda like lasagne. I've taken to cooking extra black beans when I use them so I can have them the next day in a salad, so that was easy. I am not a fan of tinned anything - it's cheaper to buy in bulk and less salt too. Cook according to directions on the pack. I often bring them to boil in the morning, wrap them in a towel to keep the heat in, and by evening they don't take long to cook. They are one of the only beans my husband can tolerate, so we eat them often, and gladly. They are full of protein, and may help protect the bones, which is something we need on a largely vegan diet! Next is to toast the corn and to make the chipotle olive pepper sauce and the sour cream. I've been buying the most amazing plain sugar free coconut yoghurt which gives this 'sour cream' a tang it was missing before, even though I was using limes.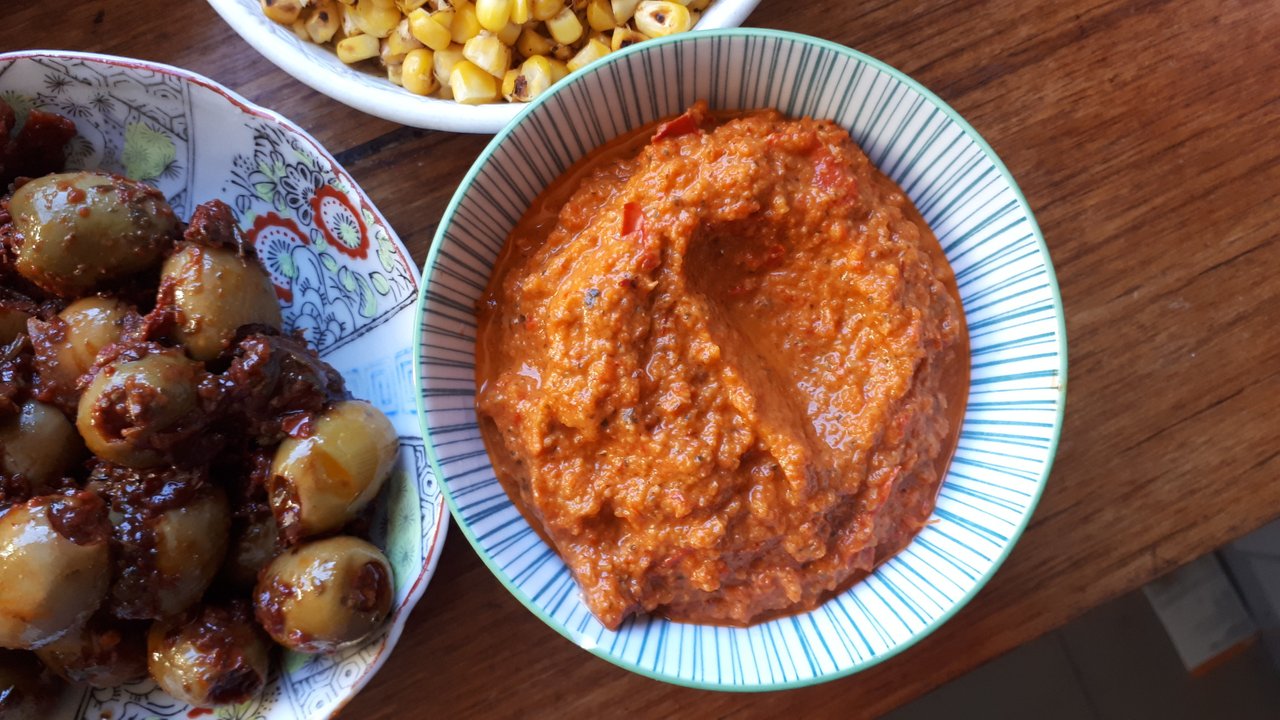 Chipotle Olive Pepper Sauce
Dry fry or roast one red pepper (capsium) til tender.
Blend with a handful of green olives and tinned chipotles, or if you don't have any, two tbsps of spanish smoked paprika. I had found the olives already marinated - they were a revelation I tell you. A revelation.
Toasted Corn
I love toasting corn - makes for a far better, smokier flavour. I simply pan fry it without oil, but you could barbecue it, or plan ahead and roast it with your vegetables ready to shave the cob the next day for this meal.
Plant Based Sour Cream
A handful of almonds
A handful of cashews
2 small limes or lemons
2 large tbsps of coconut yoghurt
Blend - if too runny, add a little coconut flour to thicken it up. You might even like to blend this with coriander to make a creamy green sauce.
Kale Chips
As hipster as this sounds, you gotta massage your kale for this one. Tear into chip size pieces and drizzle with olive oil, salt and a good liberal sprinkling of smoked paprika. Massage into the leaves, then bake in a hot oven, making sure you don't burn the first tray like me. Those babies cook fast.
Then simply assemble your ingredients...
You can use whatever vegetables you like in between the layers - I had a few varieties of fresh garden lettuce, but I was out of cucumber, coriander and tomato which would have also been amazing in this. It's nice layered twice, so that you get a good dose of flavour all the way through. Lots of jalapenos, pleased - and liberal spoonfuls of that insanely delish sour cream. Honestly, it totally beats dairy sour cream! I dare you to try it next time!
After having watched 'The Game Changer' on Netflix about plant based diets, I felt all inspired again in the kitchen. There seemed a lot of pre-formed vegetable proteins and vegan cheeses on that show - that's not how I learned to vegetarian cook, which was basically everything from scratch. In those days of course there wasn't a lot of vegan products on the market - TVP (textured vegetable protein), vegie sausages and canned nutmeat (ew) was about all there was. There's sooo many products out there now it's easy to be vegan, but to be honest, I prefer most things from scratch, and it's more fun that way.
My folks watched Game Changer too, and laughed it wasn't anything they didn't know already. They've been vego since the '70's, and sparse dairy, but watching this reminded them wwhy they do it, especially the inflammatory properties of meat, which Dad does not need as he needs to be as in good a shape as possible to ward off his cancer. I wonder if a vegetarian diet kept the cancer at bay as long as it did.
Did you watch Game Changer? What did you think of it?
If you'd like to join in the #fruitsandveggiesmonday fun, check out the challenge, hosted by @lenasveganliving. You can learn alot and be inspired by what others are posting. @lotusfleur is also encouraging a #veganwednesday if you missed Monday, so check that out too. Natural Medicine supports healthy food posts, especially plant based, so you can also earn LOTUS tokens that way too. Try posting these kind of natural health posts via www.naturalmedicine.io for instant LOTUS rewards!