In Indonesia, the covid drama is more complicated today. This is the second lockdown. My children still study at home. I was laid off from my job. I do not have any ideas what to do then. My son is a very active boy. He always plays out but this week, we have to stay at home. Then, I ask my 8 year old son to help me wash my motorcycle. I know that he will spend much energy by helping me washing the motorcycle.
During the activities, my son enjoys playing with water. I let him play so he will spend much energy. Playing out is limited because the covid case increases. In reality, most people are not afraid of covid because some of my neighbours are invected but they are all ok. The most complicated things is the government regulation. People who are invected though they are fine, they should be quarantined or taken to hospital. The member of the family should have some tests and should stay at home. All those regulations make us stressful. I think when we treat covid as common diseases, there will be no more people who get stressed and they will recover from the illness quickly.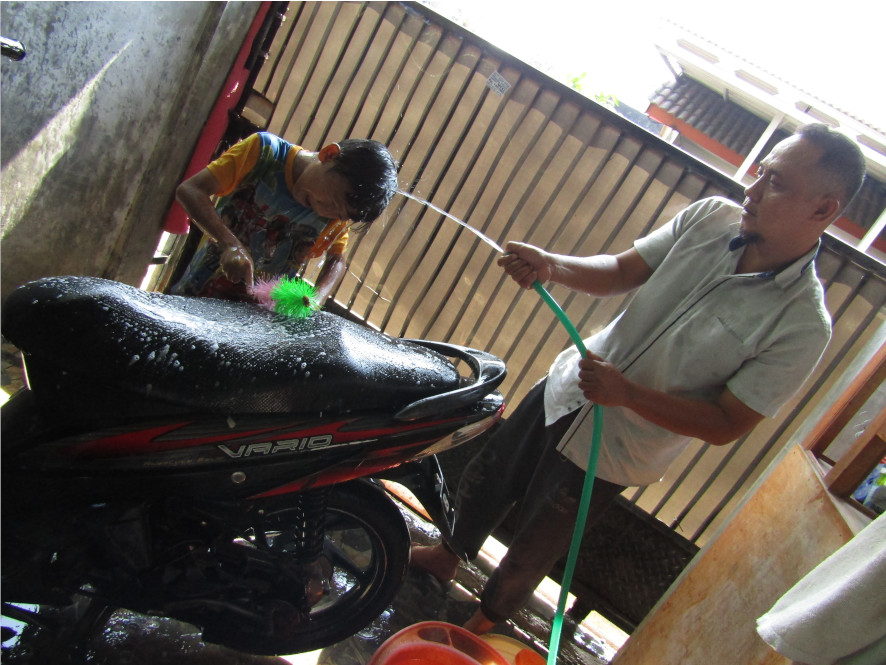 In this moment, I can talk and enjoy getting together with my son. He looks happy because he can play with water. After washing the motorcycle, I ask my son to take a shower in the garage. I prepare the soap, shampoo, and toothbrush. My son plays while he takes a shower in the garage. I think the activities make him happy. I hope covid drama will end soon and we become 100 % human as the social being. My children can go to school and make friends.