Source: 8 Days
Hey Steemit!
Now that it's been quite a while since Singapore has has been out of lockdown, or what our government has termed "circuit breaker", restaurants have been operating pretty much as usual aside from implementing safe distancing measures. So we've been able to eat out again and try some new places!
So last week, I wrote about a hotel restaurant; specifically the one in YWCA Fort Canning called Cafe Lodge. The food was pretty average, but the overall experience was heightened because of the nice interior decor.
But what I didn't mention last week (and tbh I totally forgot) was that that particular meal was actually to celebrate my birthday! 🥳
There wasn't a big celebration or anything; just the 4 of us because of covid and the prospect of having to move into our new house pretty soon at the time. Not that I would have big parties otherwise but still.
Anyway, after our meal, we weren't that satisfied so we went out to get some dessert (which also served as a birthday treat)!
The nearest place we could find was this cookie ice cream place called Kooks Creamery!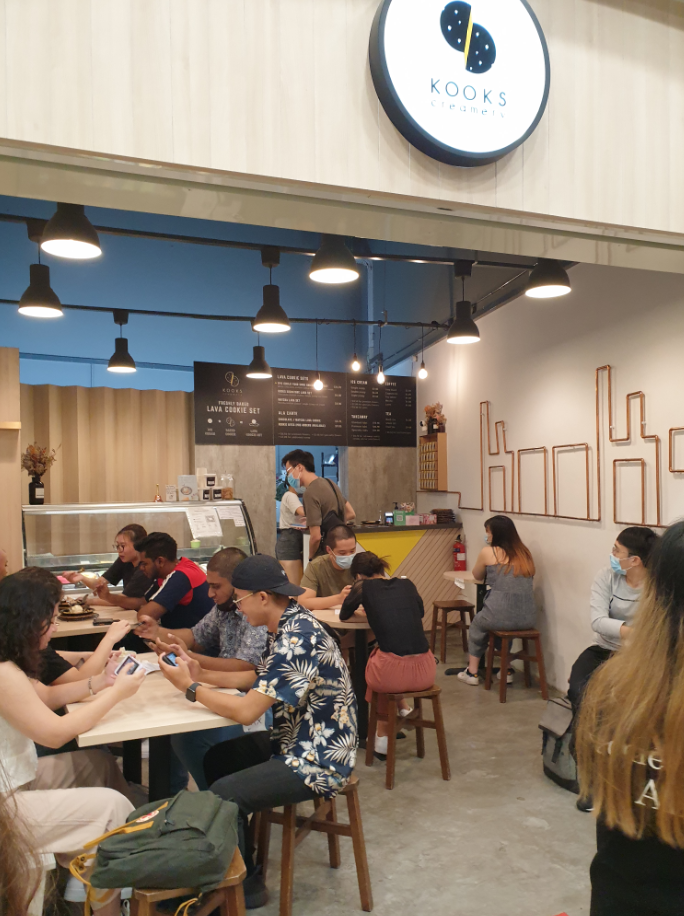 Apparently this cafe is quite well-known, and they specialise in molten lava cookies topped with ice cream! Yummy!
Source: Eatbook
Sean and I have never even seen this cafe before, probably because it's always crowded and we tend to avoid crowds. And unfortunately, that was also the case on the Friday we went by. The small cafe was packed with people, but thankfully our hotel was just across the road so we opted to get takeaway instead.
I guess their signature is the freshly baked lava cookie set which comes with a baked cookie with filling (chocolate or matcha) topped with a scoop of ice cream, for $8.80. We decided to get 2 of those to share between the 4 of us. Since none of us are matcha fans, we decided on 2 chocolate cookies. But the big question was what ice creams we were gonna get since they have so many flavours to choose from!
Some of the flavours were quite unique as well, like their specialties - Watermelon Rose with Cacao Nibs and Blue Chai Hokkaido Milk. There were some local flavours as well, like Brown Sugar Soy Milk and Ondeh Ondeh; which is actually a traditional Indonesian dish that consists of green rice cake balls infused with pandan juice and filled with gula melaka (aka palm sugar), and rolled in grated coconut.
Source: El Mundo Eats Youtube
But since most of us have never tried their ice cream before, we decided to keep it simple to match the molten chocolate cookies. My friend Kai and I chose Speculoos (which comes with Biscoff bits) and Milk Cereal since I was curious.
After we ordered, we waited about 10 minutes or so while they baked the cookies. In that time, a decent queue was starting to form and we were lucky that we stayed so close by so we wouldn't have to wait for seats.
Once we got our cookies, they were thankfully packed separately from the ice cream so it wouldn't melt while we walked back to the hotel, but we quickly made our way back regardless.
Here were the cookies! They were thankfully still warm by the time we got back.
Time to top them with ice cream!
Both ice creams actually look really similar, and I guess they were both essentially vanilla. But they matched the best with chocolate so ¯_(ツ)_/¯
We waited a little bit for the ice cream to melt to get this mouth-watering shot:
Then it was time for the money shot!
The chocolate literally oozes out the moment you break into the cookie! And the warmth from the chocolate made the ice cream melt even more. It looked soo good!
The cookie was nice and crunchy, and the chocolate was so rich and decadent. It was actually pretty thick as well, so the ice cream being primarily vanilla really helped to balance it out. We all agreed that the flavours we chose were a good match. I'm not sure how it would've tasted with the watermelon rose ice cream tbh.
I think the Biscoff bits matched well with the chocolate and the ice cream as well, but the cornflakes were kinda meh to me. I think maybe Frosted Flakes would've been better but it might be too much sugar for some people.
Kooks Creamery currently has 2 outlets in Singapore; 1 at Cathay and 1 in Serangoon, so if you're in the area definitely check them out! They even deliver islandwide, and you can buy multiple cookies and pints of ice cream to plate it yourself!
Source: Daniel's Food Diary
I've only ever had lava cakes and have never tried lava cookies, but overall, I'd say it was a really nice dessert! A tad pricey, and definitely more than I would ever spend on dessert since I don't have a sweet tooth, but every once in a while it's always good to treat yo'self! It was definitely a great ending to a chill birthday! And a very well deserved treat before our big move that weekend.
That's all for now! Thanks so much for reading!

To find out more about me, check out my intro post here!
---
[//]:# (!pinmapple 1.299423 lat 103.847680 long d3scr)
Check out my previous post in this series!
TacoCat's TrEats #86: Getting Fancy with Local Delights 🍲