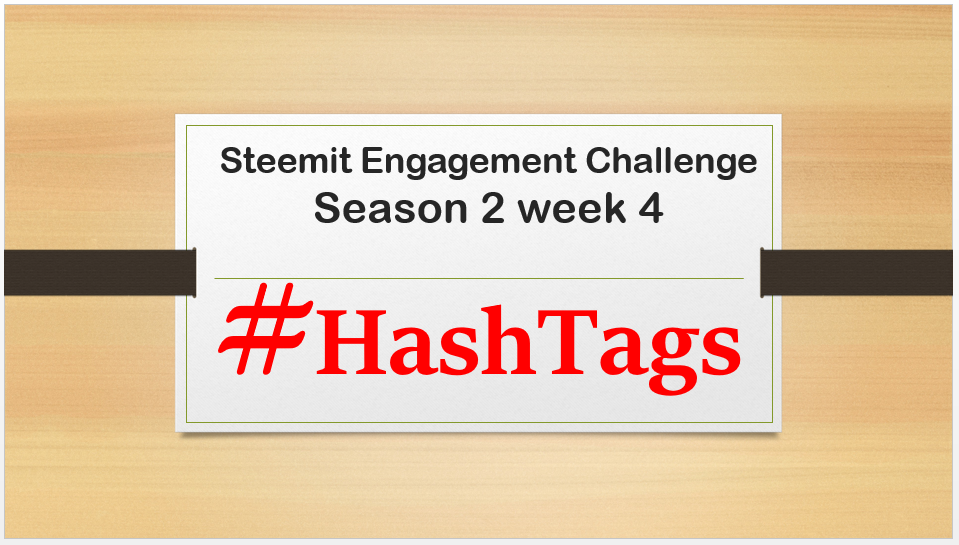 10% payout to @campusconnectng
Welcome everyone to week 4 of season 2 in the steemit engagement challenge contest. Just like usual, I will be using this medium to present to you all the topics of this contest running through this seven different communities and also give you a unique hash tag that will be needed for this week's contest. Let's get started.


Communities and their unique hashtags


As we all know, the engagement challenge has come to it last week and this contest run through seven different communities and the name, as well as the contest topic and the unique hashtag required for this week engagement is seen below.
(1) Scouts y sus Amigos: [ESP-ENG] Steemit Engagement Chalenge, season 2, week 4, Mi trabajo / Ocupación.
Hashtags:
#scoutsysusamigos-s2w4 #challenge2-week4
(2) SteemAlive: Steemit Engagement Challenge Season 2 (Week 4)| The Worst day and the best day of your life - A true life story!
Hashtags: #s2w4-steemalive
(3) Steemit Azerbaijan: Steemit Enagement Challenge ||💖💙||Season2, Week #4 ||💚|| My work life and Steemit
Hashtags: #challenge2-week4 #myworklife #steemexclusive #steemitazerbaijan #country
(4) Steem for Better Life: Steemit Engagement Challenge Season2 #week4 | Your Involvement in Acts of Kindness
Hashtags: #steemforbetterlife-s2-w4
(5) Steem4Nigeria: Steemit Engagement Challenge S2W4 | Steem4Nigeria Contest | Your dream about Steem/Steemit in your country:
Hashtags: #steem4nigeria-s2w4
(6) Urdu Community: Steemit Enagement Challenge || Season2, Week #4 ||How weather effect our life and play important role ? which of weather do you like and why you like it
Hashtags: #urducommunity-s2w4, #weather-s2w4
(7) Steemit Crypto Academy: Steemit Crypto Academy Contest Season 2 Week 4 - What are NFTs?
Hashtags: #cryptoacademy-s2w4


Know your club status and know the tag to use




Conclusion


I want to believe that these hashtags have helped users as well as community admins and moderators to track all the entries made in the contest and it also helps them to review and attend to them accordingly. For all users, you can read through other people's articles using this very hashtag without necessary searching for their article.