Heute möchte ich eine Autogeschichte etwas anders anfangen. Vor und wären dem 2 Weltkrieg hatte BMW mehrere Standorte in Deutschland. Auch Eisenach gehörte dazu, nach der Teilung von Deutschland war es sehr schwierig ein Autowerk wieder zu laufen zubringen. Das Eisenacher Werk war in der sowjetischen Besatzungszone und wurde komplett demontiert. Die Presswerkzeuge für die BMW 321/326 gelangten jedoch noch im Winter 1945/46 nach Eisenach, wo die Wagen zunächst als BMW 321 weitergebaut wurden. 1951 untersagte die Münchener Bayerische Motoren Werke AG (BMW) den Eisenachern gerichtlich das Führen des Namens BMW.
---
Today I want to start a car story a little bit differently. Before and after the 2 World War BMW had several locations in Germany. Eisenach was one of them, after the division of Germany it was very difficult to get a car plant running again. The Eisenach plant was in the Soviet occupation zone and was completely dismantled. The press tools for the BMW 321/326, however, still reached Eisenach in the winter of 1945/46, where the cars were initially built as BMW 321s. In 1951, the Munich-based Bayerische Motoren Werke AG (BMW) took legal action to prohibit the Eisenach-based company from using the name BMW.
---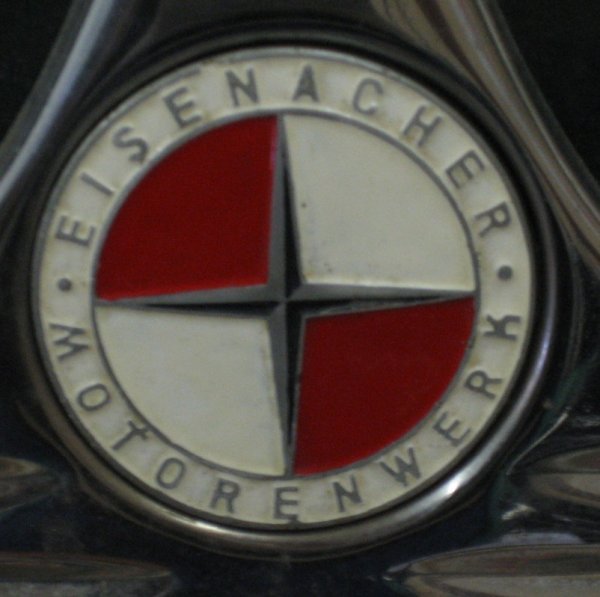 Von Heinola - Eigenes Werk, CC0,
https://commons.wikimedia.org/w/index.php?curid=29232956
---
Das Urteil war ein Gewinn für München und ein Verlust für Eisenach. Der Einfallsreichtum der Thüringer ließ nicht lange auf einen neuen Namen warten. Aus den "Bayerischen Motoren Werken (BMW)" wurden die "Eisenacher Motoren Werke (EMW)", aus dem weiß-blauen Rotor auf dem Kühler ein rot-weißer (die Landesfarben Thüringens). Der Rest blieb unverändert.
---
The ruling was a gain for Munich and a loss for Eisenach. The ingenuity of the Thuringians did not let wait long for a new name. The "Bayerische Motoren Werke (BMW)" became the "Eisenacher Motoren Werke (EMW)", and the white-blue rotor on the radiator became a red-white one (the state colors of Thuringia). The rest remained unchanged.
---

Photo by Hornet on Tour - EMW 327/3 Coupé (Fahrzeug Museum Suhl)
---
Nun könnte man ja sagen der EMW 327 ist dasselbe wie der BMW 327, aber das stimmt nur zum Teil. Den der EMW 327 wurde weiterentwickelt und es wurden Veränderung vorgenommen. Während der Produktion bei EMW wurde die Form der Motorhaube geändert, weiterhin wurde bei EMW eine Karosserie-Sicke über den Radläufen in die Kotflügel eingebracht. Vorkriegs-BMWs und aus Restbeständen montierte Nachkriegs-BMW/EMWs haben diese Sicke nicht. Außerdem wurde das modernisierte Armaturenbrett des EMW 340 sowie dessen Lenkrad mit Lenkradschaltung übernommen.
---
Now you could say that the EMW 327 is the same as the BMW 327, but that is only partly true. The EMW 327 was further developed and changes were made. During production at EMW, the shape of the hood was changed, and a body bead was added to the fenders above the wheel arches. Pre-war BMWs and post-war BMW/EMWs assembled from residual stock do not have this bead. In addition, the modernized dashboard of the EMW 340 and its steering wheel with steering wheel gearshift have been adopted.
---

Photo by Hornet on Tour - BMW 327/ Cabrio (Fahrzeug Museum Suhl)
Nun Eigentlich dasselbe Auto, doch nach der Teilung waren sie nicht mehr gleich.
Quelle:
https://de.wikipedia.org/wiki/Automobilwerk_Eisenach
http://wiki.w311.info/index.php?title=Die_Historie_des_Automobilwerk_Eisenach
---
Das war sie wieder die Automobile Zeitreise, danke fürs lesen.
---
That was the Automobile Time Travel again, thanks for reading.
Gruß
Hornet on Tour