Heute werfen wir mal ein Blick nach Japan und schauen uns mal den Honda NSX an. Der NSX ist ein Sportwagen mit einem Mittelmotor und er wird Honda in Japan gebaut. Gefertigt wurde der NSX von 1990 bis 2005 als Serienwagen. Doch die Entwicklung begann schon 1986, das Ziel war es ein Sportwagen zubauen, dass eine Leichtbauweise hat, einen kompakten Motor, die Karosserie sollte Aerodynamisch sein mit geringen Auftrieb bei hoher Geschwindigkeit und den größten möglichen Rundumblick aus dem Cockpit haben. Da war es auch kein Wunder, das ein Kampfjet F -16 als Inspiration diente.
---
Today we take a look at Japan and have a look at the Honda NSX. The NSX is a sports car with a mid-engine and it is built by Honda in Japan. The NSX was built from 1990 to 2005 as a production car. But the development started already in 1986, the goal was to build a sports car that has a lightweight construction, a compact engine, the body should be aerodynamic with low lift at high speed and the largest possible panoramic view from the cockpit. So it was no wonder that a fighter jet F-16 served as inspiration.
---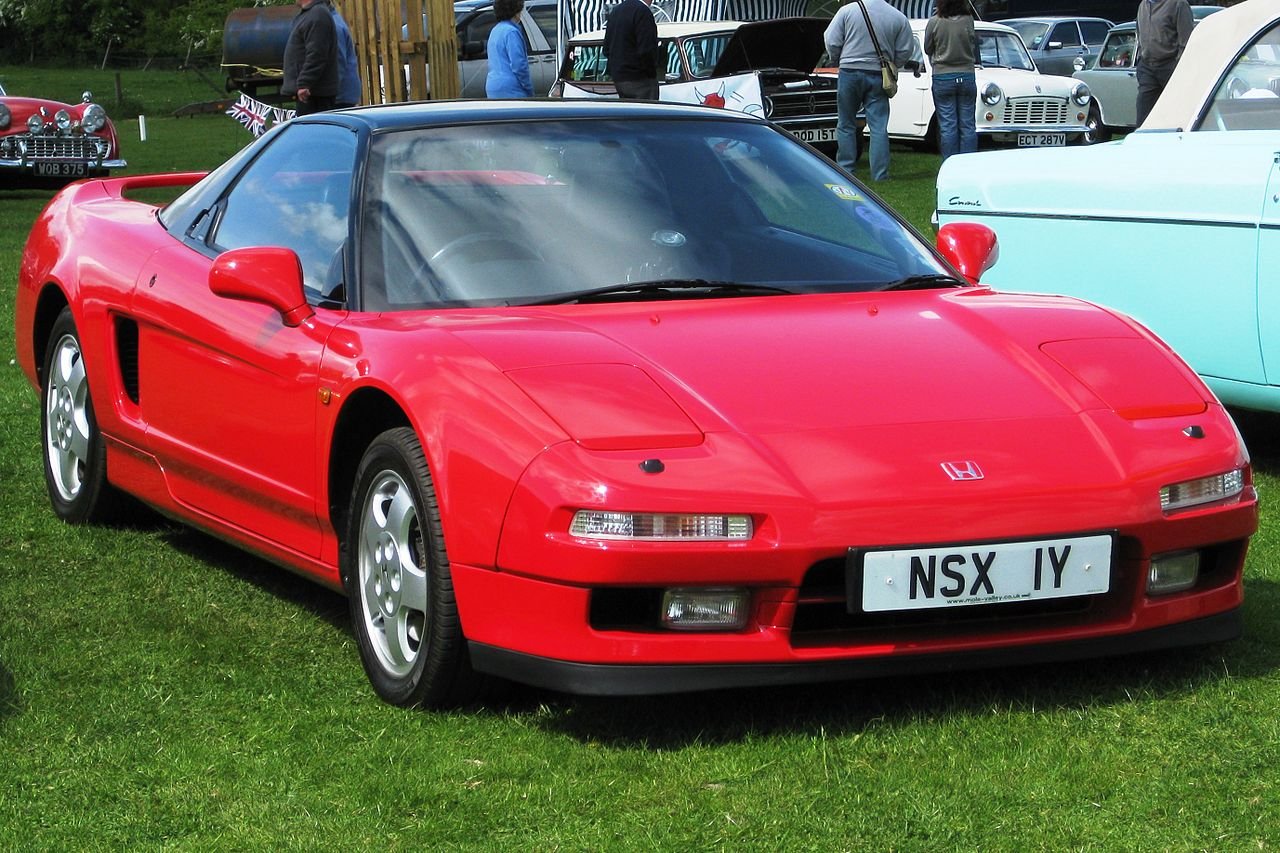 Von Charles01 - Eigenes Werk, CC BY-SA 3.0, https://commons.wikimedia.org/w/index.php?curid=6692192
---
Der NSX wurde weitgehend aus Aluminium gebaut, so sollten die Motorkomponenten, laut Werksangaben, ca. 200 kg leichter sein, als dieselben Baugruppen aus Stahl oder Guss. 1989 wurde der NSX auf der Tokyo Motor Show vorgestellt als Acura NS-X (New Sportscar - eXperimental). 1990 waren noch letzte Feinabstimmung zu machen. Das übernahm unter anderem auch Ayrton Senna auf dem Nürburgring. Hierbei nutzte der Formel-1-Pilot die berühmte Nordschleife oder auch Grüne Hölle genannt.
---
The NSX was built largely from aluminum, so the engine components should be about 200 kg lighter than the same assemblies made of steel or cast iron, according to the factory specifications. In 1989 the NSX was introduced at the Tokyo Motor Show as Acura NS-X (New Sportscar - eXperimental). In 1990 the last fine-tuning had to be done. Ayrton Senna, among others, took over this task at the Nürburgring. Here the Formula 1 driver used the famous Nordschleife or Green Hell.
---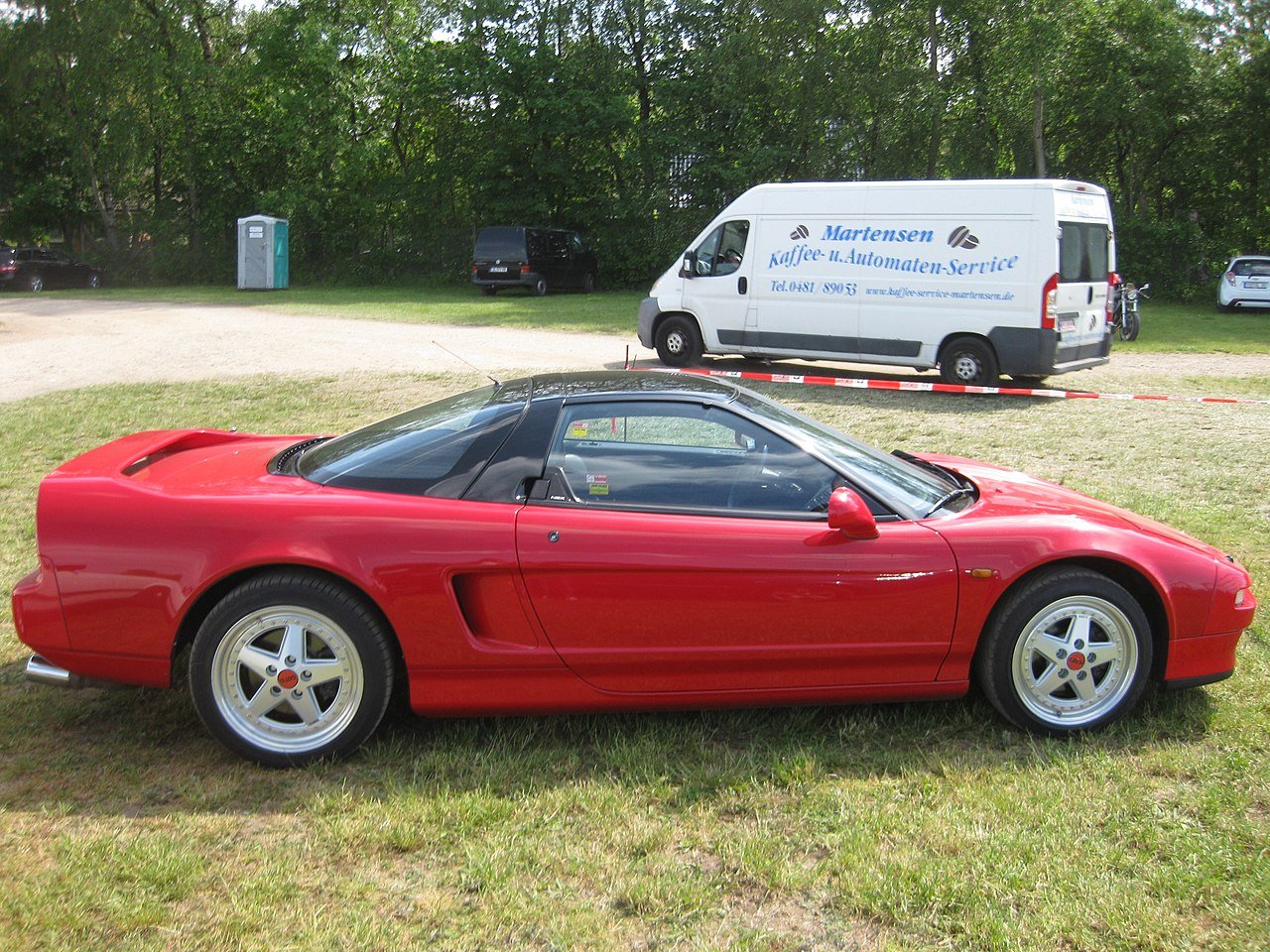 Von KarleHorn - Eigenes Werk, CC BY 3.0, https://commons.wikimedia.org/w/index.php?curid=79471176
---
Seine Weltpremiere feiert der NSX auf dem Genfer Salon 1990 und er schlug ein wie eine Bombe. Der Sportwagen von Honda war eine direkte Kampfansage an Ferrari, Lamborghini, Porsche und Co. Was auch nicht von ungefähr kommt, den mit dem 3,2 Liter Hubraum Motor bringt das Auto, die 280 PS auf die Straße. Den Spurt auf 100 Km/h, macht er in 5,7 Sekunden. Vergleichsweise braut der Porsche 911 Carrera 2 bei 250 PS für die Beschleunigung auf 100 Km/h, 6,6 Sekunden.
---
The NSX celebrated its world premiere at the Geneva Salon in 1990 and it was a bombshell. The Honda sports car was a direct declaration of war on Ferrari, Lamborghini, Porsche and Co. And it is no coincidence that the car with the 3.2 liter capacity engine brings 280 hp to the road. The spurt on 100 km/h, he makes in 5.7 seconds. In comparison, the Porsche 911 Carrera 2 with 250 HP for the acceleration to 100 Km/h, does it in 6.6 seconds.
---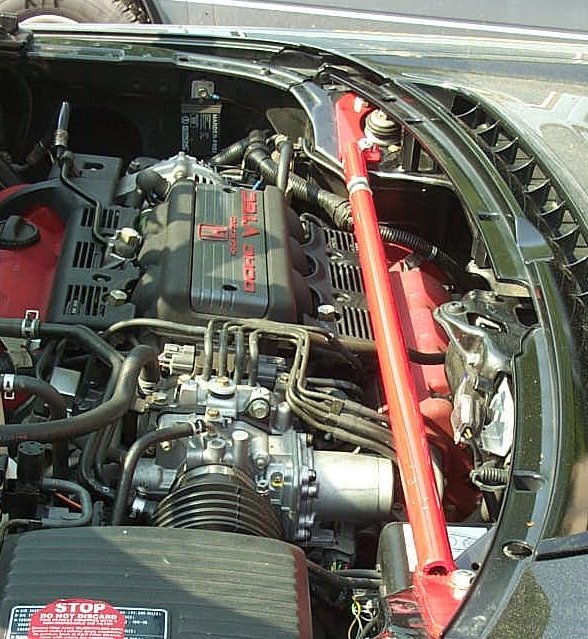 Von User:NSX-Racer - Eigenes Werk, CC BY 2.5, https://commons.wikimedia.org/w/index.php?curid=1327036
---
Was waren seine Schwachstellen? Nun die Karosserie ist es nicht, denn Aluminium roste nicht. Das Auto gilt als recht robust und auch Alltagstauglich. Leider hatten die Fahrzeuge mit Handschaltung zwischen 91 -92, ein Produktionsfehler am Getriebegehäuse. Das hatte zufolge, das der Sicherungsring bei hoher Belastung brechen konnte. Ein Getriebeschaden war die Folge, aber auch nur bei NSX die in Nordamerika ausgeliefert wurden.
---
What were his weak points? Well the body is not, because aluminum does not rust. The car is considered to be quite robust and also suitable for everyday use. Unfortunately the cars with manual transmission had between 91 -92, a production defect on the gearbox. The result was that the retaining ring could break under high load. A transmission damage was the result, but only NSX cars delivered in North America.
---
Quelle:
https://www.welt.de/motor/gallery7942766/20-Jahre-Honda-NSX.html
https://de.wikipedia.org/wiki/Honda_NSX
---
Das war sie wieder die Automobile Zeitreise, danke fürs lesen.
---
That was the Automobile Time Travel again, thanks for reading.
Gruß
Hornet on Tour