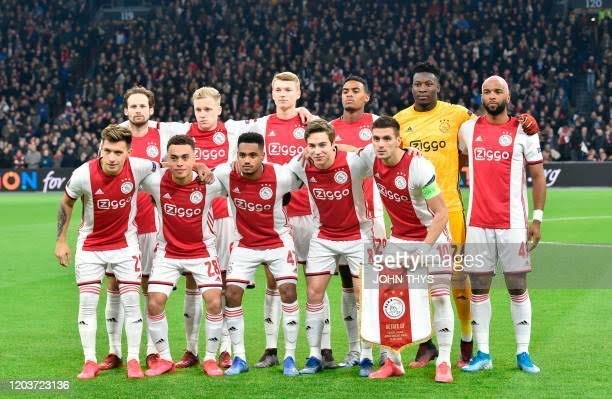 source
AJAX
Think of Ajax and it's almost impossible not to picture their magnificent champions league run of 2018-19. Where victories over Real Madrid, Juventus and Spurs put the minutes away from a first final since 1996 before a dramatic late comeback by the lillywhites. This year it feels like history might be repeating itself, after four wins in four games, 14 goals scored a figure topped only by Bayern and Man City and just two goals conceded second only to hold as Chelsea. Eric Tenhark's side seem well placed to make a serious dent on the competition.
But whereas in 18/19, the Dutchman could call on the experience of five players over the age of 28 in their 11 most used players this time around they only have five who are 28 or older in their entire squad. What's more with Yuri and Timber and ryan gravenbeck 20 and 19 respectively having played every single minute. 21 year old Anthony one of the players of the tournament so far, the four-time european champions feel younger and fresher than ever. With eight players aged 21 or under picking up minutes the academy of football's conveyor belt of talent, shows no signs of slowing down.
Bayer Leverkusen.
Bayer Leverkusen had a strong start to the season, winning five of their opening seven league games before a 5-1 thrashing at the hands of Bayern Munich but while their domestic form may have gone off the rails just as it did in 2020/21 there can be no doubt about it this is an exciting if inconsistent crop of talent.
Erardo Cejuani's arrival in west Germany this summer from young boys, another club with a reputation for trusting young players has seen an increased emphasis on quick counter-attacking football with leverkusen's average possession falling 4% to 53%.
But their shots inside the box rising from an average 56 percent to 61 percent the best record in Germany. It helps that seihwani can rely on a front three of shikh diaby and viets who exchange positions at will and possess the pace and trickery to create space for others and themselves.
With frimpong, Kosunu, Baka and Paulinho all 21 or under also in their 11 most used players this term, it's no surprise that diver xelf have put out five of the ten youngest starting elevens in the Bundesliga to date. Unfortunately, with the side now ten points behind leaders Bayern and out of the DFB porcal their 29-year wait for silverware will almost definitely be extended.
Brentford
While Brentford may never challenge for the title, the bees are clearly at the beginning of a special era. QRevived by owner Matthew Benham who brought in advanced data analysis from his previous career in betting, Brentford looks set to retain top flight status at the first attempt this year and are doing it through exciting attacking football, deserving nine points against Arsenal, Liverpool and Chelsea in the early exchanges.
Brentford have built their side for peanuts with the 2021 transfer window the first since 2014 in which they haven't made a profit. So, the influx of premier league cash will allow them to cast the net wider than ever before and more importantly resist offers for their stars. That means Brian Burmo and Ivan Tony can continue to work on their impressive partnership while the club's clear vision and charismatic head coach Thomas Frank make them an appealing place to be.
With Christopher aya turning down newcastle to join and David Ryan resisting overtures from Arsenal to stay. Despite their new wealth, Brentford have remained true to their principles signing players with an average age of 22 in the summer and can gradually evolve the squad as they settle into the first tier. By 2030 who knows how high they might have risen.