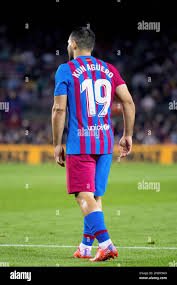 source
It appears that Sergio Aguero is going to be forced to retire from football. The Argentine superstar suffered chest pains and shortness of breath in Barcelona's la liga clash against Alavez in october and was initially expected to be sidelined for three months. But according to journalist Gerard Romero his retirement will be announced at some stage this week.
Romero wrote on Twitter, Aguero retires, heart problems force him to leave football. The 33-year-old has been beset by bad luck since joining Barcelona from Man City in the summer. Only making five appearances for the club due to a calf injury before his latest issue. If it is to be the end for Aguero in football who will at least be able to look back on an El Clasico goal as the highlight of an otherwise miserable time representing the Blah Grana.
As sad as this is for Aguero, it's also devastating news for Xavi and Barcelona, who currently have braithwaite out with a knee injury until likely the new year and Anzu Fatty struggling to remain fit. According to sport though their new manager will be looking to strengthen their number nine position in January and is looking at his former club Alsad. Specifically Algerian forward baghdad moonjetter as their solution.
The 46th Algeria who helped the greens to the africa cup of nations title in 2019, scoring the winning goal in the final against Senegal. Has represented Al Sad since 2015. Has racked up an impressive 169 goals in 165 games for the club. At 29 years old Bonjetta wouldn't be the most long-term option and his signing mid-season would likely prompt ridicule online. But given the state of Barcelona's finances and the fact he has worked with Xavi before maybe he isn't the worst short-term option.
Cc:
@infovore