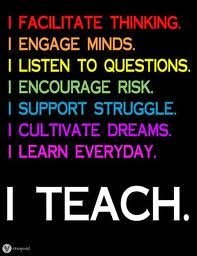 Being a teacher is one of the most rewarding jobs there is.  After 25 years I still love it and cannot see myself anywhere else.  Believe me I've tried. I once took a job as a personal assistant for a company that specialized in Aluminum and Steel but it only lasted six months and I was bored as hell. 
To be able to talk to kids the whole day and to hear their views about life has always been interesting to me and it has made me a good judge of character.  
I taught at a normal brick and mortar school for twenty years before I took on a new challenge of online teaching. The rules and regulations from the department of  Education were ridiculous and we had so much more admin work to do that was of no use to any child. The standard dropped and there was a definite change in the results.  
I have seen kids in grade eight that cannot even do basic sums and they cannot read properly.  They are just pushed from the one grade to the other without actually learning anything.  How is this even possible?
Where is this country going to end up with a bunch of idiots running the country? (Oops sorry, it's already happening)   
I have never been one for home schooling but when I resigned from the department of education a whole new world opened up for me.  At first I didn't want to work for a year, but that lasted for only one month.  After that month, I felt lost and without an identity.  Teaching defines me as a person and it shouldn't, but this is who I am. 
I took a chance of emailing the online school and went for an interview and the rest is history. I've been here for seven years, and I will probably never go back to a brick and mortar school.  
For the first time in my life I am really teaching.  The kids log into their class from home and I log in on my side.  We have a normal class, without any interruptions, without papers being thrown on the floor or around the class, without anyone knocking on the door and without an intercom system that disrupts the classes.  
I am teaching at an online school where we do the South African curriculum up to grade 9 and then we do the American GED as a school leaving certificate. 
The GED certificate is equivalent to a normal Grade twelve certificate.  This is equal to a NQFL4 qualification.  Whether you are in a normal school or if you are doing your GED, with a NQFL4 qualification you are not going to get anywhere in this country.  
To go to university in South Africa you need a NQFL5 qualification.  In the past students could do the SAT in combination with the GED to get an exemption certificate but that recently changed when the department of education decided that this is no longer a valid qualification.  Students now have to complete the GED and then do a higher certificate to get them on a NQFL5 qualification. 
What is great about the GED is that there are only 4 subjects and it focuses on the most important aspects in education.  Reading, writing and Mathematics.  Throw in common sense and a little critical thinking and you can pass with flying colors.  The days when you had to finish school has long since gone and this is an optional and currently one of two possible ways to be able to further your studies.  
Because the GED is an international qualification, you can go study anywhere in the world after you have successfully completed your SAT with a suitable score.  Just not in South Africa.  We are an international company so we have a curriculum for international students too.  
If you would like more information you can visit our school here.