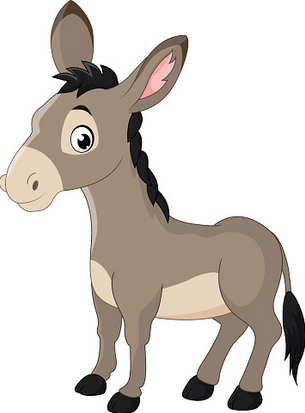 Once upon a time there was a little donkey named Neville. Neville lived with his parents in a camp on the farm. He was no ordinary donkey. He didn't have many friends, and what he did not realize or cared about, is that the other little donkeys laughed at him, because they thought, that he made a spectacle of himself.
During breaks, Neville practiced alone in the field, running up and down. He practiced every day, and soon he was the fastest little donkey on the farm. Neville had his mind set on only one thing. He wanted to be a race horse.
Neville had a vivid imagination and he believed that he could be whatever he wanted to be. In the afternoons after school he ran across the farm to the stables where the farmer kept all his thoroughbreds. He watched them practice all afternoon and the next day at school he would do exactly what the horses did the previous day.
He soon made friends with the horses, and sometimes they would even let him practice with them, but when Neville left, they would laugh for hours because even they thought that he made a spectacle of himself. Neville was determined and nothing could break his confidence.
What no one realized was that Farmer Brown, kept his eye on Neville. He knew that Neville was one of the best runners and he wanted to see what Neville was capable of. One Saturday morning Neville went down to the stables and was surprised to see the other horses were not there. He walked around the stables and saw that most of them were being uploaded on a truck. Farmer Brown was there, and he called Neville and told him to get on the truck.
Neville felt very proud to be with the other horses although they were not happy to be with him. He stood in the corner of the truck and when they arrived at their destination they pushed him out of the truck.
Farmer Brown was there to greet him, and immediately took him away from the other horses. Neville was put in a stable and someone came to brush him and he felt very confident. Neville did not know what to expect, but he was really excited. It was not long before Farmer Brown came to fetch Neville. He led him towards the racing track and Neville's heart was bouncing with pride.
Neville was put in a little cage with a gate and next to him was Billy the thoroughbred. Billy grinned at Neville and said: "What are you doing here? You are going to embarrass yourself little donkey, you don't stand a chance against me"
Neville did not answer but now he felt nervous.
When the gates opened Neville ran like never before in his whole life. He ran and he ran and he was so scared of losing that he ran the fastest race of his life. Halfway through the race, he could hear Billy breathing down his neck and that motivated him even more. During the last 100 meters Billy could not keep up any longer and believe it or not, Neville won the race.
Everybody was stunned, and they cheered for Neville. Neville was so proud of himself and he had every right to be.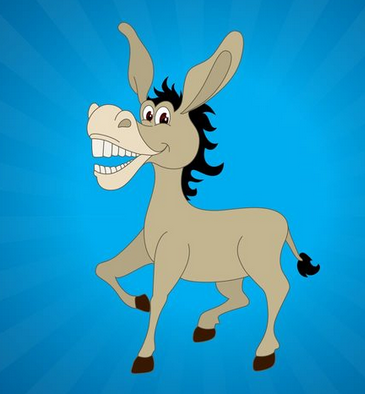 When they got back to the farm, Neville told everyone what happened and he was the hero of the day. Even Billy the thoroughbred came to congratulate him.
Moral of the story:
1. Never give up on your dreams
2. You can become ANYTHING if you set your mind to it...who would've ever thought that a donkey could become a racehorse?