Today, April 11 2020, marks 1 year of the unlawful arrest and imprisonment of Julian Assange as he was dragged from the Ecuadorian Embassy in London. He was subsequently sent to Belmarsh prison, where he awaits extradition to the US for trumped up charges based on the outdated Espionage Act.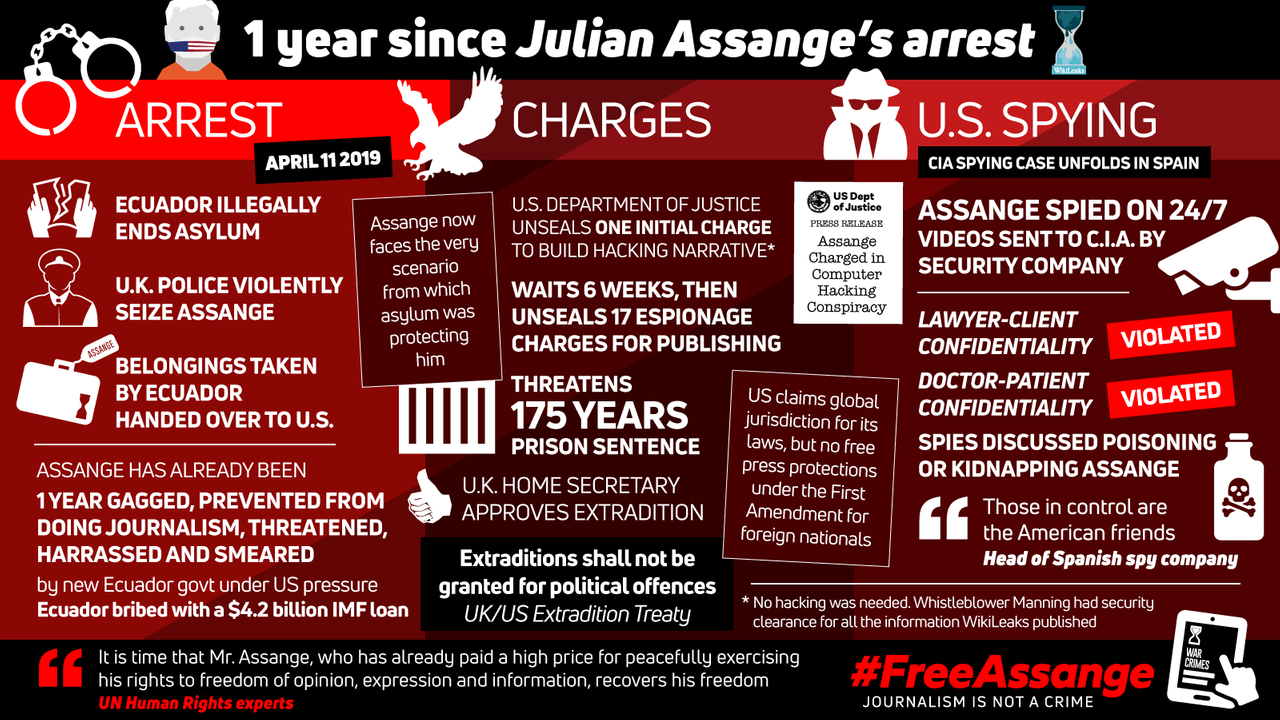 Click image to enlarge
Assange was spied on via video while in the Ecuadorian embassy, 24/7
Assange's lawyer- and doctor-patient confidentiality were violation
Ecuador was bribed with a $4.2 billion dollar IMF loan
Assange's asylum was illegally terminated
Ecuador coordinated with UK police to drag Assange out
All of Assange's property was taken by Ecuador and given to the US for the sham trial
US file charges on Assange, totaling 175 years in prison
UK approves extradition to the US
Recent attempts to have the extradition postponed due to the coronavirus, have been denied by the UK judge.
Attempts to have Assange released from Belmarsh prison and put into house arrest for his safety, due to the coronavirus, have also been denied. Assange has lung problems, and it highly susceptible to contracting the coronavirus. Poor conditions at Belmarsh prison has the virus spreading. Two prisoners have already died, although only 1 has been officially confirmed. There are currently 88 prisoners and 15 staff that have tested positive for COVID-19.
There is currently an online solidarity event based in the UK in support of freeing Assange.
Dr Catherine Brown, Andrew Feinstein, Kristinn Hrafnsson, Stefania Maurizi, Craig Murray, Peter Oborne, Chris Williamson and eminent experts will join us ONLINE on Saturday 11th April 2020 AT 5:30 PM UK TIME. This online solidarity event commemorates the inhumane removal of award-winning journalist & publisher Julian Assange from the Ecuadorean embassy in London, and seeks to examine the circumstances surrounding his planned extradition to the US.
You can watch it right now:
There is also a petition from Amnesty international to drop the charges against Assange. Anyone is free to sign in solidarity with Julian Assange and what he stands for.
USA must drop charges against Julian Assange
Authorities in the USA must drop the espionage and all other charges against Julian Assange that relate to his publishing activities as part of his work with Wikileaks. The US government's unrelenting pursuit of Julian Assange for having published disclosed documents that included possible war crimes committed by the US military is nothing short of a full-scale assault on the right to freedom of expression.
Julian Assange is currently being held at Belmarsh, a high security prison in the UK, on the basis of a US extradition request on charges that stem directly from the publication of disclosed documents as part of his work with Wikileaks. Amnesty International strongly opposes any possibility of Julian Assange being extradited or sent in any other manner to the USA. There, he faces a real risk of serious human rights violations including possible detention conditions that would amount to torture and other ill-treatment (such as prolonged solitary confinement). The fact that he was the target of a negative public campaign by US officials at the highest levels undermines his right to be presumed innocent and puts him at risk of an unfair trial.
Julian Assange's publication of disclosed documents as part of his work with Wikileaks should not be punishable as this activity mirrors conduct that investigative journalists undertake regularly in their professional capacity. Prosecuting Julian Assange on these charges could have a chilling effect on the right to freedom of expression, leading journalists to self-censor from fear of prosecution.
Assange isn't a threat to the public. He should at the very least be under some form of home arrest. There is a lot more that should be done, like allowing to s peak to journalists and the public, let alone setting him free and revoking the extradition request. The UK has been releasing actual criminals, but won't let Assange out of the prison during the coronavirus scare.
The injustice and conspiracy against Assange continues. There is no sign of the US or UK letting up and freeing a true advocate for truth against government crimes that does a great service to humanity. As with the coronavirus, the government is setting new precedents for controlling the public, the Assange trial will set precedents for controlling the free press. We are living in dark times indeed.