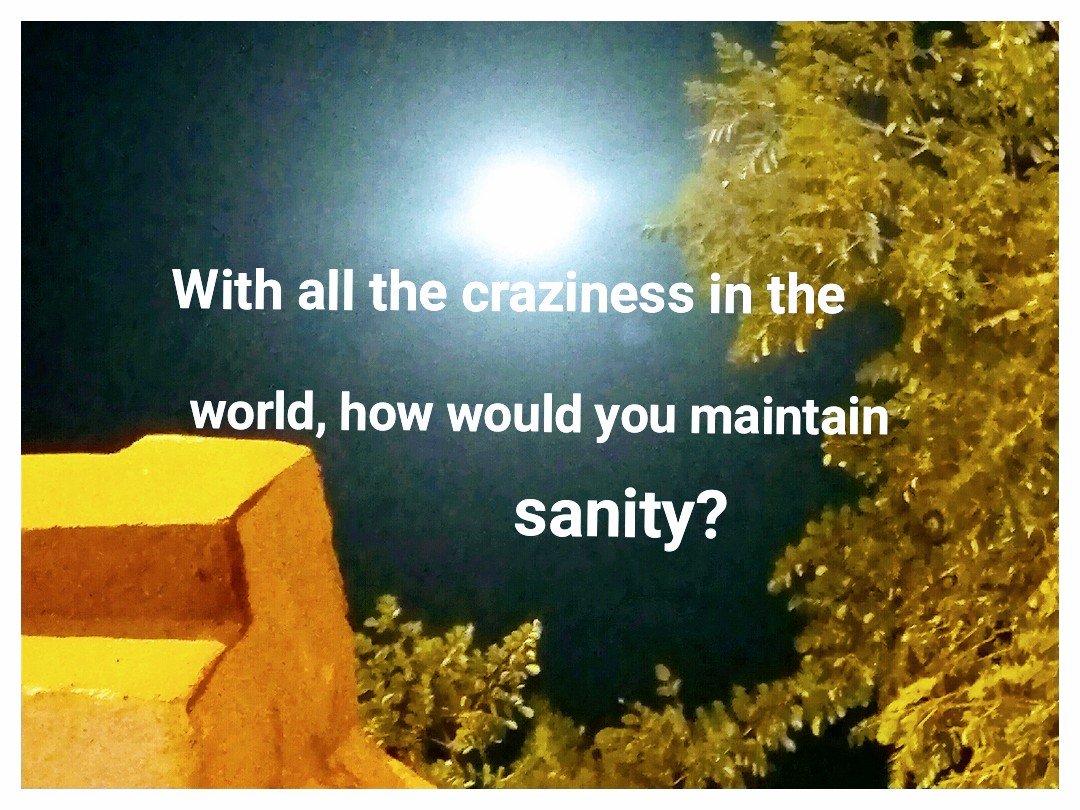 Since my childhood, there was a lot of craziness that happened to me. Until now I could not believe how I survived.It was not my own will
List of those crazy things that passed my way
I loved going to school but parents gave me an assignment of taking care of my siblings.
I wanted to study music but with no support from my parents.
Forcibly got married at an earlier age.
I didn't graduate from my studies in college.
Got a problem with my husband
My business was halted due to some debts of the customer who took advantage of my kindness.
Living away from home/beloved ones.
Those were crazy happening in my life that made me falling under the ground. I am not deserving of all of that because I tried all the best that I can do. Life is full of misery. If taking off my life is not a sin, I was almost tempted to do it. Insanity overpowered my feeling.
But I gracefully got a good exit to all of those troubles and so proud to myself.
ACCEPTANCE
How I kept myself normal? Acceptance is one of the keys, I accepted the fact that my life does not belong to that place. Everyone has a designated pathway to go on. How would be the world if all are professional who work in the office? Who would cultivate the farm if there are no farmers? So, acceptance could lead us to a happy life after the frustrations. People have no the same destiny in life, just like my five fingers. It has own function to be used.
FAITH AND BELIEVING
Entrusting to God all our burden will give us 100% sanity. Believing his promise to all human being has a great impact on life positivity. I strongly believe that faith will keep me on believing His power and His love for us. People said prayers can move mountains. Yes, I believe it as long as you have the greatest faith in your heart and God will walk along our journey in life. How high would be a mountain of trials we could pass by but when you will be on the top of that mountain, tell me what would be the everlasting beauty behind that hardship. Just be very patient of waiting the right time for us. The wheels of life are still rolling and the will of the wind is still blowing that will lead us to the right pathway of life.
A short story to share
January 2019, I visited my family back home. My mother was so sicked When I said goodbye, she said that it would be our last meeting on earth. And it happened, she died last March 2 and I could not go home because of the coronavirus. Saudi government halted the issuance of re-entry visas and banned flying this time. It's a hard time for me that my mother will leave the world without me. But I accepted the challenge. What is important, I worked here supporting her entire medication? Dialysis is not totally free in our country. We spend 200USD a week for two years. I wonder how we survived those financial needs of my mother but we did it until her last breath.
She died sleeping after her lunch and God took her life during her sleep time. That was she wanted to happen, to die while sleeping.
Thank you, Lord, she has no pain anymore and I knew God will give her a beautiful place in eternal life.
I shared this story because it coincides with the question of @ecotrain. I was feeling crazy about losing my mom at 67 years old. She is not too old. Her mother is 94 now and alive. I am feeling crazy that I can't go home because of the spreading virus around the world. I almost lost my sanity. I wanted to shout but there is a reason for every situation.
Three days after the death ofy mother, it was the right time to talk to my father who never sleeps since my mother died. I don't want to see him on a great sorrow. So I preferred talking to him when he was already accepting that the mother had left him.
Then, my father told me that 3 days before she died, she told father not to give me a burden or force me to come home. She knew I got some loans because of all those expenses. Oh, my mother dear, she was not selfish ever since.
Now, I'm moving on and accepted the fact that I can't go home for her funeral. It would be tomorrow and my son is there. Only me is not around but I am so grateful that my heart now is full of sanity and open-mindedness.
Thank you @ecotrain for the best question today.
We are molded from dust and to dust shall we return. NOBODY STAYS FOREVER!
Note: This is an Invitation to join #ccc for Guaranteed 👍= 👍 Daily Income 💵 = 💵 and Payout 💸 = 💸 for Newbies (2.0) 🐟 🐟 🐜 = 🐜 🐛 = 🐛 in #ccc 👣 = 👣 and Follow 👣 = 👣 the Honor Code 🏅= 🏅 - the Creed (Conditions and Limits Inside) AND the latest update <<< please click to read.`
STEEM ON NEWSTEEM!
It's me,
@olivia08