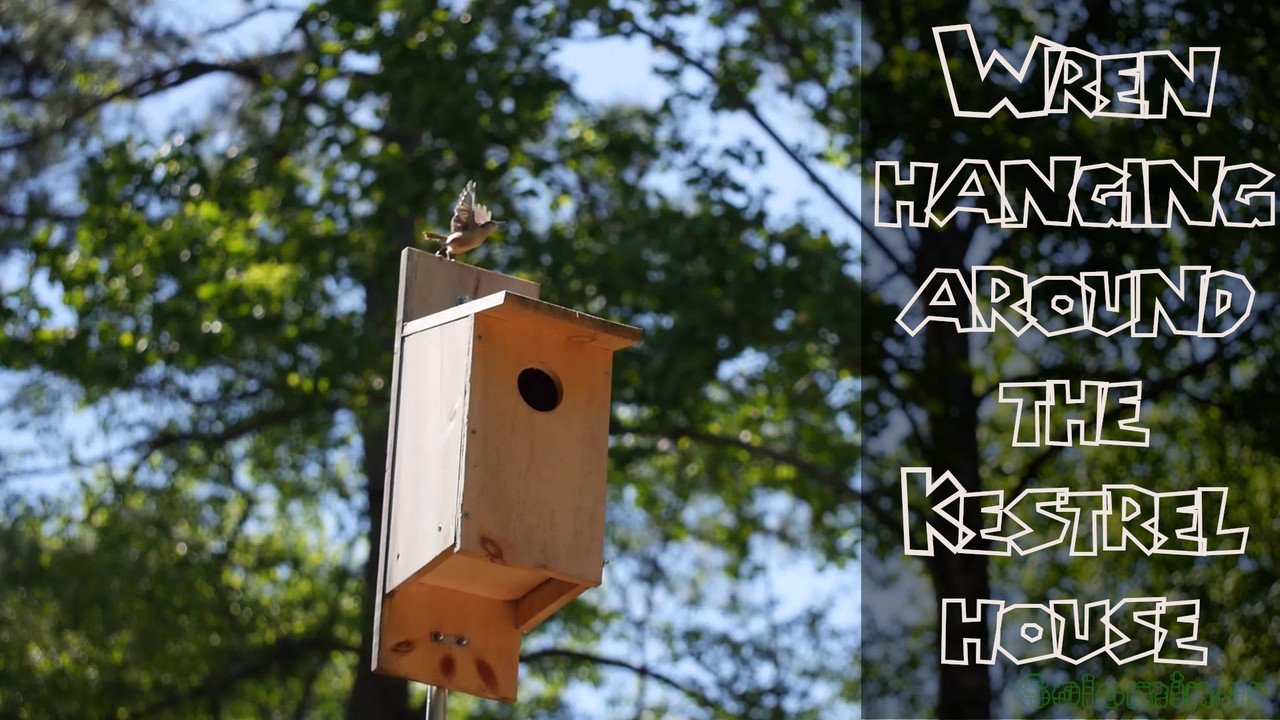 In early spring, two Wrens moved into the bird house I built. Though not the bird I was expecting, it was still fun to watch the Wrens raise a family. I took my camera outside by the bird house and waited for one of the Wrens to return. It perched itself on a fence, looks like it has some insect in its mouth. It was chirping and bobbing around for a few seconds. Then made its ascent into the kestrel house above.
When the adult Wren arrived at the opening of the bird house. Baby birds can be heard eagerly awaiting food brought by the adults. The Wren hangs out on the opening to the home for a few minutes. It then jumped up to the top of the house and checked out its surroundings before flying up to a near by tree. I follow the bird with my camera but have trouble locating it in the view finder.. Real small bird and all, but I was able to capture it on video by and by. The Wren went off to find more food to support the never ending hunger of the little baby birds they are raising inside of the kestrel house. Maybe next year ill get the birds im looking for, just glad the house I built is solid and sound. Otherwise I dont think the Wrens would have made a home inside of it. I did not paint it or coat it with anything as I was worried the fumes would scare the birds away. And by and by its holding up quite nicely. I did not use a tripod in these videos so it was not so steady, next time ill need to remember to bring my tripod and set it up for recording the birds. Otherwise im waiting around alot holding up a camera and it gets tiring. Live and learn I guess. I think I saw them out the window and was in a rush to capture some good footage. Next time ill need to pace myself.. haha
---
Addresses below to help me buy better camera equipment and support me to travel to locations to do photo and video and overall great blogs in new places. I would be happy to list some of the contributors in my posts for donations that help me along the way.
| Coin | Address |
| --- | --- |
| BTC: | bc1qhfmvd2gywg4fvrgy2kkkkyqta0g86whkt7j8r7 |
| LTC: | ltc1qdyzm5cwgt8e2373prx67yye6y9ewk0l8jf3ys9 |
| DASH: | XkSqR5DxQL3wy4kNbjqDbgbMYNih3a7ZcM |
| ETH: | 0x045f409dAe14338669730078201888636B047DC3 |
| DOGE: | DSoekC21AKSZHAcV9vqR8yYefrh8XcX92Z |
| ZEN: | znW9mh62WDSCeBXxnVLCETMx59Ho446HJgq |